Tender steak and a tangy sauce along with easy pickled carrots make these banh mi inspired slow cooker steak sandwiches something special.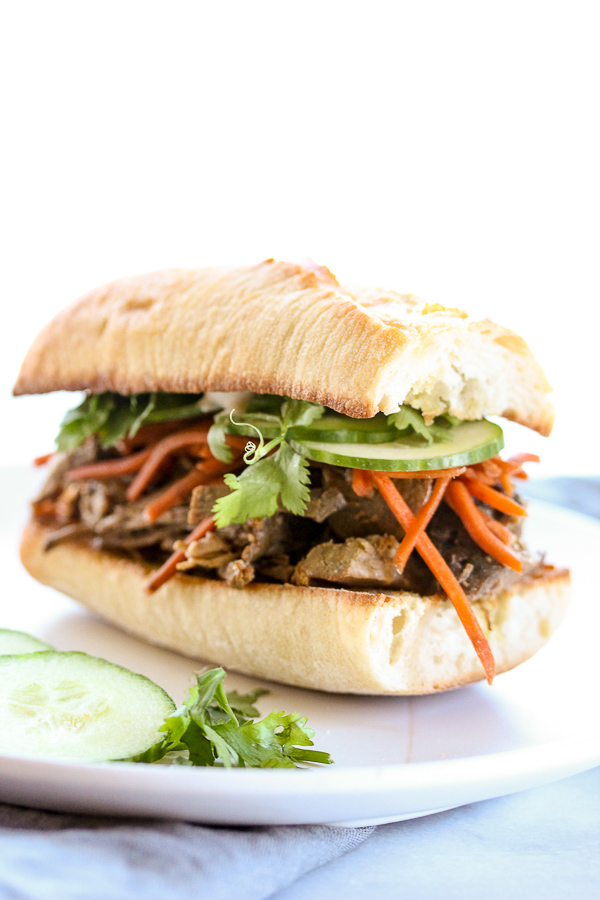 I'm so excited to be participating in Freaky Friday again! If you're not familiar with what that is, it's a really fun recipe swap that I'm doing along with 15 other food bloggers. We've all been assigned a blog to pick a recipe from and then cook
and share that recipe on our blog. The really fun part is that none of us know who has our blog, it's a secret to be revealed today.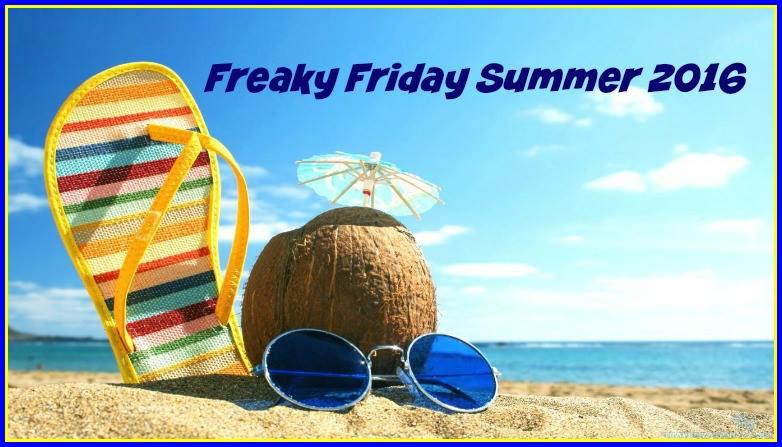 I was assigned to Full Belly Sisters, which is awesome. I've known Justine through social media since I was a newbie in the blogging world, so close to five years ago, and she is fantastic. We also happen to be birthday twins, so I think it's perfect to be cooking one of her recipes!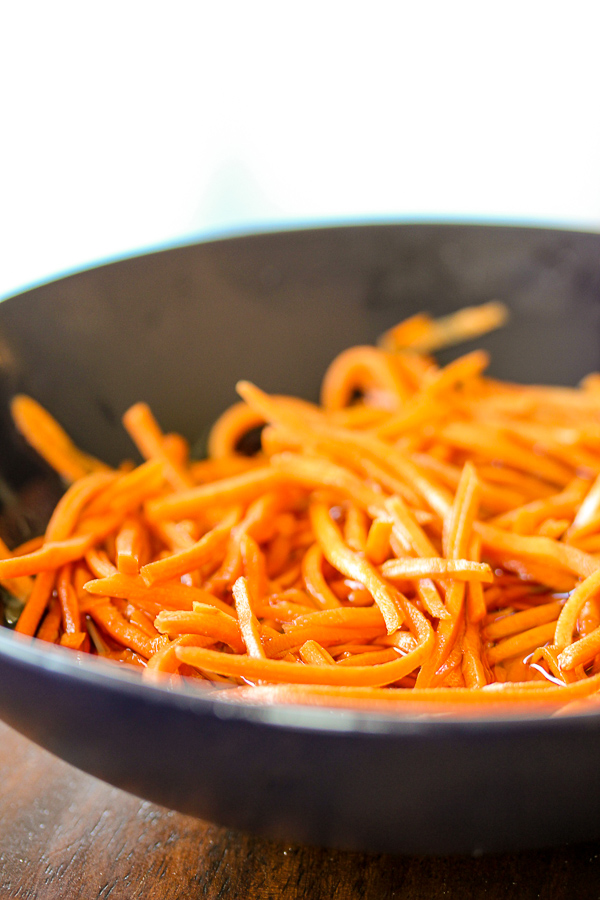 I really do love Justine's recipes, they are always healthy, well balanced and just plain delicious. Several recipes really caught my eye as I was trying to decide what to make and her Green Grilled Cheese was one of them. I mean, what's not to love about a sandwich made from spinach, avocado and gouda?! Her Honey Roasted Strawberry Cheesecake Smoothie would be a delicious way to start your morning and this and this Tomato Cucumber and Onion Salad with Feta Cheese sounds incredibly fresh and delicious.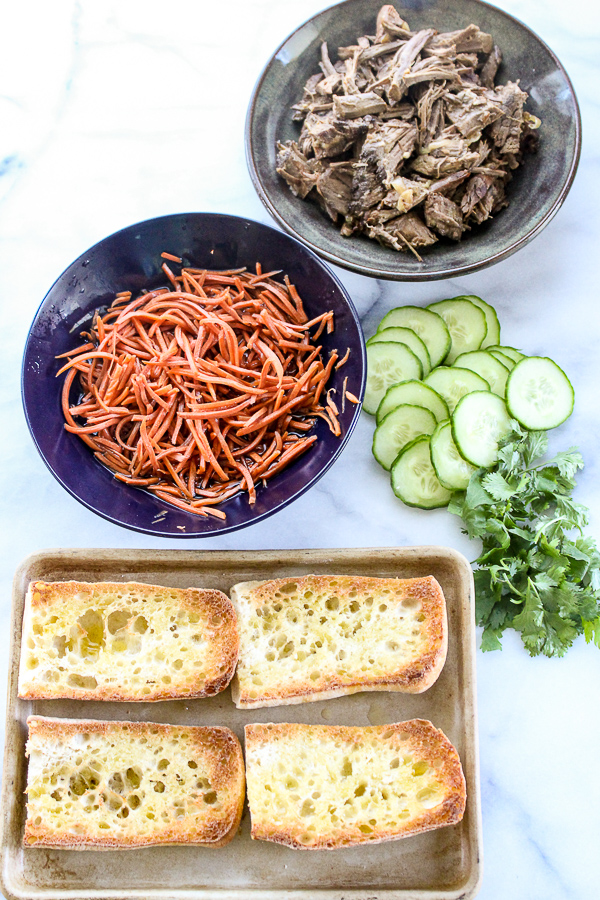 After much consideration, I finally decided on these amazing banh mi inspired slow cooker steak sandwiches. And let me tell you, these sandwiches did not disappoint, they are incredibly flavorful and so easy to make. It takes almost no time to prep the steak for the slow cooker and the pickled carrots are super simple.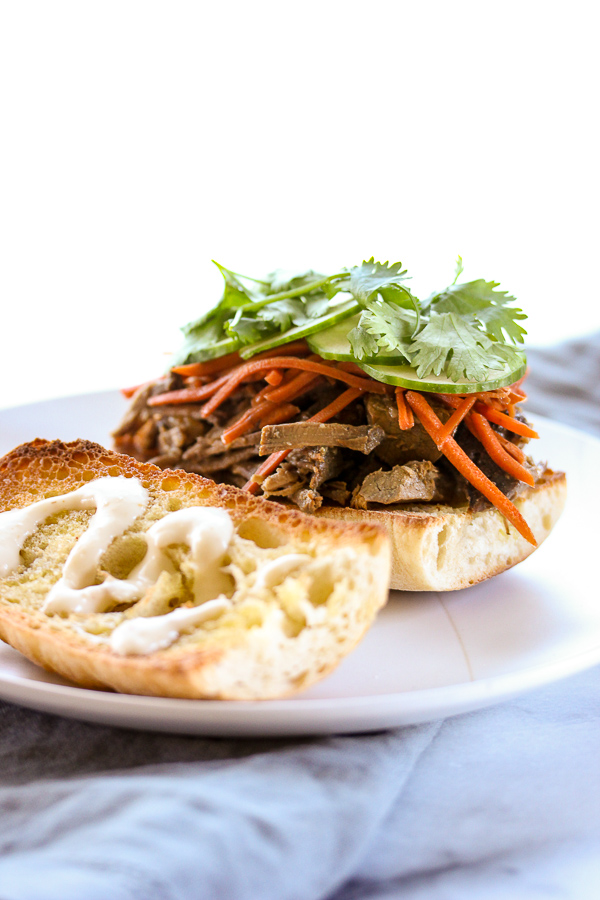 The steak turns out so tender, it melts in your mouth. Then between the sauce and the pickled carrots, the sandwich has a delicious tanginess and the cucumber adds a nice crunch. I also added some fresh cilantro leaves to brighten the flavors. I seriously could eat these sandwiches for both lunch and dinner….ok, I actually did.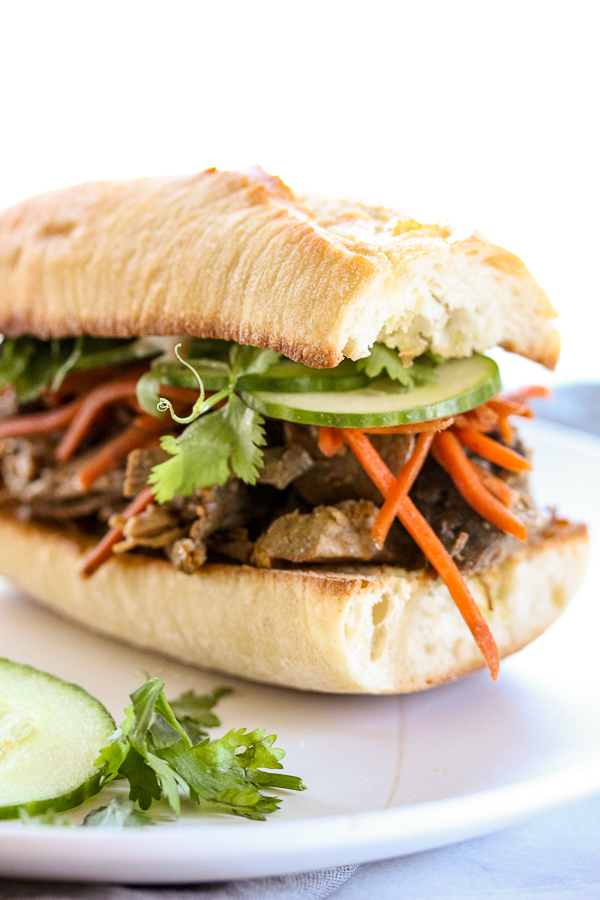 Yield: 4
Banh Mi Inspired Slow Cooker Steak Sandwiches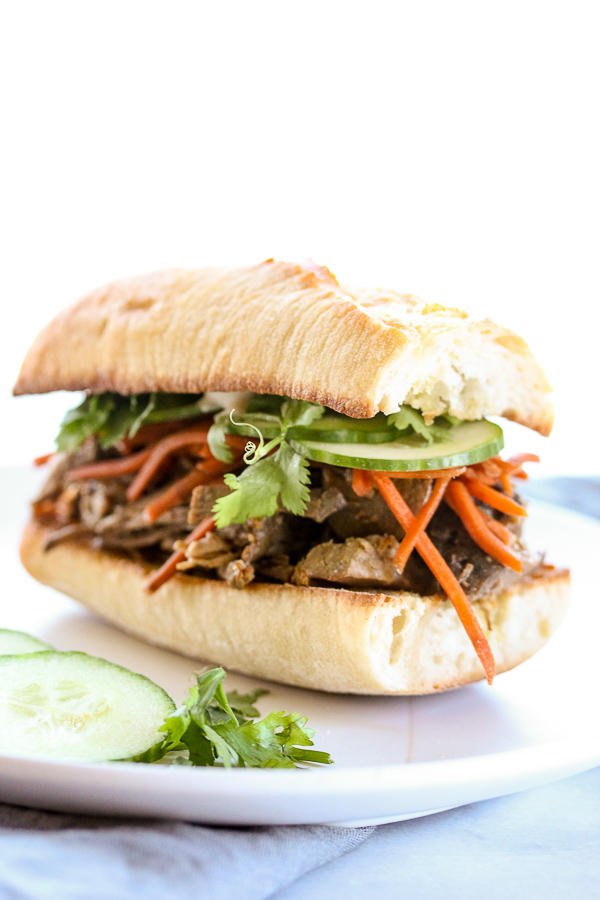 Ingredients
2 lbs top round steak, cut into four to six pieces
1 small onion, sliced
3 Tablespoons Garlic Mustard
1 Tablespoon prepared horseradish
2 Tablespoons Worcestershire sauce
1 Tablespoon red wine vinegar
2 carrots, julienned
1/4 cup sugar
1/4 cup red wine vinegar
1/4 teaspoon salt
4 Portugese rolls or 1 baguette sliced into 4 inch pieces
about 1/3 of an English cucumber, thinly-sliced
fresh cilantro leaves, optional
Creamy Horseradish or mayo
Instructions
Coat your slow cooker with cooking spray.
Spread onion slices across the bottom of the slow cooker.
Place the pieces of steak on top of the onions.
In a small bowl, whisk together the mustard, horseradish, Worcestershire, and red wine vinegar. Pour sauce over the steak, turning each piece to make sure the sauce coats both sides of the meat.
Cook on high for 4-6 hours.
Meanwhile, make the quick-pickled carrots.
In a bowl, mix the sugar and salt into the vinegar until dissolved.
Toss the carrots in the vinegar mixture and cover tightly.
Let the carrots marinate at room temperature while the steak is cooking.
When the steak is fork-tender, slice the rolls or baguette in half and toast under the broiler until golden.
Spread the creamy horseradish or mayo on the toasted rolls.
Top the bottom of each roll with some of the roasted steak and onions, then cucumber slices, a few forkfuls of the pickled carrots, and a sprinkle of cilantro leaves.


ENJOY!
Loading InLinkz ...
Sharing recipe at: