This smoked salmon bagel spread takes just minutes to prepare and it's bursting with delicious flavors. It's perfect for a brunch or as an appetizer.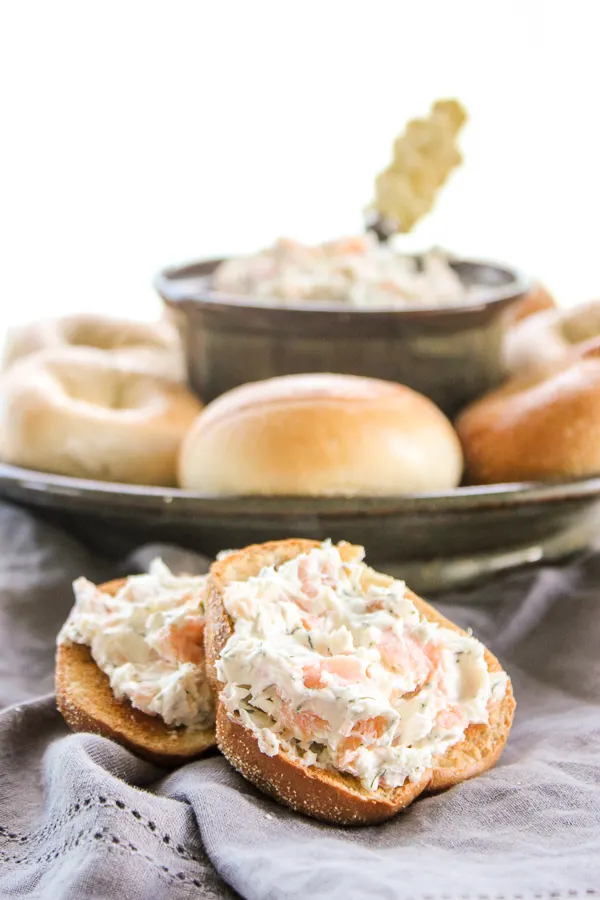 Have you been to a brunch where there's a tray beautifully set up with a selection of bagels, smoked salmon, cream cheese, fresh dill and red onions? That's what I've got for you today, only in an incredibly easy smoked salmon bagel spread that has all of those amazing flavors. Then we're serving it on mini bagels, because, well, that's just fun. What's great about this spread is that you can make it ahead of time and it will keep for a week in the fridge. That means bagels slathered with this delicious spread all.week.long.
It's a perfect addition to any brunch and would also be awesome at a cocktail party or even a game day get together. If you don't want to serve the spread on bagels, an assortment of crackers would be equally delicious.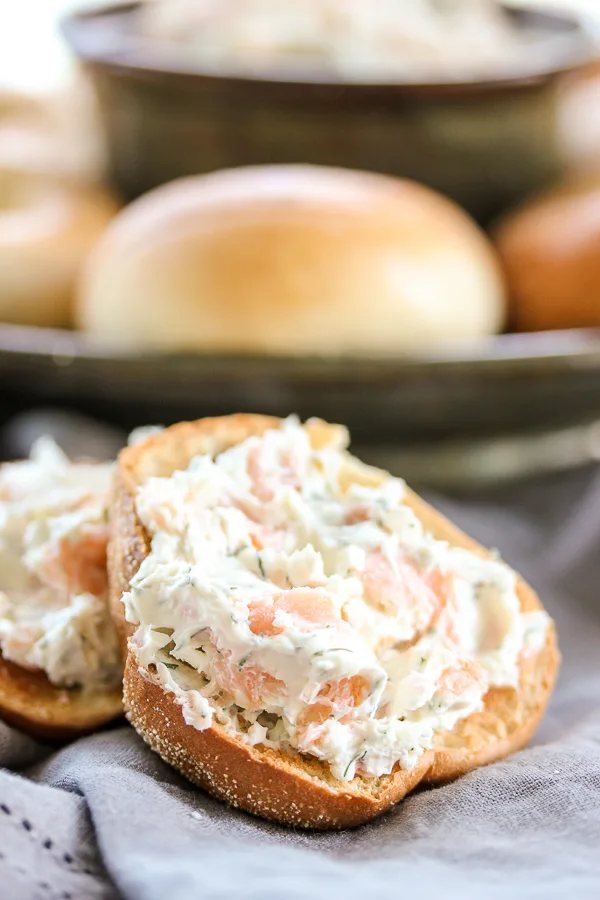 Let's talk about the ingredients for a minute. By putting the smoked salmon into a spread, you're able to make a little go a long way. Which is great because I know smoked salmon can be a little pricy, although I found this smoked salmon at Trader Joe's and it was just $4.99 for 3 ounces (as opposed to some I saw for $9.99) and it is some of the best I've ever had. I also used shallots instead of red onion just because I like the milder flavor of shallots. Then of course, lots of fresh dill and lemon juice give this spread a deliciously bright flavor. Trust me, it's SO GOOD!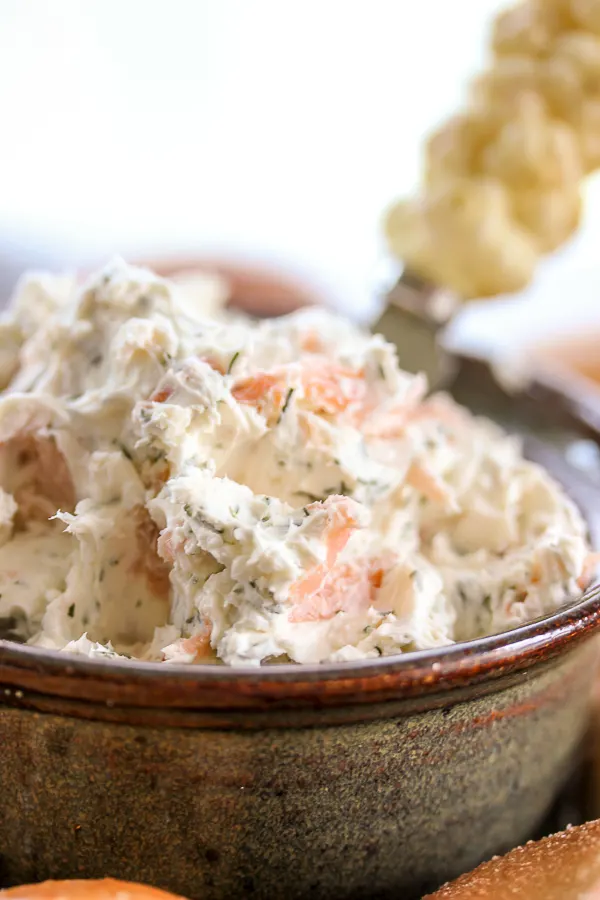 Yield: 8
Smoked Salmon Bagel Spread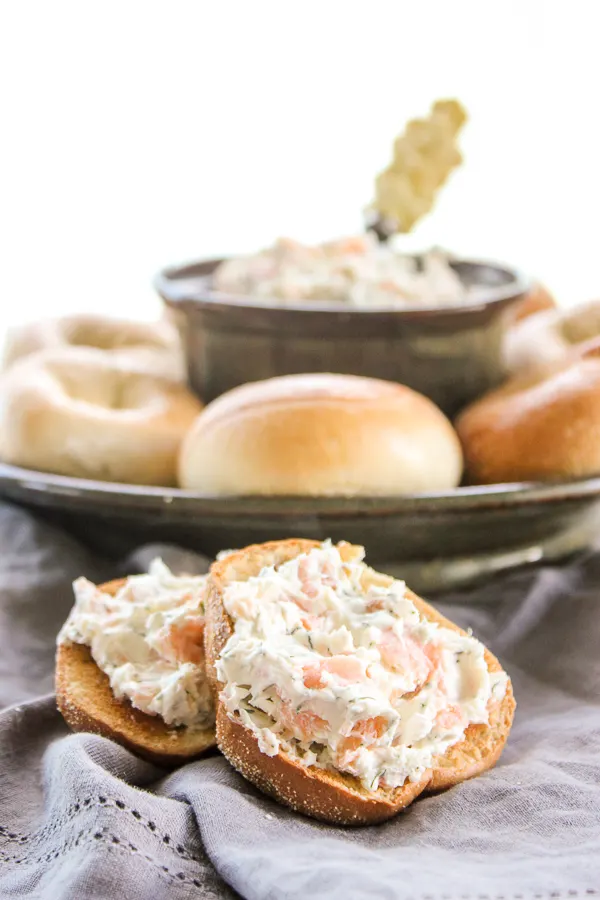 Ingredients
8 oz whipped cream cheese
juice of 1 lemon
3 oz smoked salmon, chopped into small pieces
1 tbsp shallot, finely chopped
2 tbsp fresh dill, minced
mini bagels
Instructions
Add all ingredients to a mixing bowl.
Stir until all ingredients are well combined.
Serve with mini bagels.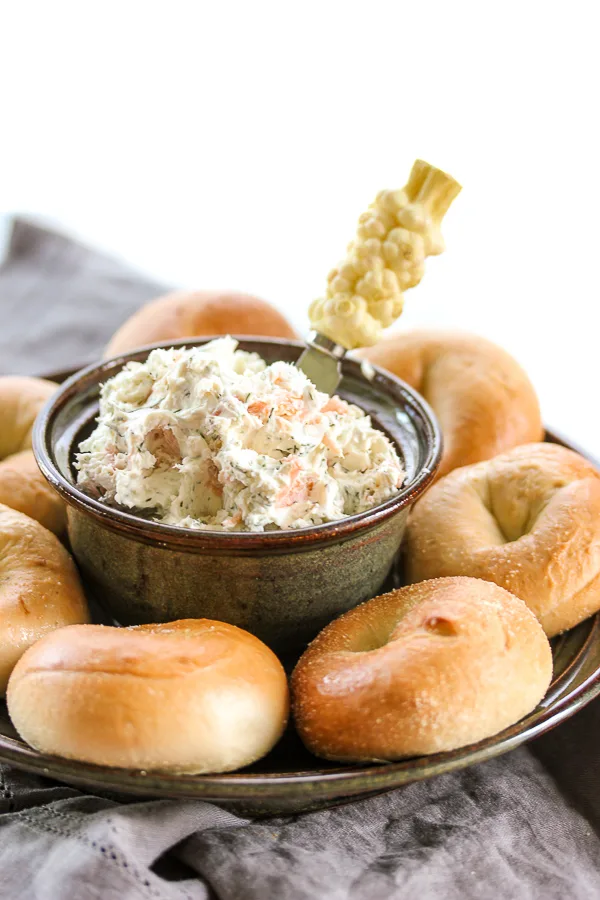 ENJOY!
Sharing this recipe at: