Your mornings just got a little easier and more delicious with this healthy homemade breakfast sausage. It's make ahead friendly, so breakfast is a snap!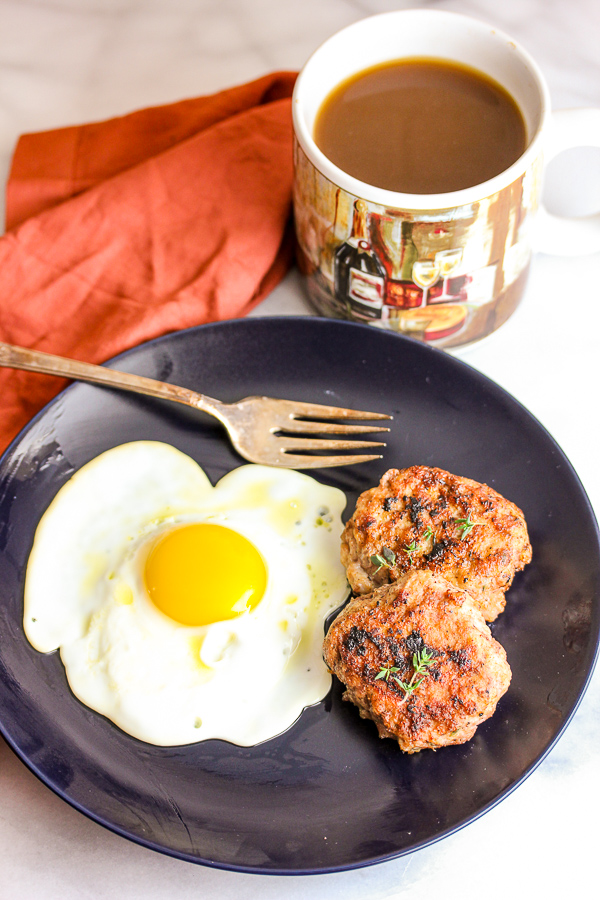 It's Friday! Can I get a big YAY from you all? That means tomorrow is Saturday and some weekend fun. Actually, we don't have much of anything planned, which I'm actually OK with since our weekends have been pretty busy lately. I'm hoping for a lazy Saturday morning and time to make a big breakfast. Do you like to make a big breakfast on the weekend?
We often make a big breakfast when we have people up at our cabin, but not very often at home. When I do make breakfast, it has to include some kind of breakfast meat and sausage is probably my favorite. Up until now, I've always used store bought sausage. I'm not super crazy about turkey breakfast sausage and pork sausage is delicious, but can be a little high in fat.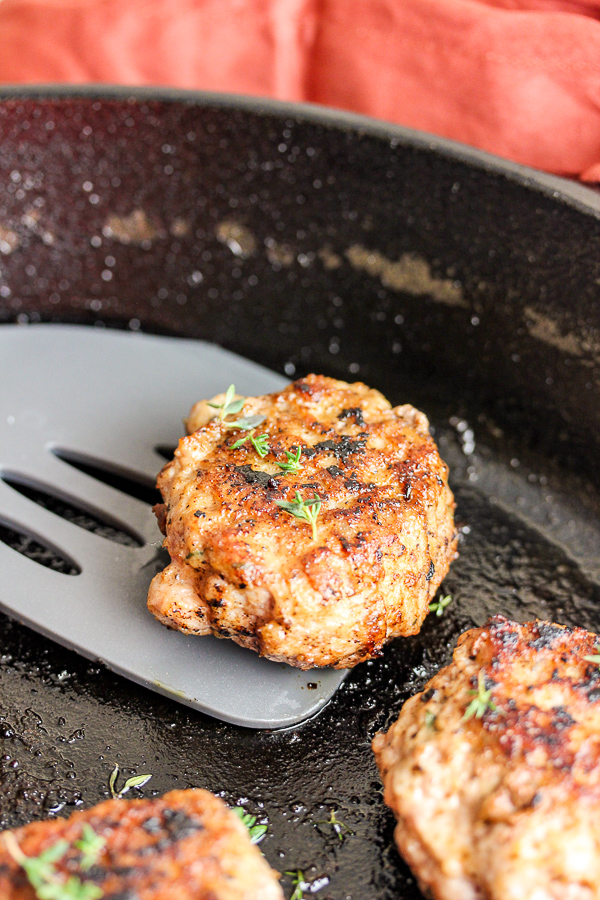 Then I discovered how easy it is to make homemade breakfast sausage. I mean, really, really easy. All you need to do is mix together ground meat and a few other tasty ingredients, form it into patties and cook it up. Easy, right? I used a combination of ground chicken and pork. I love the flavor of pork and the addition of chicken keeps the sausage a little leaner. I prefer ground chicken over turkey, but if you prefer turkey, by all means, use that instead. To the meat mixture, I add a touch of maple syrup, thyme, sage, salt, pepper and a pinch of cayenne. That's it.
As you can see, homemade breakfast sausage is quick and easy to make, but what's even better is that you can make this ahead and freeze the sausage patties. Just make sure you freeze them in a single layer so you can easily grab however many you need. That way, even on the busiest of mornings, you can enjoy it's deliciousness. Just pop a couple in the microwave for a minute or two, toast an English muffin, top it with some cheese and you have a delicious, portable meal to take with you. If you have a little more time, cook up an egg or two to go along with it. Boom! Breakfast made easy.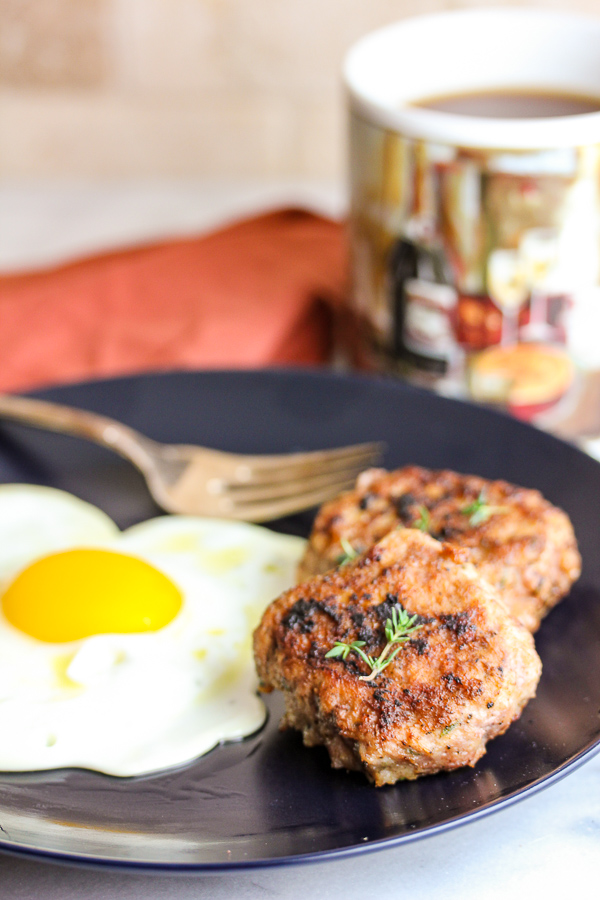 Yield: 16
Homemade Breakfast Sausage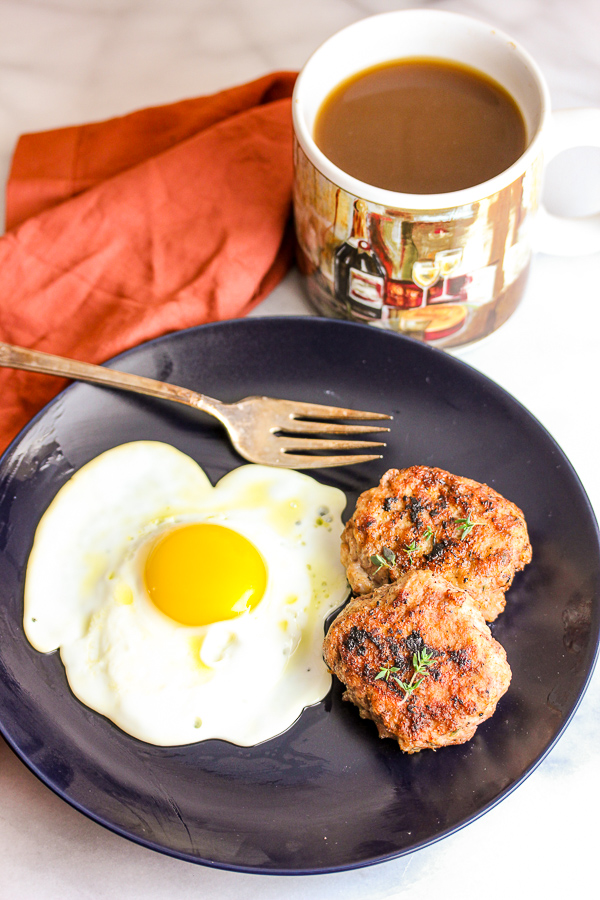 Prep Time 10 minutes

Cook Time 15 minutes

Total Time 25 minutes
Ingredients
1 lb ground pork
1 lb ground chicken
2 tbsp maple syrup
1 tbsp fresh thyme, minced
1 tsp dried sage
1 tsp salt
1/2 tsp black pepper
1/8 tsp cayenne pepper
2 tbsp olive oil, divided
Instructions
Combine all ingredients, except the oil in a mixing bowl.
Mix together with hands, until ingredients are well incorporated.
Form mixture into 16 patties.
Heat 1 tbsp olive oil in a large skillet over medium heat.
Add 8 patties to the pan.
Cook for 3-4 minutes per side, until cooked through.
Remove from pan and set aside.
Add remaining 1 tbsp oil to skillet along with remaining 8 patties.
Cook as instructed above.
Notes
These can easily be made ahead and frozen. To make ahead, prepare according to directions and freeze in a single layer. Reheat in the microwave, for about 2 minutes, until heated through.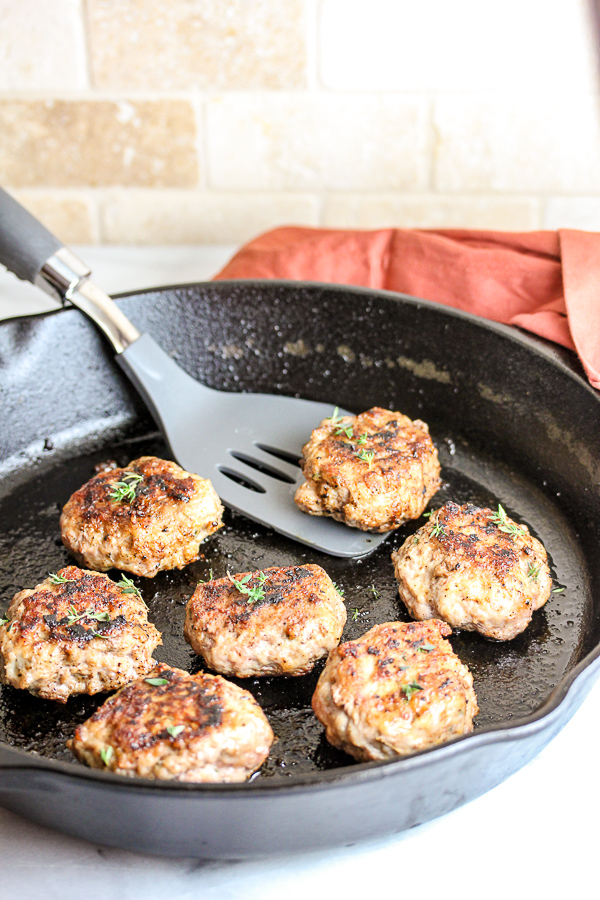 ENJOY!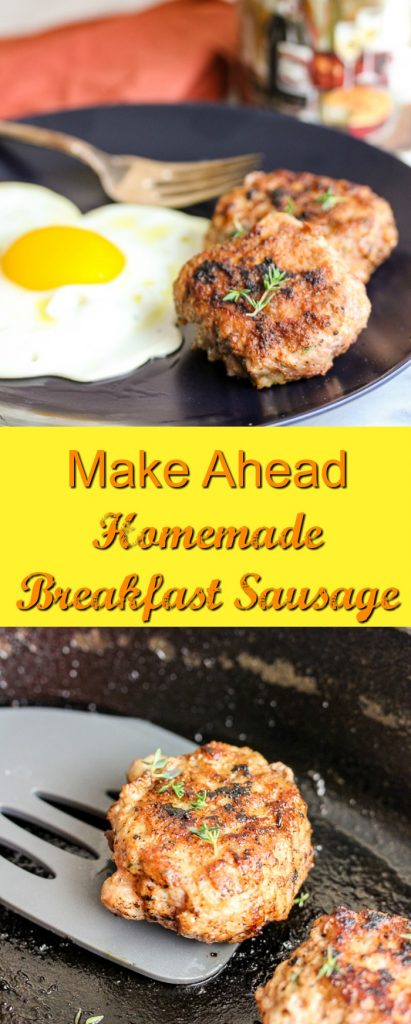 Shared this recipe at: