The flavors of pumpkin pie combine to create this decadent Pumpkin Pie Bread Pudding with Homemade Salted Caramel Sauce.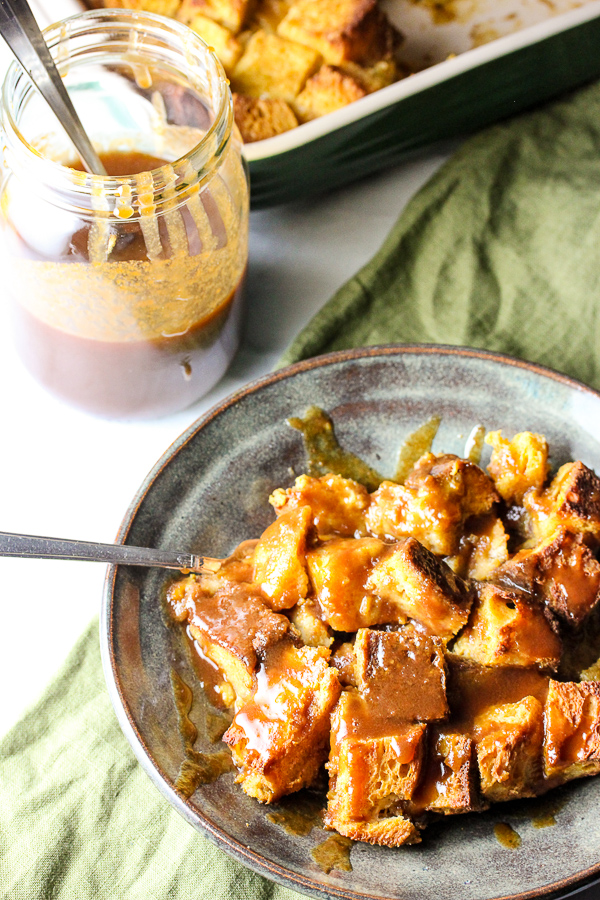 Fall is here in full force and the holidays are right around the corner, which means it's time for decadent, comforting desserts for everyone. Which brings us to pumpkin pie bread pudding with homemade salted caramel sauce. It is all things good and tastes like the holidays. All of the flavors of pumpkin pie combine with homemade brioche bread and it's topped off with a sinful salted caramel sauce. Tell me, what's not to love about that??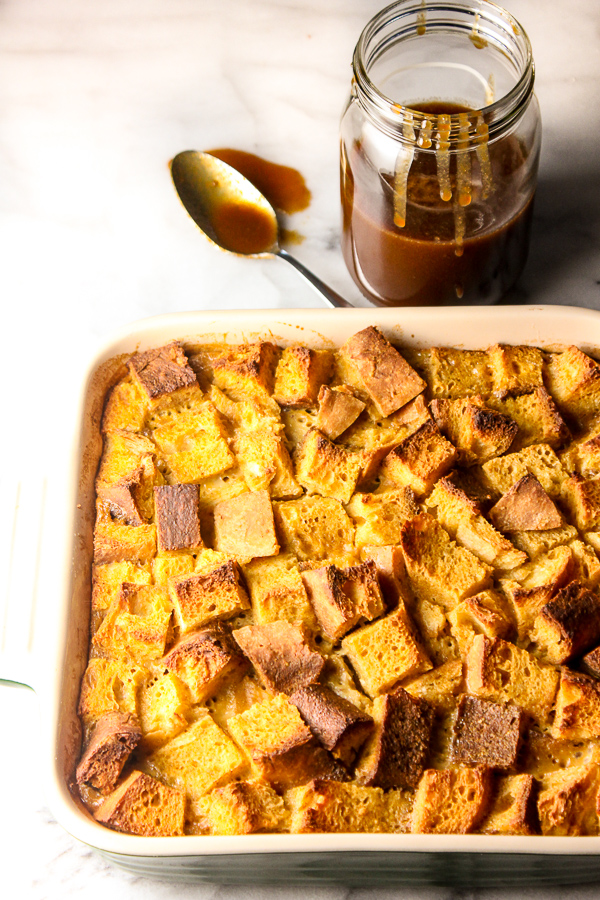 Just look at that deep golden caramel sauce. I could literally eat the whole batch by itself. But I won't because it's seriously delicious drizzled all over the top of a big helping of pumpkin pie bread pudding.
This was my first attempt at making caramel sauce and while it takes a little bit of time, it's not terribly difficult. It's mainly a lot of stirring and babysitting to make sure it doesn't burn. If you're pressed for time, feel free to use your favorite prepared caramel sauce.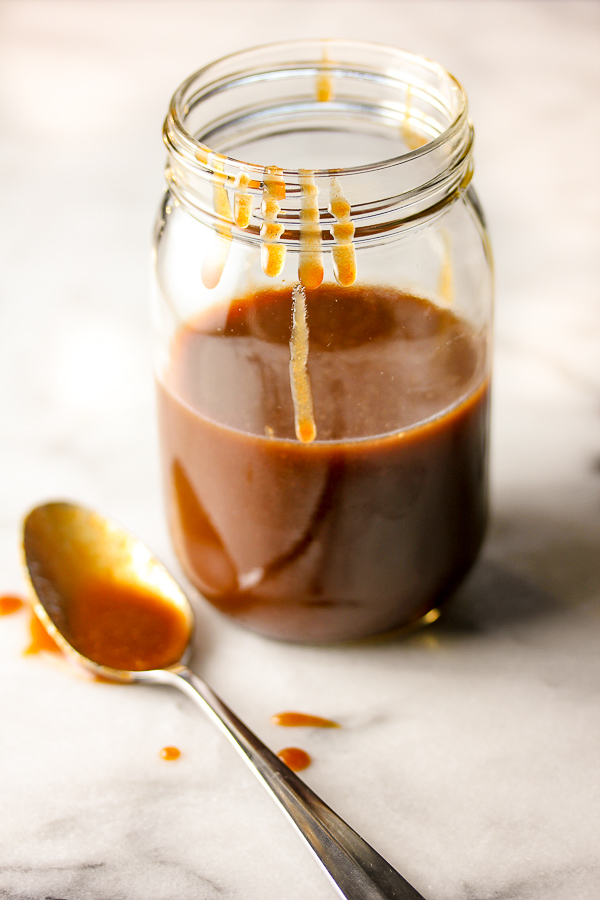 I made homemade brioche bread with this recipe. It's very easy to make this tender, delicious and slightly sweet bread. But you can absolutely use store bought brioche bread if you want to save yourself a few steps. Brioche is a perfect bread for soaking up all of that delicious pumpkin custard.
Pumpkin pie bread pudding with homemade salted caramel sauce is a fantastic dessert, but it would be an awesome brunch dish, as well. If you have overnight guests for Thanksgiving, think how delicious this would be served to them the next morning. I think you would have a table full of very happy people.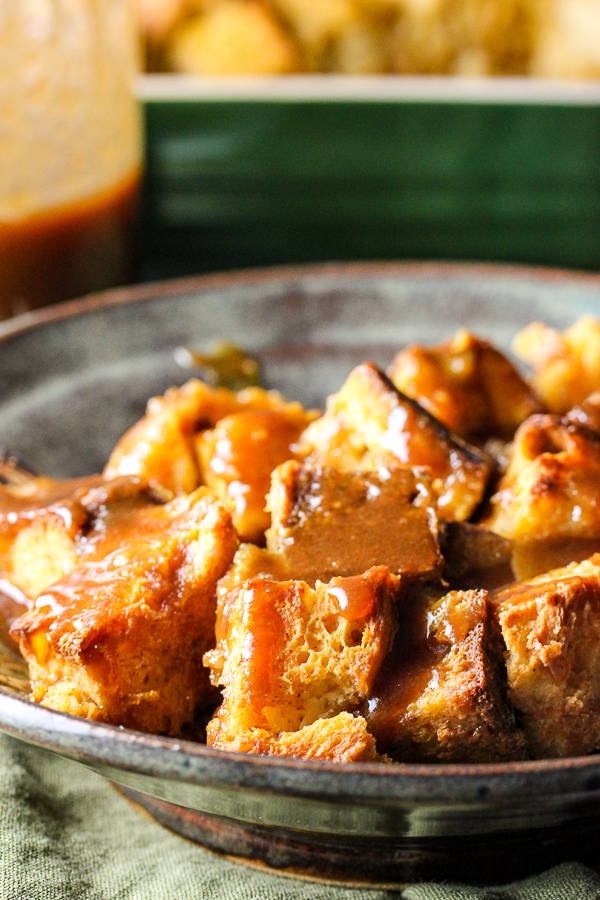 Pumpkin Pie Bread Pudding with Homemade Salted Caramel Sauce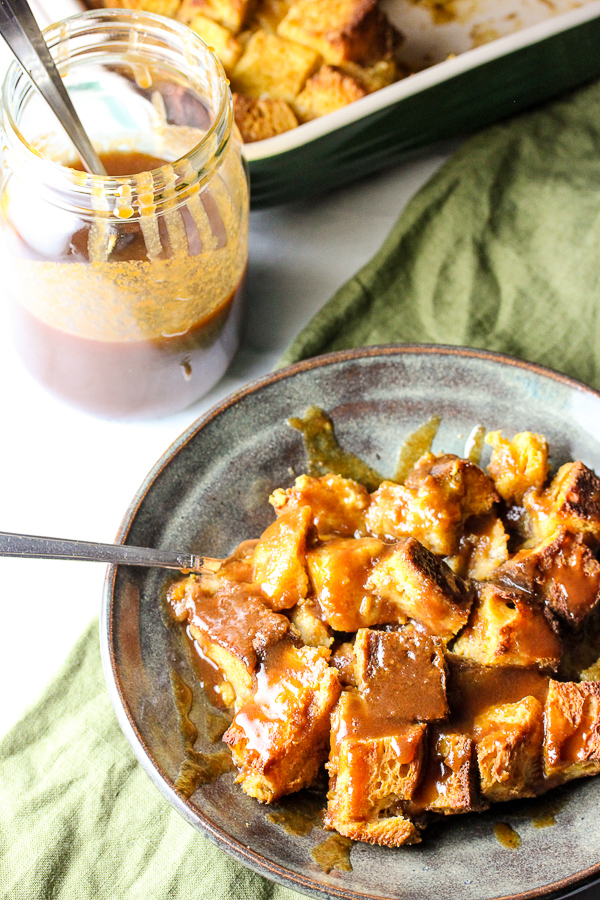 Ingredients
For bread pudding:
1 1/2 cups whole milk
3 eggs
1 cup pumpkin puree
1/2 cup pure maple syrup
2 tbsp brown sugar
1 1/2 tsp pumpkin pie spice
For caramel sauce:
1 cup sugar
4 tbsp butter, cut into cubes
1/2 cup whole milk
1 tsp vanilla
1/4 tsp sea salt
Instructions
For bread pudding:
Prepare brioche dough according to these instructions.
Lightly flour dough ball and form into an oval.
Place dough in a bread pan that's been coated with cooking spray.
Cover and let rest for 1 hour and 20 minutes.
minutes before baking, preheat oven to 350 degrees.
Bake loaf for 35-40 minutes, until golden brown.
Allow bread to cool and then cut into 1 inch cubes. You should have 5-6 cups.
Place bread cubes in a 8x8 baking dish that's been coated with cooking spray.
In a mixing bowl, whisk together milk, eggs, pumpkin, maple syrup, brown sugar and pumpkin pie spice.
Pour mixture over the bread cubes.
Let sit for at least 30 minutes to allow bread to absorb the custard.
Bake at 350 degrees for 45-50 minutes, until top is browned and custard is set.
For caramel sauce:
Pour sugar into a 2 quart sauce pan and heat over medium low heat.
Stir constantly until sugar first clumps together and then melts and turns golden.
Stir in butter cubes and continue stirring until butter and sugar are well incorporated and mixture is smooth.
Carefully stir in milk (it will bubble up) and cook until mixture thickens slightly.
Stir in vanilla and salt.
Serve bread pudding topped with caramel sauce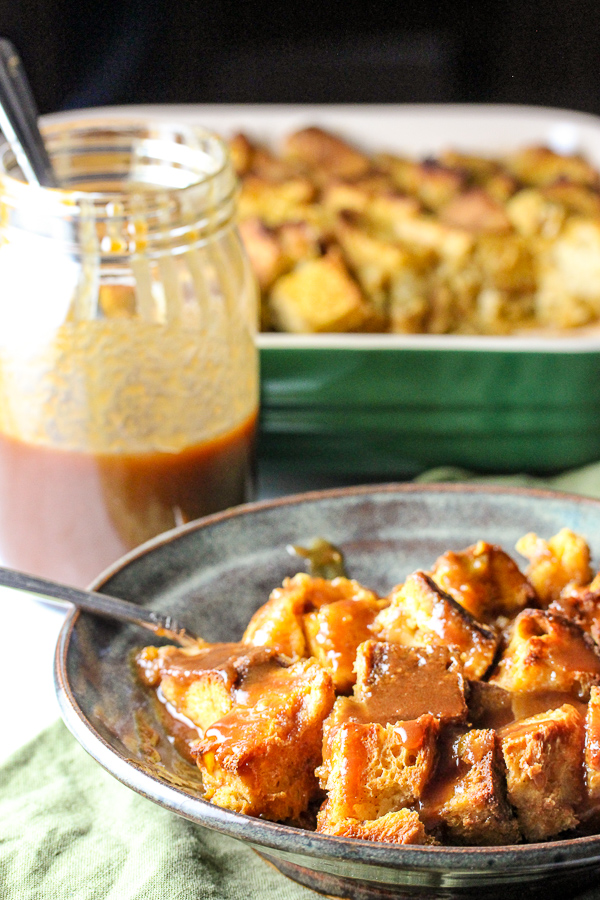 ENJOY!

This recipe has been shared at: