These Brioche hamburger buns are incredibly easy to make and they're deliciously light, tender and slightly sweet, perfect for topping with a juicy burger.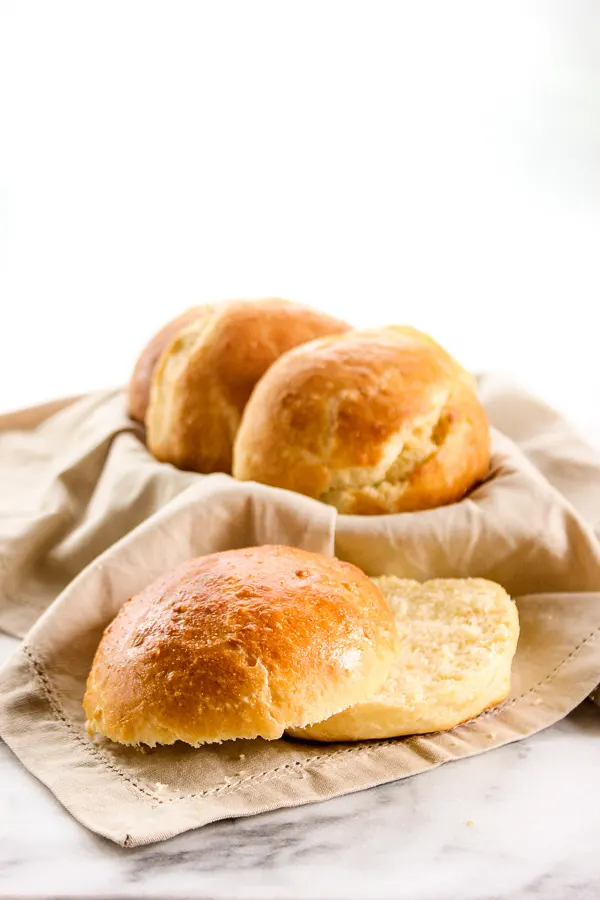 I'm in love with these brioche hamburger buns because not only do they taste amazing, they also are amazingly easy to make. Really. I know, you're probably thinking that brioche buns have to be really complicated and you need to be an expert bread maker in order to make them. But what if I told you that you don't even have to knead this dough? That's right, all you do is mix together the ingredients, let the yeast do it's thing and then form the dough into what will bake into soft, tender, delicious buns.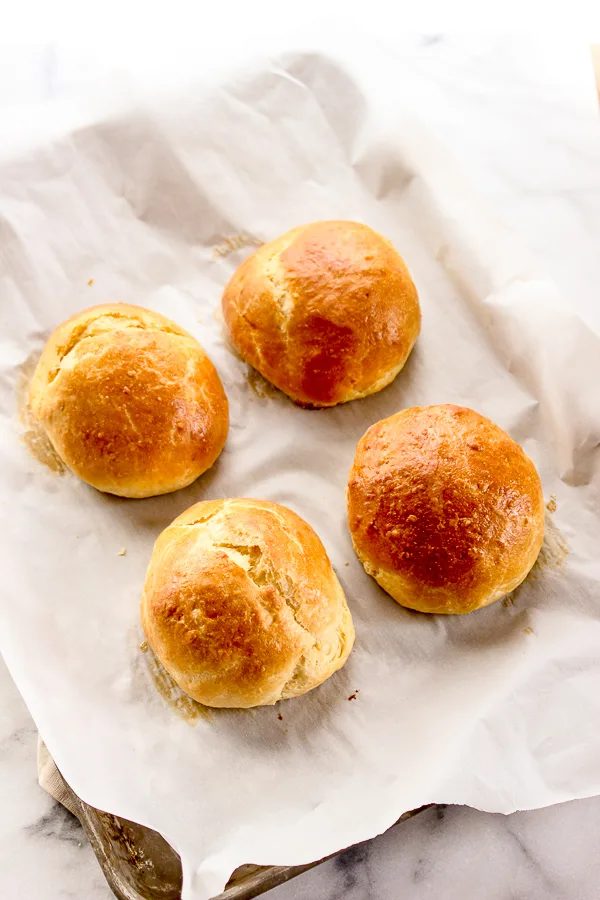 How is this even possible? "Artisan Bread in Five Minutes a Day", that's how. It's a book that's full of delicious bread recipes and all of them are made with a technique that requires no kneading. I've had this book for quite a few years now, but up until now I had only made the master recipe which is a crusty bread and also makes an amazing pizza crust.
I love burgers on brioche hamburger buns, but the really good brioche buns from the store can be pricy. That's why I decided to go beyond the master recipe and give this brioche dough a try. The recipe makes enough dough to make 5 batches of buns (about 20) and is a fraction of the cost of store bought.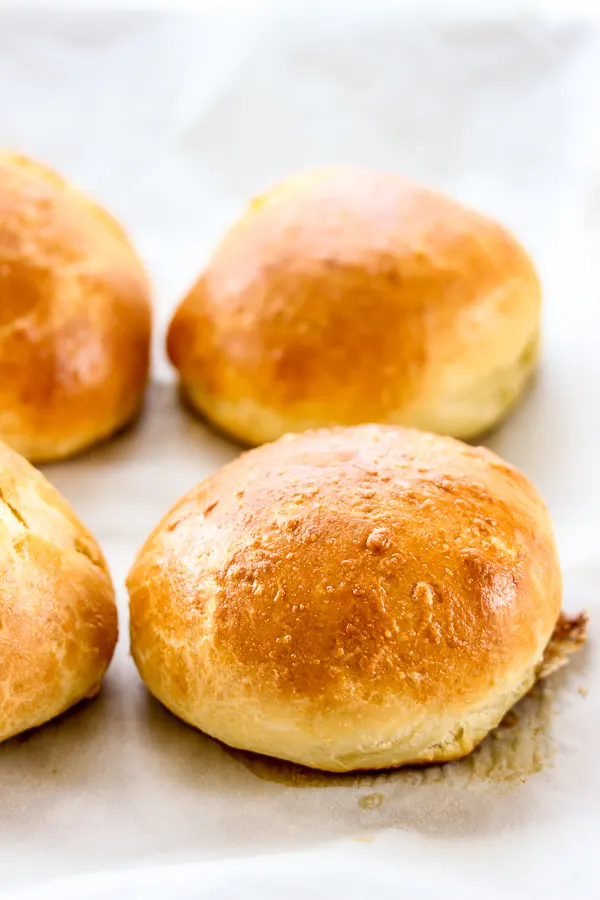 The other great thing about this dough is that it's totally freezer friendly, so you don't need to bake 20 buns all at one time. Just portion off the dough, wrap it up and freeze it until you're ready to bake more buns. Just think, freshly baked brioche hamburger buns anytime you want!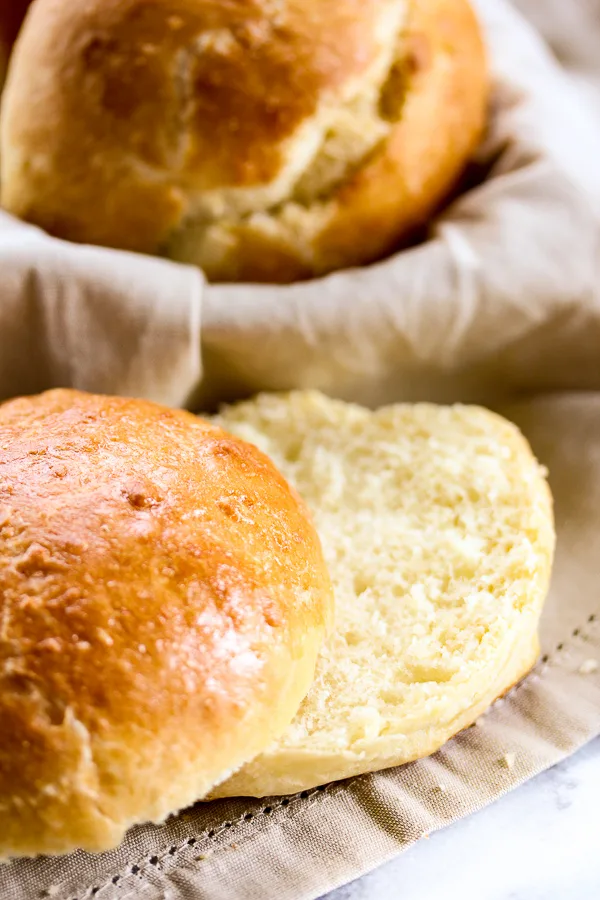 Yield: 20
Brioche Hamburger Buns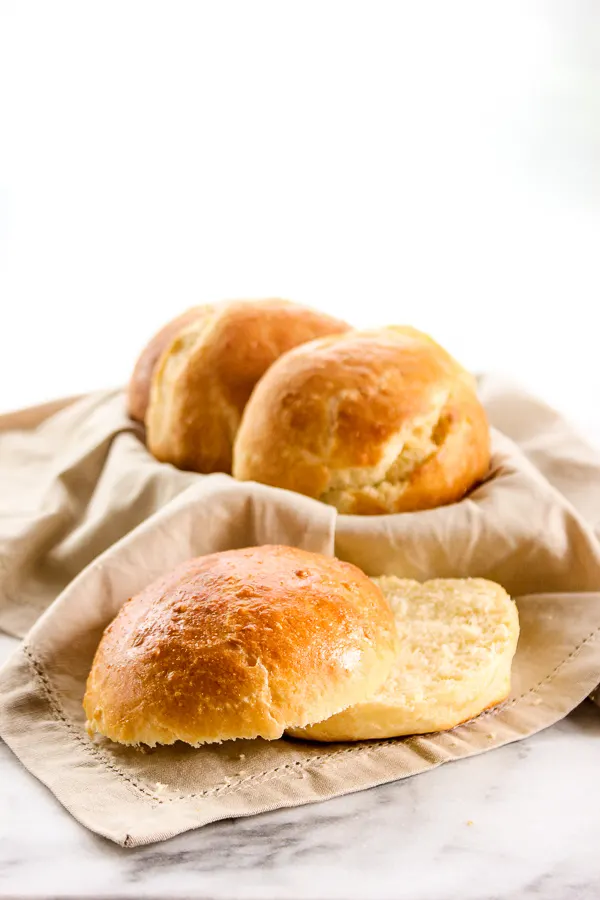 Ingredients
1 1/2 cups lukewarm water
1 1/2 tbsp (2 packets) yeast
1 1/2 tbsp kosher salt
8 eggs, beaten
1/2 cup honey
1 1/2 cups unsalted butter, melted
7 1/2 cups flour
egg wash (1 egg beaten with 1 tbsp water)
Instructions
To make the dough:
Pour water into a large (5 quart) bowl or lidded container.
Add yeast, salt, eggs, honey and melted butter, mix until combined.
Mix in flour with a spoon, until well combined. Do not overwork the dough.
The dough will be loose and a few lumps are okay.
Cover loosely and let sit at room temperature until the dough rises and flattens out, about 2 hours.
Refrigerate dough (in container, still loosely covered) until chilled.
At this point you can refrigerate dough for up to 5 days OR with well floured hands, divide into 5 (1lb) balls, wrap tightly with plastic wrap and freeze until ready to bake.
To make 4 buns:
If dough is frozen, defrost 1 ball in the refrigerator overnight. Otherwise,flour hands and remove 1/5 of the dough (1lb) from the container.
Sprinkle flour on your counter, hands and dough.
Divide dough into 4 pieces.
Form each piece into a ball and then flatten(they'll puff up when you bake them, so you want them as flat as possible).
Place the flattened balls on a baking sheet lined with parchment paper.
Allow dough to rest for 1 hour and 20 minutes
Twenty minutes before they're ready to bake, preheat oven to 350 degrees.
Right before baking, brush the egg wash on each bun.
Bake for 20-25 minutes, until golden brown.
Cool before slicing.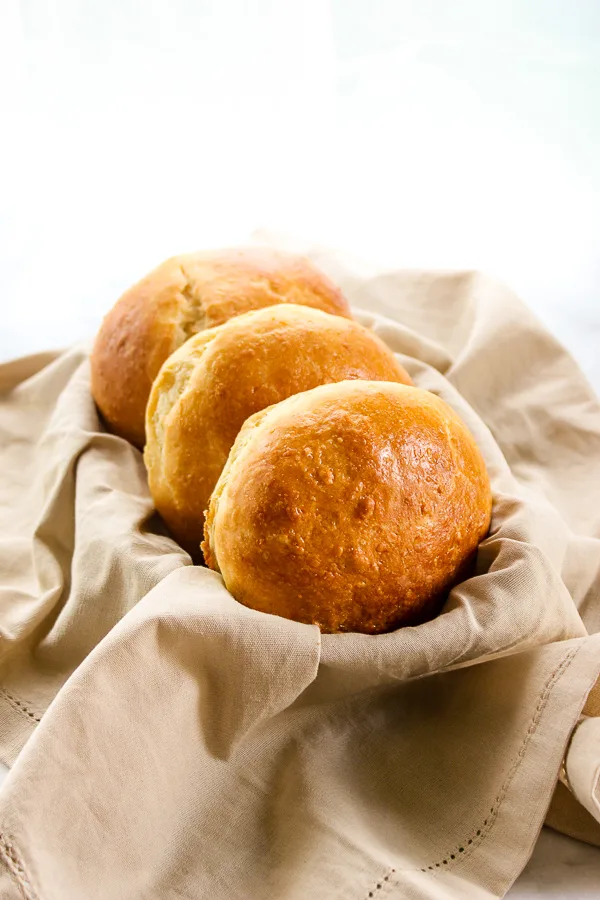 ENJOY!
Sharing this recipe at: