Philly cheesesteak flatbread takes a quick u-turn on the classic Philly cheesesteak sandwich. I have been to south Philly and tried both Pat and Genos. Personally preferred Pat's but I don't want to start a feud or anything.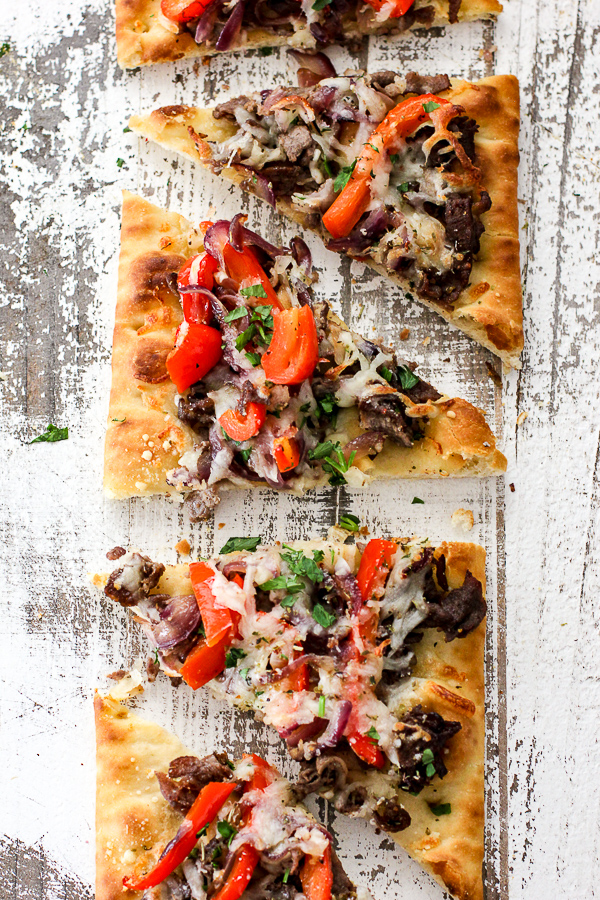 People take their Philly cheesesteak very seriously.
So, I guess I'm breaking the mold. Perhaps getting a few scowls of "that's not a Philly", but taking the chance anyway. Why not? If I called it a "Minnie steak sandwich" then people might confuse it for a diet plan meal.
Indeed, this isn't the first time I strayed from tradition. It won't be the last. For proof check out my Stromboli Philly Cheesesteak recipe or this yummy Philly Cheesesteak Soup from An Affair from the Heart. I'm not the only one who likes to mix it up….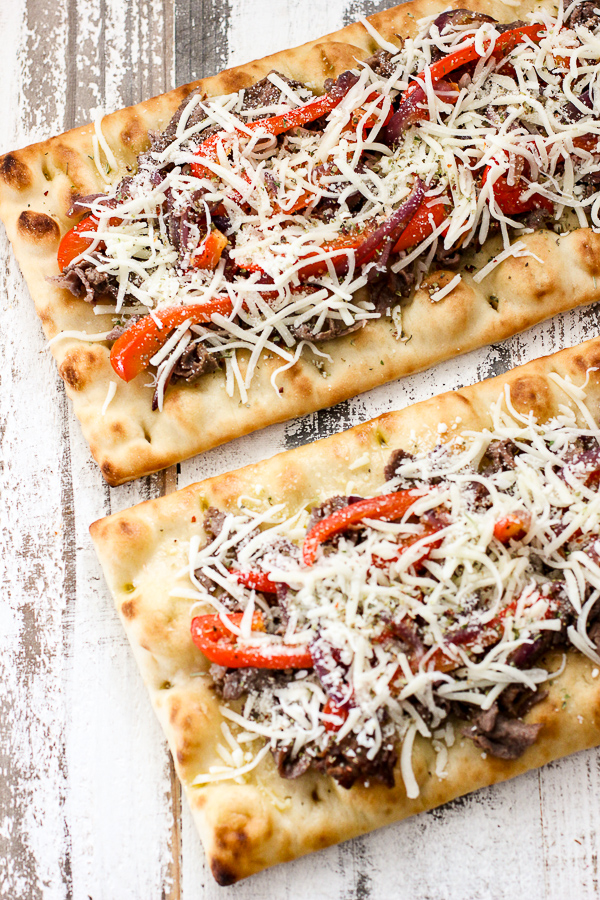 A Philly Cheesesteak sandwich on flatbread
Cheesesteak sandwiches from the world famous, notoriously competitive, Pat and Geno's in Philadelphia do set a standard. I honestly don't have a better way to do what they do. My husband and I both bow humbly to their deliciousness.
And I am inspired by it. So that is why I came up with this recipe. I wanted to bring the flavor of that fun trip home. Ok, I admit that the flatbread part was because I didn't have those hoagie rolls handy.
Lot's of creative ideas are born out of that sort of adversity. Necessity is the Mother of Invention, right? I made a Philly cheesesteak on flatbread and you know what? It tastes awesome too.
Those Philly cheesesteaks earned a rep for good reason. However, I do say you can make an excellent revision of them. With steak, peppers, and cheese, a bit of seasoning, you can get that Philly feeling. Yes, even on a flatbread!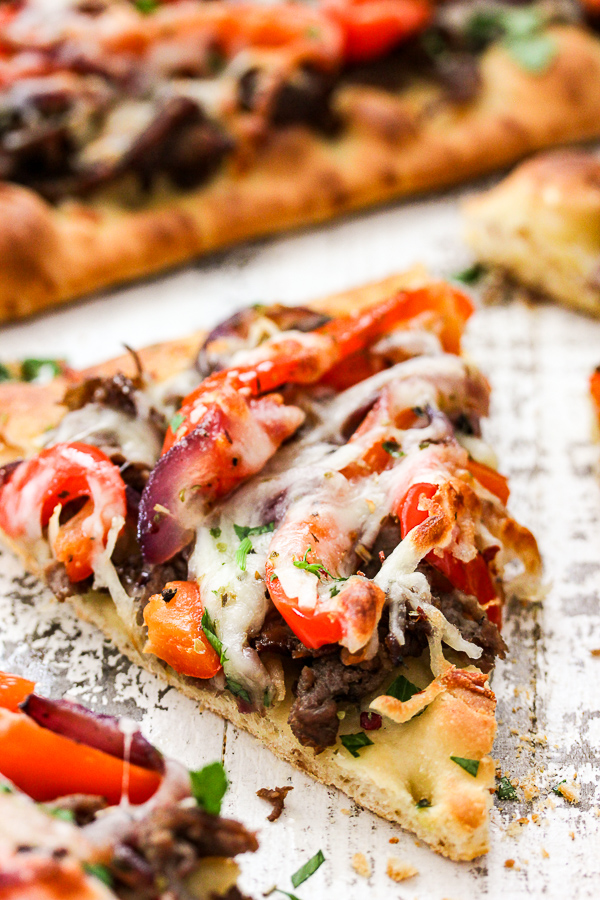 The origin of the Philly Cheesesteak sandwich
Pat's gets credit for being the first steak sandwich restaurant in the country. It actually started as a hotdog joint, but then the owner wanted to change things up and put chopped steak in the bun rather than a hot dog.
See, everyone likes to try out new ways of doing things once in a while!
That was successful so his friend opened a place across the street to sell his style of cheesesteak sandwiches. Basically the biggest difference is the way they cut the meat and the amount of swagger they cook it with.
Everyone has their own take on which is better. People can literally debate it to a degree that would make your head spin.
Their simplicity matters most. You cook steak with peppers and add cheese. Toss into or onto the bread. Good to go. So simple.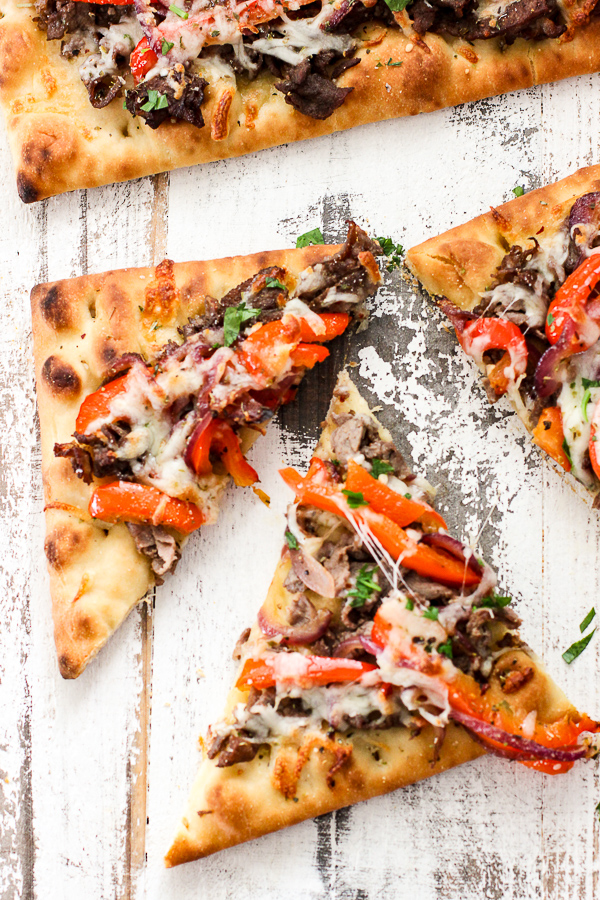 The ingredients to make a great Philly Cheesesteak on flatbread.
I like keeping it simple too. Get a package of Steak-Ums or Gary's Quick Steak. You can find those in the freezer section at the market. They work great because you can heat and eat very easily. No muss, no fuss.
The bread I use is the Trader Joe's flatbread which makes two flatbreads. A twelve inch pre-baked pizza crust works great two.
For cheese, I suggest using a package of shredded provolone mixed with mozzarella. You can find those in mixed bags, or buy them separate.
When it comes to the peppers, I like sweet red peppers. Either green and or yellow work too. I just love that color of red. Naturally, you can also use those hot red cherry peppers. Pepperoncini? Not going to stop you.
However you prefer; when it comes to hot and spicy, folks go by preference.
You can also use any kind of grilled onions. I just happen to prefer the red onions. The color is nice too, but they have more onion zing to them.
Some folks are mushroom fans. Others not so much. If you like them on you Philly cheesesteak then the brown or white crimini do just fine. Don't let that stop you from using any other kind though.
For the special touch, brush your bread with garlic infused olive oil. Amazing!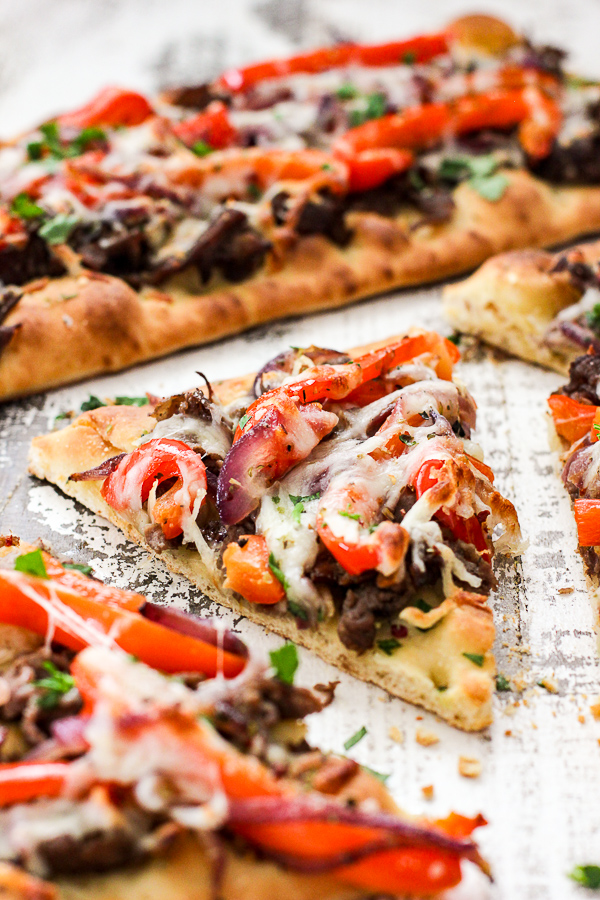 What goes great with a philly cheesesteak?
The philly cheesesteak sandwich is phenomenal, and I love them. In my opinion, they taste amazing,one of the best sandwiches of all time. Try having them with a few different salads.
Cauliflower dill no potato salad

– This is lighter than a potato salad. That is a good thing because a philly cheesesteak flatbread sandwich will definitely fill you up and make you scared to go in the pool for fear of sinking.

Chopped cucumber summer salad

– A cucumber salad offers a nice balance as well to the huge fullness of the cheesesteak, even if it is lighter on flatbread.

Easy steakhouse salad

– A steak sandwich deserves a steakhouse salad. This is the classic steakhouse salad recipe.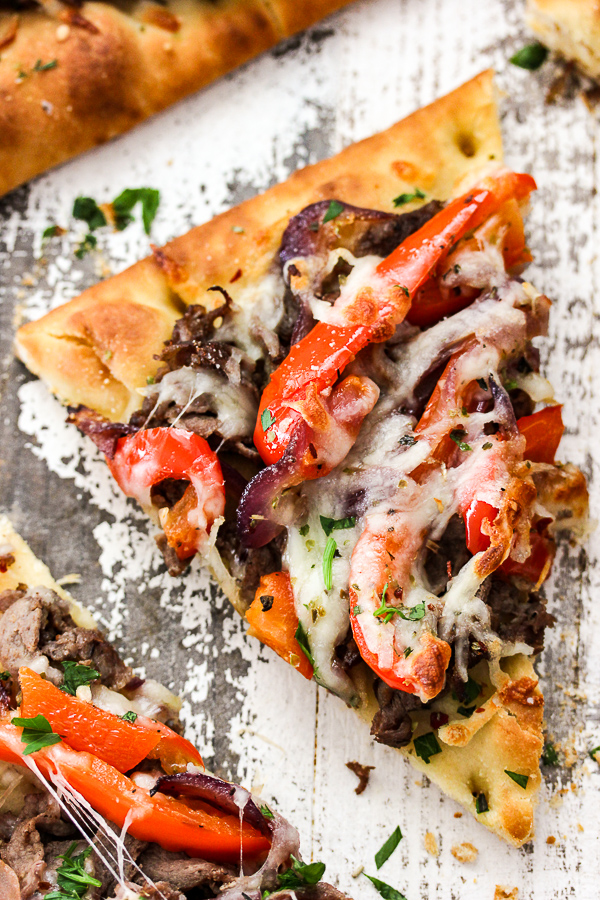 Yield: 6 servings
Philly Cheesesteak Flatbread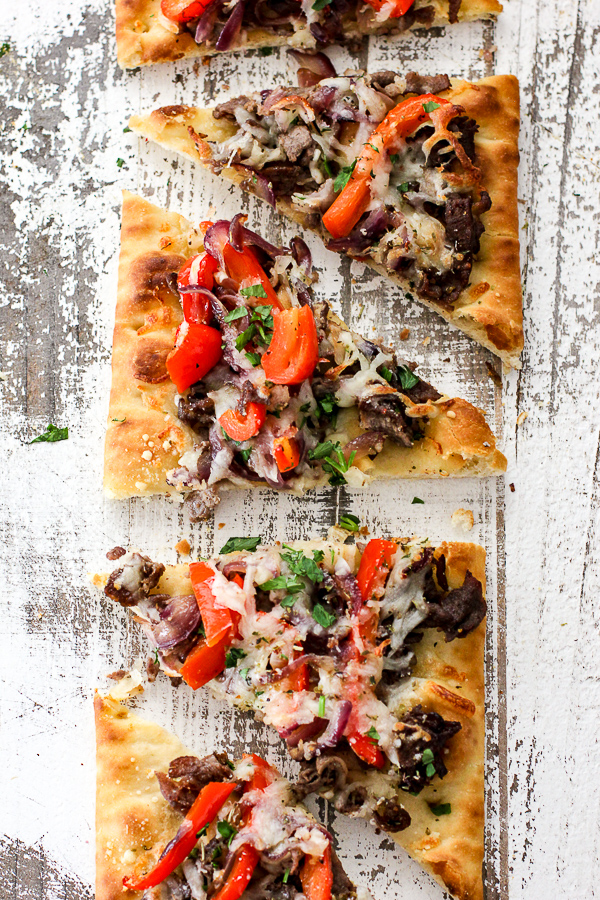 Philly cheesesteak flatbread puts a new twist on the venerated Philly cheesesteak sandwich. Instead of the bun style roll, I use flatbread.
Ingredients
1/4 cup olive oil, plus 1 tbsp
1 clove garlic, peeled and crushed
2 precooked flatbreads
1 (12 oz) pkg frozen Philly cheesesteak meat, such as Gary's Quick Steak
1 bell pepper, cored and thinly slice
1 red onion, thinly sliced
salt
pepper
1/2 tsp seasoned salt
1 1/2 cup pizzaria blend shredded cheese
2 tbsp grated parmesan cheese
1 tsp pizza seasoning or Italian seasoning
chopped fresh parsley, if desired
Instructions
Preheat oven to 425 degrees.
Combine 1/4 cup olive oil and garlic in a small microwave container.
Microwave on high for 30 seconds and then let oil sit while your prepare the rest of the ingredients.
Heat remaining tbsp of olive oil in a skillet over medium heat.
Add bell pepper and onion, season with a pinch of salt and pepper.
Saute until veggies are soft and starting to brown, about 10 minutes.
Remove veggies from pan and set aside.
Increase heat to medium high and add frozen steak to pan.
Sprinkle with seasoned salt.
Cook on one side for 2-3 minutes.
Flip meat over and start to break up with a spoon.
Once meat is cooked through, remove from pan.
Brush crusts with garlic oil.
Evenly divide steak between the flatbreads.
Evenly divide pepper and onion between the flatbreads.
Top each flatbread with 3/4 cup of the the shredded cheese and 1 tbsp each of the parmesan cheese.
Bake flatbreads directly on the oven rack in preheated oven for about 8 minutes, until cheese is melted and crust is crispy.
Sprinkle with pizza or Italian seasoning and parsley.
Slice and serve.
Notes
My favorite flatbread is from Trader Joe's. You can also use 2 12 inch pre-cooked pizza crusts for this recipe.
Nutrition Information:
Yield:
6
Serving Size:
1
Amount Per Serving:
Calories:

574
Total Fat:

32g
Saturated Fat:

13g
Trans Fat:

0g
Unsaturated Fat:

15g
Cholesterol:

108mg
Sodium:

931mg
Carbohydrates:

35g
Fiber:

3g
Sugar:

3g
Protein:

36g