You don't need to go out to enjoy delicious Indian curry. This lamb curry is easy enough to make in your own kitchen and is full of rich authentic flavor.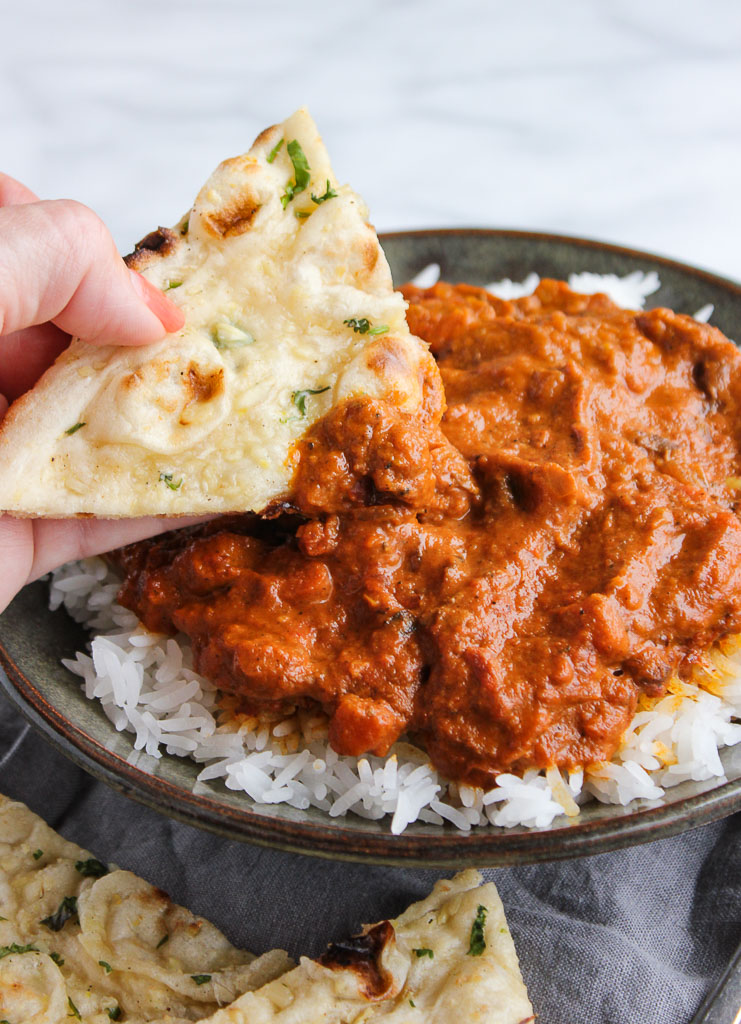 Indian food is one of our favorite ethnic foods and lamb curry is probably my favorite dish. This is usually a meal we go out for because I have never been able to get it quite right at home…..until now.
I recently got it in my head that I was going to make lamb curry at home and it was going to be GOOD lamb curry. So I set out on the internet to figure out what the key ingredients were in an Indian curry.
What I discovered was a fairly long list of spices, including curry powder, garam masala, turmeric and surprisingly to me, cumin and ginger. I also added cayenne pepper to give the dish a little extra spice, but it's definitely not too spicy. If your taste buds like it spicier, just add a little more cayenne pepper.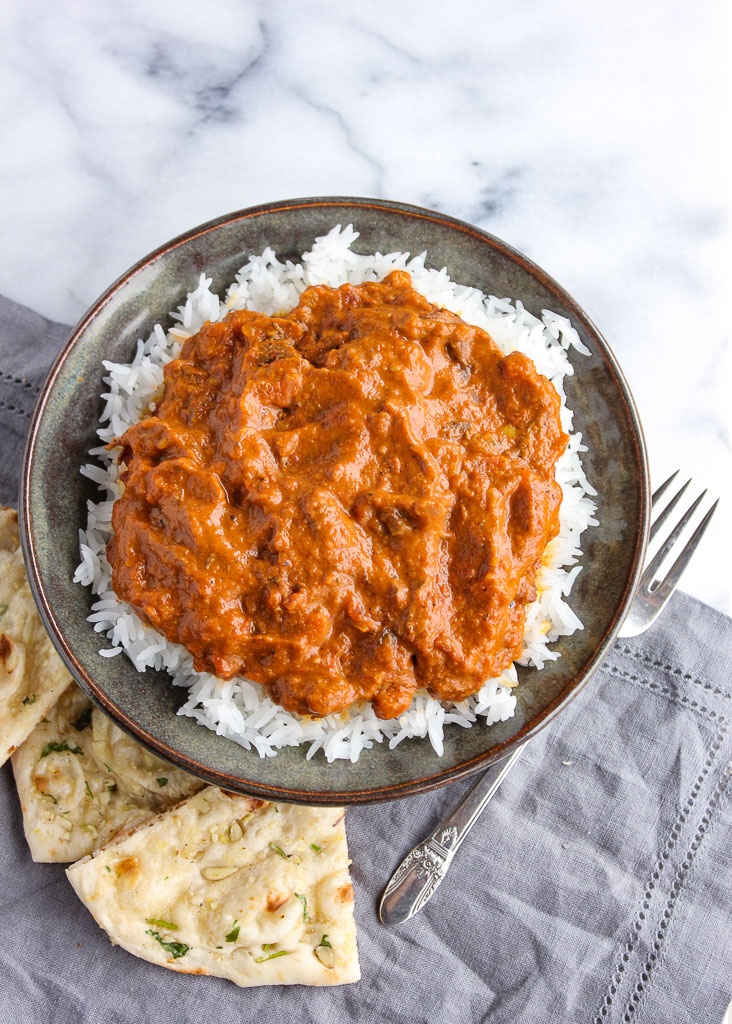 I also realized the dish needed something to mellow out the acidity from the tomatoes and that something is a little cream towards the end of the cooking. The cream mellows out the tomatoes and gives the sauce a really rich texture and flavor.
The final piece that makes this lamb curry super delicious is to give it a good long time to simmer. Like at LEAST 2 hours. It needs that long for all of those wonderful spices to combine and for the lamb to get nice and tender.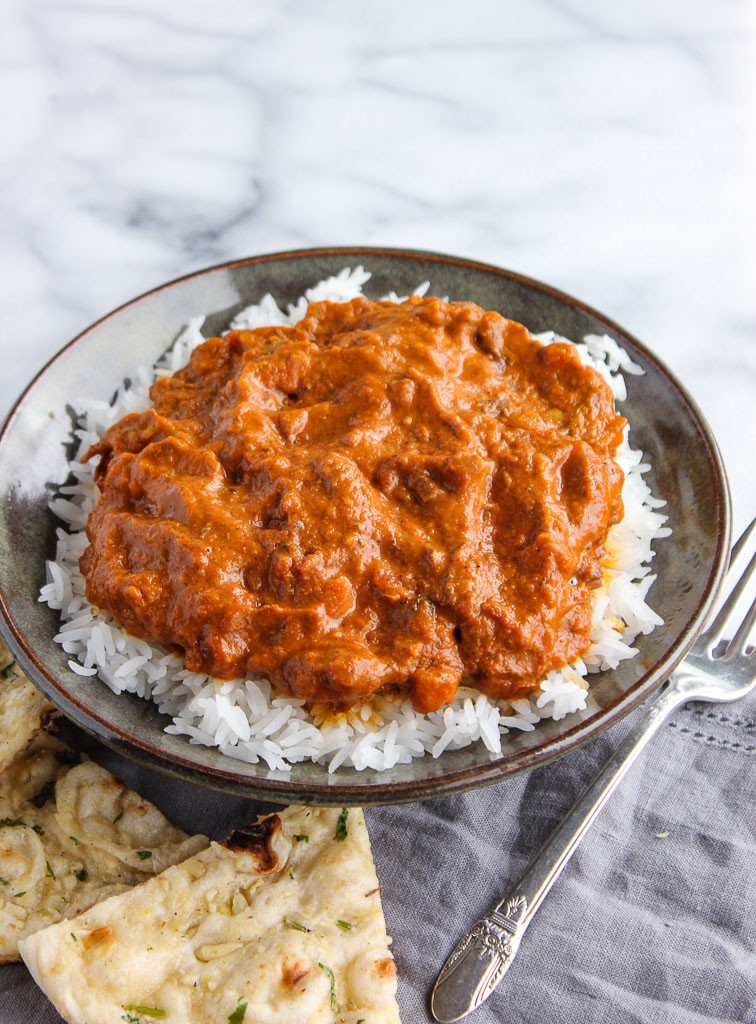 Don't be put off by the long list of spices or the long cooking time. The prep for this dish only takes about 15-20 minutes and then it's mostly hands off, just an occasional stir while it simmers and works its magic.
I'm not going to try and pass my lamb curry off as totally authentic, but I have to say it tastes pretty darn close to what we order at our favorite Indian restaurant. I suggest serving it with lots of basmati rice and some warm naan bread. Mmm mmm, now I think I'm going to go and have myself another bowl!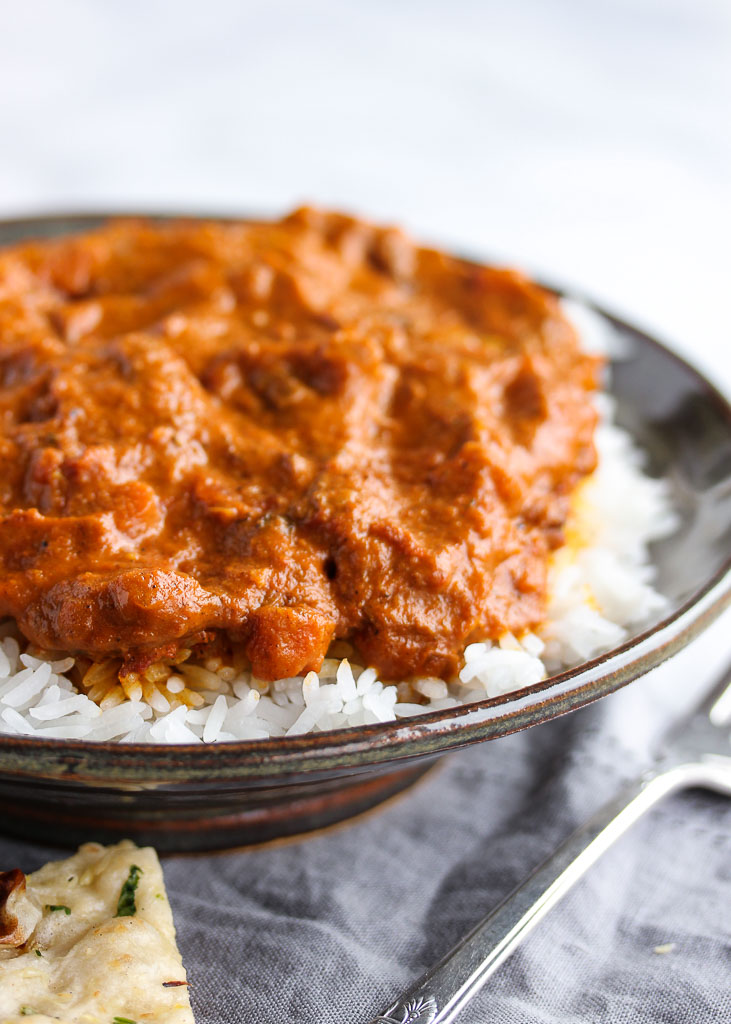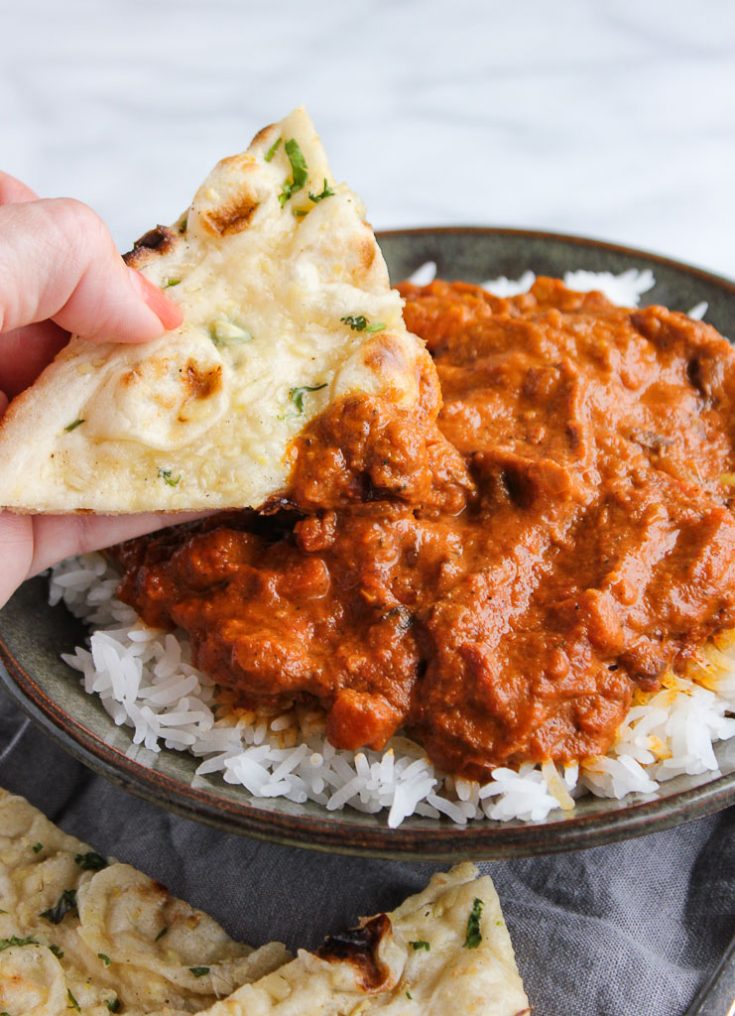 You don't need to go out to enjoy delicious Indian curry. This lamb curry is easy enough to make in your own kitchen.
Ingredients
1 tbsp +2 tsp ghee (clarified butter) or olive oil, divided
2 lb lamb stew meat
1 medium red onion, chopped
1 medium carrot, diced
4 cloves garlic, minced
1 1/2 tsp salt, divided
3/4 tsp black pepper, divided
1 tbsp curry powder
1 tsp garam masala
1 tsp turmeric
1 tsp cumin
1/8 tsp cayenne pepper
1 tbsp ginger paste
1 tbsp tomato paste
1 (28 oz) can unsalted crushed tomatoes
1 cups chicken stock
1/2 cup cream
cooked basmati rice
Instructions
Heat 1 tbsp ghee over high heat in a large skillet or pot.
Season lamb with 1/2 tsp salt and 1/4 tsp black pepper.
Brown for about 3 minutes per side in the ghee until golden.
Remove from pan and set aside.
Lower heat to medium and add remaining 2 tsp ghee.
Sauté onions and carrots for about 5-7 minutes, until tender.
Add garlic and sauté for 30 seconds more.
Season with remaining salt, pepper, curry powder, garam masala, turmeric, cumin and cayenne pepper, stirring well to make sure vegetables are well coated.
Stir in ginger paste and tomato paste.
Return lamb to pot and stir in crushed tomatoes and chicken stock.
Bring mixture to a boil, reduce heat to low, cover and simmer for at least 2 hours, stirring occasionally.
Stir in cream and simmer, uncovered, for another 10-15 minutes. Adjust salt and pepper if necessary.
Serve over cooked rice.
ENJOY!
Shared at: