This meatball pizza is so incredible. With homemade meatballs and a crispy, chewy crust it's pizza perfection.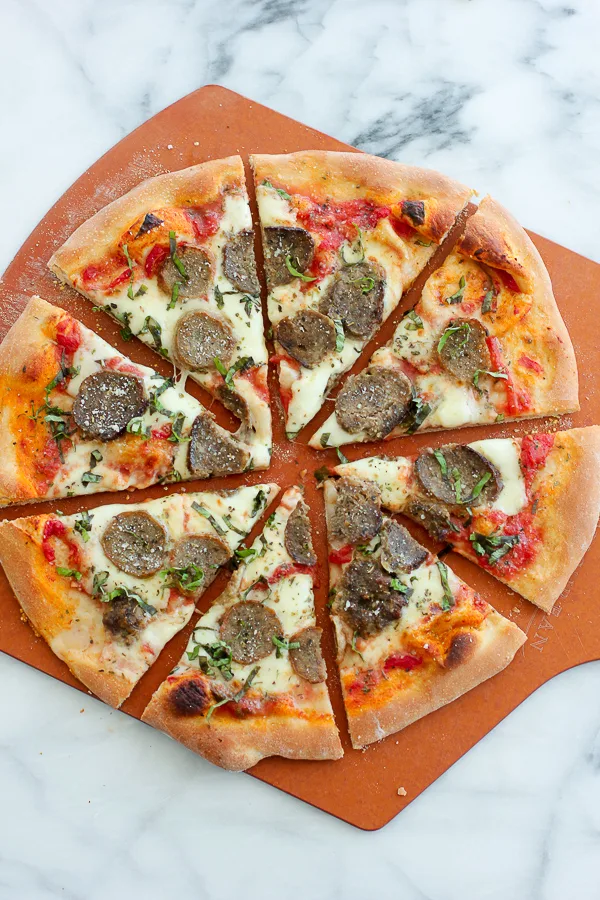 I find making homemade pizza to be a very enjoyable activity. It's very satisfying to roll out that crust and the possibilities for toppings are endless.
You can really use your imagination and come up with some amazing combinations. I also feel a lot better about eating a homemade pizza versus delivery or frozen pizza.
You have control over all of the ingredients, so you can make it as healthy as you like.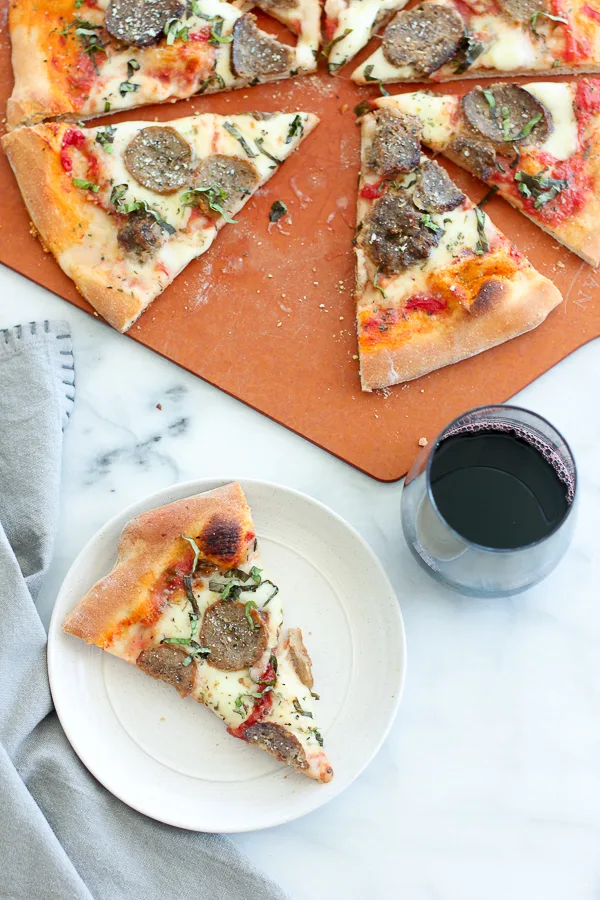 My inspiration for this recipe came from a meatball pizza we had while vacationing in New York. I had never had one before, but it was absolutely amazing!
So I set out to make my own homemade version. It did not disappoint.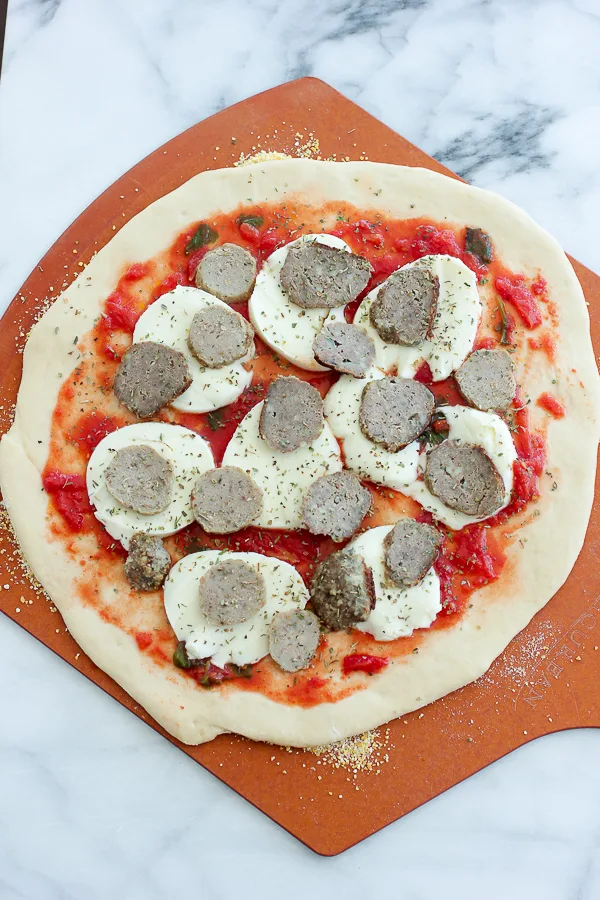 For my version, I use my favorite baked meatball recipe as well as a no-cook pizza sauce, fresh mozzarella and fresh basil. Then I bake it in a 500 degree oven.
The super hot temperature is the secret to a super crispy crust and the pizza only takes about 10 minutes to cook. It turns out perfectly every time.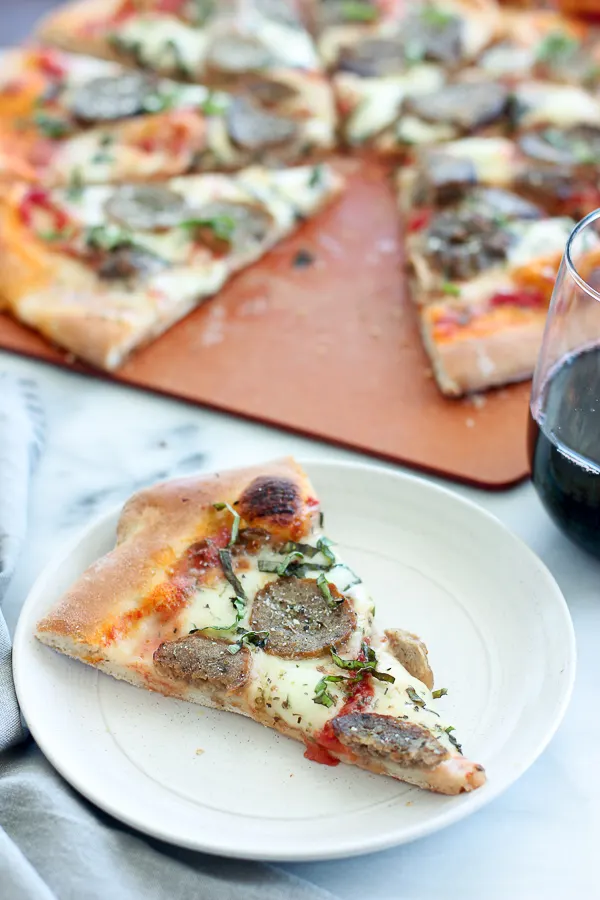 What ingredients are needed for this pizza recipe?
Pizza dough of your choice
Pizza sauce
Meatballs, homemade or store bought
Fresh mozzarella cheese
Dried Italian seasoning
Parmesan cheese
Fresh basil
What equipment is helpful for making pizza?
A pizza stone will get you a good result, but a metal pizza pan will also work if that's what you have.
A pizza peel is essential for transferring the pizza to the pizza stone. If you don't have one, the back of a baking sheet will also work.
A Rolling pin is very helpful for getting the dough thin enough.
Tips and tricks for making this Meatball Pizza
If your dough has been in the refrigerator, let it rest at room temperature for about 15 minutes to take the chill off. It will roll out easier, if it's closer to room temperature.
Make sure you put a fairly generous amount of cornmeal on your pizza peel. This will insure that the pizza will easily slide off of it onto the baking stone.
Preheat the pizza stone while the oven is preheating.
Be careful not to add too much sauce onto the crust and maintain a 1 inch border. If there's too much sauce, the crust will be soggy.
The meatballs should be sliced relatively thin, no more than 1/4 inch for the best result.
Don't add the fresh basil until after the pizza has come out of the oven.
Let the pizza cool for about 5 minutes after it comes out of the oven. It will be easier to slice and serve if it's had a chance to cool slightly.
More pizza and flatbread recipes you'll love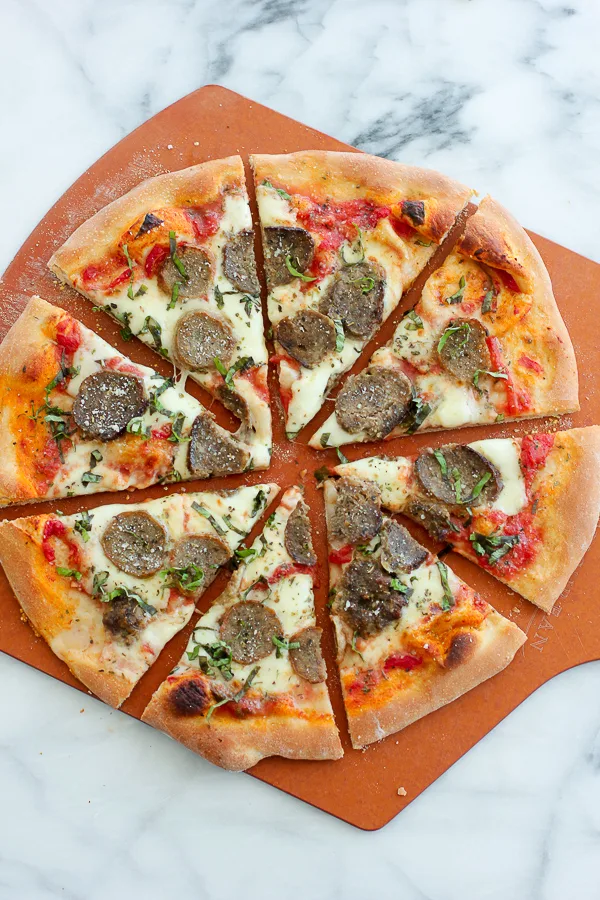 This meatball pizza is so incredible. With homemade meatballs and a crispy, chewy crust it's pizza perfection.
Prep Time
2 hours
30 minutes
Total Time
2 hours
40 minutes
Ingredients
1 lb ball of pizza dough, homemade or store bought (see notes)
flour
cornmeal
1/3 cup of your favorite pizza sauce (see notes)
8 oz fresh mozzarella, sliced
4 medium size meatballs, sliced (see notes)
1 tsp dried Italian seasoning
grated parmesan cheese
1/3 cup fresh basil, chopped
Instructions
Place a pizza stone in the oven and preheat oven to 550 degrees.
Sprinkle a pizza peel or an upside down baking sheet with a generous coating of cornmeal. This will help your pizza to easily slide off onto the pizza stone.
Let your dough come to room temperature, which will make it easier to roll out.
Sprinkle a large cutting board or your counter with flour as well as both sides of the dough.
Start by working the dough with your hands, gently forming it into a circle. e you've got a good circle going, place dough on your floured surface.
Continue rolling out with a rolling pin, also coated with flour, until you have about a 12 inch circle.
Carefully transfer dough to the pizza peel or upside down cookie sheet.
Slice cheese into thin slices, a serrated knife works really well for this.
Slice meatballs, about 1/8 inch thick. A serrated knife works really well for this, also.
Spread sauce onto crust, leaving about a 1 inch border.
Top with cheese slices and then meatball slices, making sure it doesn't get too close to the edge of the crust.
Sprinkle the dried Italian seasoning over the pizza.
Carefully transfer pizza onto preheated pizza stone in the oven. Shake very gently with a back and forward motion and the pizza should slide off the peel or baking sheet.
Bake for 10 minutes, until crust is golden brown and cheese is melted and bubbly.
Sprinkle with parmesan cheese and basil.
Allow to cool for a few minutes, then slice and serve.
Notes
If you want to make your own pizza dough, this recipe from Sally's Baking Recipes is the one that I used.
Store bought meatballs will work fine in this recipe, but I like to use these Baked Meatballs.
If you'd like to make your own pizza sauce, my favorite recipe is this No-Cook Homemade Pizza Sauce. It takes only minutes to prepare and it has amazing flavor.
Most of the prep time is hands off while the pizza dough rises.
Nutrition Information:
Yield:
4
Serving Size:
1
Amount Per Serving:
Calories:

761
Total Fat:

24g
Saturated Fat:

9g
Trans Fat:

0g
Unsaturated Fat:

13g
Cholesterol:

56mg
Sodium:

1082mg
Carbohydrates:

106g
Fiber:

7g
Sugar:

6g
Protein:

29g
ENJOY!

Shared at these great blogs: