It happens to all of us, even food bloggers. We all have nights where we have very little time for dinner, we have no idea what to make for dinner, we have no food in the house to make dinner….or all of the above.
You know what I'm talking about, it's those nights when your kids have all kinds of activities they have to get to, where you are just too tired to put much thought or effort into dinner. So what do we end up doing? I know in our house those would be the nights where we order pizza delivery or Chinese takeout. For others that means a trip through the drive-thru for burgers and fries.
Nothing is wrong with that on an occasional basis, it can even be a nice treat. But, we don't want that to become a habit – either for our budgets or our waistlines! But what do you do to solve this problem when you're crunched for time or dog-tired?
I have a solution for at least some of those nights and it starts with a rotisserie chicken. Rotisserie chickens are so versatile, there are so many possibilities for dinner. I have come up with five ideas for you, each of which starts with a rotisserie chicken and has just four additional ingredients.
I've used help from the grocery store where it makes sense, like buying pre-cut veggies. But I still tried to keep everything healthy and affordable. These are not gourmet meals by any means, they are meant to be easy meals for busy nights that are nutritious, tasty and affordable.
With only five ingredients, you'll be able to run in and out of the grocery store pretty quickly and once you get home, these recipes take little time to prepare. If you're able to do some pre-planning, you could even have a lot of these ingredients on hand already. I should also mention that I considered olive oil, salt, pepper and some dried spices to be things you probably already have in your pantry.
So here are five ideas to help you get a home cooked dinner on the table quickly. I know there are many more meals that you could make with a rotisserie chicken, hopefully this gets your creative juices flowing. I would love to hear your ideas!
1. BBQ Chicken Sandwiches with Coleslaw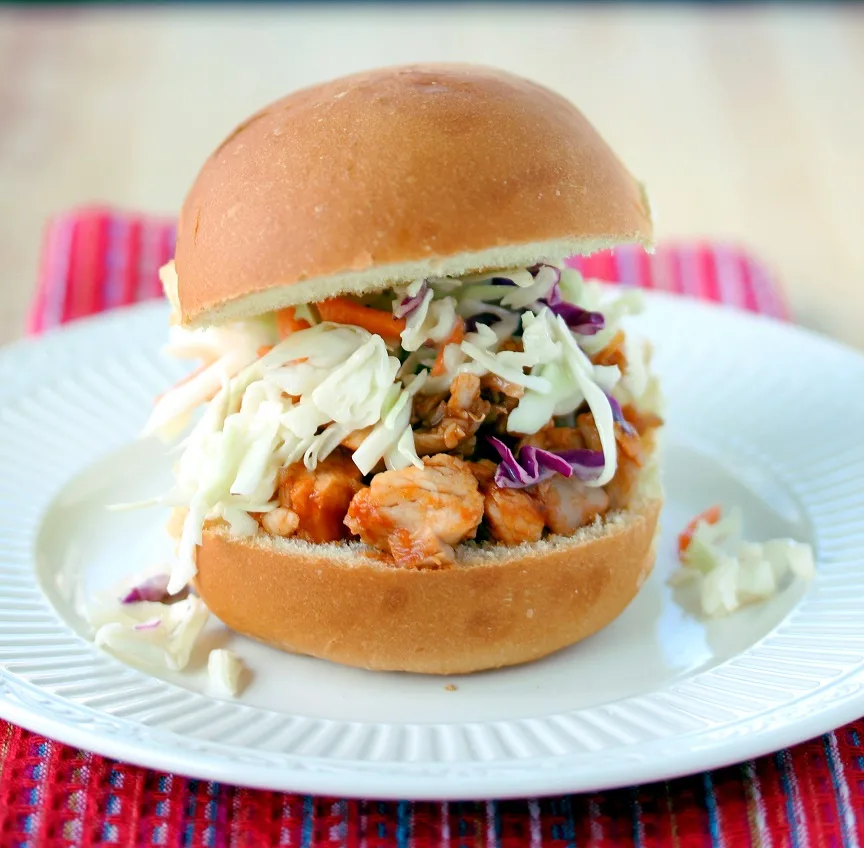 For four sandwiches:
2 cups chopped or shredded rotisserie chicken
a bottle of your favorite BBQ sauce
4 hamburger buns
1 bag pre-chopped cabbage
1 bottle coleslaw dressing
Combine chicken and enough BBQ sauce to make it as saucy as you like it. Heat in the microwave or on the stove top until warmed through.While chicken is heating, combine cabbage with some of the dressing, until it's a consistency you like. Serve chicken on the hamburger buns and top with coleslaw if desired, or serve on the side.
2. Chicken Caesar Salad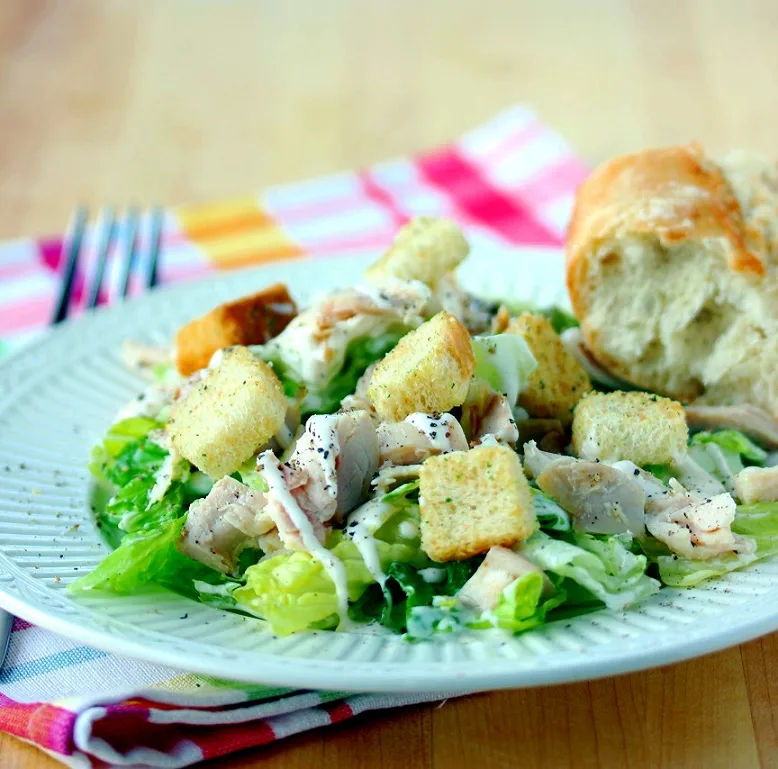 For four salads:
2 cups chopped or shredded rotisserie chicken
1 large bag pre-chopped romaine lettuce
1 bag croutons
1 bottle Caesar dressing
1 loaf ciabatta bread (or whatever bread you prefer)
Preheat broiler. Slice bread and drizzle each piece with a little olive oil. Place bread on a baking sheet and broil until bread starts to brown. Place lettuce and chicken in a large bowl and drizzle with desired amount of dressing. Toss until well combined. Divide between four plates and top with croutons. Serve with toasted bread.
3. Chicken Pesto Pasta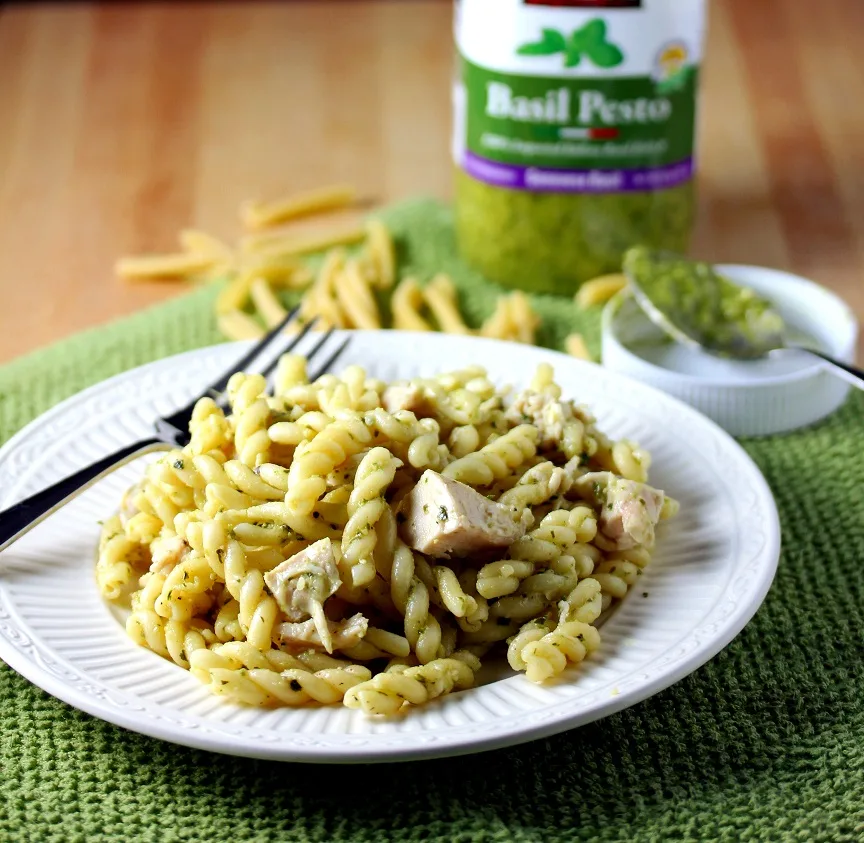 For four servings:
2 cups chopped or shredded rotisserie chicken
1 box short cut pasta
1 – 6 oz container prepared pesto
shredded parmesan
1 loaf crusty French bread ( or whatever kind you prefer)
Cook pasta according to package instructions. Once pasta is cooked, combine with chicken in a large serving bowl. Add pesto and stir until well combined. Sprinkle with desired amount of cheese and fresh ground pepper. Serve with bread.
4. Chicken Quesadillas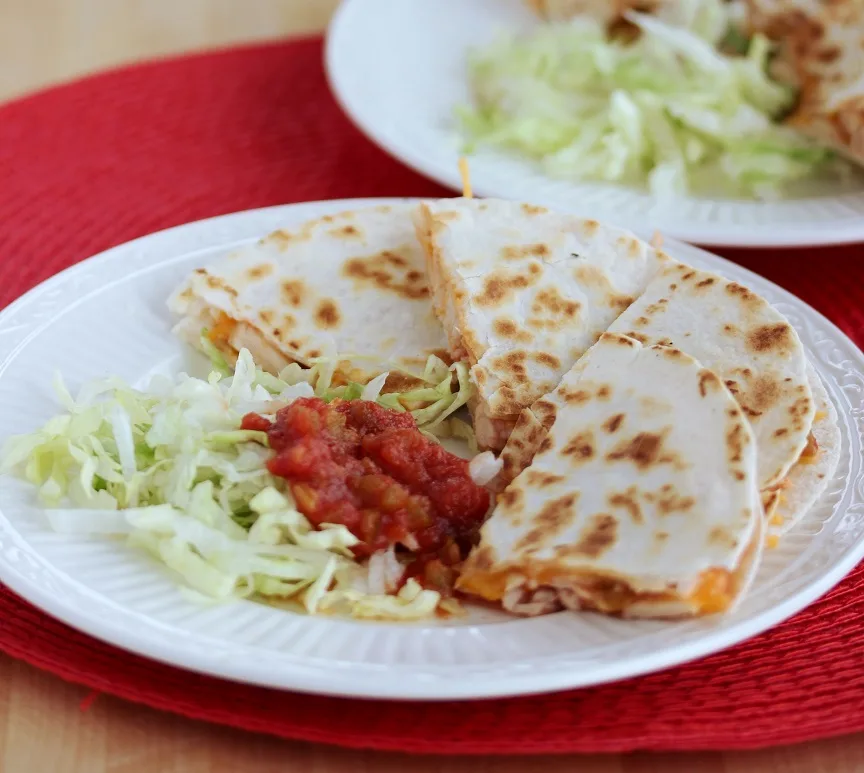 For four quesadillas:
2 cups chopped or shredded rotisserie chicken
1 cup shredded cheese of choice (I used sharp cheddar)
1 bottle salsa
1 bag shredded lettuce
8 flour tortillas (I used the smaller 8 inch)
Heat a large skillet or grill pan over medium heat.
Combine chicken with enough of the salsa to lightly coat. Spread about a 1/2 cup of the chicken mixture on four of the tortillas. Sprinkle about 1/4 cup of cheese over the chicken on each of the four tortillas. Top each tortilla with the remaining four tortillas.
Grill quesadillas on each side until crispy and cheese has melted.
Serve with the rest of the salsa and the lettuce.
.
.
.
.
5. Chicken Noodle Soup
.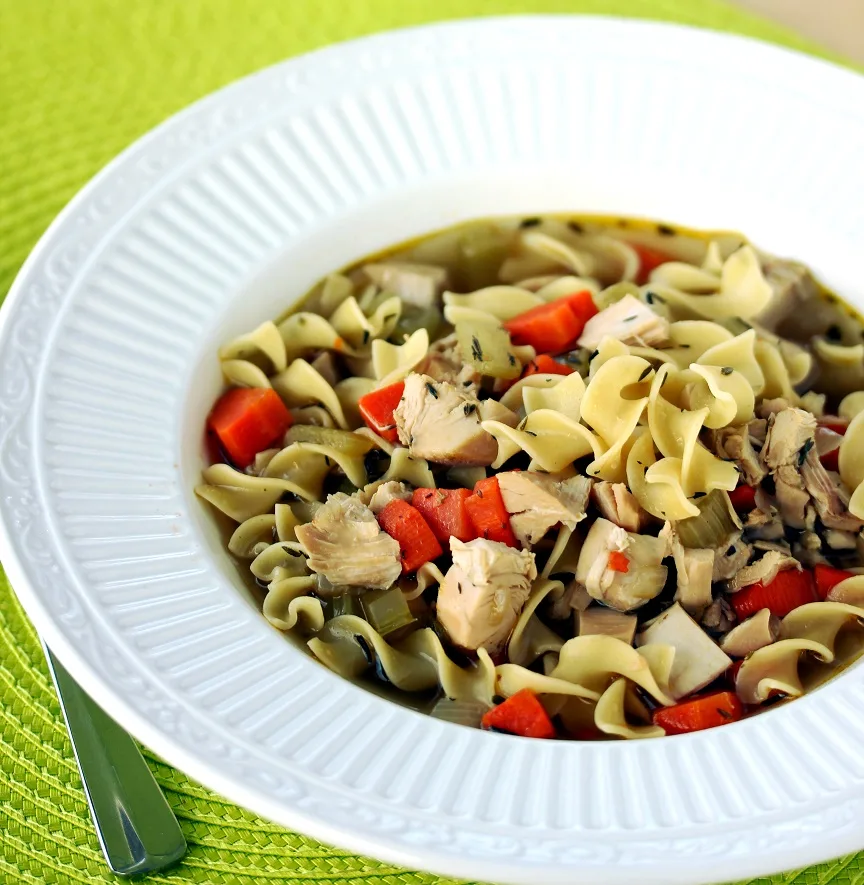 .
This makes 4-6 servings:
3 cups chopped or shredded rotisserie chicken
1 package pre-cut carrots, celery and onion or soup mix (you can usually find this in the produce department)
2 – 4 quart boxes chicken stock (or homemade if you happen to have it on hand)
2 cups egg noodles
1 loaf crusty French bread
Heat about 1 tbsp olive oil in a large soup pot over medium heat. Add veggies and season with salt, pepper and, if you have it on hand, add 1 tsp dried time and two bay leaves (if you don't have this on hand the soup will still be delicious). Saute veggies for about 5 minutes until they're starting to get tender Add chicken and stock to the pot. Increase heat to high and bring to a boil. Once boiling, add egg noodles and cook for another 8-10 minutes until noodles are tender. Add more salt and pepper if necessary. Serve with bread.
.
ENJOY!

Shared at these great blogs: