Easy vegetable miso ramen is a light and healthy soup that's chock full of nutrition and deep rich flavors, that will have your family begging for seconds.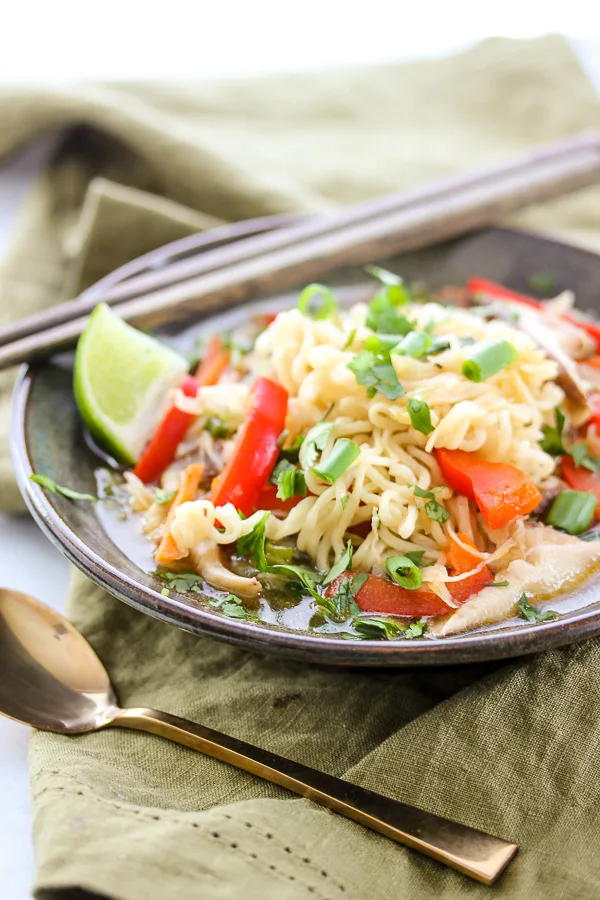 How many of you out there got yourself through early adulthood eating loads of store-bought ramen noodles? It was somehow, weirdly tasty and you just couldn't beat the price.
I remember years ago it was ten cents a package. How can you beat that when you're on a tight budget? But let's face it, it really isn't that good for you. I mean, those seasoning packets are so full of sodium and totally lacking any kind of nutrition.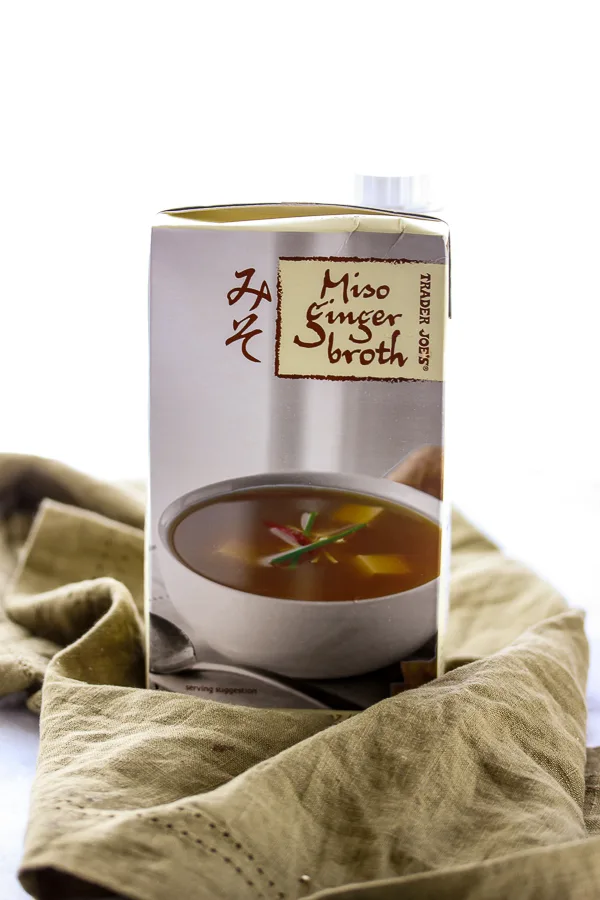 I decided to take those ramen noodles and bring them to a new level that's full of flavor, lot's of veggies and is actually healthy. That, my friends, is how this easy vegetable miso ramen was born.
The miso part of this ramen happened because I had a carton of miso ginger broth that I'd picked up at Trader Joe's. It had been sitting in my pantry for a while because I wasn't sure what to make with it. I'm so glad I used that broth in this soup, because, let me tell you, it has the most incredibly rich flavor.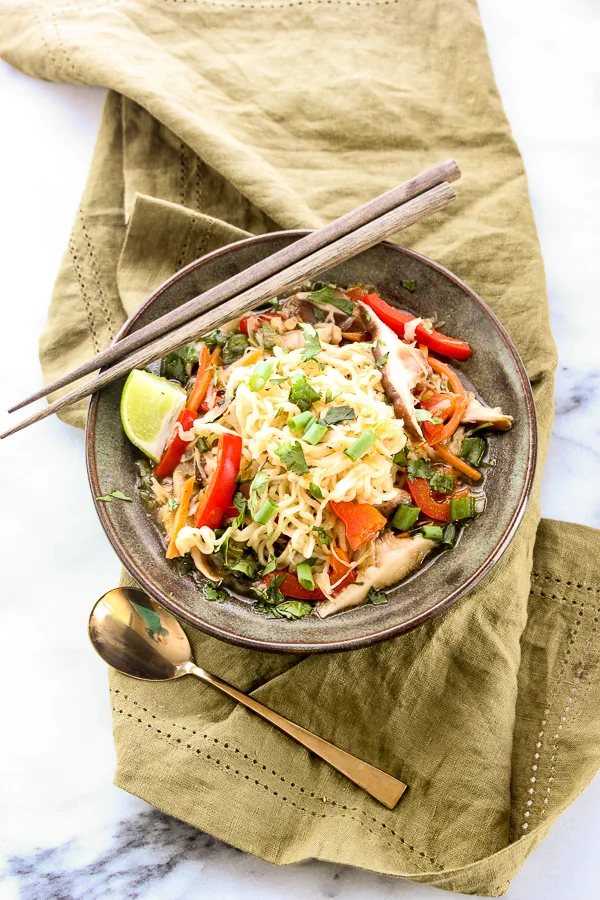 To create this healthy version of ramen, I started by tossing the seasoning packets and only used the noodles. You could use thin spaghetti if you wanted, but I love the fact that ramen noodles cook up in about 3 minutes, which really helps to make this recipe quick and easy.
To bump up the nutrition, I added lots of veggies. The miso ginger broth has so much flavor that I didn't need to add much additional seasoning. I added some chicken stock for flavor, as well as to keep the miso broth from becoming overpowering. You can use vegetable stock in place of chicken stock if you want a vegan soup.
I cooked the noodles separately and didn't put them together with the soup until I served it. That way the noodles didn't soak up too much soup and get soggy.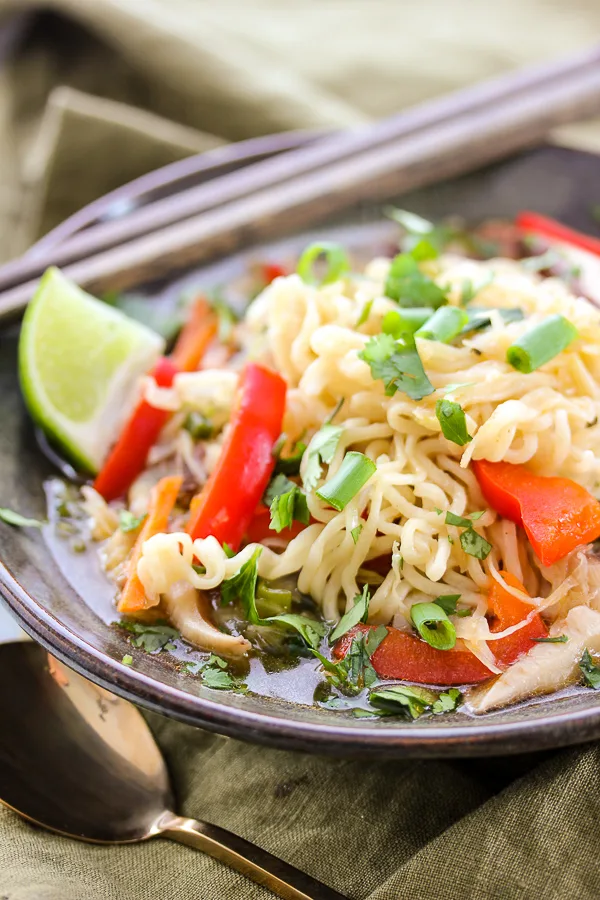 Yield: 6
Easy Vegetable Miso Ramen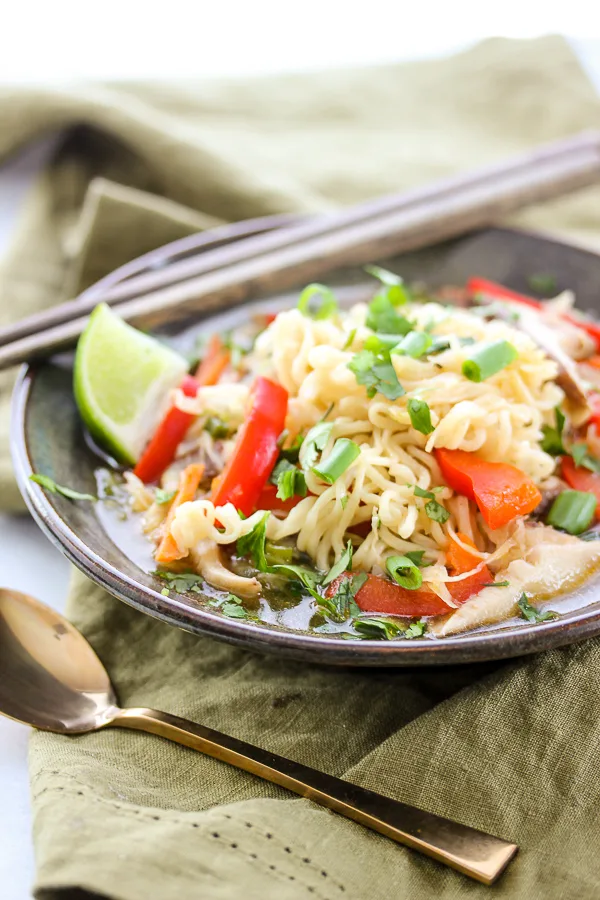 Easy vegetable miso ramen is a light and healthy soup that's chock full of nutrition and deep rich flavors, that will have your family begging for seconds.
Ingredients
2 tbsp peanut or vegetable oil
3 green onions, sliced
1 (5 oz) pkg shiitake mushrooms, sliced
1 red bell pepper, thinly sliced
3/4 cup matchstick carrots
3 cloves garlic
1 1/2 cups green cabbage, shredded
4 cups Trader Joes miso ginger broth
2 cups chicken stock
1/2 tsp salt
2 tbsp reduced sodium soy sauce
juice of 1 lime
1/4 cup cilantro, finely chopped
3 pkgs ramen noodles, seasoning packets discarded
additional sliced green onion and chopped cilantro for garnish
Instructions
Heat oil over medium heat in a large soup pot.
Sauté green onion for 30 seconds.
Add mushrooms, sauté until mushrooms have released their liquid and are starting to brown.
Add red pepper, sauté for 2 minutes.
Add carrots, sauté for 1 minute.
Add garlic, sauté until fragrant.
Stir in cabbage, miso ginger broth, chicken stock, salt and soy sauce.
Bring to a bubble and let simmer while you prepare the ramen noodles.
Cook ramen noodles according to package instruction, omitting the seasoning packets.
Stir lime juice and cilantro into the soup.
To serve, divide noodles between 6 bowls and top with the soup mixture.
Garnish with additional green onions and cilantro, if desired.
Nutrition Information:
Yield:
6
Serving Size:
1
Amount Per Serving:
Calories:

668
Total Fat:

24g
Saturated Fat:

6g
Trans Fat:

0g
Unsaturated Fat:

15g
Cholesterol:

4mg
Sodium:

8280mg
Carbohydrates:

85g
Fiber:

14g
Sugar:

17g
Protein:

34g
ENJOY!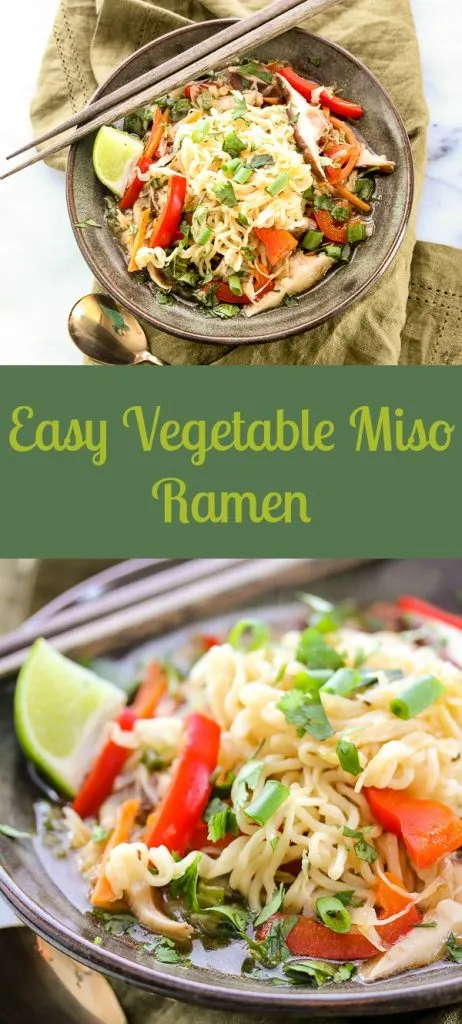 This recipe has been shared at: