A homemade stock along with a variety of nutrition packed vegetables make this Vegetable Beef Detox Soup a delicious bowl of goodness.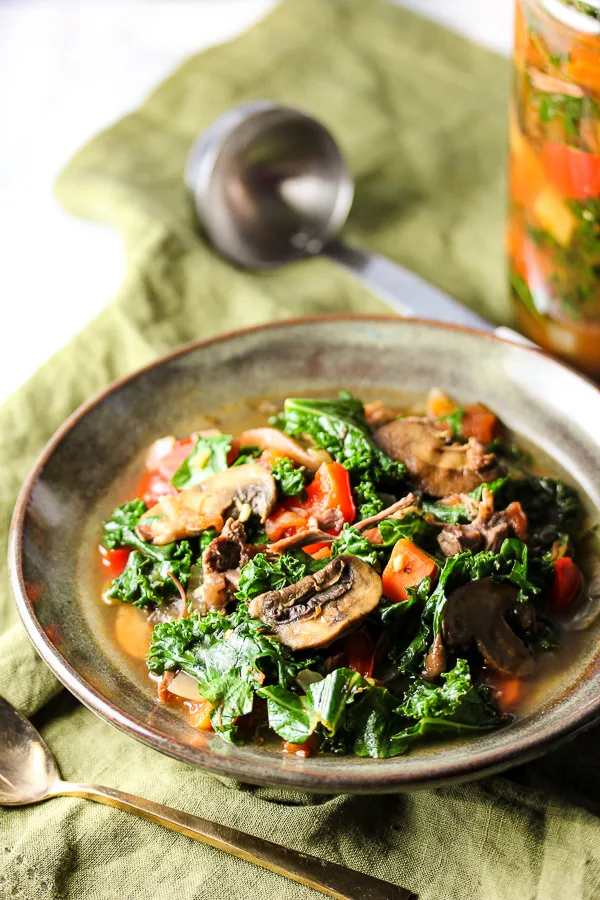 It's no secret that I love soup and this time of year I feel like it makes a perfect meal. A hot, steaming bowl of soup, a simple salad along with some crusty bread makes for one delicious, comforting dinner on a cold winter evening. And if you're lucky, you'll have enough leftovers for lunch the next day.
Vegetable beef detox soup is my new favorite. It's richly flavored without being heavy but is still satisfying and delicious. It's also packed with nutrition and is made completely from scratch. But don't worry, I promise it's not difficult to make and it will make your tastebuds very happy.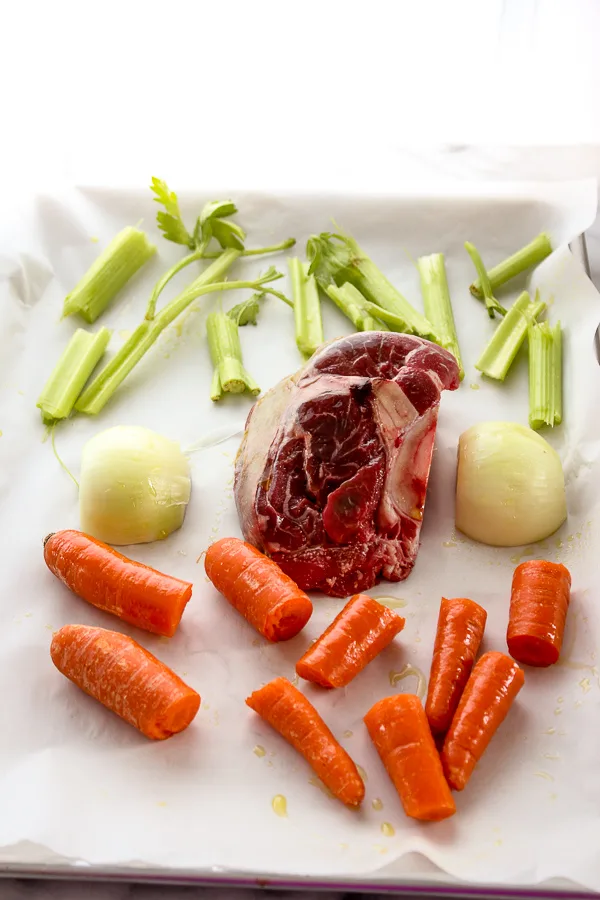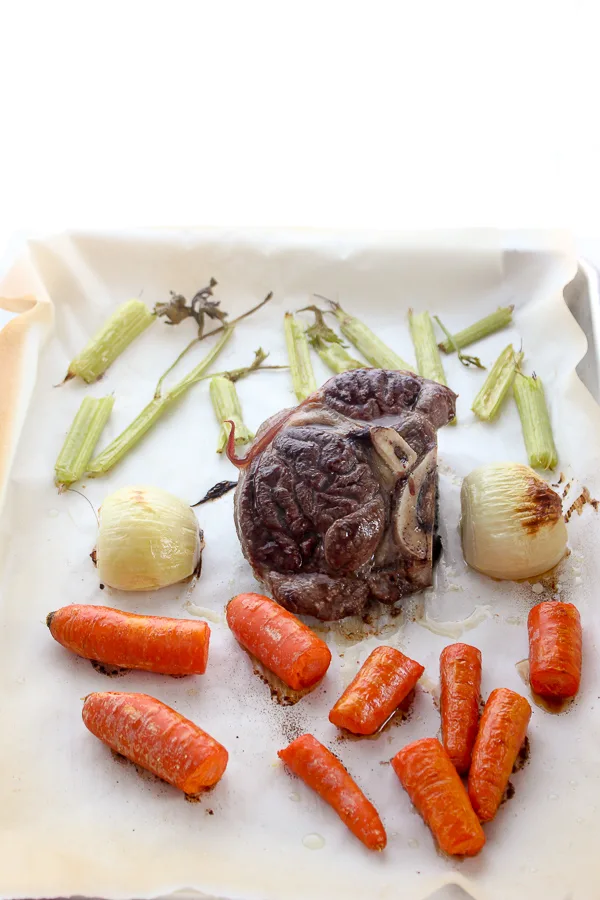 Making your own stock is not difficult, it just takes some time. But most of that time is hands off while the stock simmers. I started this stock by roasting the soup bone along with the vegetables for a short time at a high temperature. This helps to give the stock a richer flavor. While the stock was simmering, I prepped all of the ingredients for the soup.
Once the stock was finished, the soup actually came together pretty quickly. After the vegetables were strained out of the stock and the meat was chopped from the bone, I was ready to move along with a soup. I let the soup simmer for about 30 minutes, but you could let it simmer longer if you wanted. But I wouldn't add the kale until the very end.
I encourage you to make the stock from scratch, but if you don't have the time, you can use store bought stock. In place of the meat from the soup bone, you could use leftover cooked beef. If you have leftover roast, that would work great in this soup.
So how about some vegetable beef detox soup this weekend?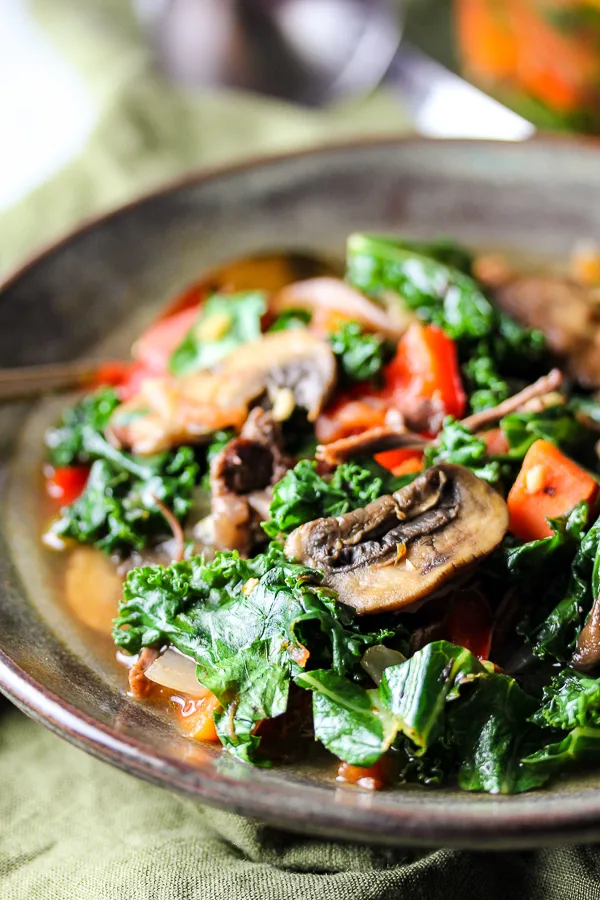 Yield: 4-5 quarts
Beef Stock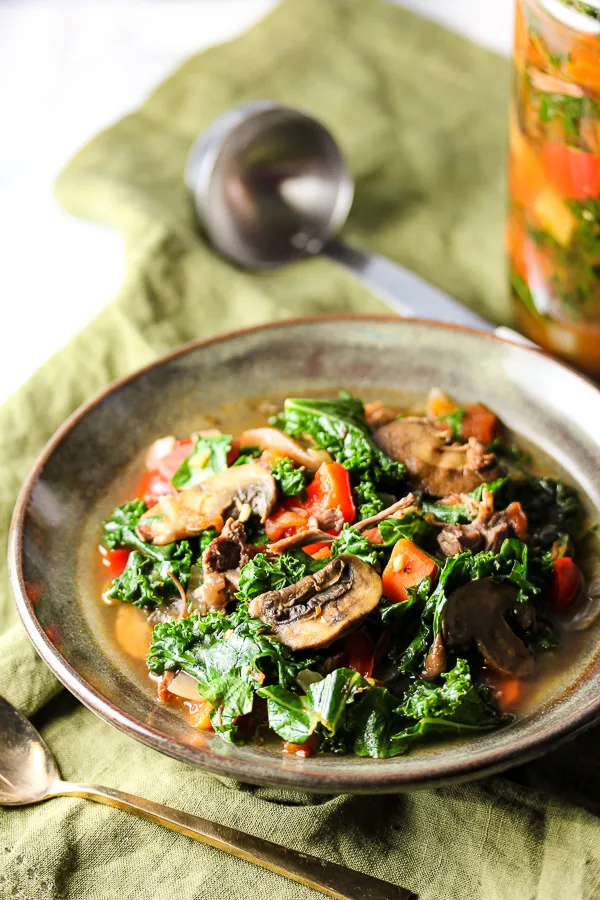 Ingredients
1 lb beef soup bone, with meat
3 carrots, cut into large chunks
3 stalks celery, cut into large chunks
1 onion, peeled and cut in half
olive oil
4 cloves garlic, crushed
2 bay leaves
2 tsp salt
1 tsp black pepper
water
Instructions
Preheat oven to 450 degrees.
Place soup bone, carrots, celery and onion on a sheet pan lined with parchment or foil.
Coat ingredients lightly with olive oil.
Roast in preheated oven for 25 minutes.
Transfer roasted ingredients to an 8 quart pot, adding garlic, salt, pepper, bay leaves, salt and pepper.
Fill the pot with water leaving about an inch at the top of the pot.
Bring mixture to a boil, then reduce heat to low.
Partially cover pot and simmer for 3 hours.
Remove soup bone, along with the meat, reserving for later.
Strain out the rest of the ingredients and discard.
You will need 8 cups of stock for the soup, refrigerate or freeze the remaining stock.
Yield: 8-10
Vegetable Beef Detox Soup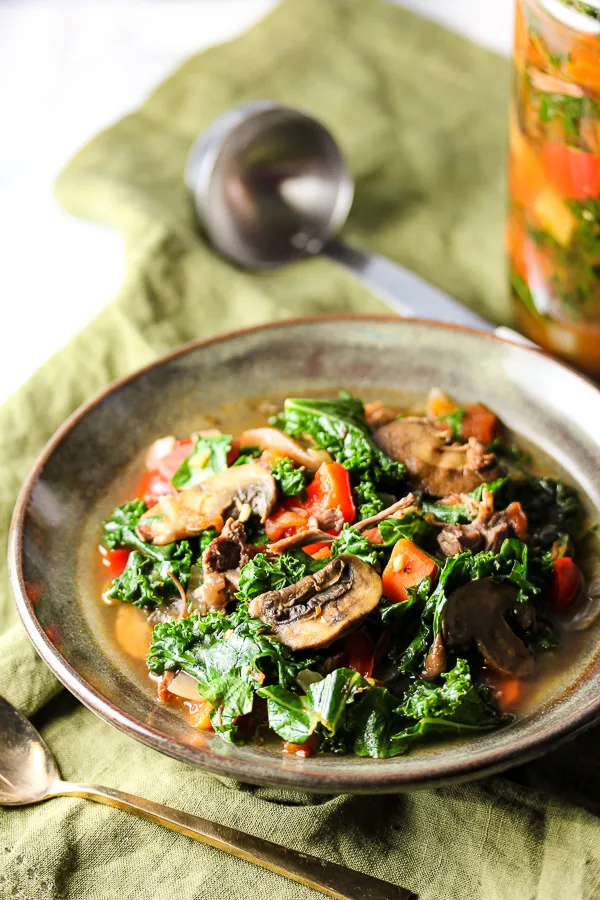 Ingredients
1 tbsp olive oil
1 medium onion, chopped
2 carrots, peeled and diced
2 stalks celery, diced
1 (8 oz) pkg cremini mushrooms, sliced
1 tbsp dried Italian seasoning
2 large cloves garlic, minced
1 red bell pepper, chopped
2 tbsp tomato paste
1 (15 oz) can diced tomatoes
beef from the soup bone, about 1 cup
8 cups beef stock
2 bay leaves
1 1/2 teaspoons salt
1/2 teaspoon black pepper.
1 large bunch kale, stems removed and chopped
1/3 cup parsley, finely chopped
Instructions
Heat olive oil over medium heat in a large soup pot.
Add onion, carrots and celery.
Sauté until onion is translucent, about 5-7 minutes.
Add mushrooms and continue cooking until mushrooms are starting to brown.
Season mixture with Italian seasoning.
Add red pepper and cook for another couple of minutes.
Stir in tomatoes paste, then diced tomatoes and beef.
Stir in beef stock, salt, pepper and bay leaves.
Increase heat, bring soup to a boil, then reduce heat to low, cover and simmer for 30 minutes.
Stir in kale and cook until kale is tender, about 5 minutes.
Stir in parsley right before serving.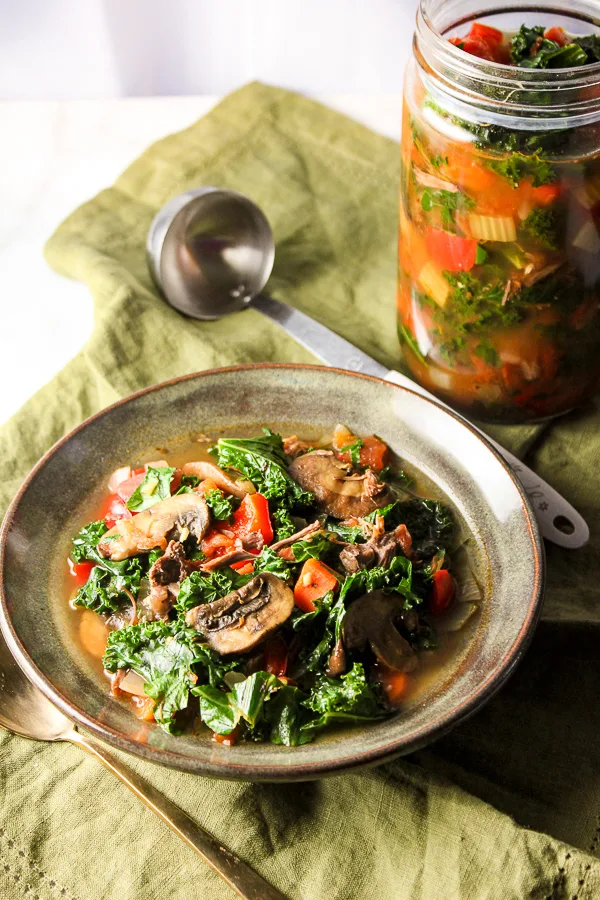 ENJOY!

This recipe has been shared at: