Turkey and roasted sweet potato risotto is a delicious and inventive way to turn your Thanksgiving leftovers into a company worthy meal.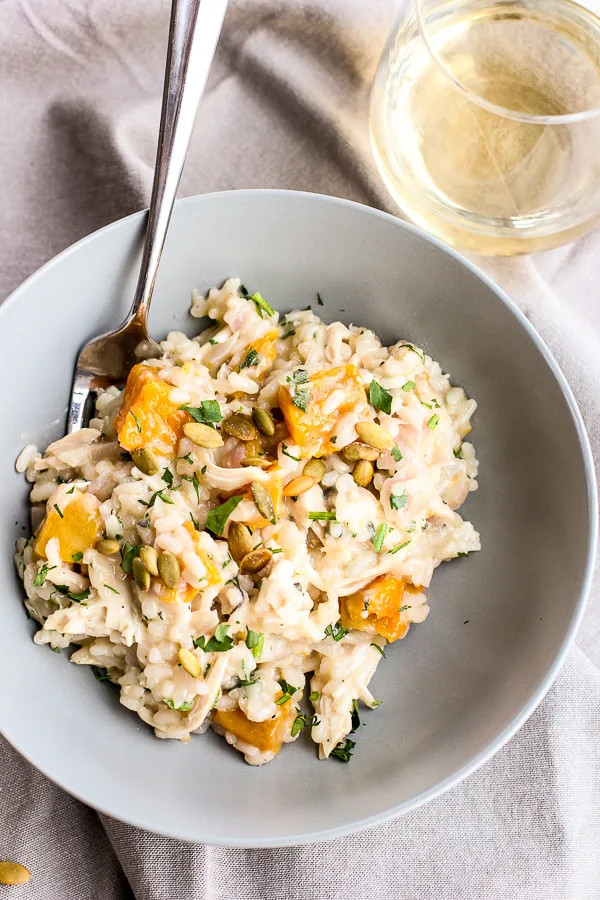 Every year, I always look forward to the leftovers after Thanksgiving. But I typically don't do anything terribly special with them.
In fact, my family's favorite way to eat the leftovers is in something we like to call hash. I take mashed potatoes, stuffing and turkey and saute it all in some butter, until the potatoes start to get crispy.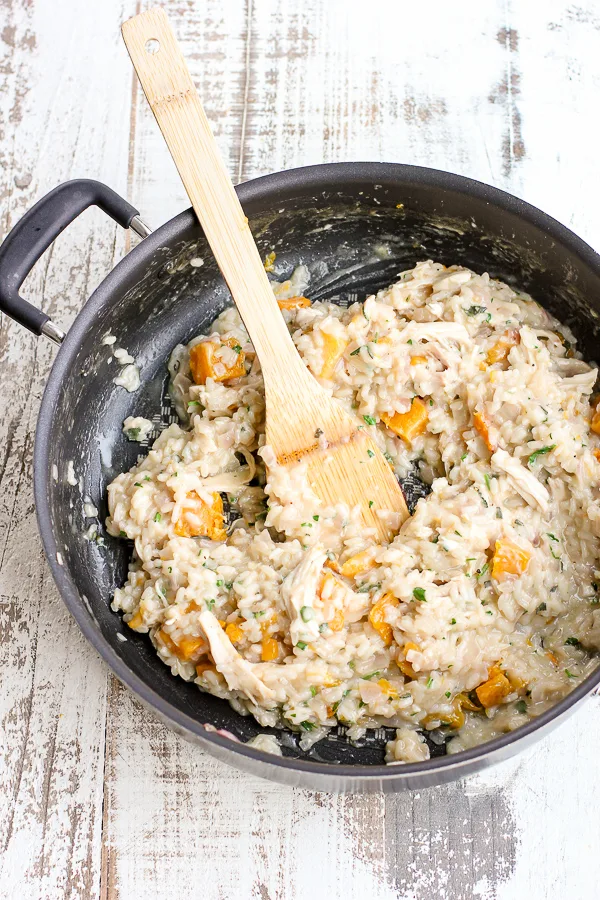 Then to finish it off, I smother it all with lots of gravy. Incredibly simple, but incredibly tasty, we look forward to a big plate of hash every year!
This year, however, I decided I wanted to come up with something a little more creative (although we still had our hash) and this turkey and roasted sweet potato risotto was born. It turned out to be absolutely delicious!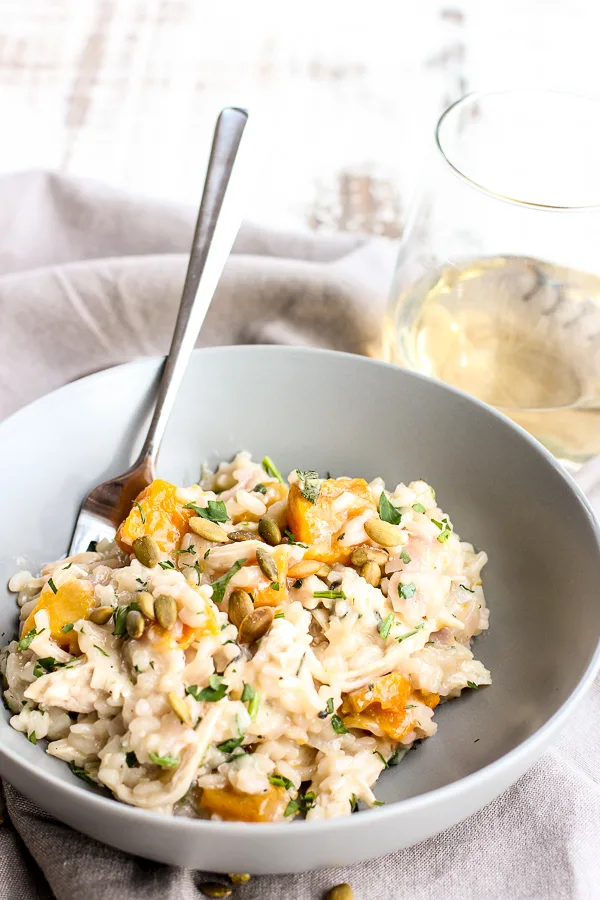 The risotto was perfectly creamy. The sweetness of the sweet potatoes was balanced out by the earthiness of the sage and the turkey was tender and flavorful. A perfect way to re-purpose my leftovers.
If you've never made risotto before, you should know that it's actually very simple. The method is always the same, you start with onions, garlic and arborio rice. You always need 5 cups of liquid, usually a combination of wine and stock.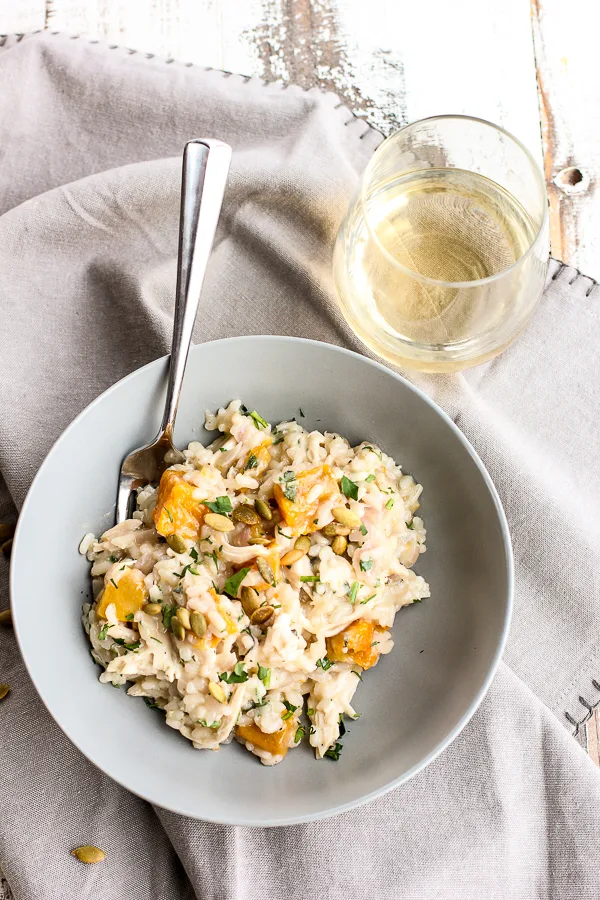 Then you add whatever other ingredients you want to give it the flavor that you're after. In this case, turkey, sweet potatoes and sage. Then you finish it off with a generous amount of grated parmesan cheese.
The "secret" to having it turn out perfectly creamy is to stir it constantly. This can take a little bit of patience, but it's well worth it. So before you start the risotto, turn on your favorite music, pour yourself a glass of your favorite beverage and just relax and enjoy the process.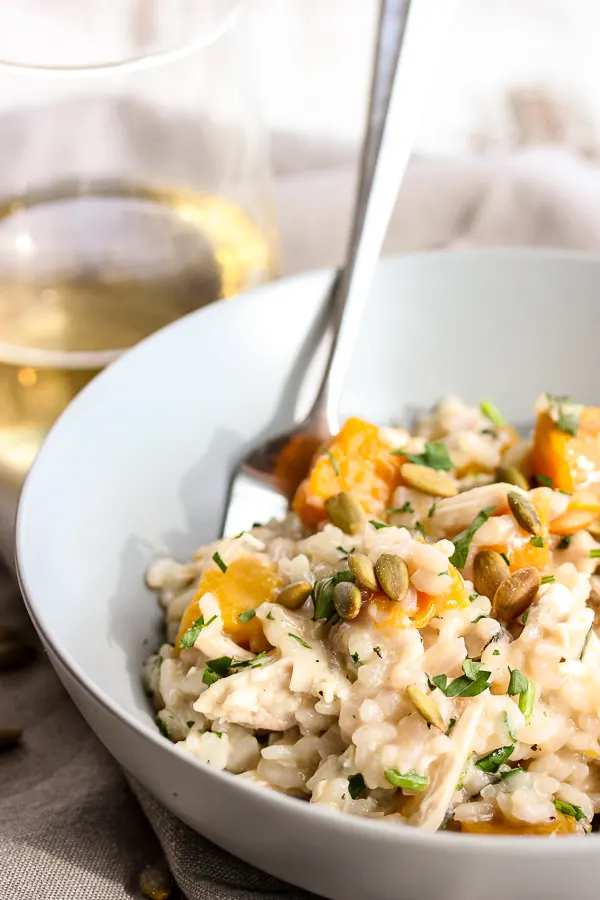 Turkey and Roasted Sweet Potato Risotto
Ingredients
2 tbsp olive oil
1 small onion, chopped
3 cloves garlic, minced
1 cup arborio rice
1 cup white wine (I like to use chardonnay)
4 cups chicken stock
1 cup cooked turkey, chopped or shredded
2 cups leftover roasted sweet potatoes
1/2 cup grated parmesan cheese
1 tbsp fresh sage, chopped
1/2 tsp salt
1/2 tsp pepper
Instructions
Bring chicken stock to a simmer in a medium saucepan.
Heat olive oil in a skillet over medium heat.
Add onion and saute for about 5 minutes, until tender.
Add garlic and saute for 1 minute.
Add rice, stirring to coat with the oil and toast for a couple of minutes.
Add wine, stirring constantly until it's almost completely absorbed.
Start adding chicken stock, one ladle at a time, stirring constantly. Add another ladle every time the liquid has been absorbed, while continuing to stir.
As you go along, the rice will start to give off its starches and will start to get creamy, but it shouldn't be watery.
Once all of the chicken stock has been added and incorporated, stir in turkey, sweet potatoes, parmesan, sage, salt and pepper.
Serve immediately.
ENJOY!
Shared at these great blogs: