Thanksgiving is one of my most favorite holidays. What I love about this holiday is that the main focus is getting your loved ones together, spending the day with each other and sharing a fabulous meal. This will be the 21st year that I've hosted Thanksgiving and every year I very much look forward to it.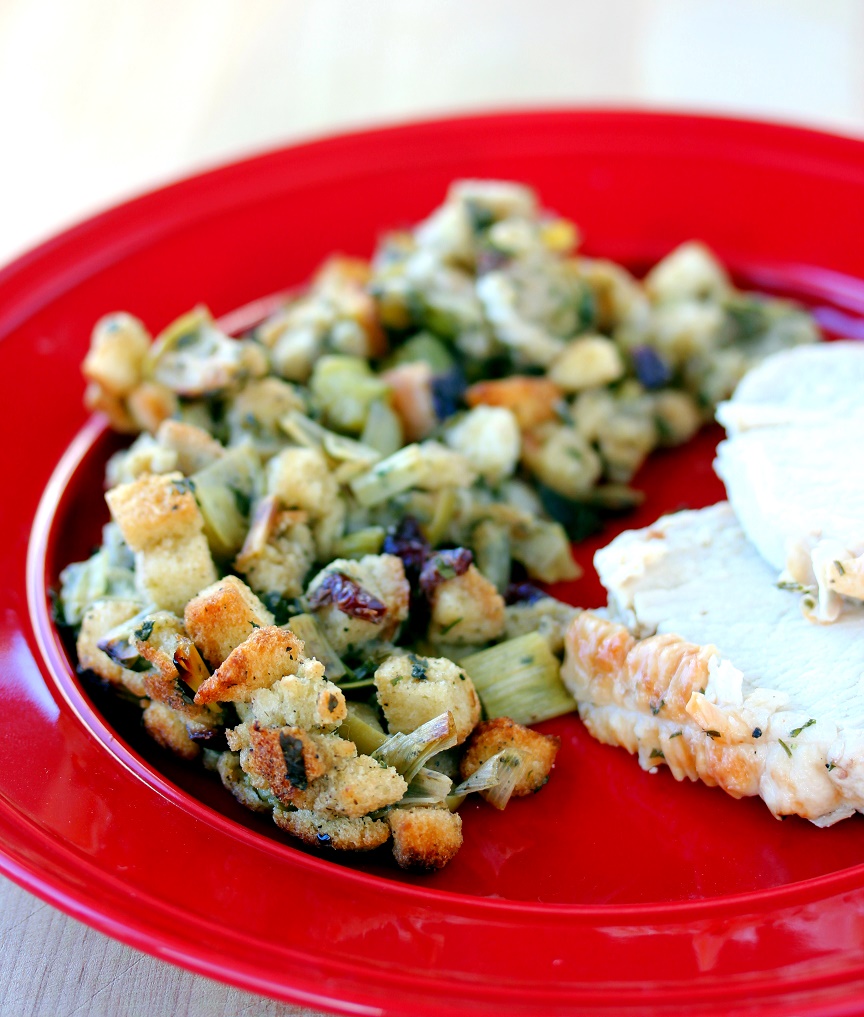 Over the years the meal has evolved somewhat, but there are things that my family expects every year and if it wasn't there, someone would be disappointed. So for the most part, I'm happy to stick with tradition. One of the things I've managed to tweak over the years is my stuffing, which, by the way, is my FAVORITE Thanksgiving dish. I gradually changed it and then one year I actually made two different kinds of stuffing. The recipe I finally landed on was one that I got from Food Network, which I've only made a few changes to. The original recipe called for breakfast sausage, but there are some members of my family who don't care for sausage, so I just omitted it and I think it's equally delicious without it. It is a very good balance of sweet and savory with apples, dried cranberries and lots of fresh herbs and leeks.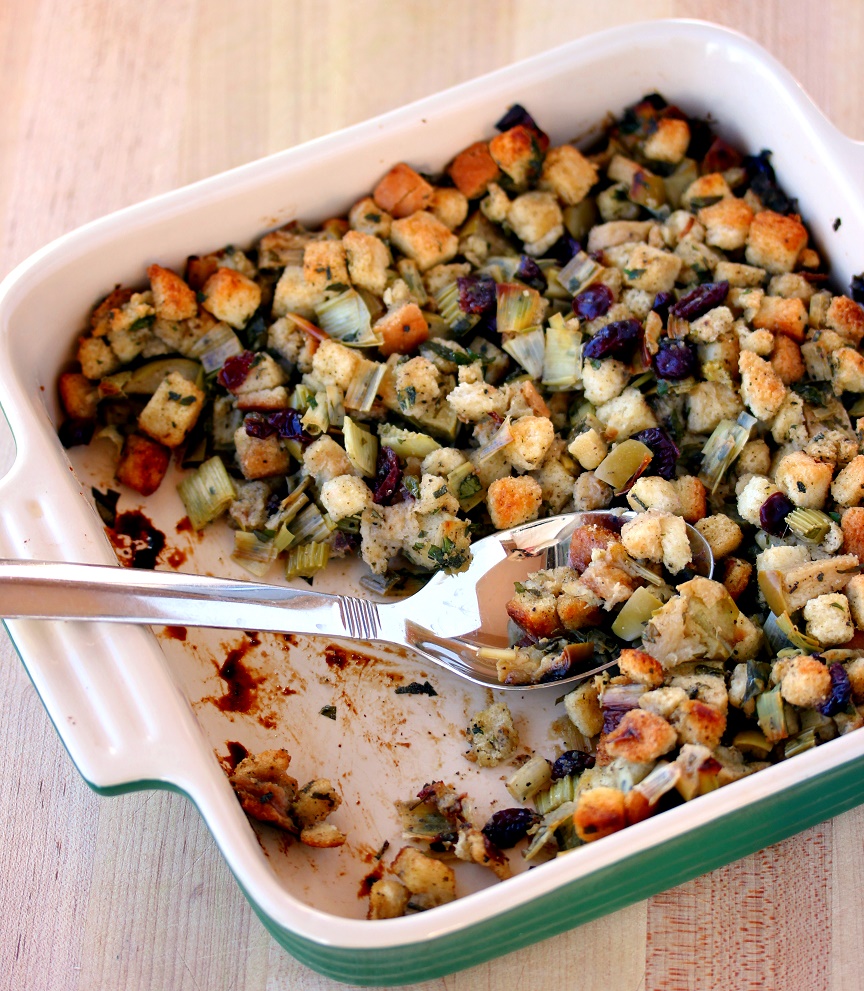 Apple Cranberry Stuffing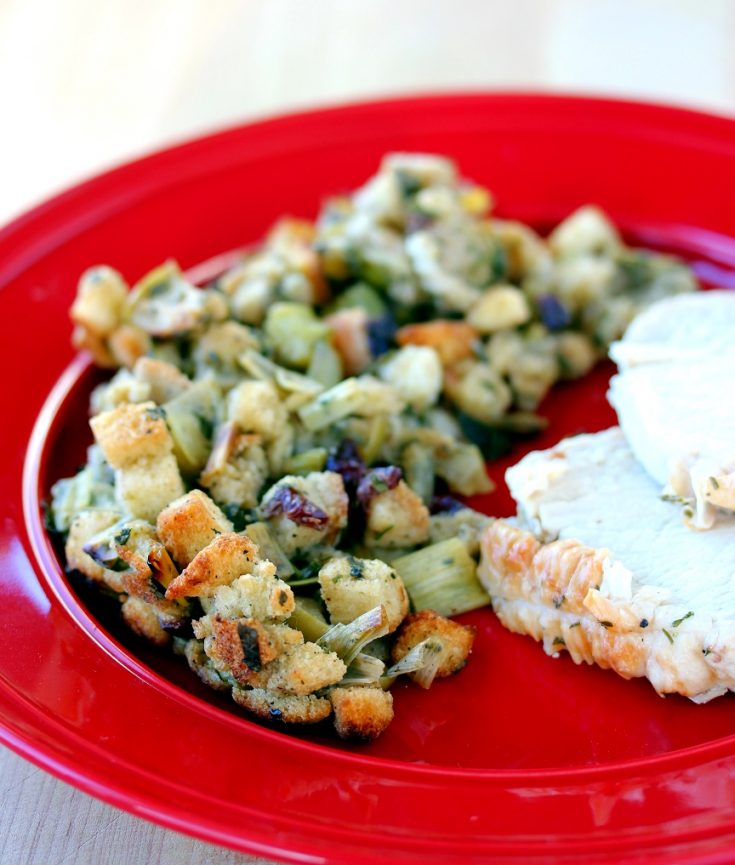 Ingredients
4 tbsp butter
2 leeks, sliced (using the white and pale green parts of the leek)
2 granny smith apples, cored and chopped
2 stalks celery, chopped
1 tbsp poultry seasoning
1/2 cup dried cranberries
1 tbsp fresh sage, chopped
2 tsp fresh rosemary, chopped
6 cups plain croutons
1/3 cup fresh parsley, chopped
2 to 3 cups chicken stock
2 tsp salt
2 tsp pepper
Instructions
Preheat oven to 375 degrees.
Soak cranberries in boiling water for 15 minutes and drain.
Prep your vegetables. Slice leeks first by slicing lengthwise and then crossways. To clean the leeks, fill a large bowl with water and add the sliced leeks and swish around and then let sit to allow the sand to sink to the bottom of the bowl. Remove leeks from the bowl and dry with paper towels.
Melt butter in a large skillet over medium heat. When pan is hot, add leeks, apples, celery and poultry seasoning.
Saute for about 8 minutes, until leeks are soft.
Stir in the cranberries, sage and rosemary.
In a large mixing bowl, combine veggie mixture and the croutons along with the parsley.
Then add the chicken stock a little at a time until the stuffing is very moist, but not mushy. Season with salt and pepper.
At this point the stuffing can be refrigerated for up to 2 days or place in a 9×13 pan that's been coated with cooking spray.
Bake in preheated oven for 20 to 30 minutes until top is crispy and stuffing is heated through.
Serve immediately.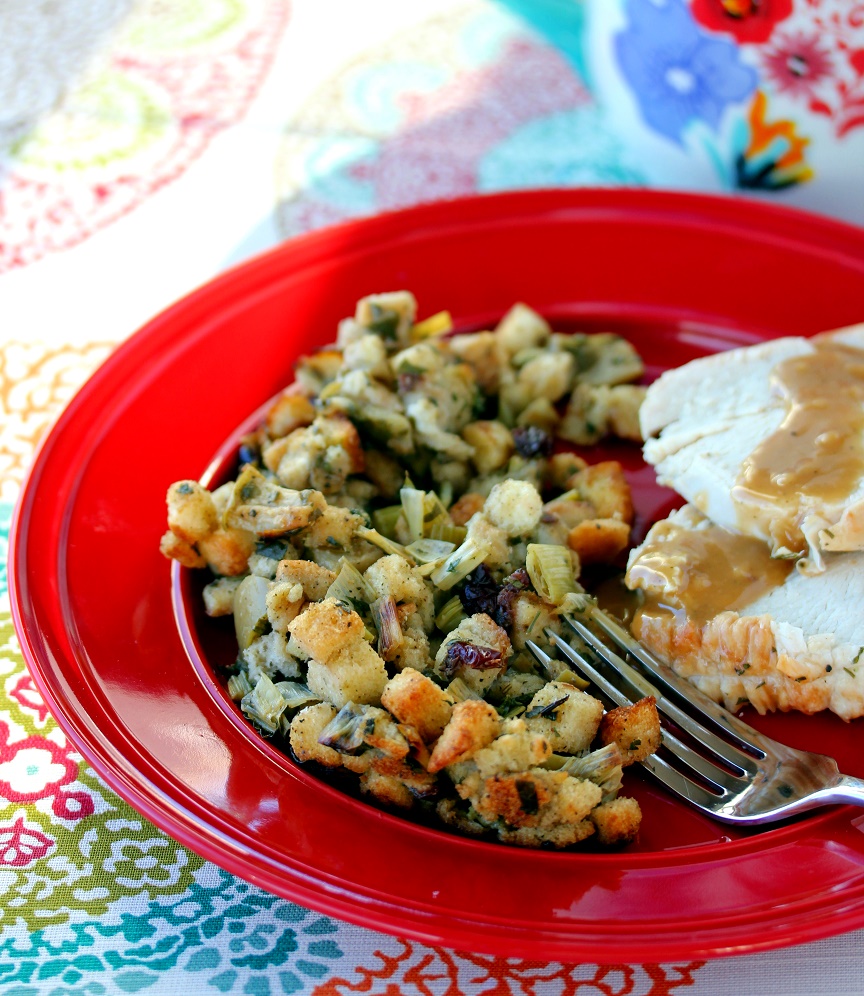 ENJOY!