Brown Butter Maple Roasted Sweet Potatoes are an easy and delicious side dish that can be made up to two days in advance. It's perfect for your Thanksgiving feast.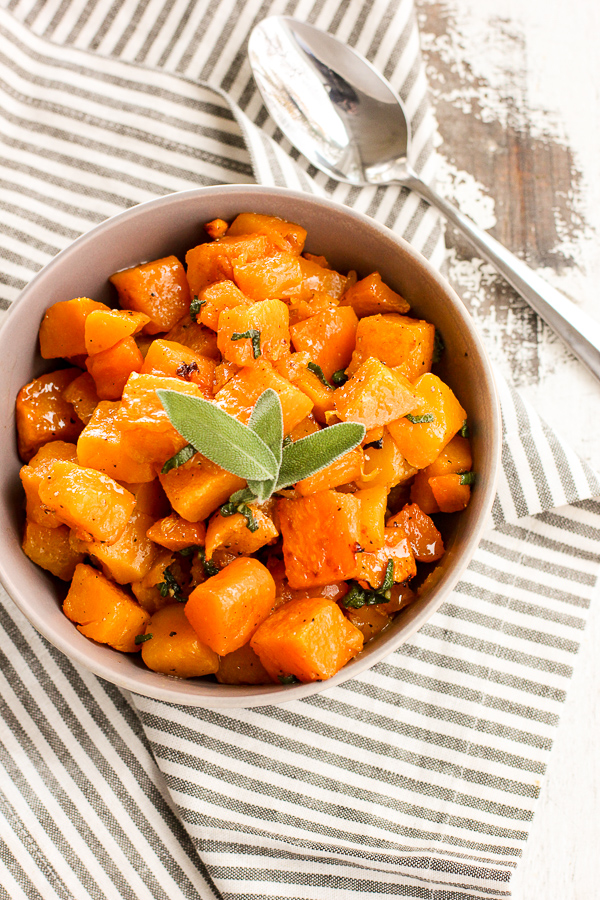 Much of my Thanksgiving menu stays exactly the same every year, but I can usually get away with trying at least one new recipe each year. Sometimes that recipe will become a new favorite and one time, in particular, it became an epic fail.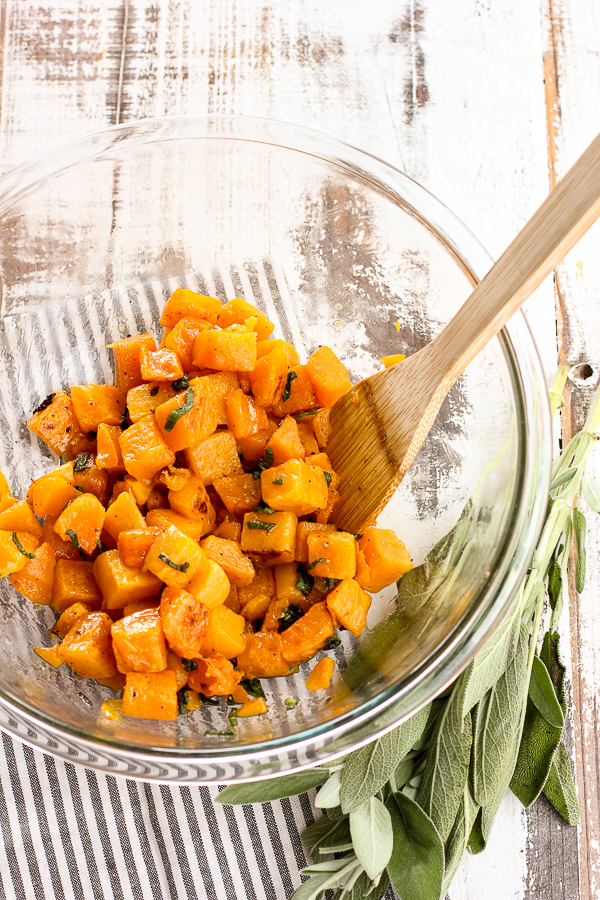 A number of years ago, I decided that I was going to do something completely different with the sweet potatoes. I had come across a recipe for sweet potato gnocchi with a brown butter maple sauce. It sounded so delicious and I thought it would be perfect for our holiday meal.
A couple of days before Thanksgiving, I made the gnocchi, put it on a sheet pan, covered it with plastic wrap and put it in the refrigerator. It was all ready to be boiled and tossed with it's fabulous sauce right before dinner on Thanksgiving.
Well….Thanksgiving day rolled around and I went to the refrigerator in the basement to get the turkey, which had been sitting on the shelf above the gnocchi…..UH-OH. The turkey had leaked through it's wrapper onto my gnocchi!
For a split second I thought it would be fine, I was going to boil it right? It would kill any germs…right? Nope, it was completely wrecked. Not only did it have raw turkey juice on it, it was also MOLDY!! YUK! I had to throw it all out…..no sweet potatoes that year!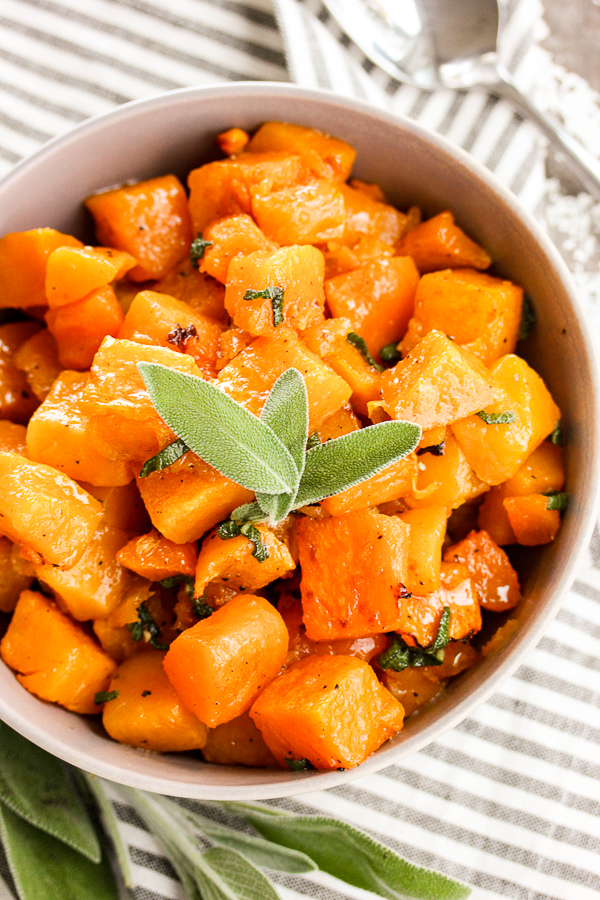 Since the gnocchi incident, I have thought about that yummy brown butter sauce, but never made it again. This year I decided to make the sauce again, but instead of going to all of the trouble of making gnocchi (I'm still a little scarred by the incident), why not just roast the sweet potatoes and toss them with the wonderful brown butter maple sauce.
The great thing is, you can make it all a couple of days ahead of time. Just store the sweet potatoes (making sure they're tightly covered and FAR away from the turkey) and the sauce separately. Then on Thanksgiving, reheat the sweet potatoes and the sauce, then toss them together. This recipe can also easily be doubled.
To make this recipe even easier, I always purchase pre-cut sweet potatoes. I know it costs a little bit more, but for me, it's worth the time it saves.
More delicious side dishes for Thanksgiving
Ultimate Garlic Roasted Mashed Potatoes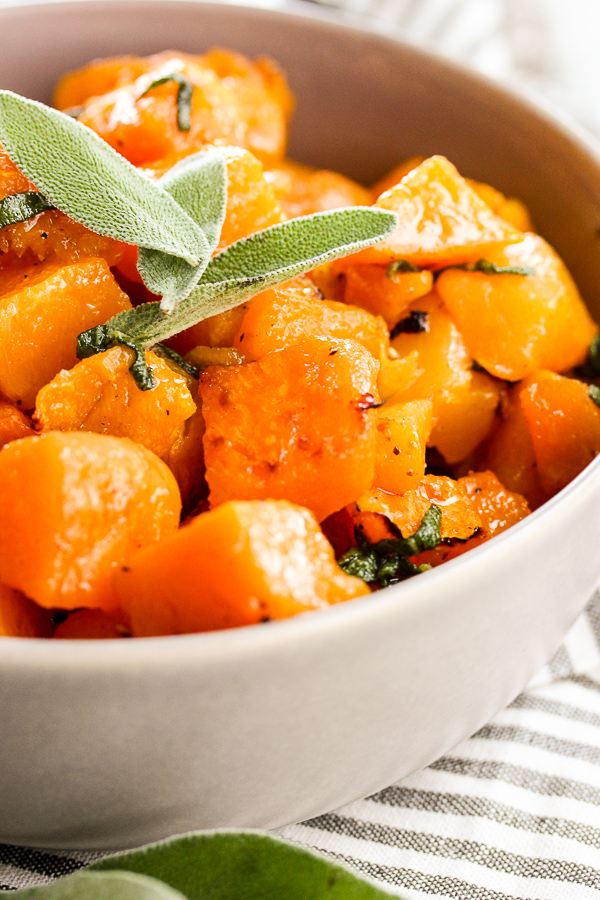 Yield: 8
Roasted Sweet Potatoes with Brown Butter Maple Sauce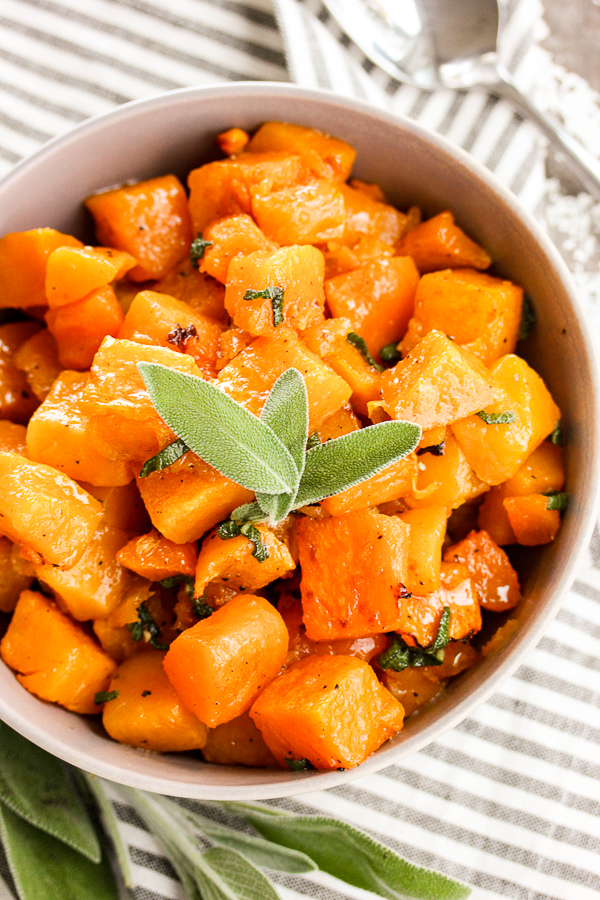 Brown Butter Maple Roasted Sweet Potatoes are an easy and delicious side dish that can be made up to two days in advance. It's perfect for your Thanksgiving feast,
Ingredients
2 lbs sweet potatoes, diced
olive oil
salt
pepper
1/4 cup butter
2 tbsp pure maple syrup
2 tbsp fresh sage, finely chopped
Instructions
Preheat oven to 425 degrees.
Drizzle sweet potatoes with olive oil, tossing to coat. Spread out on a sheet pan coated with cooking spray. Sprinkle with salt and pepper. Roast for about 30 minutes, until tender and starting to brown.
Melt butter in a small skillet over medium heat. Continue cooking butter, stirring frequently, until butter starts to turn brown. Make sure you don't take it too far, it should look golden brown.
As soon as butter has browned, remove from heat. Stir in maple syrup, sage and season with salt and pepper.
Put roasted sweet potatoes in a large mixing bowl, pour butter sauce over the top and gently toss to coat.
Serve immediately.
Notes
This dish can be made up to two days ahead of time. Store the potatoes and butter sauce separately. When ready to serve, reheat both the potatoes and sauce, then toss together.
I like to use pre-cut sweet potatoes. I find it to be a huge time saver which can be worth the extra cost during the busy holidays.
Nutrition Information:
Yield:
8
Serving Size:
1
Amount Per Serving:
Calories:

182
Total Fat:

8g
Saturated Fat:

4g
Trans Fat:

0g
Unsaturated Fat:

3g
Cholesterol:

15mg
Sodium:

160mg
Carbohydrates:

27g
Fiber:

4g
Sugar:

10g
Protein:

2g
ENJOY!
Shared at these great blogs: