Sheet pan steak fajitas are a one pan wonder that take little effort to get on the table. Serve them with warm tortillas and all your favorite toppings for a scrumptious meal everyone will love.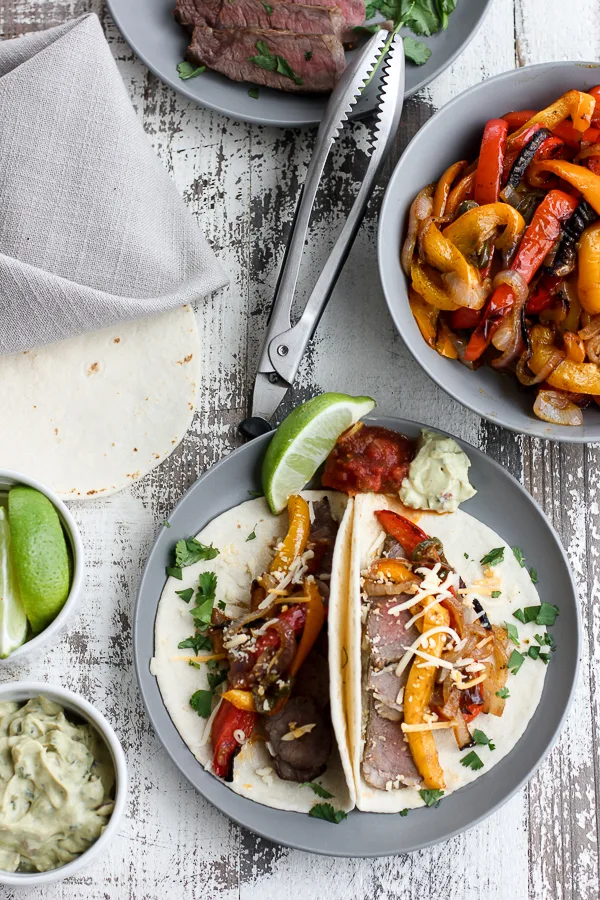 Who doesn't love an easy one pan meal, am I right? That's exactly what these fajitas are and boy do they taste amazing. Believe me, my family's excited every time it's fajita night!
I am a big fan of Mexican food and I always love a meal that's easy to prepare. These fajitas are full of bold flavor and are so easy to prepare. The prep work is minimal and they take less than 15 minutes to roast in the oven.
It's a meal that works great for everyday weeknight meals as well as casual weekend entertaining. Both kids and adults alike will devour these. I mean really, is there anyone who doesn't like fajitas?
What I like is everyone gets to make their own. They can top it with whatever they like. Don't like guac? Not problem, don't add any to yours. You really like peppers and onions? Pile them on!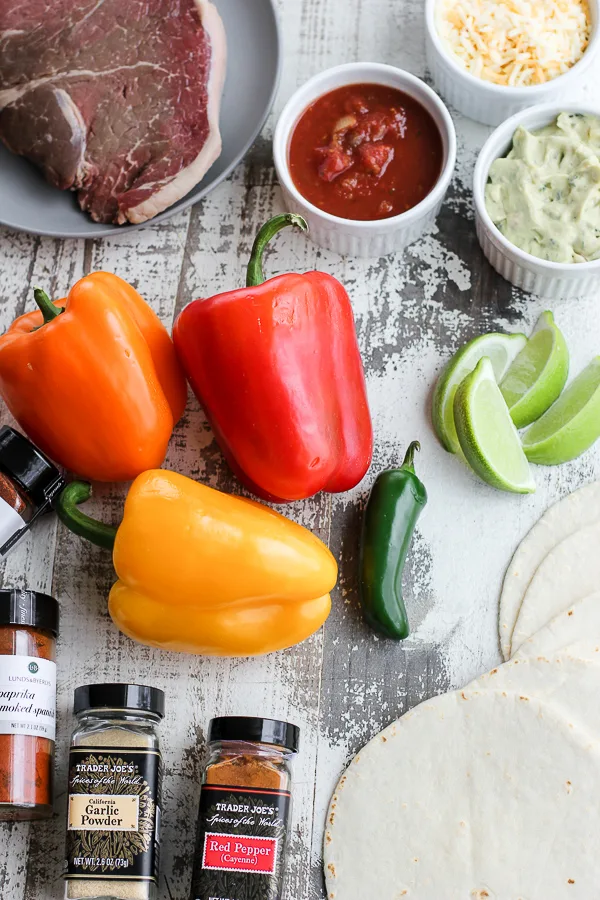 If you need some inspiration for toppings, here are my favorites:
Shredded monterey jack or cheddar cheese
Sour cream
Shredded lettuce
Chopped cilantro
Lime wedges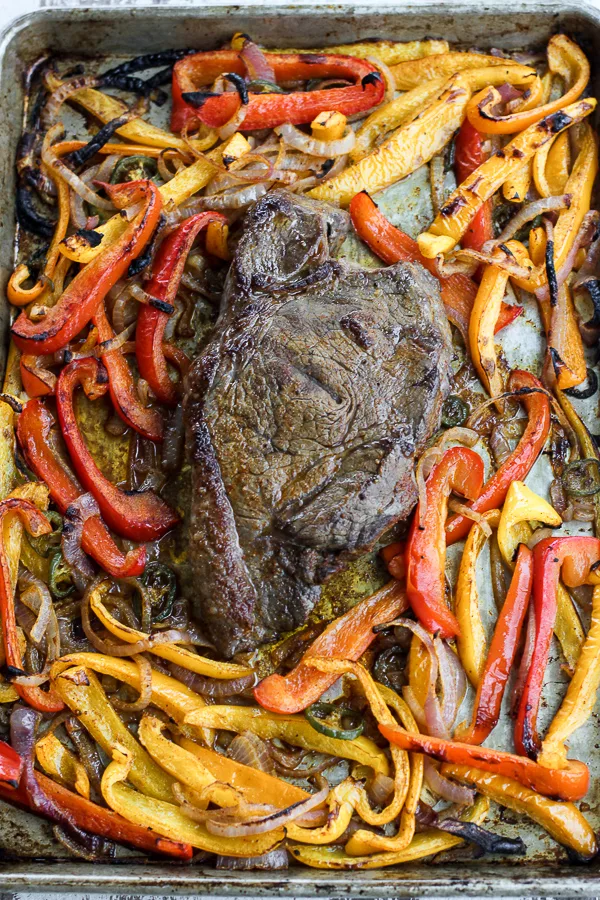 What ingredients are needed for sheet pan steak fajitas?
bell peppers, any color that you like
red or yellow onion (although I prefer red onion because it's a little milder in flavor)
sirloin steak (this is my preference, but you could also use flank steak or skirt steak)
chili powder
cumin
smoked paprika
garlic powder
salt
pepper
lime juice
flour tortillas
your favorite toppings, such as shredded cheese, salsa, guacamole, sour cream, cilantro, etc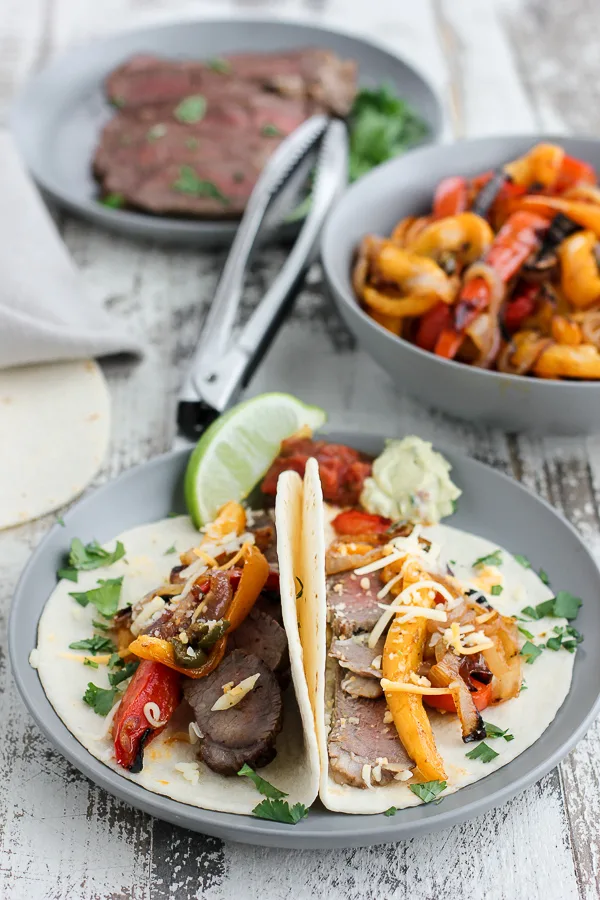 Tips for making sheet pan steak fajitas:
I start out by mixing the spices together for the seasoning. Once the spices are mixed together, stir in the lime juice which will help the seasoning stick to the steak, peppers and onions, plus it gives it everything a little tang.
Make sure that the sheet pan is well oiled so that the peppers, onions and steak don't stick and a hot oven is key to getting a good caramelization not the veggies.
If you want your steak to have a nice sear, it's important to sear it in a skillet before finishing it in the oven. I've tried cooking it entirely in the oven, but it doesn't get a good sear in the oven.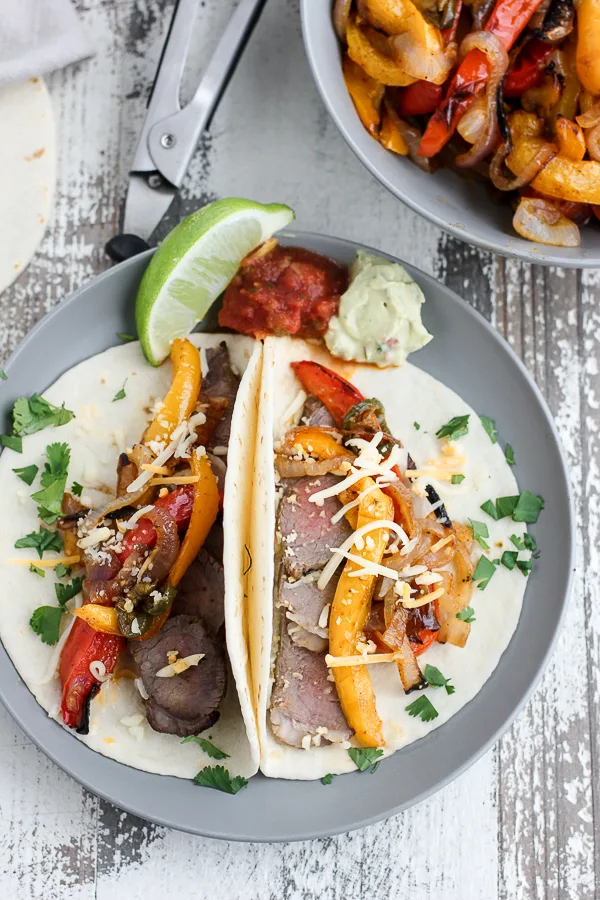 Want even more easy sheet pan dinners?
Yield: 4
Sheet Pan Steak (Beef) Fajitas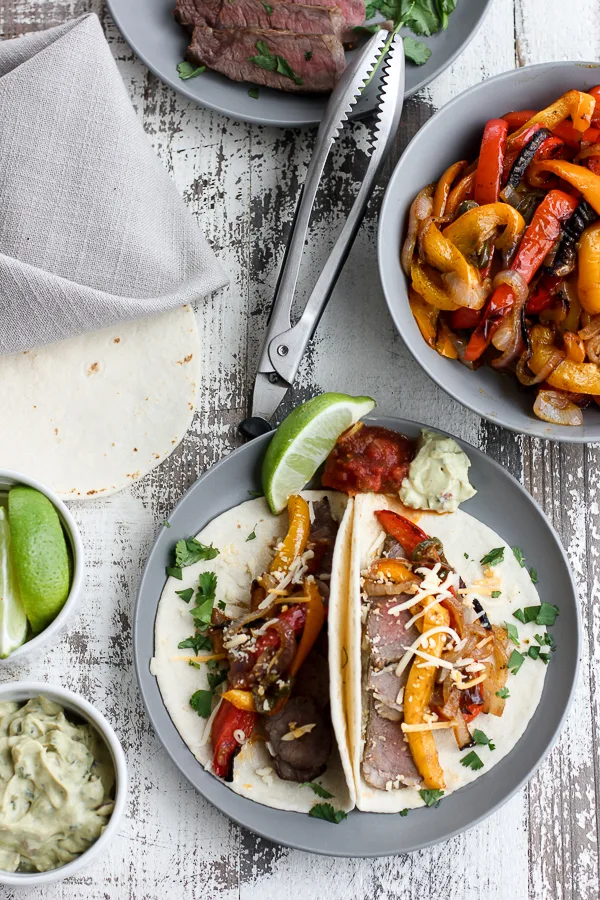 Ingredients
1 tsp chili powder
1 tsp cumin
1/4 tsp smoked paprika
1/8 tsp cayenne pepper
1/2 tsp garlic powder
1 tsp salt
1/2 tsp pepper
1 tbsp lime juice
2 tbsp olive oil, divided
3 bell peppers, sliced
1 large onion sliced
1 jalapeno, sliced crosswise
1 1/2 lbs top sirloin
flour tortillas
Instructions
Preheat oven to 475 degrees
Combine spices together in a small bowl
Stir lime juice in with the spice mixture
Toss vegetables with 1 tbsp olive oil and half of the spice mixture
Coat sheet pan with remaining 1 tbsp olive oil
Spread veggies in a single layer on sheet pan
Roast in preheated oven for 8 minutes
While veggies are roasting, heat a skillet coated with cooking spray over high heat.
Coat steak on both sides with remaining spice mixture
Sear steak in preheated skillet for 2 minutes per side
At 8 minutes, add steak to the sheet pan with the veggies, pushing them to the sides of the pan
Cook for an additional 5 minutes, until veggies are starting to char
If desired, serve with warm tortillas, salsa, shredded cheese, lime slices and guacamole