As I mentioned on Wednesday, one of the things on my "to-do" list is coming up with a menu for Memorial Weekend at our cabin. Depending on who's around at breakfast time, I'll have somewhere between 8 and 16 people to feed, so I need something easy to put together that can stretch to feed a crowd. Then to complicate matters, the meal needs to be mostly egg-free since I have a fair amount of egg haters in the crowd.
I think this sausage and asparagus brunch casserole will be perfect. I can make the filling ahead of time, so all I'll have to do in the morning is assemble and bake. To round out the breakfast, I'll make some scrambled eggs for those who enjoy them and serve everything with some fresh fruit and juice. That should give everyone enough energy to help us out with our landscaping project!
One note about this recipe, with a top and a bottom crust, it was a little on the heavy side for me. When I make this again, I'm going to make it with just the bottom crust. It's still tasty with two crusts, but I think the delicious, savory flavors of the filling will stand out more with only a bottom crust. I'll bake it for about 10 minutes without the shredded cheese and then sprinkle on the cheese and bake it for the remaining 10-15 minutes, until the cheese is melted. I think it will be just perfect then!
Sausage and Asparagus Brunch Casserole
adapted from Simplee Sue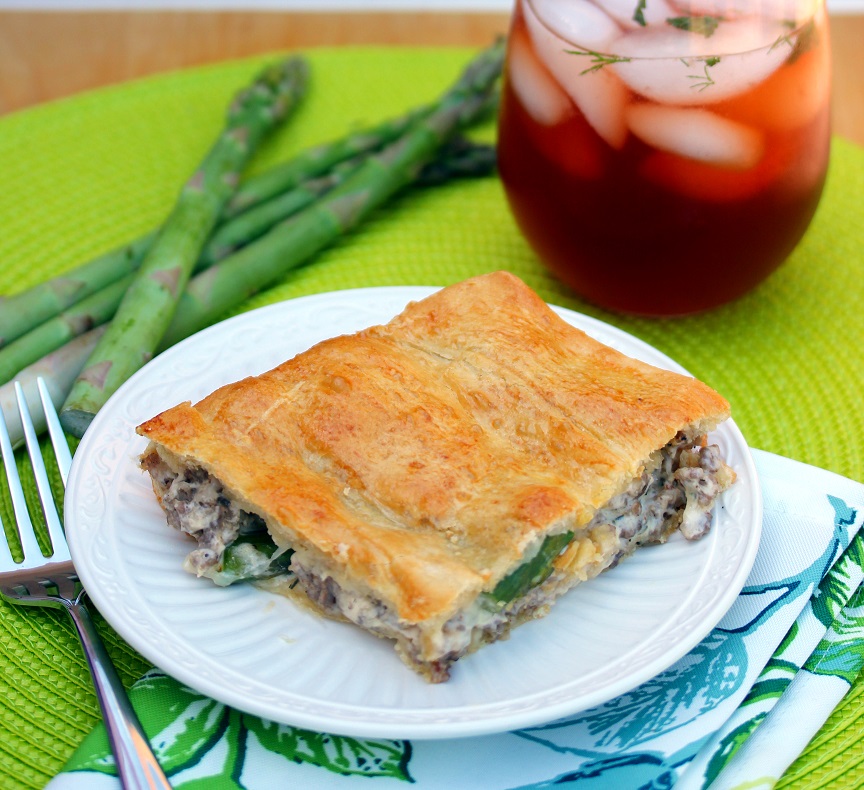 1 lb breakfast sausage
12 oz fresh asparagus
1 (8 oz) pkg reduced fat cream cheese, cut into chunks
1/2 tsp dried thyme
salt and pepper
1 cup shredded swiss cheese
2 cans crescent rolls or crescent dough sheets ( I used the sheets and they are so easy to work with!)
1 egg
2 tbsp water
Preheat oven to 350 degrees.
Cut woody ends off of asparagus and then cut into 1 inch pieces.
Brown sausage in a skillet over medium high heat. When sausage is almost cooked through, add asparagus and saute for a couple of minutes, until sausage is no longer pink.
Reduce heat to medium low, add cream cheese, stirring until completely melted.
Stir in thyme and add salt and pepper to taste.
Coat a 9×13 in baking dish with cooking spray. Spread one of the packages of crescent rolls (or sheets) in the bottom of the pan, sealing the seams, if using rolls.
Spread sausage mixture over the crescent rolls. Sprinkle the shredded cheese over the sausage mixture.
Top the mixture with the second package of crescent rolls. Roll out the rolls and seal the seams on a lightly floured surface first.
Beat egg with water. Brush on top of casserole.
Bake in preheated oven for 20 to 25 minutes, until golden brown.
Serve immediately.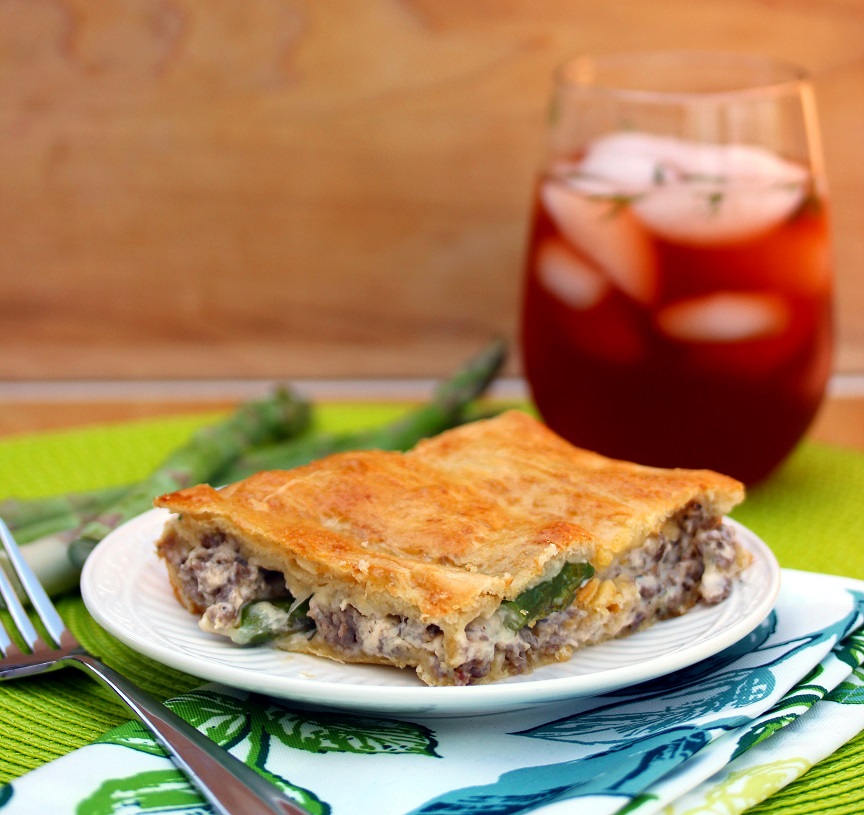 ENJOY!
Shared at these great blogs: