Italian Beef Stew is a deliciously slow simmered dish that's wonderful for weekend family dinners or dinner parties with friends. Everyone is sure to love its incredibly rich flavor.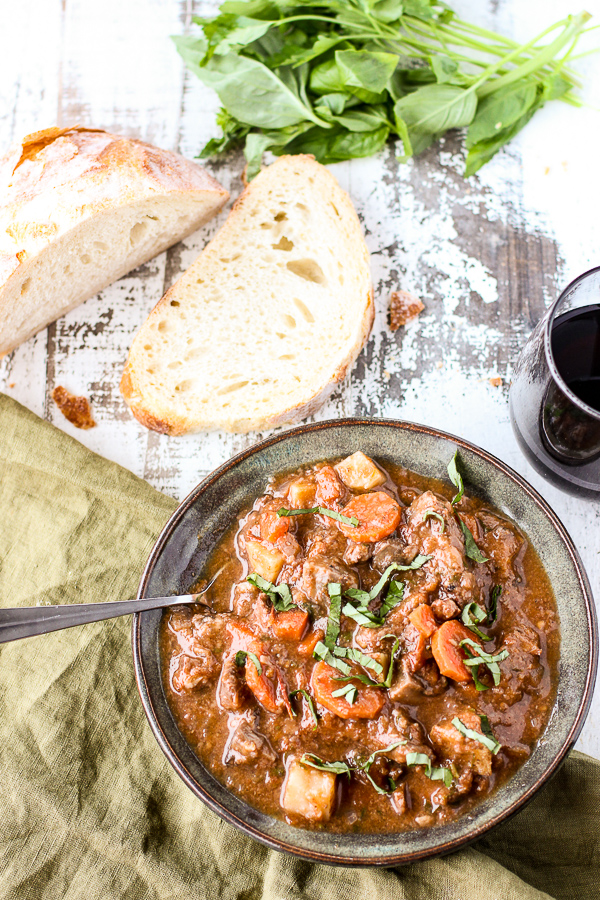 I love beef stew and I love that there are so many different ways to make it. Some make it in the oven, some in the slow cooker and some on the stove top.
Then there's all of the variations of ingredients, carrots, celery, onion, tomatoes, potatoes, parsnips, peas and so on. No matter what ingredients are in stew or what the cooking method is, it's always great comfort food. This recipe is based on a Cooking Light recipe I came across quite a few years ago.
What caught my attention when I first saw the recipe was that it was Italian Beef Stew and I love all things Italian. Over time, I've tweaked this stew to suit my family and it's become one of my favorite stews to make.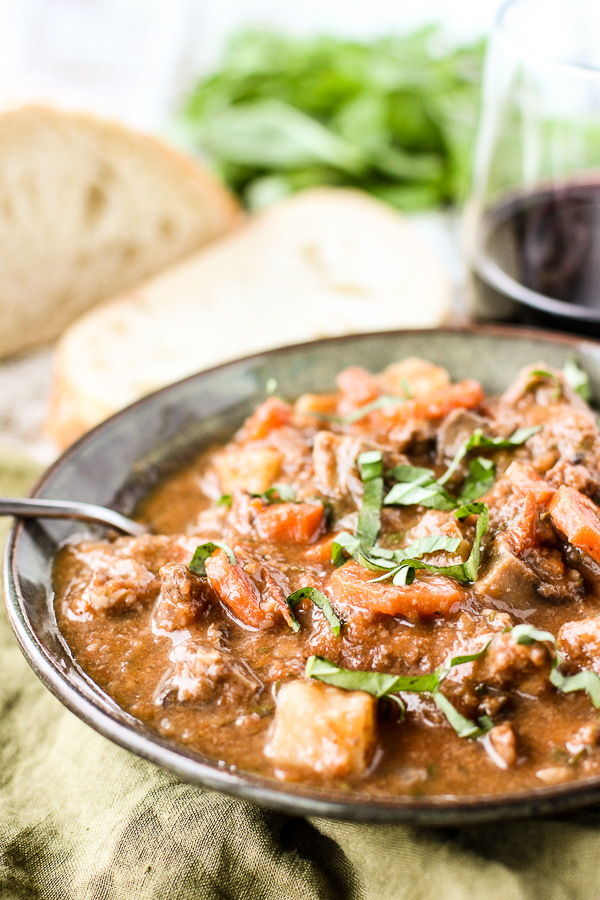 There are a number of ingredients in this stew that make it stand out from other stews. Rather than canned tomatoes, this recipe uses fresh roma tomatoes and the addition of cremini mushrooms adds a delicious earthiness to the stew.
To give the stew it's Italian flavor, red wine and fresh Italian herbs are added to the mix. Then of course, there are the usual suspects you'd expect to find in stew, onion, carrots and potatoes.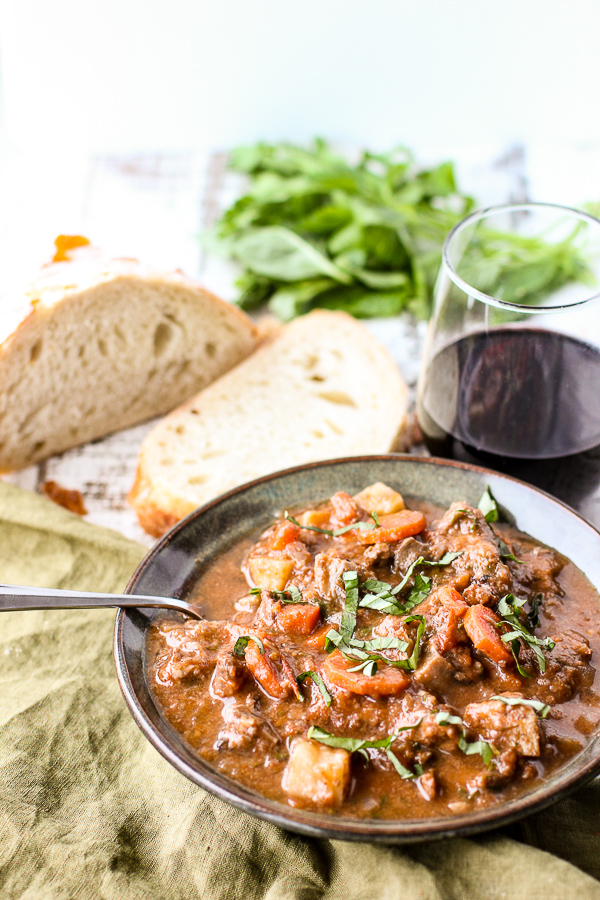 .
This recipe does take some time to prepare, but it's totally worth the effort. It's the perfect dish to make on a lazy weekend afternoon. Put on your favorite music, pour a glass of wine and enjoy the process of creating something delicious.
I often made this stew when we have company coming over. I'm able to prepare the stew much earlier in the day and then let it simmer until dinner time. When my guests arrive, the house is filled with a delicious aroma and it only takes minutes to get dinner on the table.
As it simmers on your stovetop, it will fill your house with a wonderful aroma. When it's time to eat, serve this along with a simple tossed salad and some crusty bread. It's a simple, rustic meal with big flavor.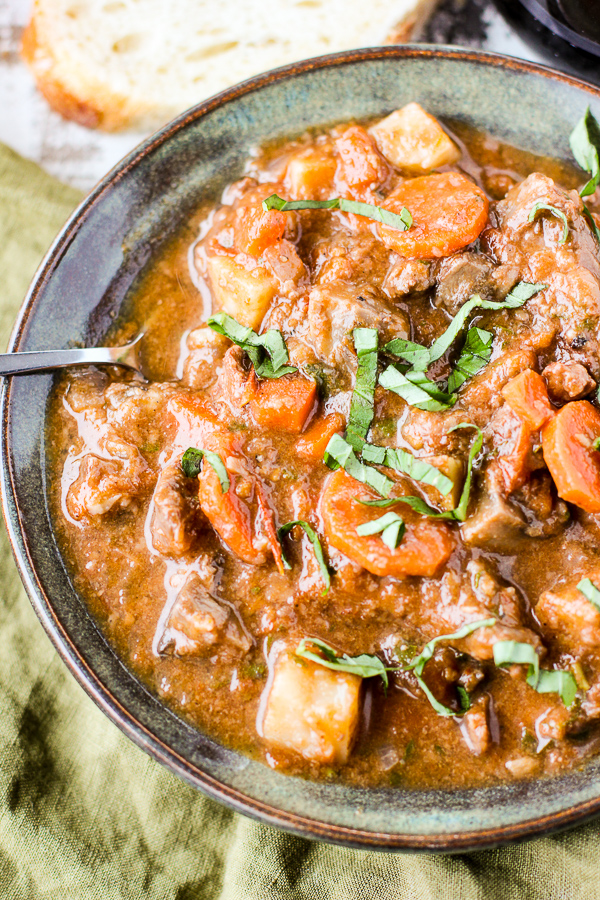 Here are some other stews to love:
Yield: 8
Italian Beef Stew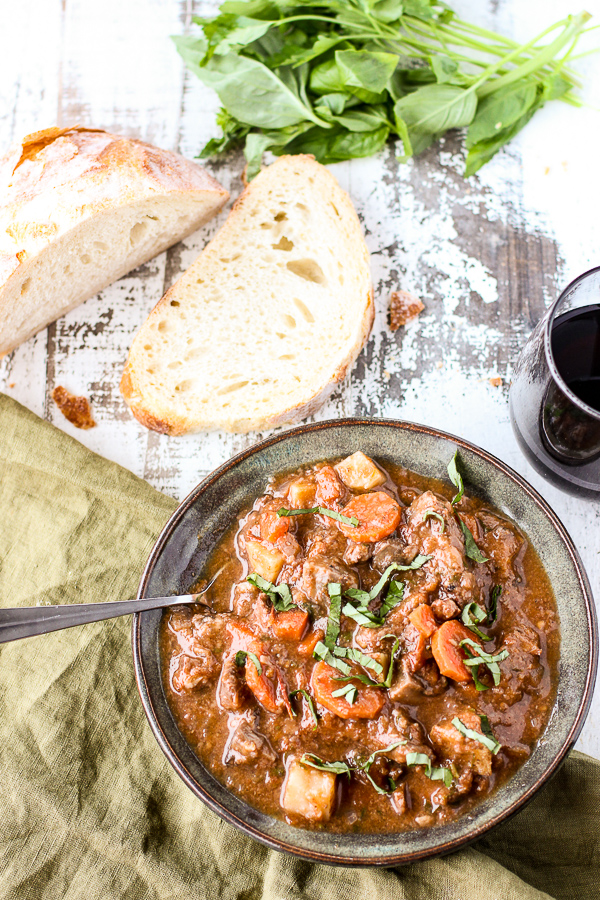 Italian Beef Stew is a deliciously slow simmered dish that's wonderful for weekend family dinners or dinner parties with friends. Everyone is sure to love its incredibly rich flavor.
Cook Time
2 hours
25 minutes
Additional Time
1 hour
39 minutes
Total Time
4 hours
5 minutes
Ingredients
¼ cup flour
1½ tsp salt, divided
1 tsp pepper, divided
2 lbs stew meat
3 tbsp olive oil, divided
1 medium onion, chopped
1 medium carrot, peeled and chopped
3 large cloves garlic, minced
1 cup dry red wine
2 lbs roma tomatoes, chopped
1 1/2 cups beef stock
1/2 cup water
2 tsp fresh oregano, minced or ½ tsp dried
2 tsp fresh thyme, minced or ½ tsp dried
8 oz cremini mushrooms, quartered
¾ cup sliced carrot
2 medium potatoes, diced
2 tbsp fresh basil, chopped
1 tbsp parsley, chopped
Instructions
Put flour, ½ tsp salt and ½ tsp pepper in a zip-loc bag.
Add beef, seal bag and shake to coat.
Heat 2 tbsp olive oil in a dutch oven over medium high heat.
When pan is hot, add beef in batches, making sure you aren't crowding the pan and brown on both sides, adding more oil if necessary.
Remove meat from pan and set aside.
Reduce heat to medium, add remaining 1 tbsp olive oil.
Add onion and chopped carrot, sauté until onions are tender, about 5 minutes.
Add garlic and sauté for about 45 seconds, until garlic is fragrant.
Stir wine into onion mixture and bring to a boil, scraping up all the browned bits.
Cook until reduced by half, about 3-4 minutes.
Return meat to the pan.
Add tomato, beef broth, water, oregano, thyme mushrooms, remaining 1 tsp salt and ½ tsp pepper, stirring to combine.
Bring stew to a boil.
Reduce heat, cover and simmer for 45 minutes, stirring occasionally.
After 45 minutes stir in sliced carrots and potatoes.
Simmer uncovered for 1 hour or until meat is very tender, stirring occasionally.
Stir in basil and parsley and serve.
SaveSave
SaveSave
SaveSave
SaveSave