These baked lemon glazed donuts couldn't be easier to make and are bursting with fresh, tangy lemon flavor. They are guaranteed to disappear quickly.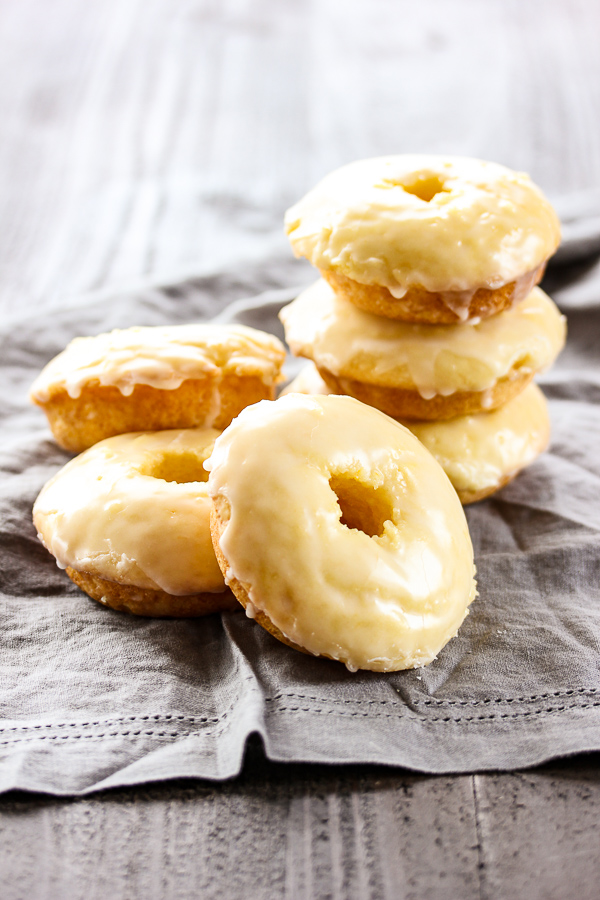 It's time for the spring edition of Freaky Friday and that has me excited. If you're not familiar with Freaky Friday, it's a really fun recipe swap that some of my blogger friends and I participate in. We've all been assigned a blog to pick a recipe from and then cook and share that recipe on our blog.
The really fun part is that none of us know who has our blog, it's a secret to be revealed today. It's a fun way for us to try new recipes and share those recipes with you, our readers, as well as giving you an opportunity to discover some great blogs.

This time I was assigned to An Affair from the Heart, which is run by my friend, Michaela. Michaela is actually one of the few bloggers that I've had the opportunity to meet in person. She and I have been able to meet up at a couple of blogging conferences and let me tell you, she is one of the nicest people you'll meet and is so much fun to be around.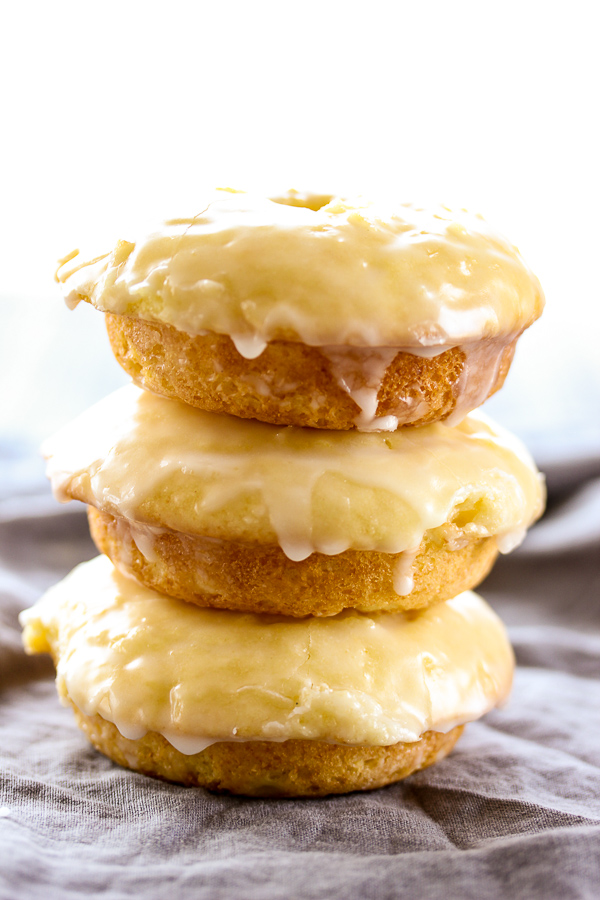 On top of being loads of fun, Michaela is also a fantastic cook. It was hard to choose a recipe from her blog because they all sound so delicious.
Some of her recipes that really stand out to me is her very popular Texas Trash Dip, this 5 ingredient Tortellini Soup with Spinach and Sausage along with these scrumptious Dr Pepper BBQ Pork Sandwiches.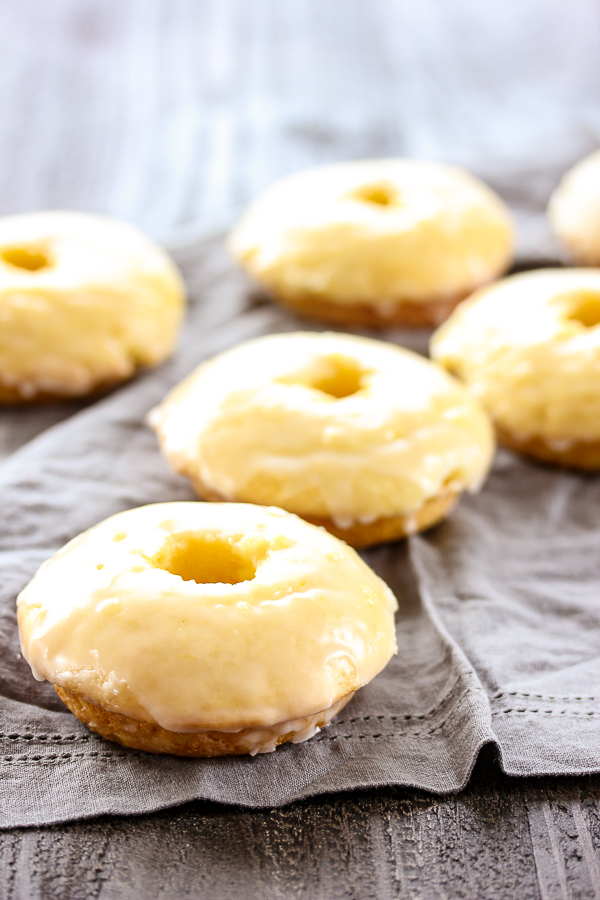 But when it came right down to it, I had to make Michaela's baked glazed lemon donuts. They've been wildly popular for her on Instagram and with good reason, they are SO delicious.
And on top of being delicious, they couldn't be easier to make. It takes almost no time to whip up the batter and then they get popped into the oven and bake up to be the glorious treat that they are.
To make these donuts even better, they get dipped in tart, lemony glaze. To make them even more lemony, I dipped them in the glaze a second time, because why not?!
Total donut nirvana. Not.even.kidding. So what are you waiting for? Head to the kitchen and make up a batch yourself, you won't be disappointed.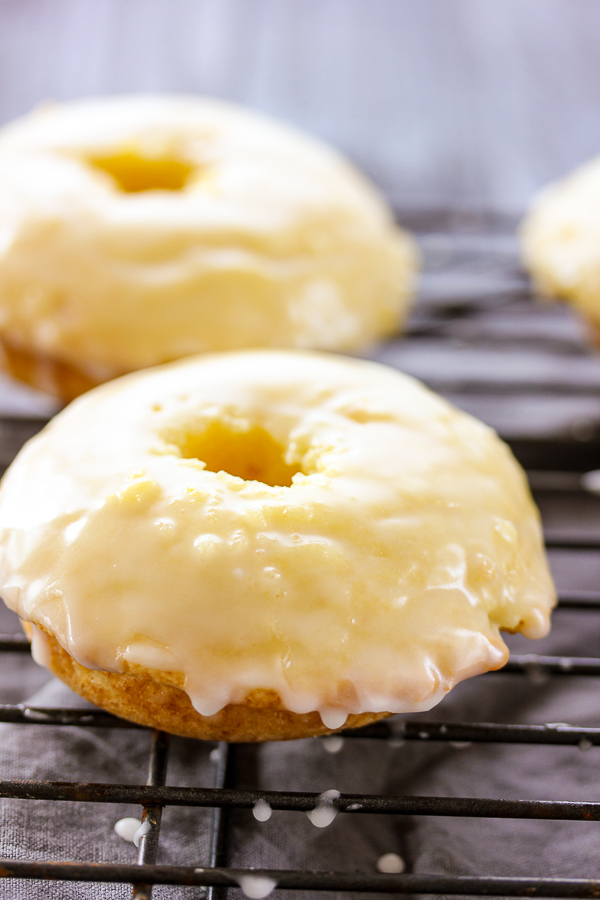 Yield: 10
Baked Lemon Glazed Donuts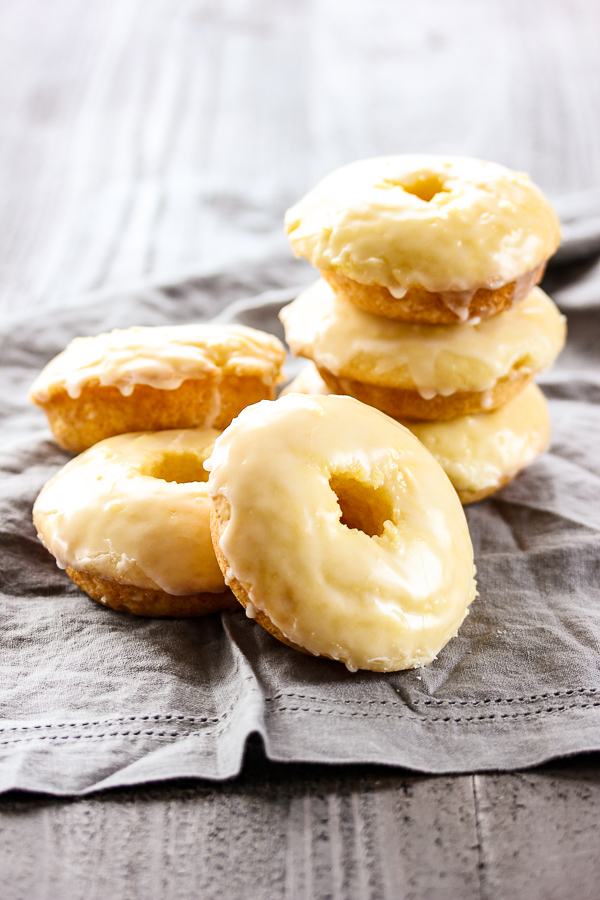 These baked glazed lemon donuts couldn't be easier to make and are bursting with fresh, tangy lemon flavor. They are guaranteed to disappear quickly.

Prep Time 15 minutes

Cook Time 15 minutes

Total Time 30 minutes
Ingredients
To Make the Donuts:
1 egg
¾ cup sugar
1 cup sour cream
¼ cup vegetable oil
zest of one lemon
1 tbsp lemon extract, NO SUBSTITUTIONS
yellow food coloring, optional, as much as needed for desired color
1¼ cups flour
½ teaspoon baking powder
½ teaspoon baking soda
¼ teaspoon salt
o Make the Glaze:
1½ cups powdered sugar
juice of 1 lemon
Instructions
Preheat oven to 350 degrees.

Coat a 6-count non-stick donut pan with cooking spray, set aside.

In the bowl of your mixer mix sour cream, eggs, sugar, oil, lemon zest and lemon extract until well combined.

Fold in flour, baking powder, baking soda, and salt.

If using food coloring, add a few drops at a time until the batter reaches your desired color.

Fill donut pan, and bake for about 13 to 15 minutes, they're done when they're springy to the touch.

To make the glaze, add powdered sugar and slowly drizzle in the lemon juice while whisking until smooth and combined. You may not need all of the juice.

If it gets too thin, add more sugar until it's the right consistency.

Remove the donuts from the pan when they've cooled enough for you to touch them, but are still warm.

Dip the top in the glaze and let them dry/cool on a wire rack.

Spray and fill pan up one more time, repeating all of the steps.

Store in an airtight container up to 4 days.
Notes
If the glaze hardens in between batches, heat it briefly in the microwave.
Nutrition Information:
Yield:
10
Serving Size:
1
Amount Per Serving: Calories: 284Total Fat: 11gSaturated Fat: 3gTrans Fat: 0gUnsaturated Fat: 6gCholesterol: 32mgSodium: 155mgCarbohydrates: 46gFiber: 1gSugar: 32gProtein: 3g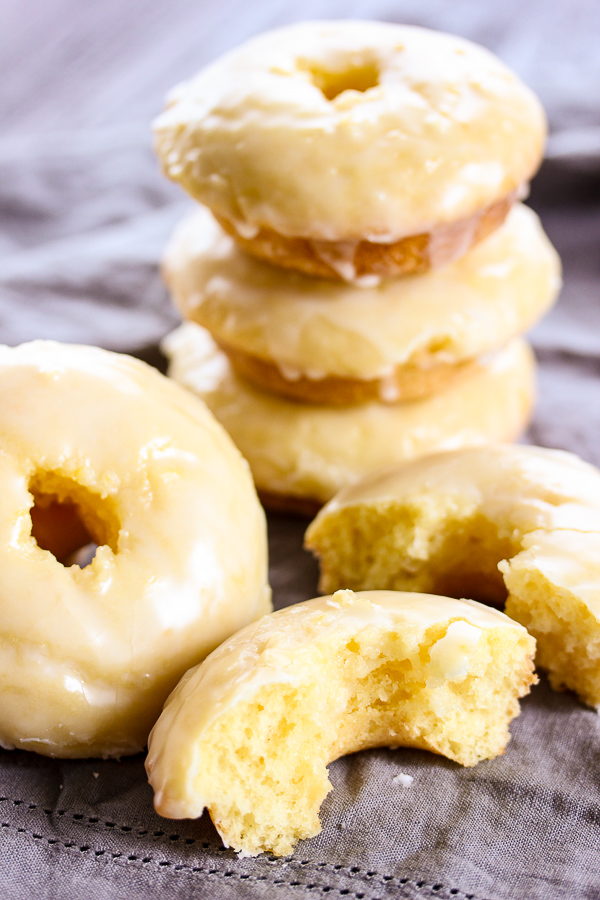 ENJOY!
An Affair from the Heart – Easy Homemade Refried Beans
Take Two Tapas – Pineapple Hummus with Smoked Paprika
LeMoine Family Kitchen – Sausage Hash Brown Nests
Full Belly Sisters – Blueberry Dutchbaby
Who Needs a Cape? – French Onion Salisbury Steak
Plattertalk – Lemon Loaf Cake
Hostess at Heart – Teriyaki Chicken Bowl
Life Currents – Blue Cheese, Fig, and Caramelized Onion Palmiers
Lisa's Dinnertime Dish – Baked Lemon Glazed Donuts
Bowl Me Over – Southwest Chicken Salad Bowl
A Dish of Daily Life – Chicken Carbonara Pasta
Aunt Bee's Recipes – Summer Corn Salsa
A Kitchen Hoors Adventures – Bourbon Banana Bread
Seduction in the Kitchen – Honey Roasted Strawberry Cheesecake Smoothie

This Recipe has been shared at: