Thanks to Klement's for sponsoring this delicious Cheesy Hash Brown Bratwurst Brunch Bake. As always, all opinions are my own.
Cheesy Hash Brown Bratwurst Brunch Bake is sure to please this Mother's day with its cheesy goodness and the smoky flavor from Klement's smoked bratwurst.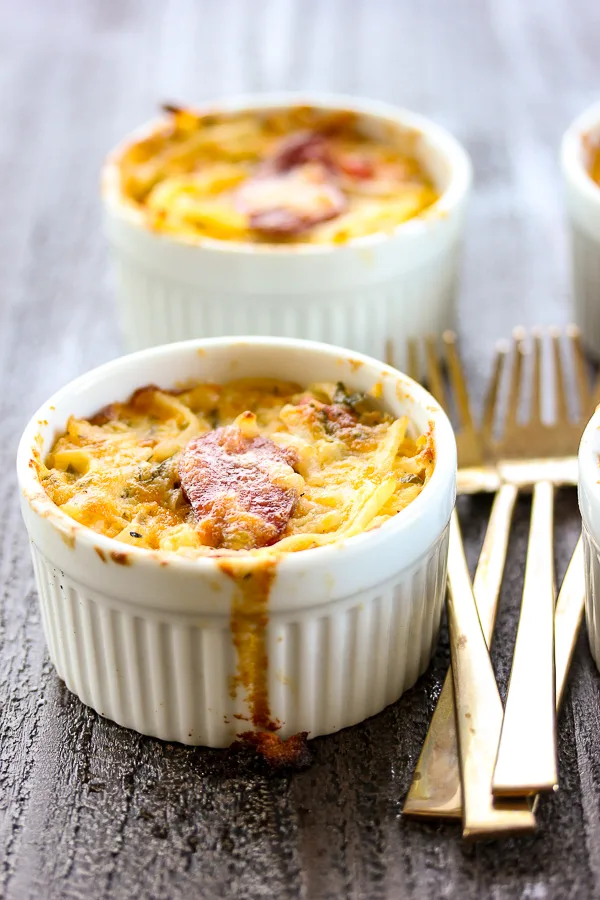 Mother's Day is right around the corner, what are you planning? I happen to love brunch, so my kids are going over come over and make brunch for me. It's so much more relaxing than going to a crowded restaurant for what's usually an overpriced buffet. Plus, we can sit around the table chatting for as long as we like.
Everyone in the family likes brunch, but we all have different ideas about what makes a great brunch. For me, I'm all about the savory foods, eggs, sausage and bacon, potatoes and so on. Others in the family are more about the sweet foods, like pancakes, waffles and pastries. Then there a couple that have a strong aversion to eggs of any kind and would really prefer lunch. The one thing we all can agree on are hash browns.
Which is why this cheesy hash brown bratwurst brunch bake will definitely be a hit at our brunch this year. It will be delicious with whatever else the kids decide to make and everyone will love it. Plus, it can be made ahead of time so all that has to be done Sunday morning is pop it in the oven.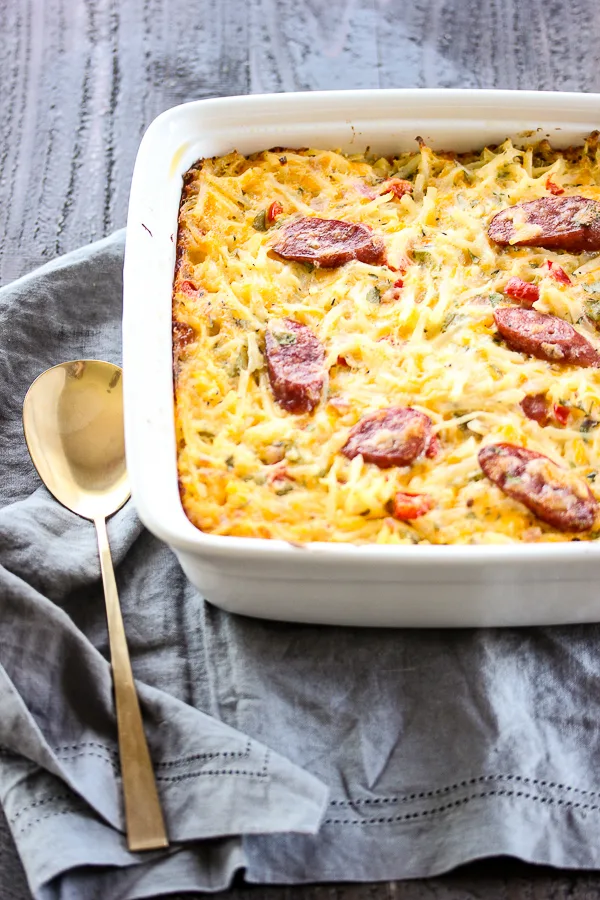 This dish is so full of flavor with lots of cheese, a mix of flavorful veggies and a homemade bechemel sauce. But what really makes this brunch bake sing is the Klement's Smoked Bratwurst. It has a great smoky flavor that comes from being hardwood smoked and the quality of the sausage is top notch. It's made in small batches from an authentic old world recipe that Klement's has been using for over 60 years. I love that it's fully cooked, which makes it so easy to incorporate into just about any recipe.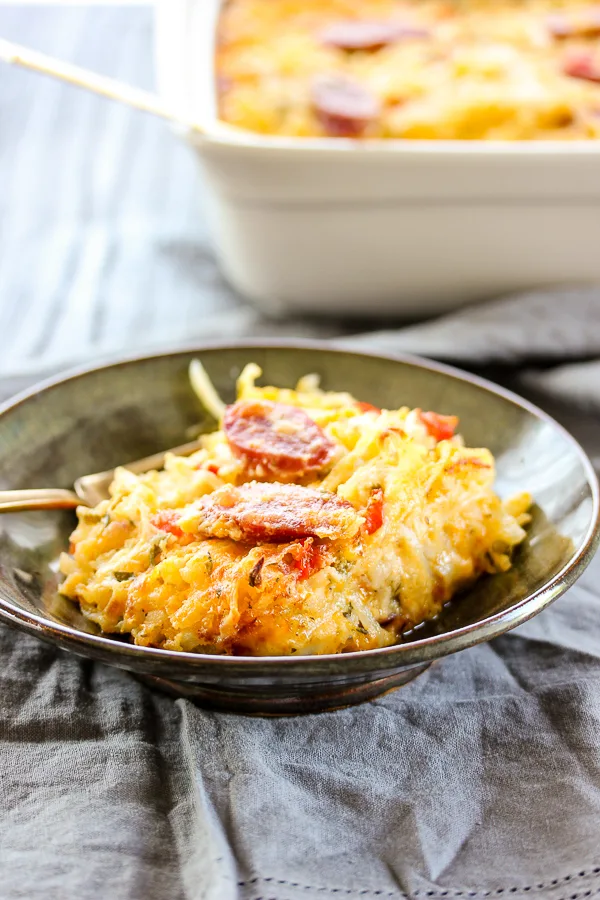 As I've said, this is a great side dish for brunch, but it would be equally delicious as a dinner main dish. Serve it with a big salad along with some crusty bread and you've got yourself one tasty meal. So what do you think, will this be on your menu this Mother's day? If it is, make sure you pick up Klement's smoked bratwurst, it will make all the difference in this recipe!
#What'sCookingWednesday

Yield: 8-10
Cheesy Hash Brown Bratwurst Brunch Bake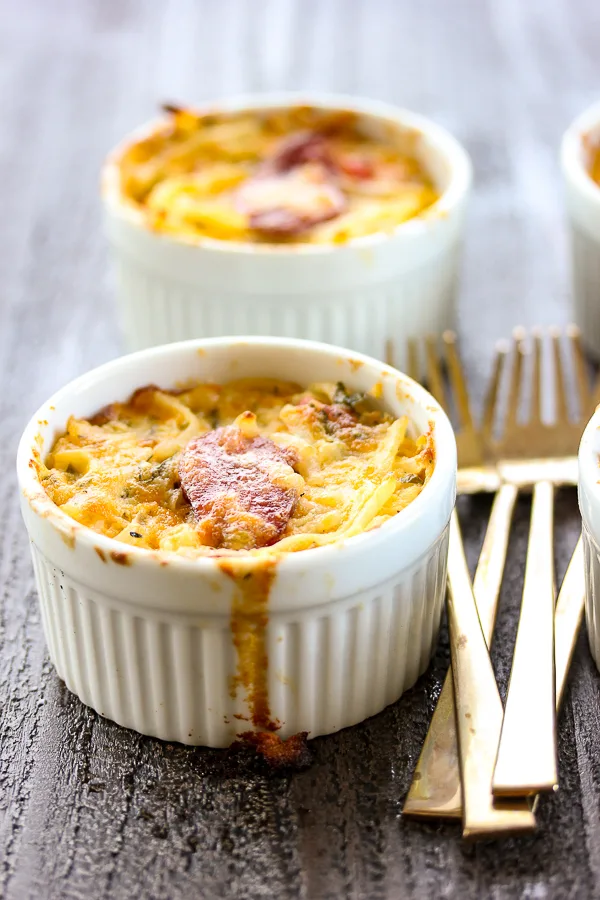 Additional Time
40 minutes
Total Time
2 hours
10 minutes
Ingredients
1/2 cup (1 stick) butter, divided
3 tbsp flour
1/2 tsp ground mustard
2 1/2 cups whole milk
1 tsp dried thyme
2 tsp salt, divided
1 tsp black pepper, divided
1/2 red onion, chopped
1 red bell pepper, chopped
2 stalks celery, thinly sliced
3 cloves garlic, minced
1 tbsp olive oil
1 1/2 cups sour cream
4 cups shredded sharp cheddar cheese
2 (20 oz) pkgs. refrigerated hash browns
1 (14 oz) pkg. Klement's Smoked Bratwurst
1/3 cup parsley, finely chopped
Instructions
Preheat oven to 350 degrees.
Melt 3 tbsp butter in a saucepan over medium low heat.
Once butter has melted, whisk in flour, continuing to cook for a couple of minutes to allow flour to cook.
Whisk in ground mustard, until smooth.
Gradually whisk in milk.
Once milk has been whisked in, stir in thyme, 1 tsp salt and 1/2 tsp pepper.
Continue whisking and bring mixture to a bubble, adjusting heat if necessary, so that mixture doesn't come to a full boil.
Keep whisking until mixture thickens, about 3-5 minutes.
Allow to cool slightly.
Meanwhile, heat olive oil in a skillet over medium heat.
Add onion, red pepper and celery to skillet and saute' until onions are translucent, about 5 minutes.
Stir in garlic and saute' for an additional 30 seconds.
Set vegetables aside and allow to cool slightly.
Slice bratwurst on an angle into thin slices.
In a large bowl, stir together white sauce, sour cream, shredded cheddar, vegetables, remaining 1 tsp salt and 1/2 tsp pepper, until well combined.
Add hash browns a bratwurst slices to mixture, stirring until well coated.
Spoon into a 9x13 pan that has been coated with cooking spray.
Bake uncovered, for 50-60 minutes, until browned and bubbly.
Notes
~Alternatively, for individual servings, you can spoon potato mixture into ramekins that have been coated with cooking spray and bake for 45 minutes.
~This can be made ahead up to one day in advance. Prepare up to the point of baking and refrigerate. When ready to bake, allow an additional 5-10 minutes to heat through.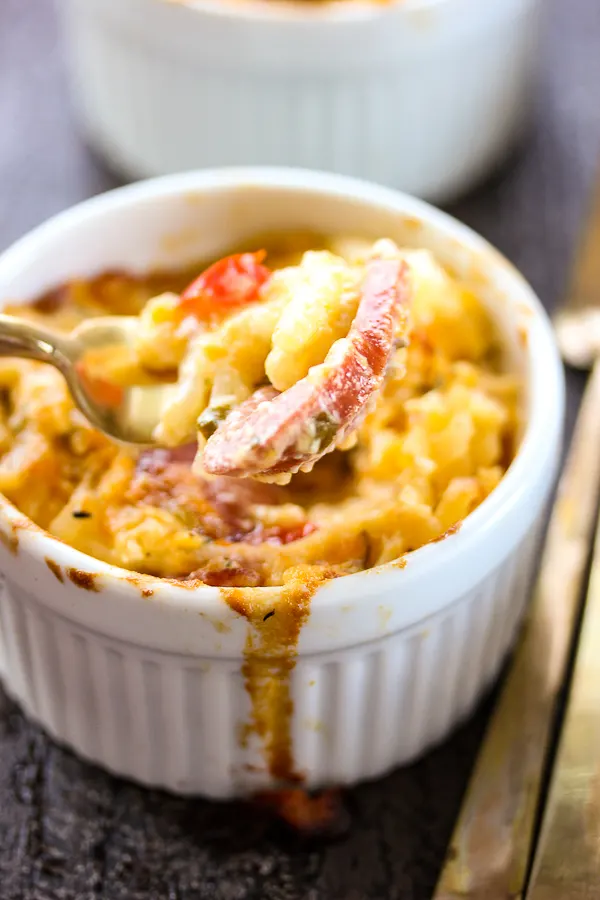 ENJOY!

This Post has been shared at: