Thai shrimp curry is a deliciously flavorful dish the whole family will love. Plus it's easy enough to make any night of the week.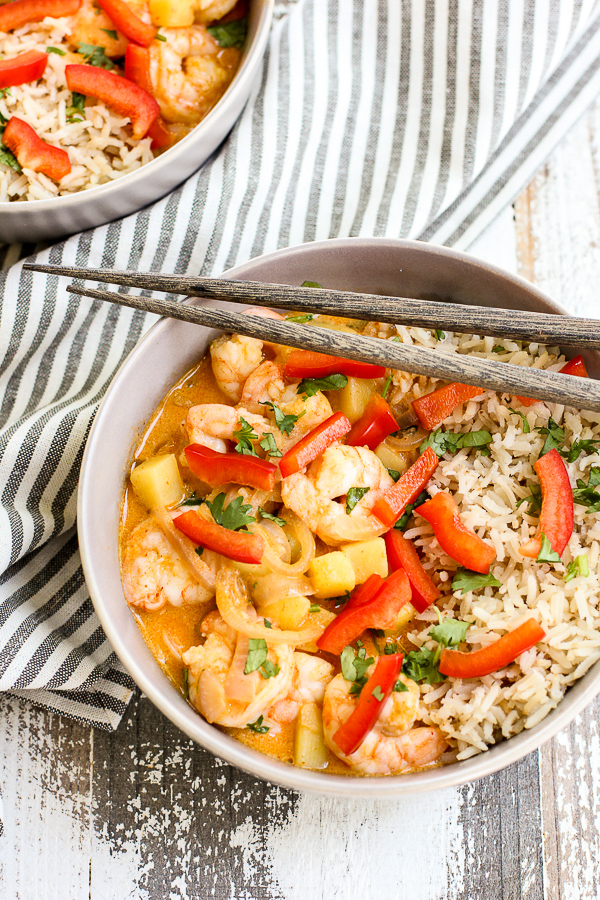 It's time for the summer edition of Freaky Friday! If you don't know what Freaky Friday, it's a recipe swap that some of my blogger friends and I participate in once each season.
My dear friend, Michaela, from An Affair From The Heart is the creator of this event. Each season, she secretly assigns each one of us another person's blog.
Then we each pick a recipe from our assigned blog to cook and share on our own blog, keeping it a secret until today. What's so fun is having the chance to try out another blogger's recipe and then share it with our own readers. Which in turn introduces you all to some great blogs you may not have seen before!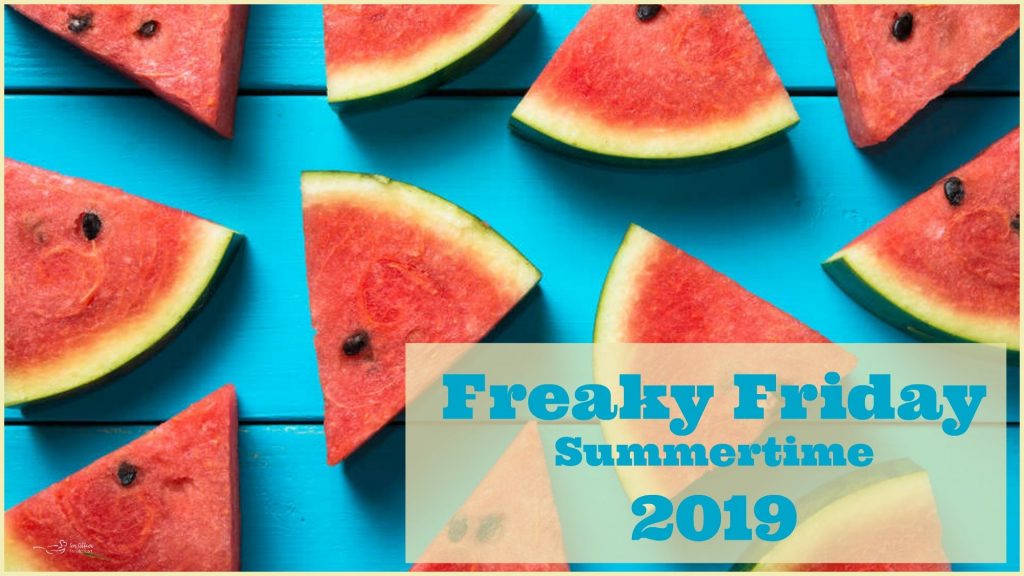 For this summer round, I was so excited to find out that I was assigned to another good friend, Michele's blog, West via Midwest. She learned a lot about cooking from her Mom and she also went to culinary school. So believe me, she knows her way around the kitchen and creates some fantastic recipes.
She also has a sommelier certification which makes her well qualified to offer the perfect beverage pairing to go along with her delicious food.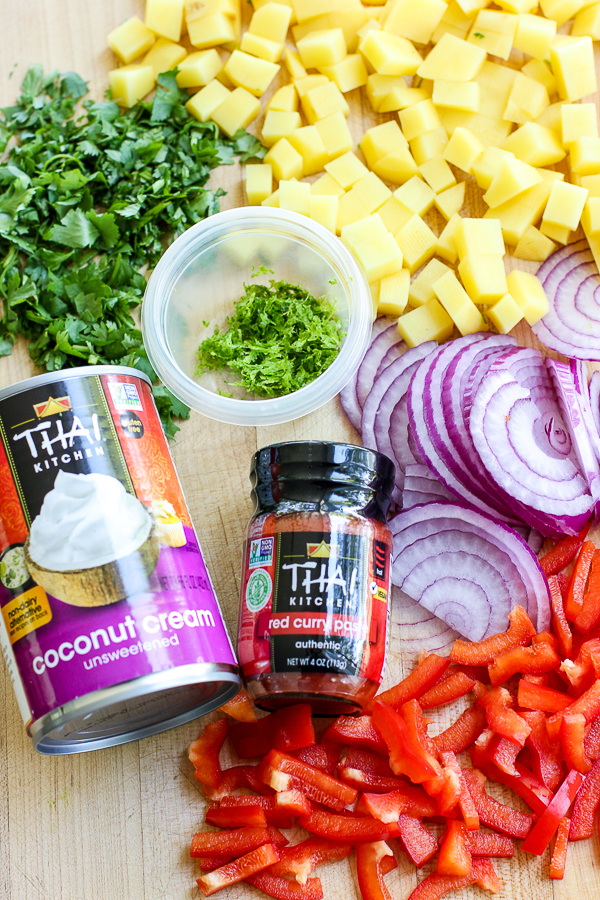 I spent quite a lot of time browsing through Michele's recipes before deciding on her amazing Thai red curry. So many recipes looked so good that it made it very tough to decide.
These are some of my favorites that I came across and I can't wait to try them:
Bruschetta Chicken Zucchini Spaghetti
Healthy Korean BBQ Street Tacos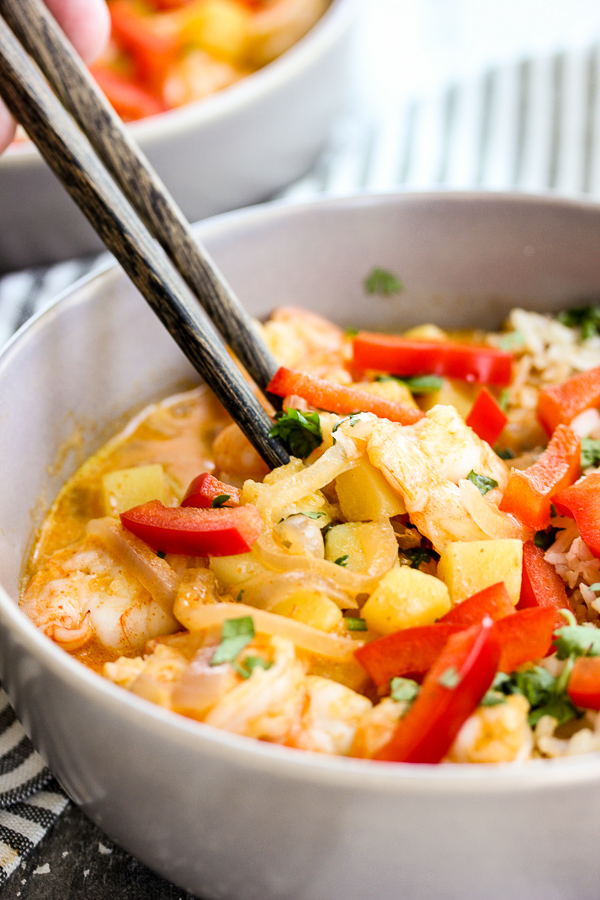 Now that I've got you good and hungry, let's talk about this Thai shrimp curry. It's a classic make your own takeout recipe that couldn't be easier. This makes it perfect for a quick weeknight meal.
The recipe calls for ingredients that are easy to keep on hand and it's ready and on the table in about 45 minutes. And of that 45 minutes, about half of the time is letting it simmer on the stove top. That gives you plenty of time to make the rice to go along with it.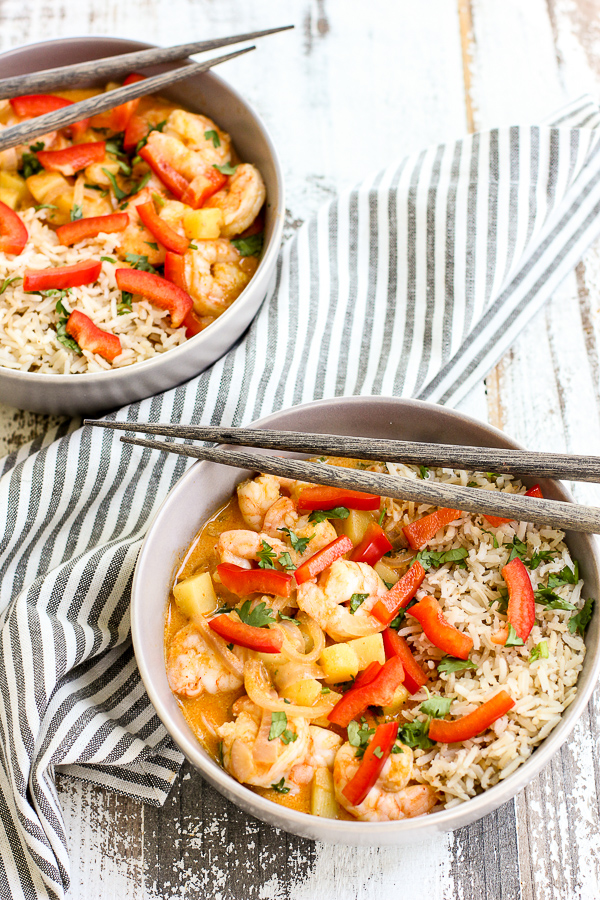 But how does it taste? Pretty darn good! The red curry paste gives it great flavor, which you can adjust to your liking. If you like your curry to be on the milder side, add a little less curry paste and if you like it to be spicier, add a bit more.
The final step of topping the curry with the raw red pepper strips give the curry a nice, fresh flavor and a little bit of crunch. If your family loves Thai food, they will love this recipe.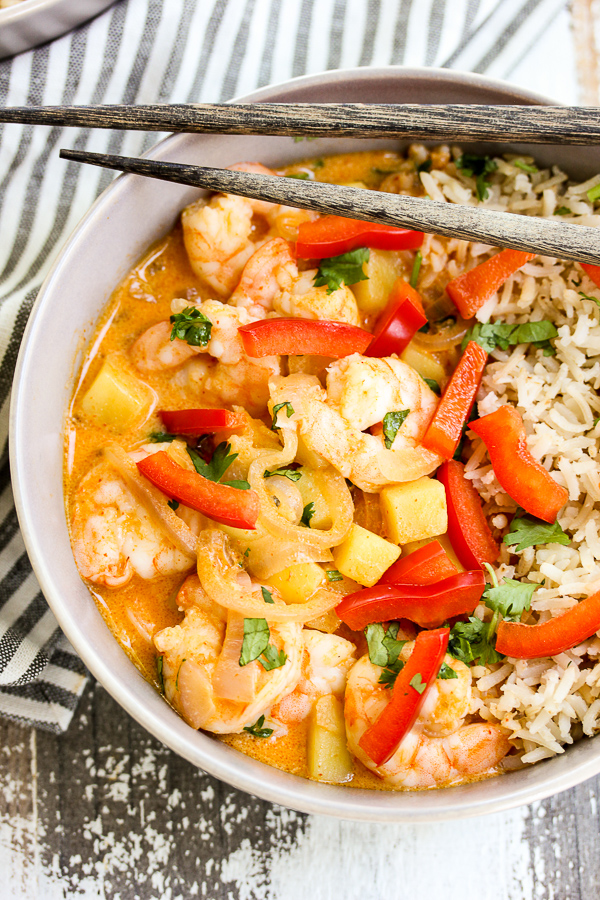 Take a look at all of our Summer 2019 Freaky Friday Recipes:
Yield: 8
Thai Shrimp Curry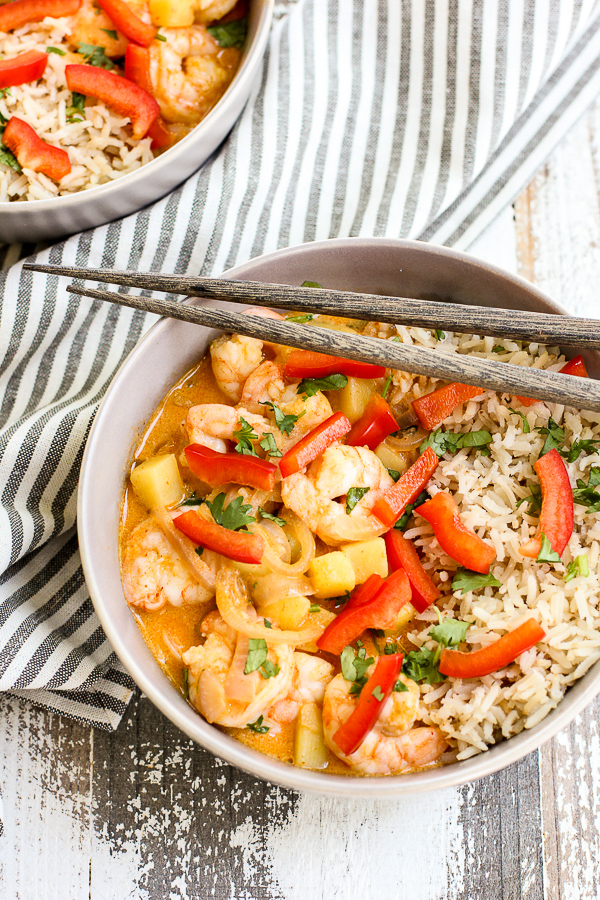 Thai shrimp curry is a deliciously flavorful dish the whole family will love. Plus it's easy enough to make any night of the week.
Ingredients
6 tbsp red curry paste
6 cups coconut cream
2 tbsp lime zest (about 2 small limes)
2 small potatoes peeled and diced into small pieces
2 tsp fish sauce
1 tsp sugar
1 tsp salt
1/2 tsp black pepper
1 small onion thinly sliced
1 lb peeled and deveined shrimp
1/2 cup cilantro, finely chopped
1 small red pepper cut into thin strips
Cooked rice for serving, optional
Instructions
Heat 2 tbsp coconut cream in a large sauce pan or pot for a couple of minutes over medium heat.
Stir in curry paste and cook, stirring frequently, until the paste start to brown.
Stir in remaining coconut cream and the lime zest.
Increase heat to high and bring mixture to a boil.
Continue to boil, stirring occasionally, until mixture has reduced by 1/4. This will take about 10 minutes.
Once mixture has reduced, stir in potatoes, onion, fish sauce, sugar, salt and pepper.
Simmer, uncovered, for an additional 15 minutes, until potatoes are soft.
Add shrimp and cook until they're opaque, about 3-5 minutes.
Spoon curry over cooked rice, if desired, and top with red pepper strips.
Nutrition Information:
Yield:
8
Serving Size:
1
Amount Per Serving:
Calories:

943
Total Fat:

37g
Saturated Fat:

35g
Trans Fat:

0g
Unsaturated Fat:

3g
Cholesterol:

120mg
Sodium:

1293mg
Carbohydrates:

138g
Fiber:

2g
Sugar:

117g
Protein:

18g