Not only is pork milanese a wonderfully delicious entree, it's also a great make ahead dish that freezes beautifully. Make a big batch and you can enjoy this scrumptious pork on even the busiest of nights, with almost no effort.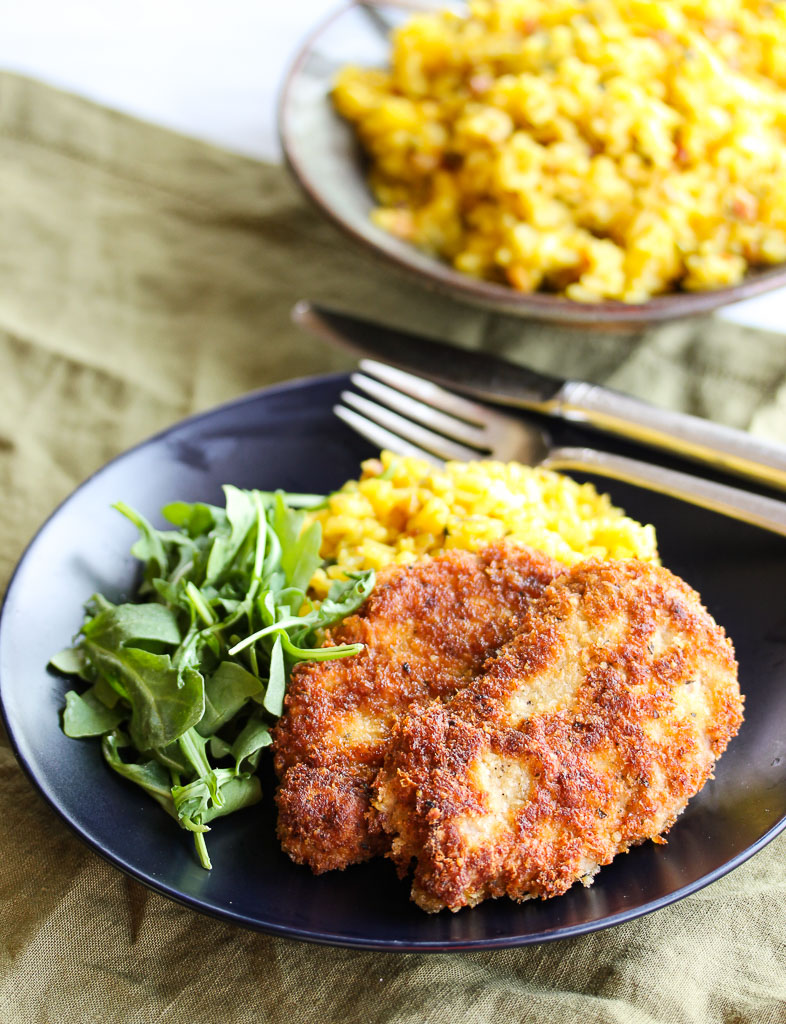 I chose to use pork tenderloin for this dish because it's so tender and very lean, but you use boneless pork chops and pound them out thin as well. I also chose to serve this pork milanese simply with a lightly dressed arugula salad and a side dish of risotto milanese and it was an amazingly delicious dinner.
But there is so much more that you can do with pork milanese. As I said you can make it ahead and freeze it. Freeze it in a single layer on a sheet pan and then transfer it to a plastic storage bag. When you want to heat it up, take out what you need and reheat it on a baking sheet in a 350 degree oven for about 15-20 minutes, until you can see it sizzle.
Once you've reheated the pork, you can put it on a sandwich roll, top it with lettuce, tomato and mayo and you've got yourself one tasty sandwich. You could also top it with marinara sauce and mozzarella cheese. Just put it under the broiler until the cheese is melted. Or, how about slicing it up and mixing it in with your favorite salad ingredients and drizzling with your favorite dressing. The possibilities are endless!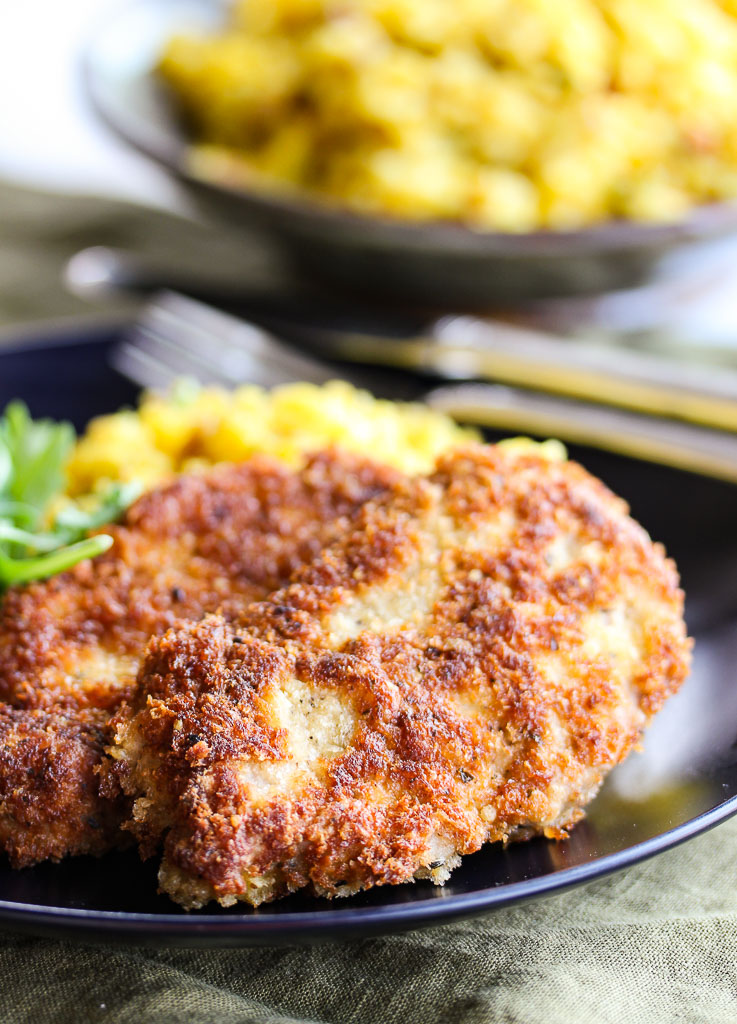 Yield: 6-8
Pork Milanese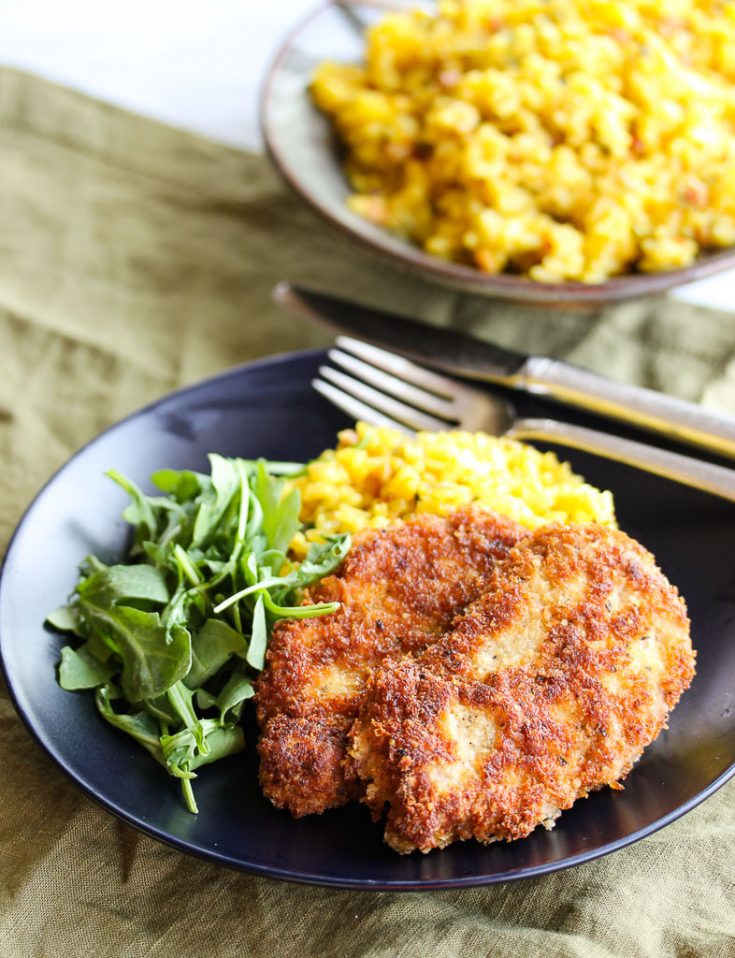 Ingredients
2 lbs pork tenderloin
1 cup flour
3 eggs
1 1 /2 cup panko bread crumbs
1/3 cup grated parmesan
1 1/2 tsp dried Italian seasoning
1 tsp salt
1/2 tsp black pepper
olive oil
3 cups arugula
juice from 1/2 lemon
1 lemon, cut into wedges
Instructions
Slice pork crosswise into 1 inch thick pieces.
Pound each piece out until it's 1/4 inch thick.
Set out three shallow dishes (pie plates work great for this)
Put the flour in one dish.
Put the eggs in another and beat them together.
In the third dish, combine the bread crumbs, parmesan and spices.
Dredge each piece of pork in the flour, then dip in the eggs and finally coat with the bread crumb mixture.
Preheat oven to 250 degrees.
Set a rack on a baking sheet.
Coat the bottom of a large skillet with olive oil, about 1/4 cup.
Heat oil over medium high heat.
Add pork slices to skillet in batches, making sure you don't crowd the pan.
Fry for 2-3 minutes on each side, until golden brown.
Transfer each batch to baking sheet and keep warm in the oven.
Toss arugula with lemon juice and 1 tbsp olive oil. Season with salt and pepper.
Serve pork with arugula salad and lemon wedges.
Notes
To freeze for later, place cooked pork on a baking sheet, freeze in a single layer and then transfer to a plastic storage bag. Reheat from frozen on a baking sheet in a 350 degree oven for 15-20 minutes, until pork is sizzling.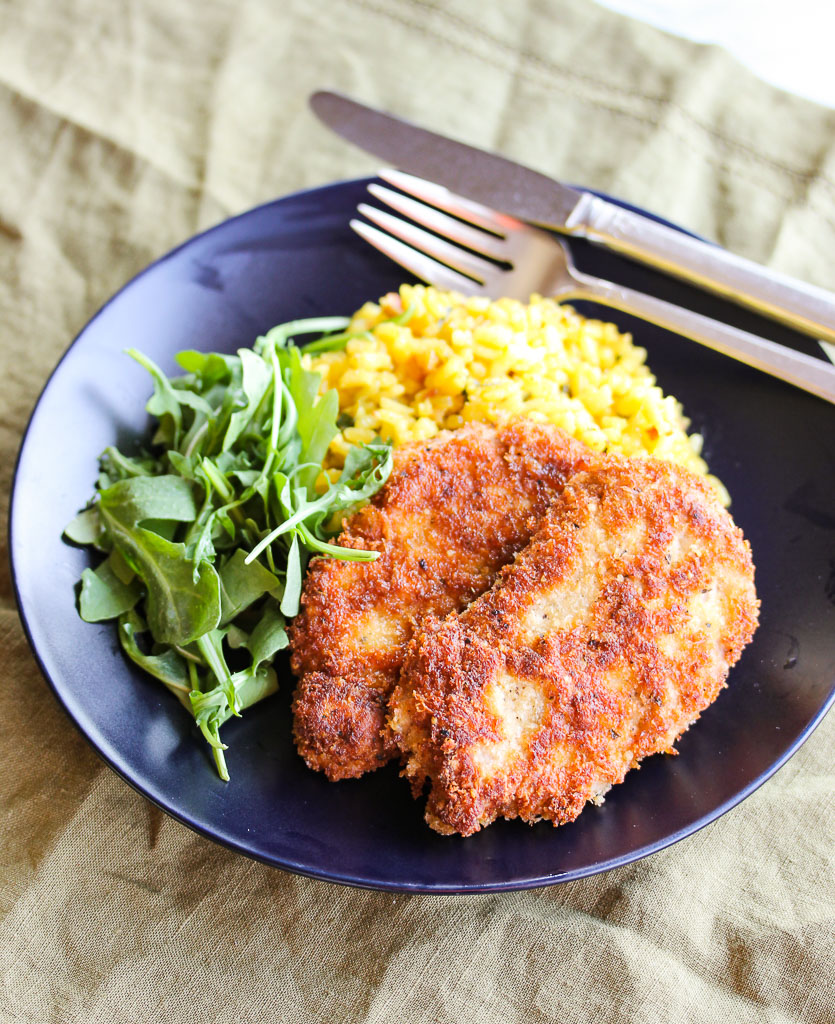 ENJOY!
Shared at: