Low Carb Cheeseburger Meatloaf is delicious comfort food with all the flavors of a juicy cheeseburger without all of the carbs.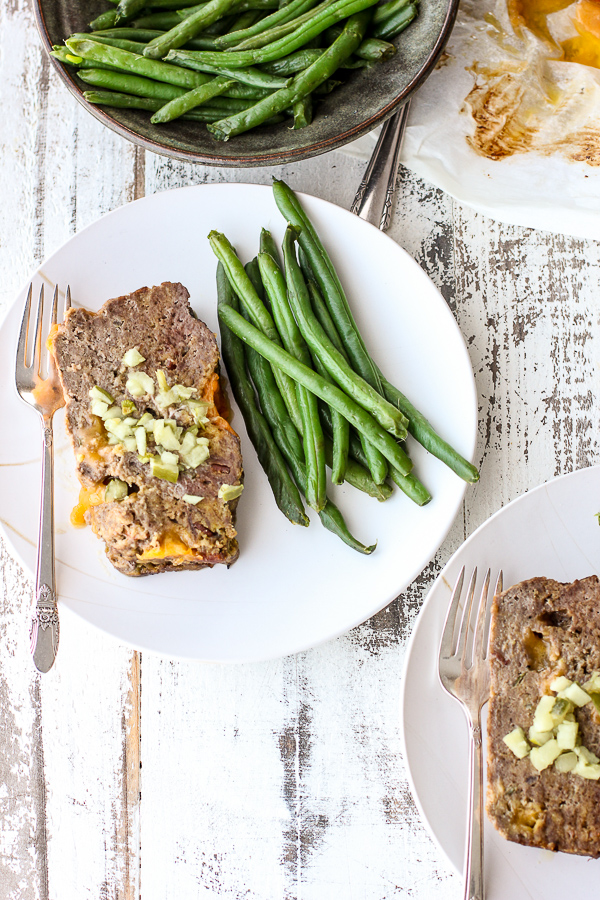 It's time for the winter edition of Freaky Friday! If you're not familiar with Freaky Friday, it's a recipe swap that some of my blogger friends and I participate in once each season. My friend, Michaela, from An Affair From The Heart secretly assigns each one of us another person's blog. We each pick a recipe from our assigned blog to cook and then share on our blog, keeping it a secret until today. What's so fun is having the chance to try out another blogger's recipe and then share it with our own readers, introducing you to some great blogs!
This time I was assigned to Sandra's blog, The Foodie Affair. Her blog is a fantastic resource for low carb recipes. If you're looking for low carb recipes, she has so many to choose from! As I was browsing through her blog to choose my recipe, a number of dishes jumped out at me like Low Carb Biscuits and Gravy, Instant Pot Chicken Soup and Pork Chops with Mushroom Cream Sauce Skillet Meal. But the recipe that really stood out to me was her Low Carb Cheeseburger Meatloaf.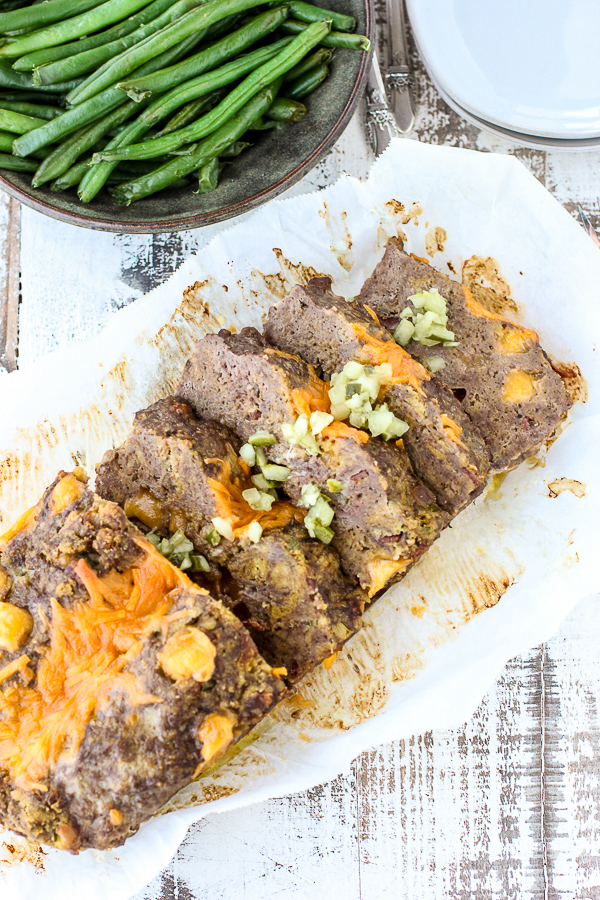 That's the recipe I had to make. It sounded like great comfort food and a guilt-free way to enjoy all the flavors of a cheese burger. And let me tell you, this low carb cheeseburger meatloaf does not disappoint! It tastes just like a cheese burger, you won't even miss the bun. Mustard and dill pickle relish give the meatloaf a nice tanginess and cheddar cheese adds so much delicious cheesy flavor. To finish it off, a little bacon helps to keep it nice and juicy and adds a hint of smokiness.
So what are you waiting for, go check out the Foodie Affair for yourself, along with the rest of my friend's blogs, just click on the links at the bottom of the post.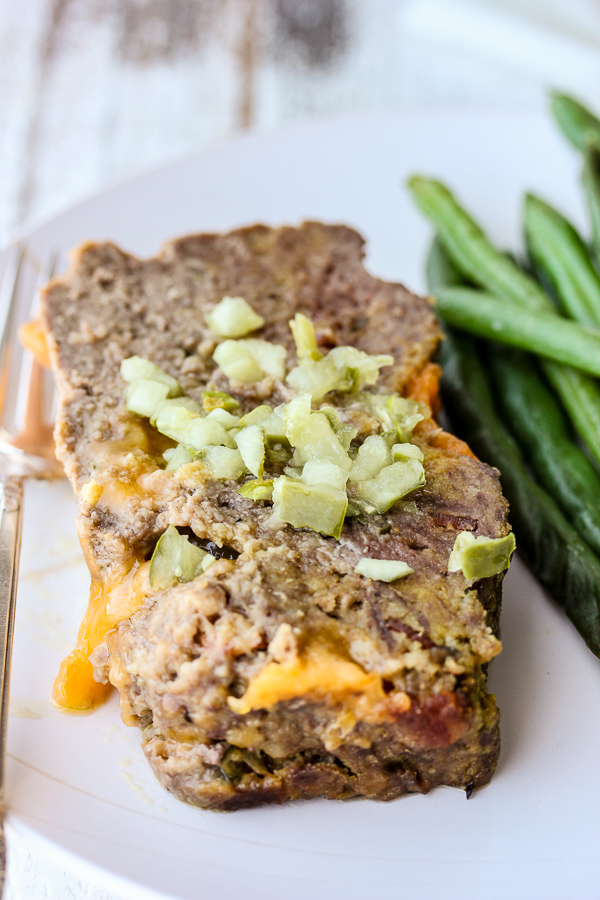 Yield: 8
Low Carb Cheeseburger Meatloaf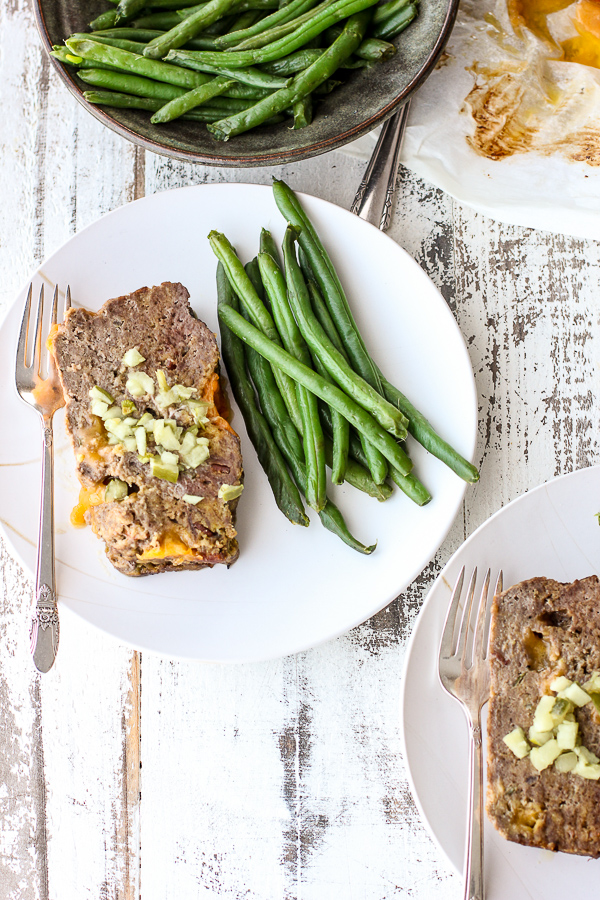 Prep Time 15 minutes

Cook Time 45 minutes

Total Time 1 minute
Ingredients
1 tbsp olive oil
1/2 cup onion, chopped
3 slices bacon, diced
2 lbs ground beef (I recommend 90% lean)
1 large egg lightly beaten
2 tbsp prepared yellow mustard
1/4 cup dill pickle relish or chopped dill pickles
1 cup pork rind crumbs
1 1/2 tsp salt
1 1/2 tsp pepper
3 ounce sharp cheddar cheese (block style, diced in chunks)
1/4 cup shredded sharp cheddar cheese (to top meatloaf - optional)
Instructions
Preheat oven to 375 degrees.
Line a loaf pan with parchment paper.
Heat olive oil in a small skillet over medium heat.
Add onion and bacon and sauté until onion is translucent and bacon is crispy.
Remove from pan and drain on paper towels.
Let cool slightly.
Add all ingredients except for the shredded cheese to a mixing bowl.
With your hands, gently mix ingredients until everything is combined, but making sure you don't over mix.
Pat mixture into prepared loaf pan, making sure it's an even thickness.
Form a wedge down the center of the meatloaf and sprinkle in the shredded cheddar (optional).
Bake in preheated oven for 45 minutes.
Notes
If you're not worried about this being low carb, you can substitute 1 cup plain breadcrumbs for the pork rind crumbs.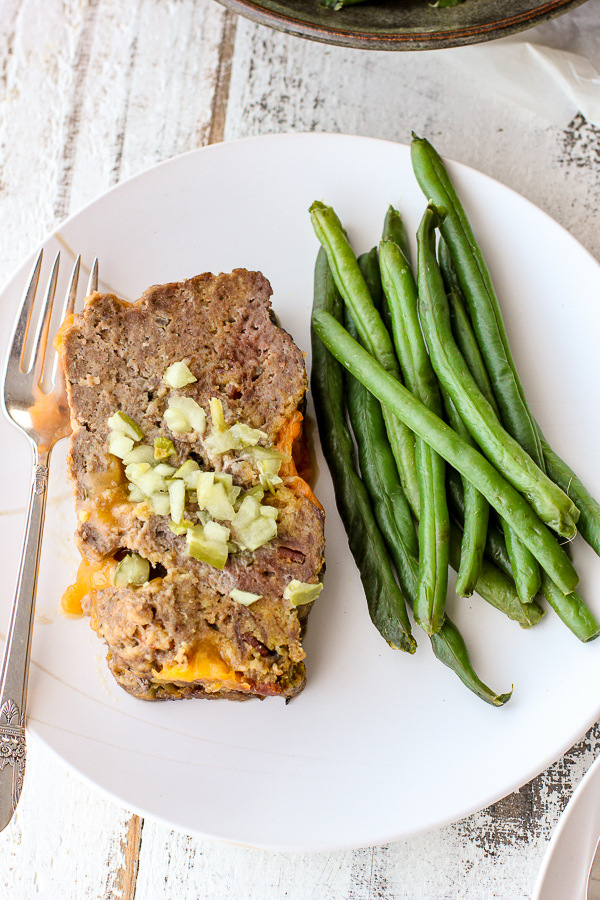 ENJOY!
A Dish of Daily Life – Cucumber Salsa
An Affair from the Heart – Arancini (Three Cheese Fried Risotto Balls)
A Kitchen Hoor's Adventures – Healthier Buffalo Chicken Dip
Bacon Fatte – Spiced Bakery Style Ginger Pear Muffins
Bowl Me Over – Beef Tips and Gravy
The Devilish Dish – Chocolate Covered Snickers Strawberries
Full Belly Sisters – Easy Crockpot Cesar Chicken
LeMoine Family Kitchen – Frittata Ranchera Black Bean Salad
Life Currents – Garlic Sesame Noodles
Lisa's Dinnertime Dish – Low Carb Cheeseburger Meatloaf
Mildly Meandering – Slow Cooker Zuppa Toscana Soup
Plattertalk – Whole Wheat Irish Soda Bread
Seduction in the Kitchen – Reuben Meatball Casserole
Take Two Tapas – BLT Bacon Cups with Avocado
The Foodie Affair – Pineapple Bread Pudding
West Via Midwest – Spicy Smoke Sauced Shrimp
Who Needs a Cape? – Cheez-It Fiesta Baked Chicken