These scrumptious Instant Pot Red Wine Beef Tips are ready in just 30 short minutes. That means a delicious dinner is possible even on the busiest of nights.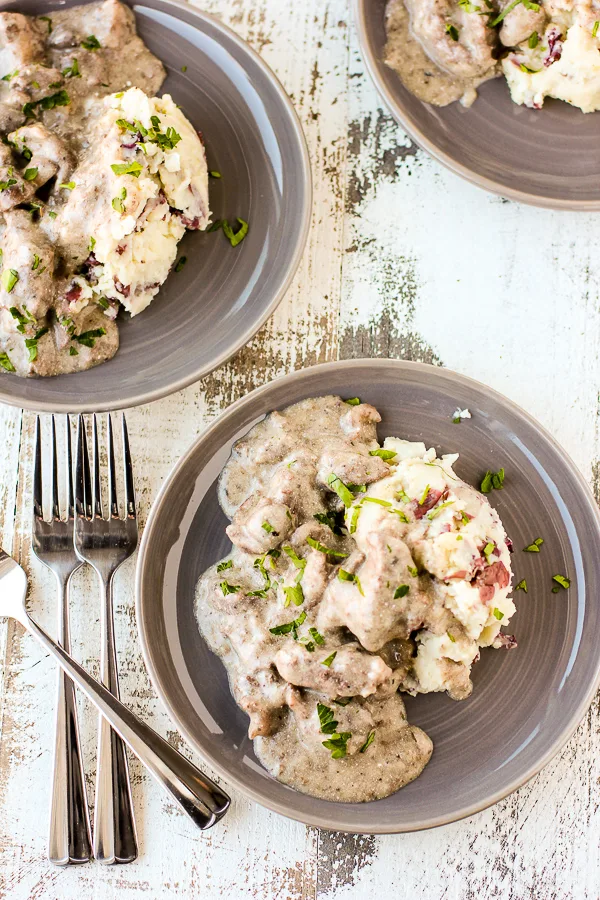 I'm still a bit of a newbie with the Instant Pot, but it is quickly becoming my favorite appliance in the kitchen. I was somewhat intimidated at first, but after successfully roasting a chicken, making beef stew and chicken wild rice soup , I feel a lot more confident and realize that this thing actually lives up to all the hype.
I am now using my Instant Pot at least once a week. I love how, for the most part, you can just throw all the ingredients in the pot and let it do its thing. Dinner's ready in no time.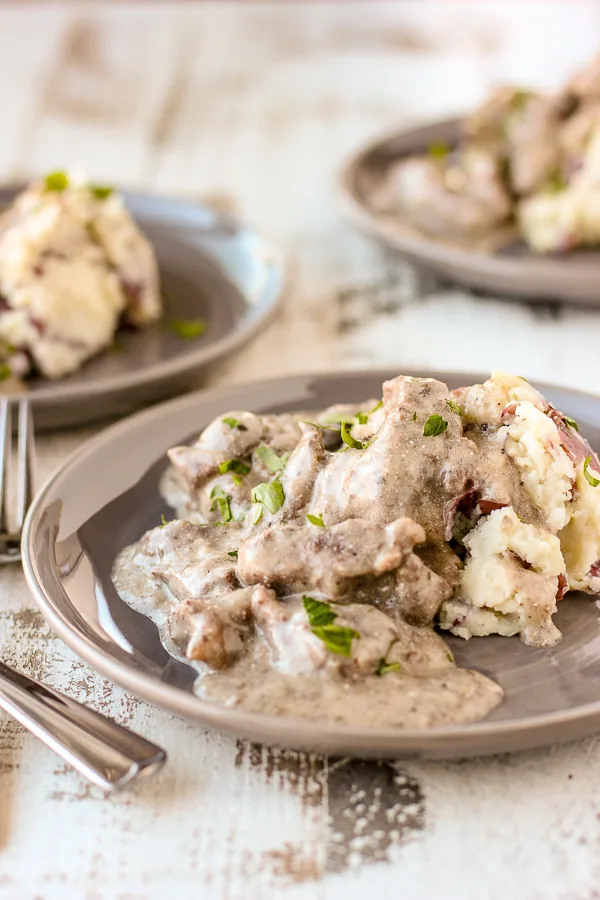 I used to make these red wine beef tips in the slow cooker, but with the Instant Pot these beef tips are done in a fraction of the time. Plus they only take a few minutes to prep. All you need to chop is a shallot and some garlic, then throw everything into the pot.
Once they're done cooking, it takes just a couple of minutes to thicken sauce and stir in some sour cream to make it extra rich and creamy. And let me tell you, they turn out just as tender and juicy as they do in the slow cooker. Put these over mashed potatoes, noodles or rice and you have a big plateful of comfort.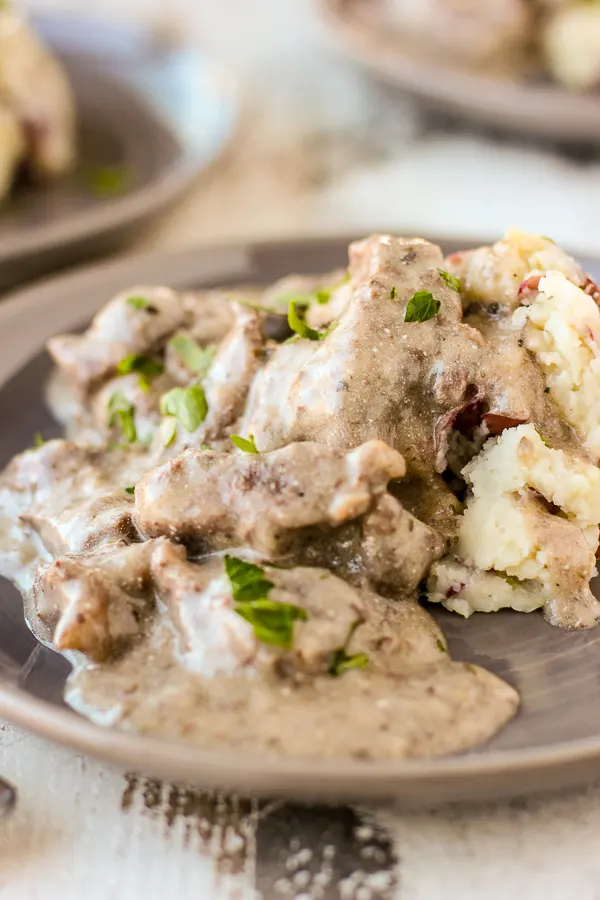 Yield: 6
Instant Pot Red Wine Beef Tips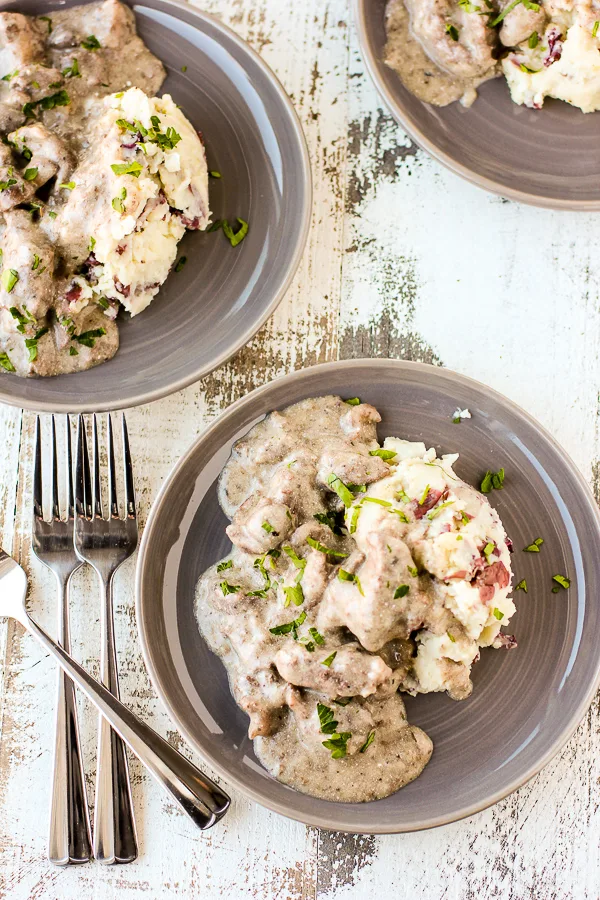 Ingredients
2-2 1/2 lbs beef stew meat
1 large shallot, peeled and thinly sliced
4 cloves garlic, minced
2 tsp herbes de provence
1 tsp salt
1/2 tsp pepper
1 cup dry red wine
1/2 cup beef stock
1/4 cup flour
4 oz sour cream
1/4 cup fresh parsley, minced
Mashed potatoes, rice or egg noodles for serving
Instructions
Combine beef, shallot, garlic, herbs de provence, salt and pepper in the instant pot.
Pour wine over the top.
Place the lid on the the pot and make sure the steam valve is sealed.
Select the meat/stew function and set the timer for 20 minutes.
When the time is up, quick-release the steam.
Remove the lid and turn on the sauté function.
Whisk together beef stock and flour.
Stir into the pot, bring mixture to a boil and cook until sauce is thickened.
Stir in sour cream.
Serve over mashed potatoes, rice or egg noodles.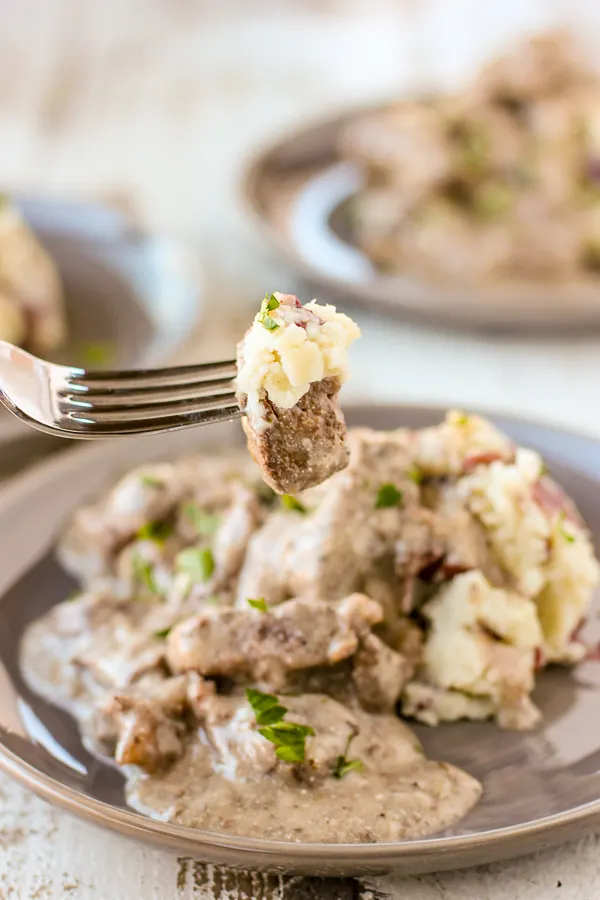 ENJOY!
SaveSave
SaveSave