I have grown to love going "outside of the box" with cake mixes. You can make things like Red Velvet Cookies and Cake Batter Truffles and they take almost no effort to make. One of the other things I've made that was absolutely incredible was a Three Ingredient Pumpkin Cake. I couldn't believe that something so easy to make was so over the top good!
That brings me to this cobbler. It's just as easy to make as the pumpkin cake and it's amazing! It has just four ingredients that you layer in a baking dish. Then it goes in the oven and the magic happens. What comes out is a dessert that looks and tastes like you spent hours on it!
So….will you be serving your family cobbler for dessert tonight?
Four Ingredient Chocolate Cherry Cobbler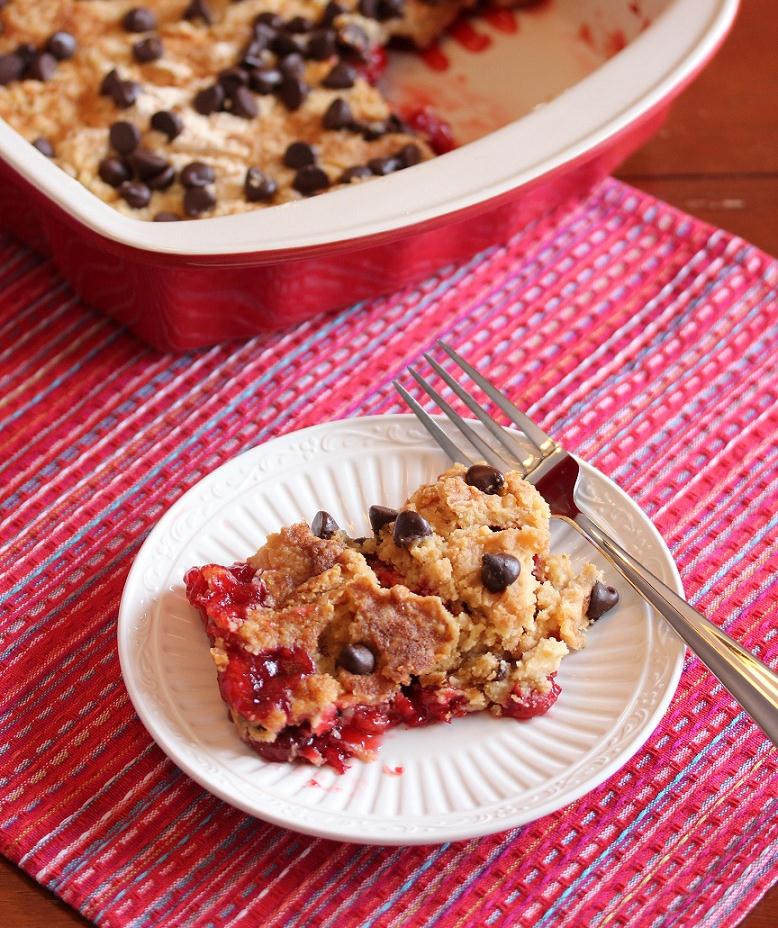 2 cans cherry pie filling
1 box white cake mix
1/2 cup semi-sweet or bittersweet chocolate chips
1 stick butter, melted
Preheat oven to 350 degrees.
Coat the bottom of a 9×13 baking dish with cooking spray. Spread the cherry pie filling on the bottom of the pan.
Sprinkle the cake mix over the pie filling.
Sprinkle the chocolate chips over the cake mix.
Pour melted butter evenly over the top.
Bake in preheated oven for 45 minutes.
Serve warm. If desired, top with ice cream or whipped cream!
Enjoy!
Shared at these great blogs: