Since Alex's birthday was yesterday, I thought it would be nice if I made a special dessert for him. It took me about two seconds to figure out what sweet treat I should make. It had to be choco-hoto-pots. It's kind of a goofy name, but it is a very decadent and delicious chocolate treat.
I have been making this dessert for quite a few years. My sister-in-law, Cady was actually the one who found the recipe. It's a Nigella Lawson recipe that she found on Oprah.com. I love this recipe because it is truly easy to make. This has become our traditional dessert on Christmas Eve. I also make it quite often when we entertain because you can make the batter ahead of time, fill the ramekins and refrigerate. Then when you're ready, you just pop them into the oven and in 20 minutes they're done.
The other thing I love about this recipe is how you can change up the flavor. The original recipe has you fold white chocolate chips into the batter. I often substitute them for different flavored chips. For Christmas Eve I have used Andes Mint Chips. I've also used semi-sweet chocolate chips and Heath Toffee Bits. Really you could use whatever flavor chips or bits that you like.
3/4 cup semi-sweet chocolate chips
1 stick (4 oz) unsalted butter
2 large eggs
3/4 cup sugar
3 tbsp flour
1/2 cup Heath Toffee Bits (or whatever flavor chips you like)
Preheat oven to 400 degrees. Butter four 6 oz ramekins and set aside.
Using a microwave or double boiler, melt together the semi-sweet chocolate and the butter. Set aside to cool.
In a separate bowl, combine sugar, eggs and flour.
Add cooled chocolate mixture and mix until blended.
Fold in Heath Bits.
Divide mixture evenly among ramekins and place on baking sheet. Bake until tops are shiny and cracked and chocolate beneath is hot and gooey, about 20 minutes.
Place each ramekin on a small plate with a teaspoon and serve hot.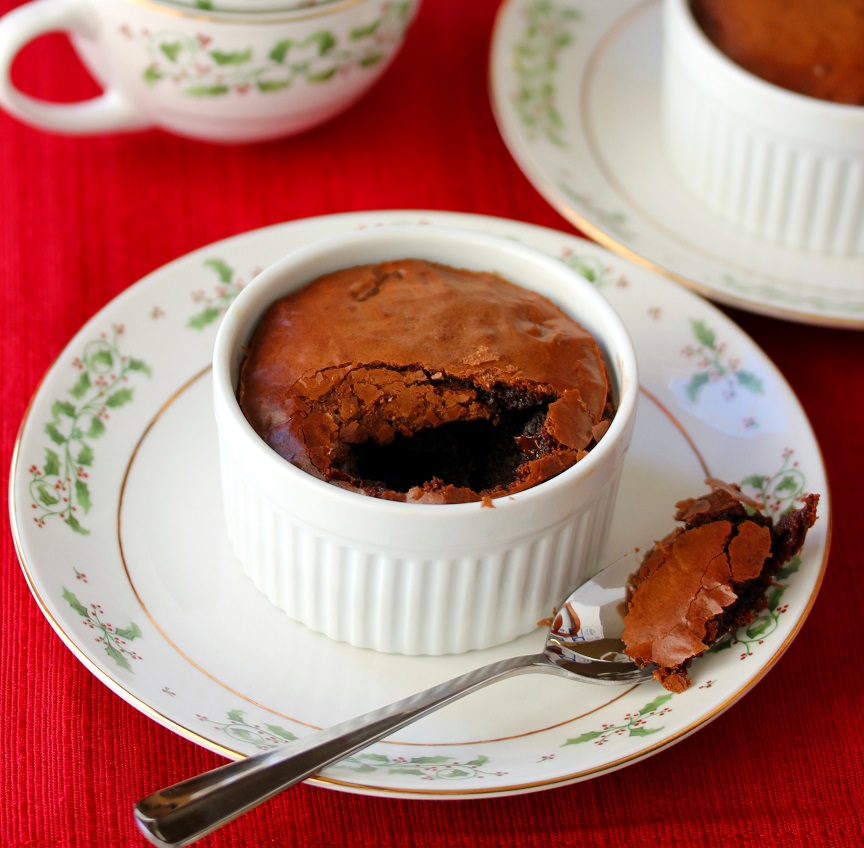 ENJOY!
Shared at Mandy's Recipe Box on 11/15/11
Shared at This Chick Cooks on 11/16/11
Shared at Everday Mom's Meals 11/20/11
Shared at Gooseberry Patch Bog on 11/30/11
Shared at Recipes for My Boys on 2/09/12.
Shared at Crazy for Crust on 3/20/12.