Peanut Butter Chocolate Dipped Cookie Dough Truffles are an easy no-bake holiday treat. They're a perfect sweet bite for your holiday entertaining.
It's time for Freaky Friday again, but this one is special, it's the Holiday Cookie Exchange edition. If you're not familiar with what Freaky Friday is, it's a really fun recipe swap with 13 other food blogger friends.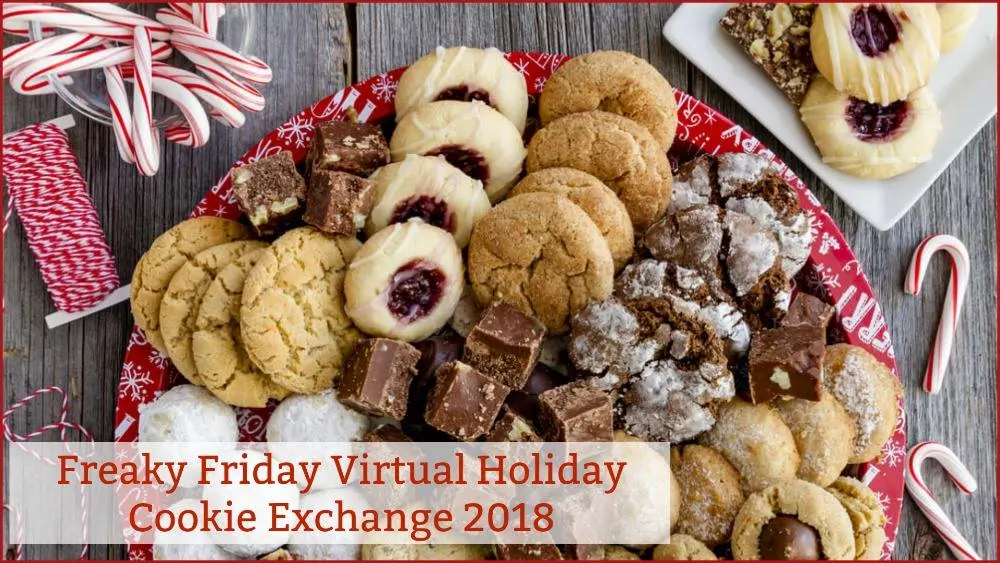 We've all been randomly assigned a blog to pick a recipe from and then cook and share that recipe on our blog. Because this is the cookie exchange edition, we all chose a recipe that we'd take to an actual cookie exchange. The really fun part is that none of us know who has our blog, it's a secret to be revealed today.
I was so excited when I found out that I was assigned Michaela from An Affair from the Heart! Not only do I love her blog which is full of so many Christmas treats to choose from, she's also an actual in-person friend of mine. What you need to know about Michaela is that on top of being a fantastic cook, she's also an incredibly warm and lovely person. I'm so fortunate to be able to call her a friend.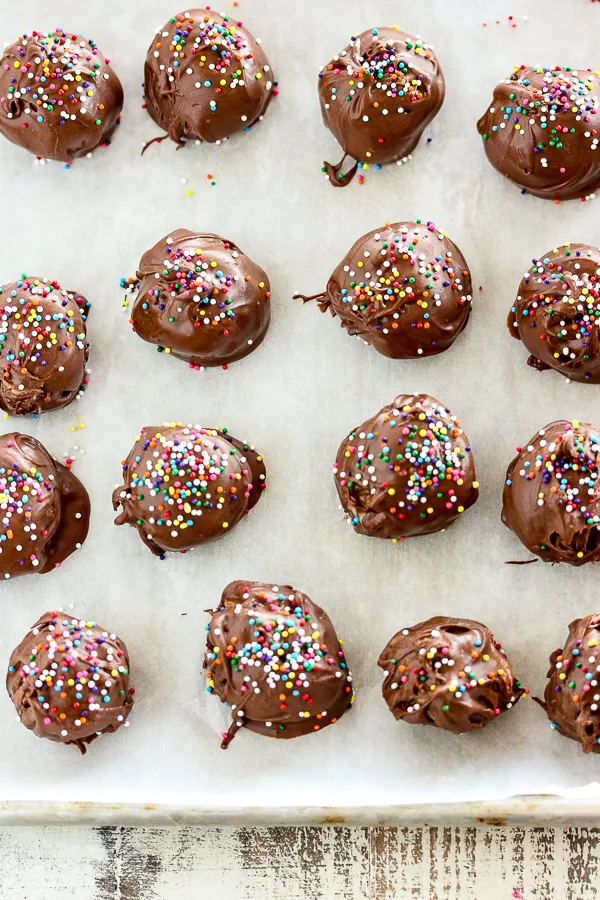 As I said, Michaela has a ton of holiday treats on her blog, so it was really hard to pick just one. Her Frosted Eggnog Cookies, Red Velvet Truffles, Chocolate Mint Candy Cookies, and Eggnog Fudge were all serious contenders. But when I saw her Peanut Butter Chocolate Chip Cookie Dough Truffles, I knew I had to make them.
It turned out to be a great choice. These cookie dough truffles are an amazing little treat. I mean, who doesn't love chocolate chip cookie dough?! Then to make them even better, you dip them in a combination of chocolate chips and peanut butter chips.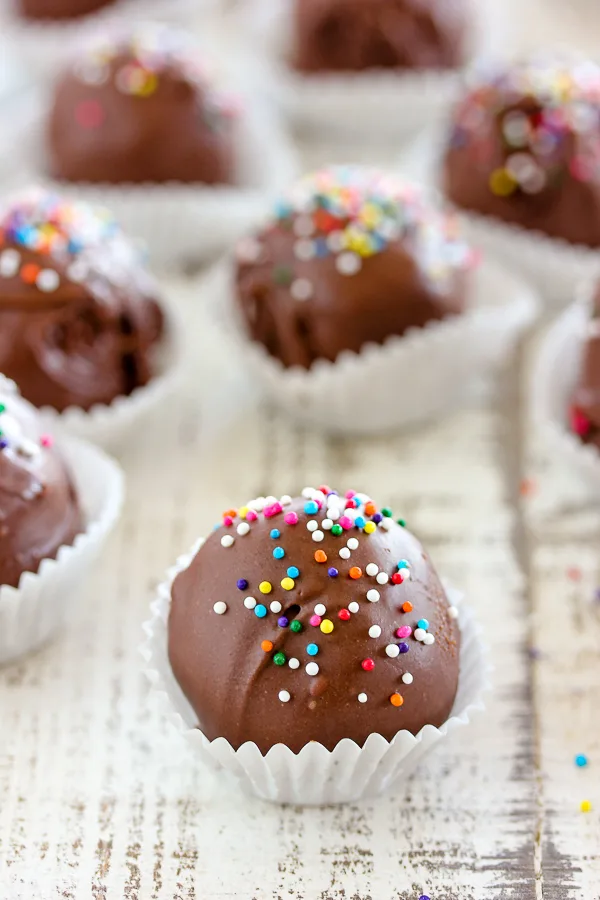 On top of these truffles being delicious, they're also a snap to make. What makes them so easy is that they start with a chocolate cookie mix. All you need to do to get the dough ready is to mix in butter, vanilla and a little milk. After you make the dough balls, they go in the freezer for a short time.
While the truffles are in the freezer get the chocolate and peanut butter chips ready by melting them in the microwave. All that's left to finish them is to dip the balls into the melted chocolate mixture.
You might even want to make a double batch of these. That way you'll have plenty on hand for your holiday parties with enough left to package up and give as gifts to friends or family.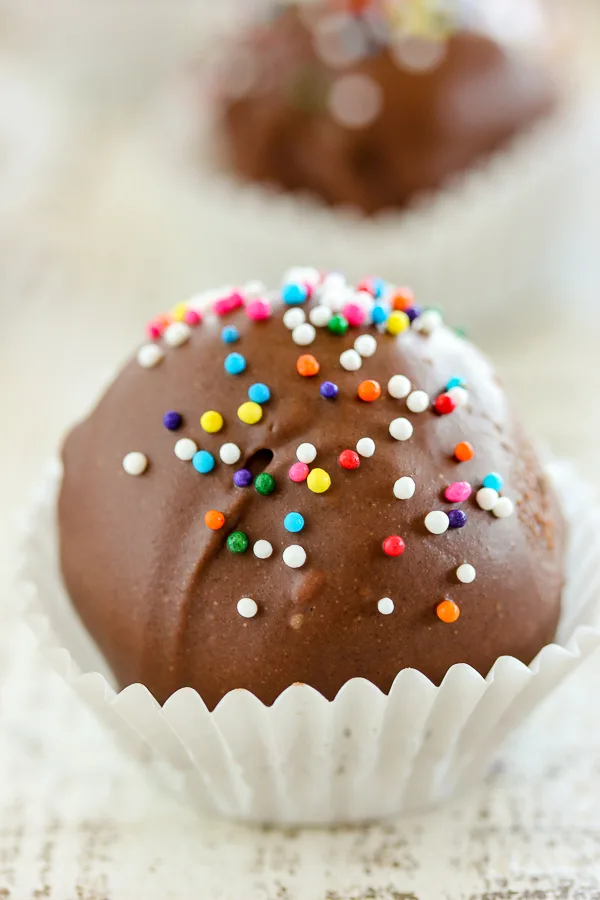 Take a Look at all of our Freaky Friday Virtual Cookie Exchange Recipes:
Yield: 3 dozen
Peanut Butter Chocolate Dipped Cookie Dough Truffles
Peanut Butter Chocolate Dipped Cookie Dough Truffles are delightful small bites that are full of big flavor. They're sure to become a holiday favorite.
Ingredients
1 (17.5) package chocolate chip cookie mix
1 stick butter
2 tbsp milk
1 tsp vanilla
1 (12 ounce) package chocolate chips
1 cup peanut butter chips
sprinkles (optional)
Instructions
Combine cookie mix and butter, mixing until well combined.
Stir in milk.
Use a small cookie scoop to make the dough balls.
Place on a cookie sheet lined with parchment paper.
Freeze dough balls for at least 30 minutes.
Place the chocolate and peanut butter chips in a small bowl.
Gently melt them in the microwave, stirring every 30 seconds, until fully melted.
Dip the dough balls into the melted chocolate mixture, using a spoon to fully coat the balls.
Gently remove balls from the bowl with a fork and place back on the lined cookie sheet.
Top with sprinkles before chocolate hardens, if desired.
Place back in the freezer for a few minutes to make sure the chocolate is fully hardened.
Notes
These store very well in the freezer, just remove them about 30 minutes before you're ready to serve them.