Whether you need an appetizer for game day or a holiday party, garlic pretzel bites with beer cheese dip are a perfect choice. They'll be the hit of any gathering.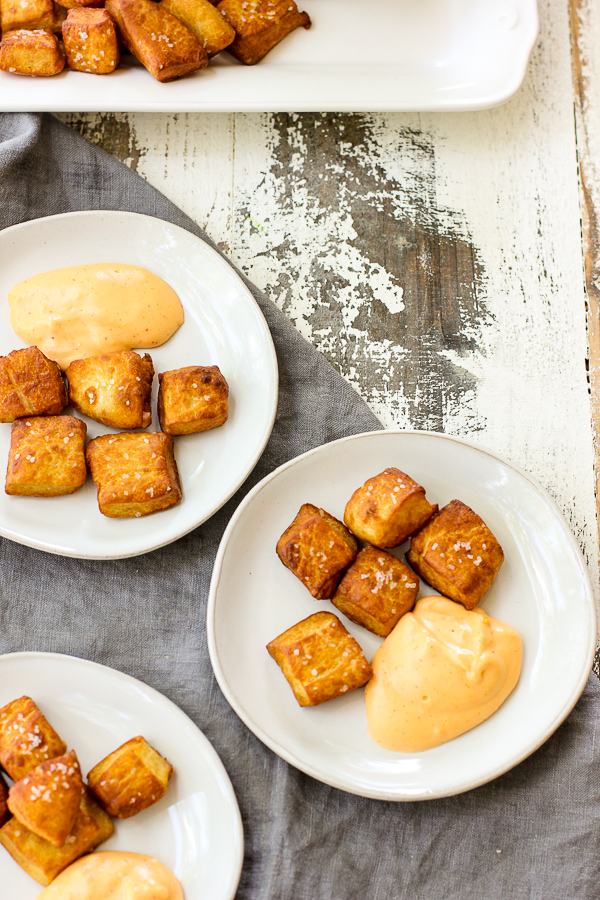 This time of year it seems that many of us are in full on entertaining mode. Whether you're having friends over to watch the game or are hosting a holiday party, there's a lot going on. That of course means lots of food.
It seems like whatever kind of entertaining you're doing this time of year, appetizers are involved. When you're watching the game, appetizers are always a must for snacking. If you're hosting a dinner party, it's always nice to set something out for your guests to munch on while you're putting the finishing touches on the meal.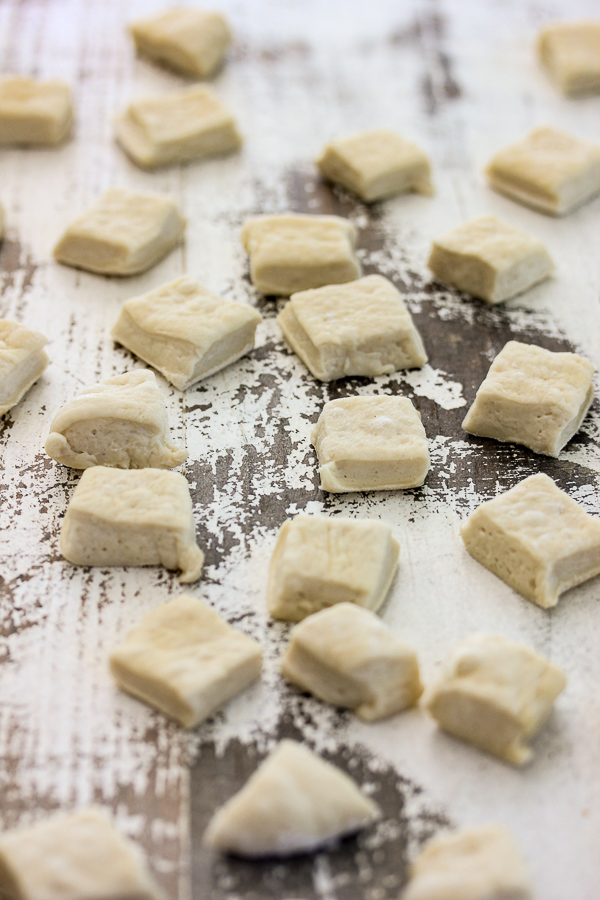 Dips are always a great choice when you're entertaining. They usually can be fully made ahead of time or assembled earlier and finished right before you're ready to serve. And of course, every delicious dip needs the perfect dipper.
These garlic pretzel bites and this beer cheese dip are a match made in heaven. Both perfectly compliment each other. And even better, both can be made ahead of time.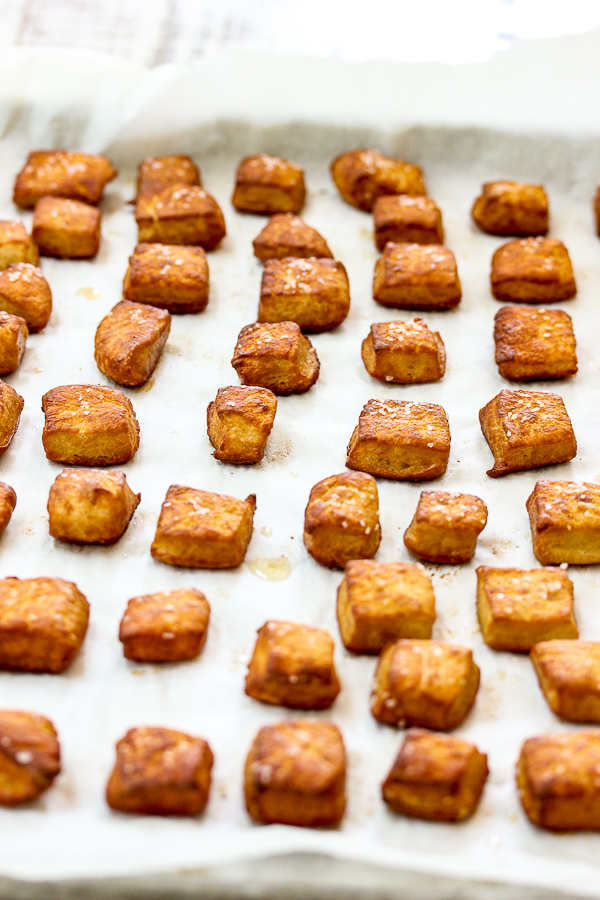 If you've never made homemade pretzels before, don't worry, store bought fresh pizza dough makes them so easy. Just roll the dough out, cut it into strips and then cut the strips into bite size pieces.
Then, in order to turn the dough into pretzels, they need to be briefly boiled in a mixture of water and baking soda. It only takes a few minutes and it's what give the dough its pretzel flavor and texture. Once you've done that, you bake them off in the oven.
If you're making these ahead of time, you can reheat them in the oven at 350 for a few minutes to re-crisp them.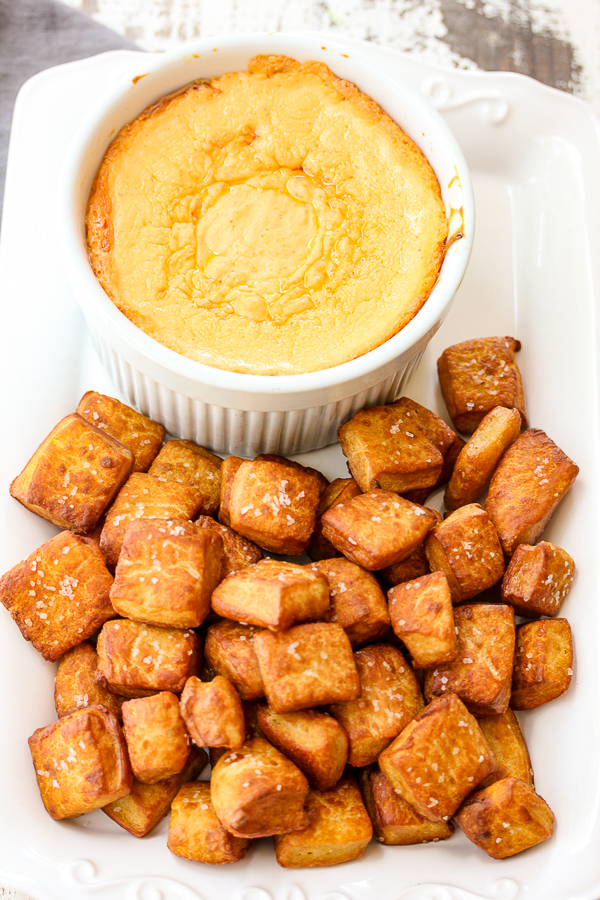 Then of course, there's the delicious beer cheese dip to go along with these scrumptious pretzel bites. It's so simple, just melt all of the ingredients together in a sauce pan and the result is a warm and creamy dip that will disappear quickly. And the great thing is, you can make this ahead of time and reheat it right before you're ready to serve it.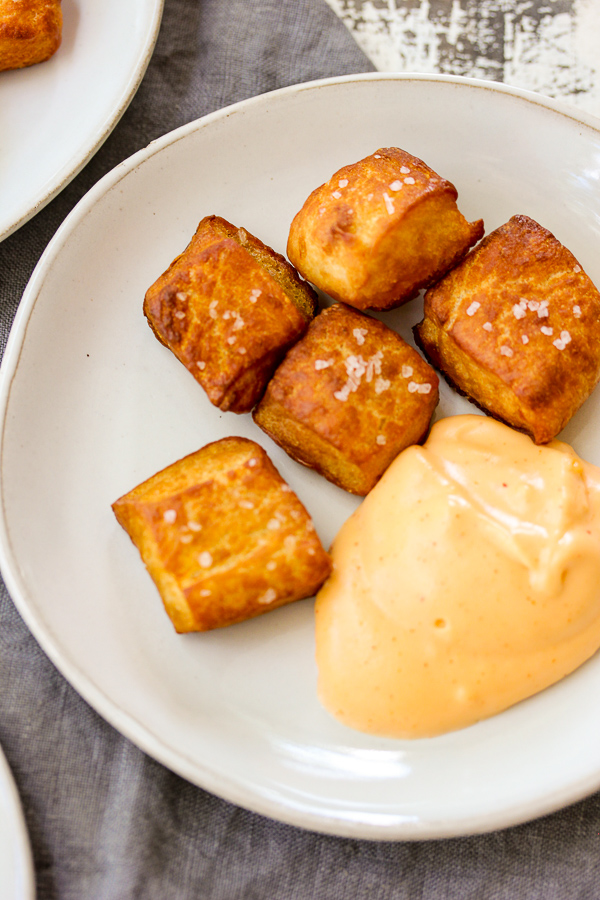 These dips are also sure to be a hit at your party: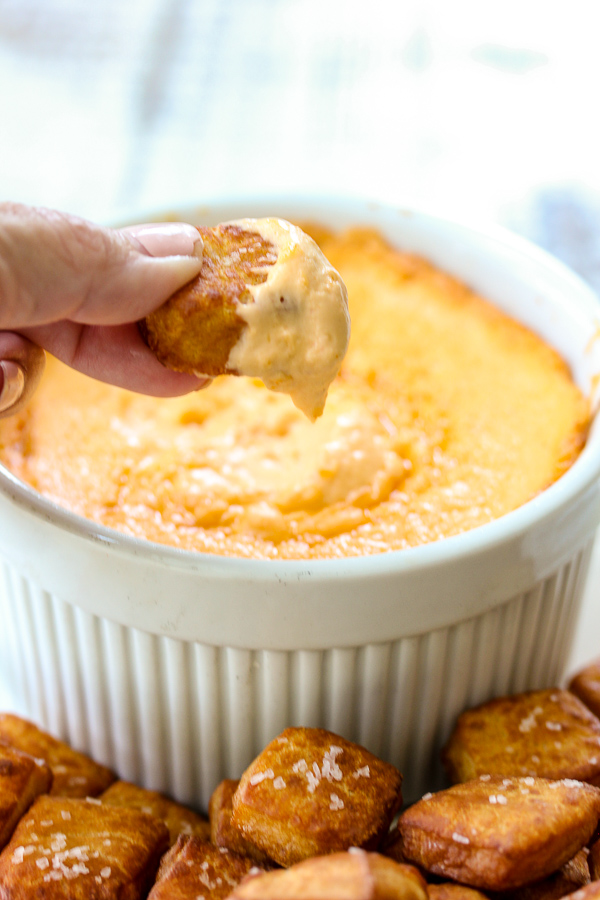 Yield: 8 servings
Garlic Pretzel Bites with Beer Cheese Dip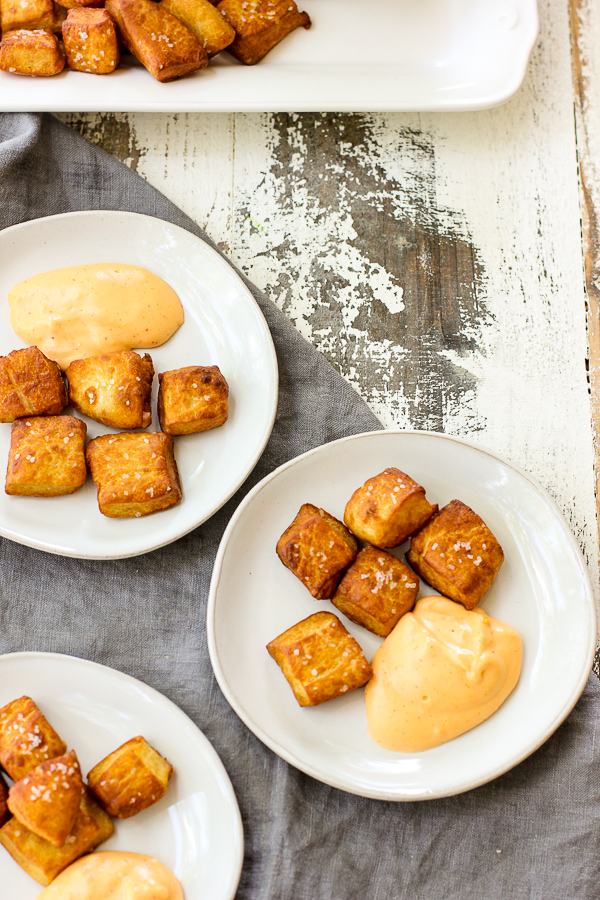 Whether you need an appetizer for game day or a holiday party, garlic pretzel bites with beer cheese dip are a perfect choice. They'll be the hit of any gathering.
Cook Time
15 minutes
12 seconds
Total Time
35 minutes
12 seconds
Ingredients
1 - 1 lb ball of your favorite pizza dough
1/2 cup baking soda
4 tbsp butter, melted
1 tsp garlic powder
course salt
1/2 cup beer
1/2 tsp smoked paprika
1/4 tsp onion powder
1/4 tsp salt
8 oz cream cheese, cubed
1/2 cup heavy cream
1 cup shredded sharp cheddar cheese
1/2 cup shredded Monterrey jack cheese
Instructions
Preheat oven to 425 degrees
Flatten pizza dough into about a 6 inch circle.
Cut into strips about 1/2 inch wide each.
Stretch strips out lengthwise until they're about 1/4 inch thick.
Cut each strip crosswise into 1 inch pieces.
Fill a large pot about 2/3 full with water.
Stir in baking soda and bring to a boil.
Add about 6 pretzel bites at a time to the boiling water.
Cook for 20-30 seconds, until they float to the top.
Remove and put on a baking sheet lined with parchment paper.
Melt butter and stir in garlic powder.
Brush each pretzel bite with some of the garlic butter and sprinkle with salt.
Bake in preheated oven for 12-15 minutes until pretzels are golden brown.
While pretzels bake, make the cheese sauce.
Bring the beer, smoked paprika onion powder and salt to a simmer in a medium pot over medium heat.
Add cream cheese cubes and stir until melted.
Stir in cream and cook for about 1 minute.
Remove pan from heat, add cheddar and Monterrey jack cheeses and stir until melted and fully incorporated.
Serve pretzels and dip while warm.
Notes
Store pretzel bites in an airtight container. They can be reheated in a 350 degree oven for about 5 minutes or until re-crisped.
The beer cheese dip can be refrigerated until ready to serve and then reheated in the microwave.