Fiesta Corn Saute is a snap to make and it packs incredible flavor with sweetness from the corn, a hint of spice from chili powder and a smoky finish from smoked paprika. You're going to want this one at all of your backyard BBQs this summer.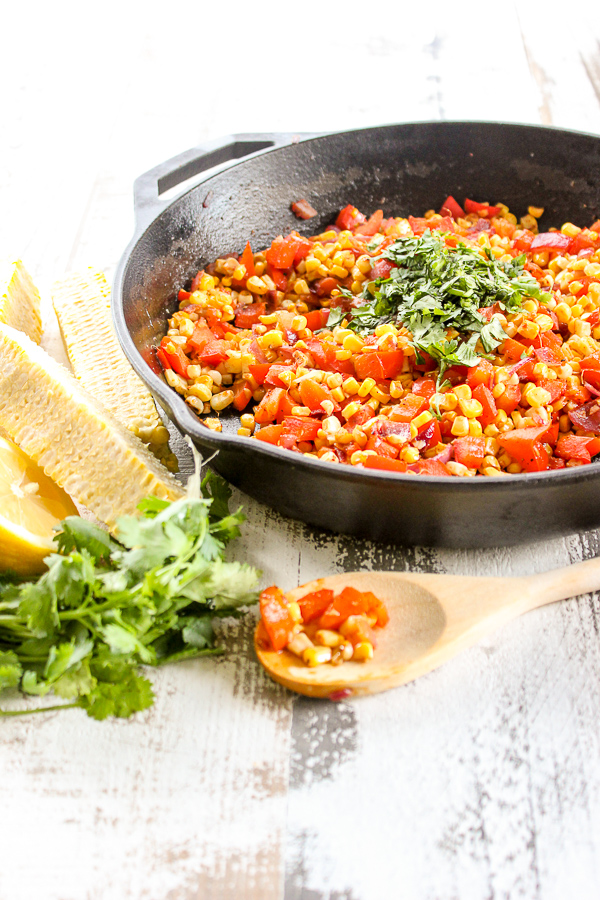 I just have to get this out there…..I am in love with this corn dish! I mean it is seriously good…..like I couldn't stop eating it good!
So let's back up a bit…..I over-bought some fresh corn not too long ago for some other recipes I was working on. That left me with an abundance of corn that I needed to use. Since fresh corn is so yummy and delicious, I couldn't let it go to waste….I needed an idea….fast.
That brings us to yesterday. As I was walking through the produce section of the grocery store, it all came to me and I quickly threw the ingredients I would need into my cart.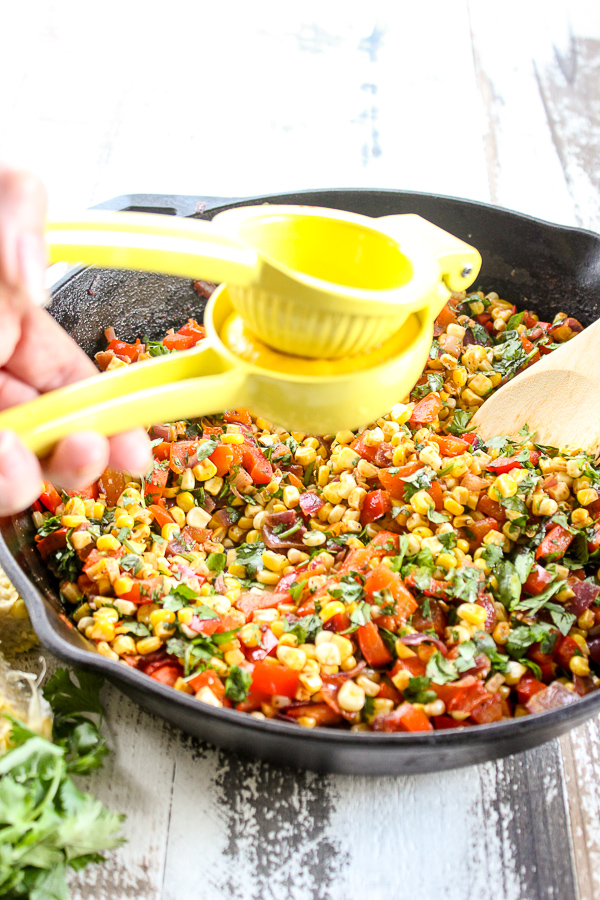 I started thinking about sauteing the corn and what I could add to it to make it taste amazing. That led to this incredible fiesta corn saute. First I sauteed up some onion, garlic, red bell pepper and corn. But that wasn't enough, to boost the flavor factor up I added chili powder, smoked paprika and cilantro, with a little lemon juice to brighten everything up. The result was AMAZING! The corn is perfectly sweet, the chili powder adds a little spiciness and the smoked paprika, of course, adds a slight smokiness. Absolute perfection!
So get yourself some corn and give this one a try. You won't be disappointed!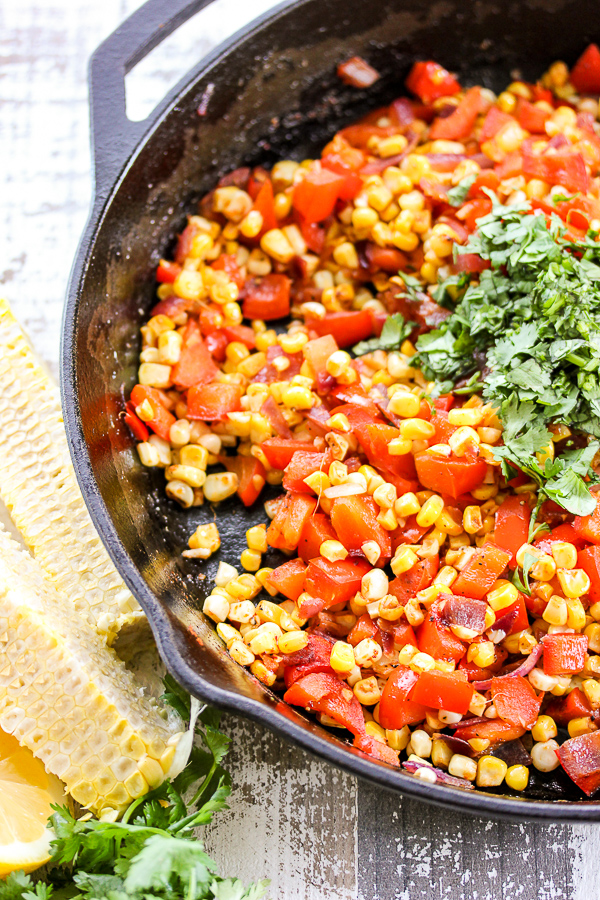 Yield: 4-6
Fiesta Corn Saute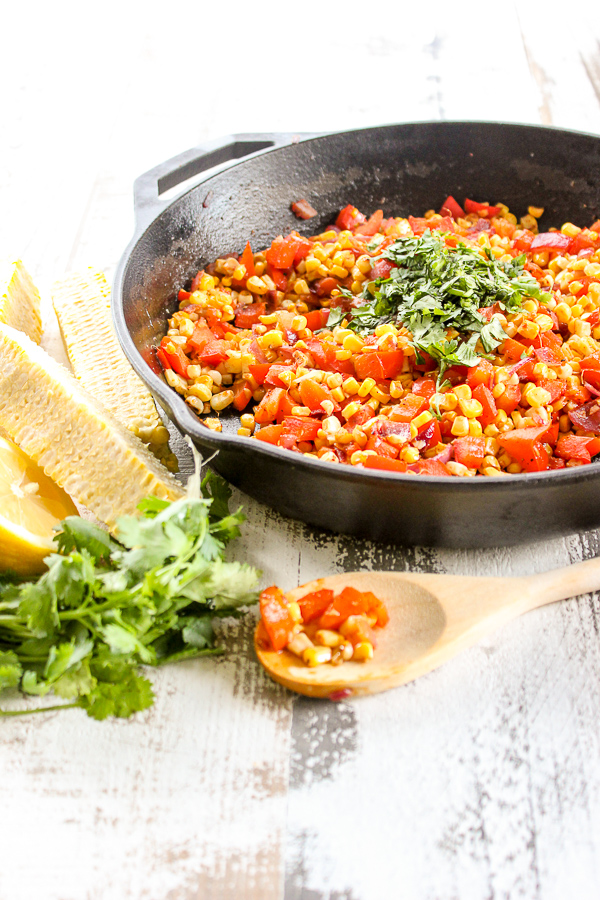 Ingredients
2 tbsp butter
1/2 medium red onion, chopped
2 cloves garlic, minced
1 red bell pepper, chopped
4 ears of corn, about 3 cups
3/4 tsp salt
1/2 tsp black pepper
1 tsp chili powder
1 tsp smoked paprika
juice from 1/2 lemon
1/3 cup cilantro, chopped
Instructions
Melt butter in a large skillet, over medium heat.
Add onion and red pepper, sauté for about 5 minutes, until starting to soften.
Add garlic and saute for 1 minute.
Stir in corn.
Stir in salt, pepper, chili powder and smoked paprika.
Saute mixture for 3 minutes more.
Stir in lemon juice and cilantro.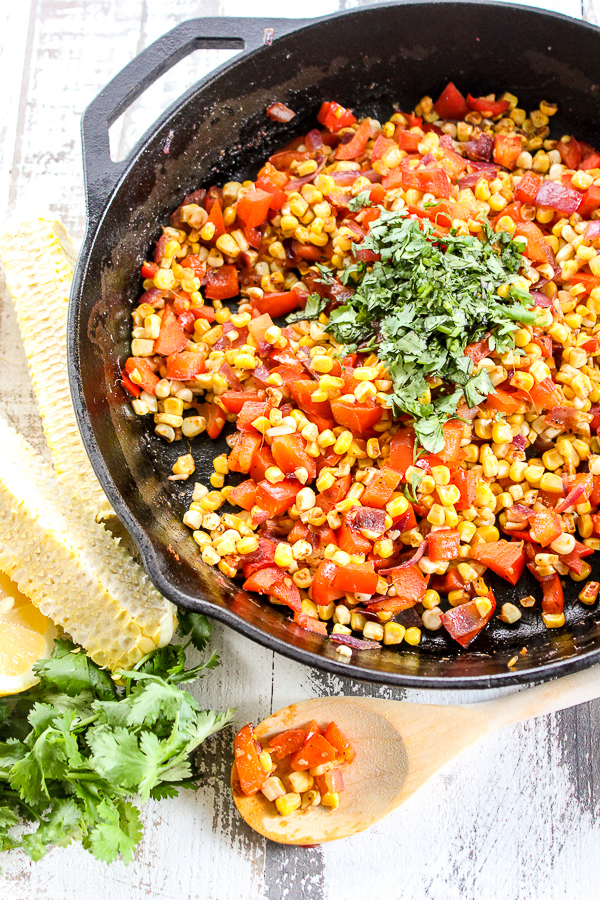 ENJOY!

This recipe has been shared at: