Sharing is caring!
Toffee Triangles are a perfect bite of chocolate and toffee that can be whipped up in no time. They're a perfect treat for the holidays.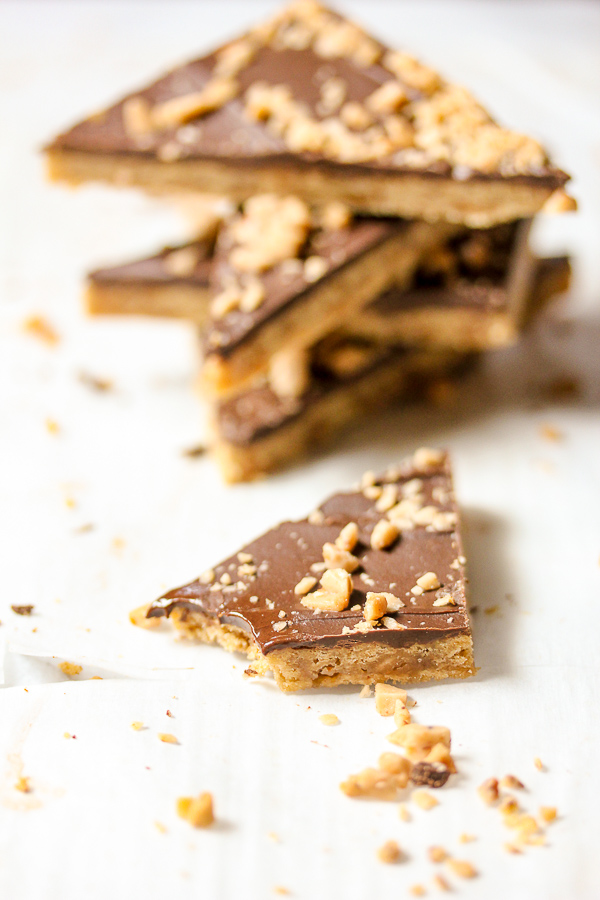 It's time for Freaky Friday again, but this one is special, it's the Holiday Cookie Exchange edition. If you're not familiar with what Freaky Friday is, it's a really fun recipe swap with 15 other food bloggers. We've all been assigned a blog to pick a recipe from and then cook and share that recipe on our blog. Because this is the cookie exchange edition, we all chose a recipe that we'd take to an actual cookie exchange. The really fun part is that none of us know who has our blog, it's a secret to be revealed today.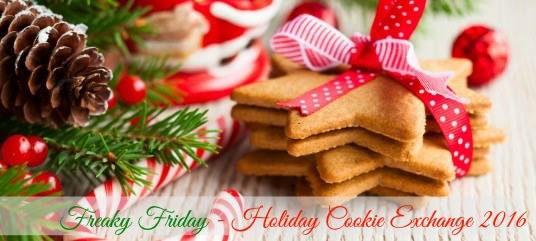 For our cookie exchange, I was assigned to Big Rigs 'n Lil' Cookies, which I'm really excited about. I've known Kris from the early days of my blog and since she lives in Wisconsin and I live in Minnesota I feel like we're neighbors. She has all kinds of delicious sweet treats on her blog, like these Cranberry Orange Cookies. You'll also find many savory recipes like this gorgeous Taco Dip and this Mushroom & Swiss Cheeseburger Macaroni , which sounds like perfect comfort food to me.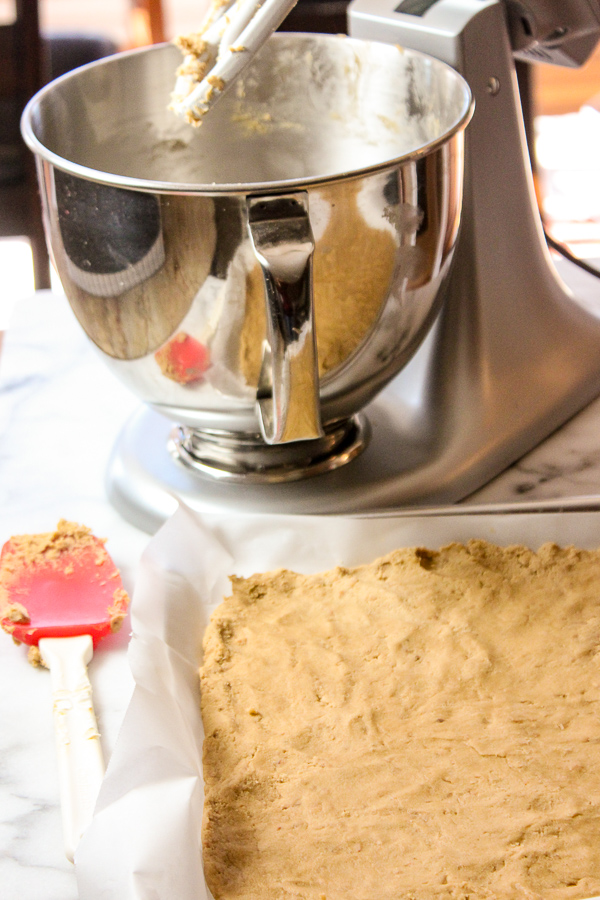 It was a tough choice, but I finally decided to make her toffee triangles. You can see how Kris made them here. The reason I chose to make these was because, first of all, they sounded so delicious! They were also so easy to make, if you were going to bring these to a cookie exchange, it would be a breeze to make several batches.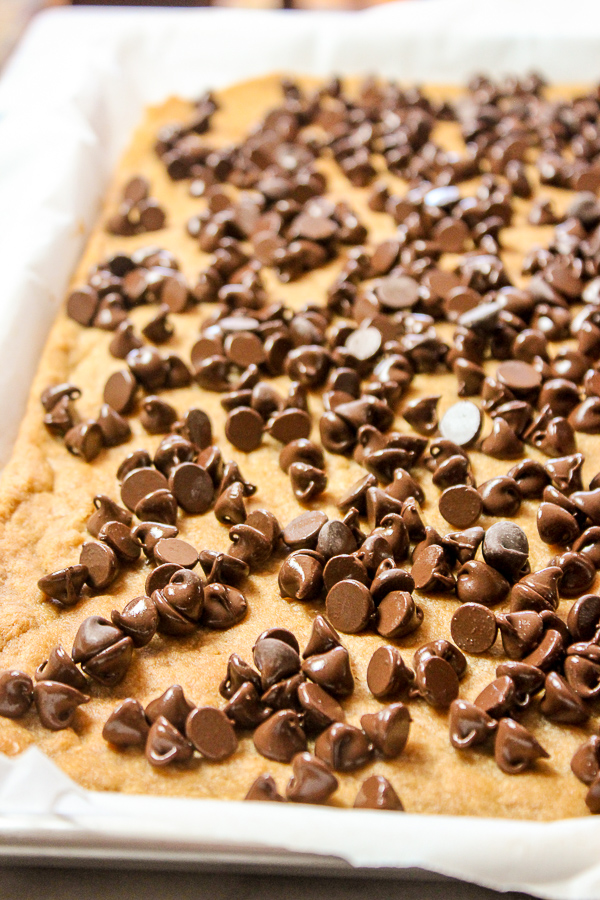 After I made these toffee triangles, I took them to a dinner with our church group. They were a huge hit, the whole batch was nearly gone at the end of the evening! I will definitely be making more of these throughout the holiday season.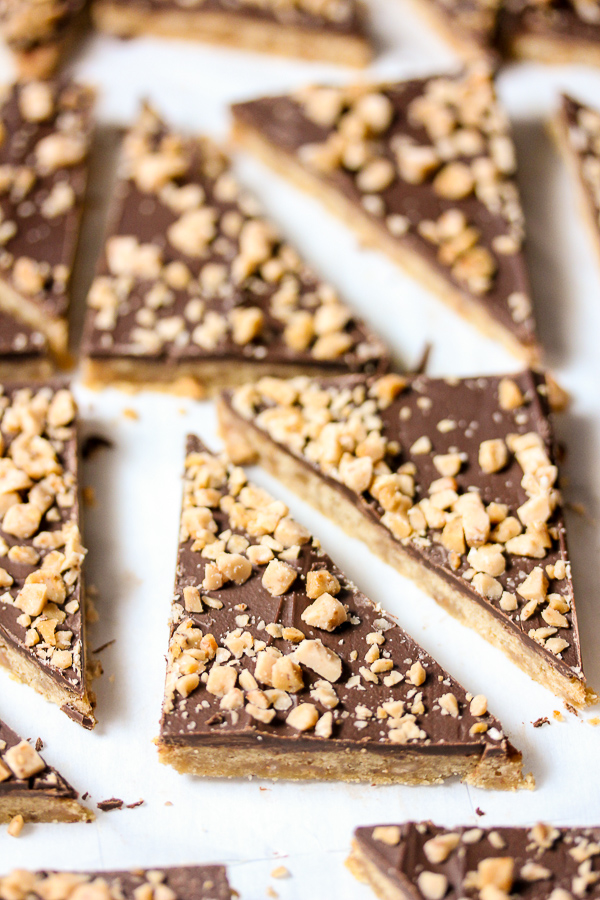 Toffee Triangles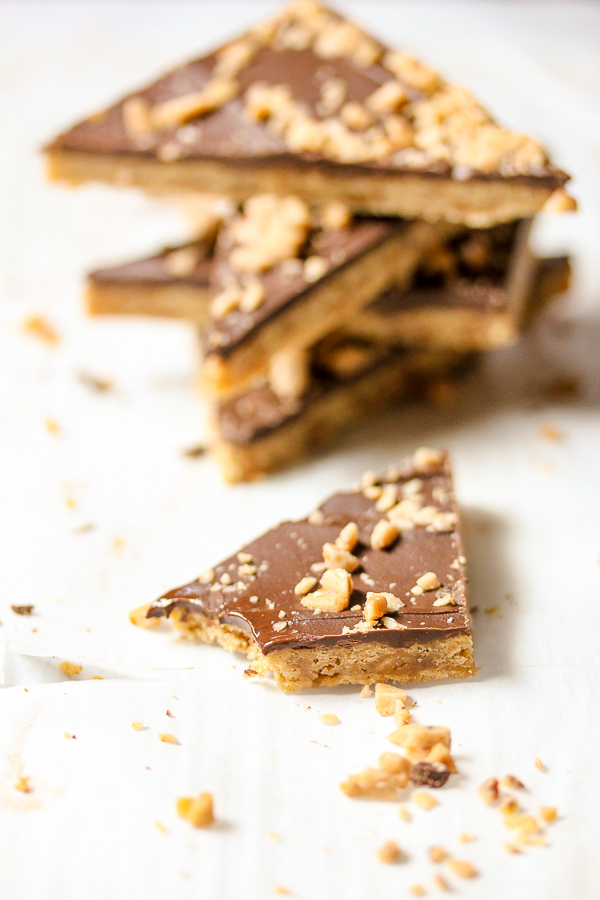 Ingredients
1 cup butter, softened
1 cup light brown sugar
1 egg yolk
1 tsp vanilla extract
2 cups flour
7 ounce toffee bits, divided
2 cups semi-sweet chocolate chips
Instructions
Preheat oven to 350 degrees.
Line 10x15 baking sheet with parchment paper and set aside. I like to have a couple extra inches of paper hanging over the edge so you can remove the bars to cut.
In large mixing bowl, beat butter with brown sugar until fluffy.
Add egg yolk and vanilla, mixing until well combined.
Add flour, one cup at a time, until combined.
Add 1 cup of toffee bits, stirring until they are evenly distributed through the dough.
Press dough evenly into prepared pan.
Bake for 18 minutes, or just until beginning to turn golden.
Remove from oven and Immediately sprinkle chocolate chips over the hot cookie "crust".
Let stand for 3-5 minutes, or until chocolate chips are softened.
Spread chocolate evenly over top.
Sprinkle remaining toffee chips over top of melted chocolate.
Let cool for several hours.
When bars have cooled and chocolate is set, remove from pan.
Cut bars into squares, then cut each square in half diagonally.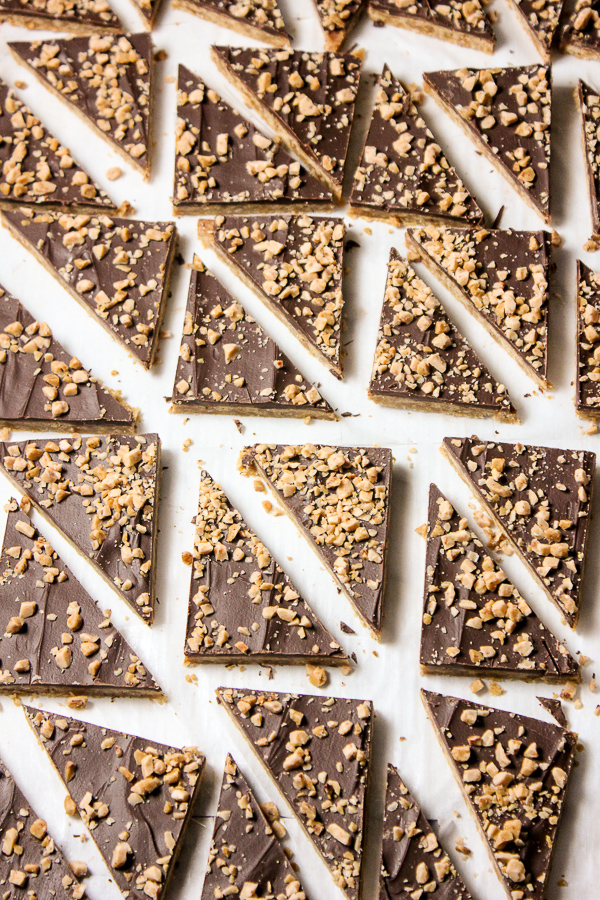 ENJOY!

Loading InLinkz ...
This recipe has been shared at: