I have never made quinoa before. I somehow had it in my head that we wouldn't like it, I'm not sure why. But I kept seeing recipes for various quinoa dishes on other blogs and in magazines, so I was starting to get curious about it. Then a couple of days ago I was getting my hair cut. I was talking to my stylist and we got to talking about food (shocking, I know) and she was telling me about a couple of ways that she makes quinoa. Both sounded delicious, so as soon as I was done with my haircut, I headed off to the grocery store and bought some quinoa and a few other ingredients.
That night I made this spinach parmesan quinoa. Amy, my stylist, was telling me that she didn't like quinoa plain, but when she cooked it in chicken stock and added parmesan cheese to it, it was delicious. So I made it pretty close to the way she makes it, except I added some sauteed onion and garlic to add even more flavor.
It turned out to be very tasty and it was a snap to make. The parmesan definitely added a big boost of flavor to the dish. The whole family liked it. In fact, Steve and Kelly even had seconds! I will be making this dish again and I hope that you give it a try, too.
Spinach Parmesan Quinoa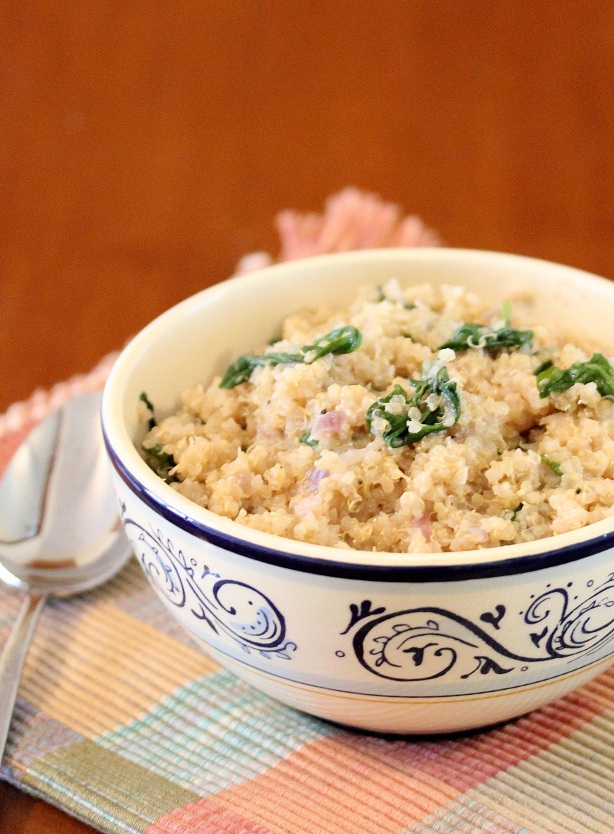 1/2 onion, chopped
2 cloves garlic, finely chopped
1 tbsp olive oil
salt and pepper
1 cup quinoa
2 cups chicken stock
2 handfuls baby spinach
1/2 cup grated parmesan cheese
Heat olive oil over medium heat in a medium saucepan. Add onion and saute for 5 minutes. Add garlic and saute for 1 more minute. Season with salt and pepper. Add quinoa and saute for about 2 more minutes.
Stir in chicken broth and bring to a boil. Reduce heat to low and simmer covered for about 15 minutes until liquid is absorbed.
Add spinach to the pan, cover for a couple of minutes to allow the spinach to wilt.
Once spinach starts to wilt, stir into quinoa and stir in parmesan. Serve immediately.
ENJOY!

Shared at these great blogs: