Tuscan Pork Sheet Pan Dinner is sure to become your new favorite meal. It's so easy to make and clean up is a snap, making it perfect for family meals as well as dinner parties.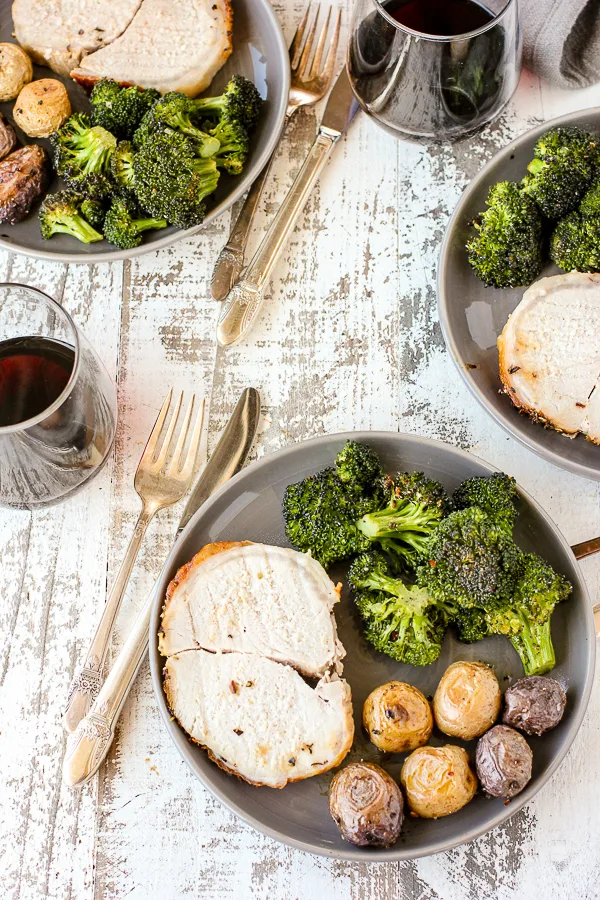 It's time for the winter edition of Freaky Friday! If you're not familiar with Freaky Friday, it's a recipe swap that some of my blogger friends and I participate in once each season. My friend, Michaela, from An Affair From The Heart secretly assigns each one of us another person's blog. We each pick a recipe from our assigned blog to cook and then share on our blog, keeping it a secret until today. What's so fun is having the chance to try out another blogger's recipe and then share it with our own readers, introducing you to some great blogs!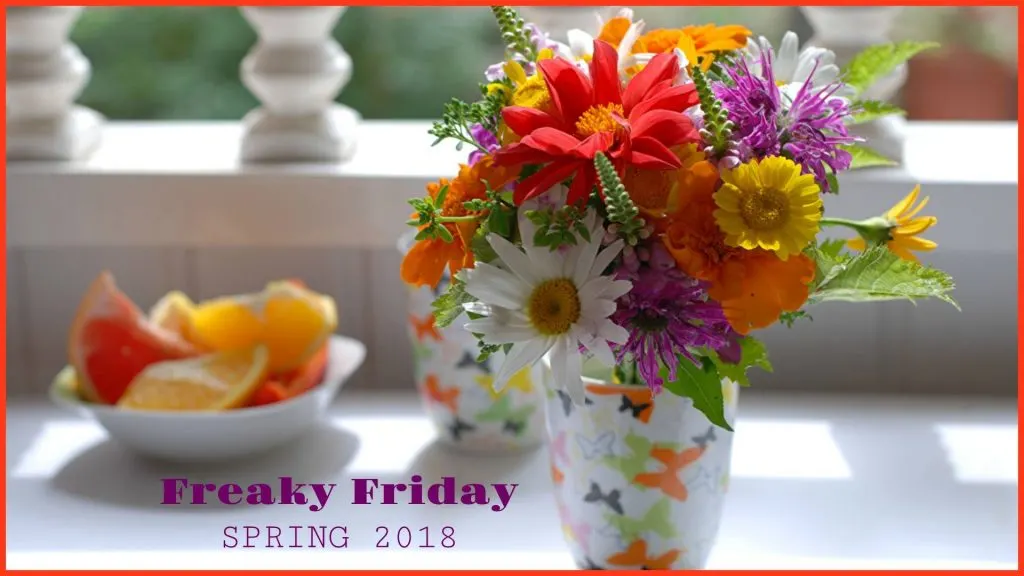 For this spring addition, I was assigned to Christie from A Kitchen Hoor's Adventures. Christie likes to create recipes that are healthy and low fat. And let me tell you, she has a lot of delicious recipes to choose from.
I had a very difficult time settling in on just one recipe. Some of the contenders for this Freaky Friday were her Meyer Lemon Olive Oil Muffins, her Mushroom Cheddar Baked Eggs, or her Salsa Chicken Burrito Bowls.
They all sounded so delicious, but I ended up deciding on her Sheet Pan Tuscan Pork Dinner. It really caught my eye because it looked absolutely scrumptious and sounded so easy.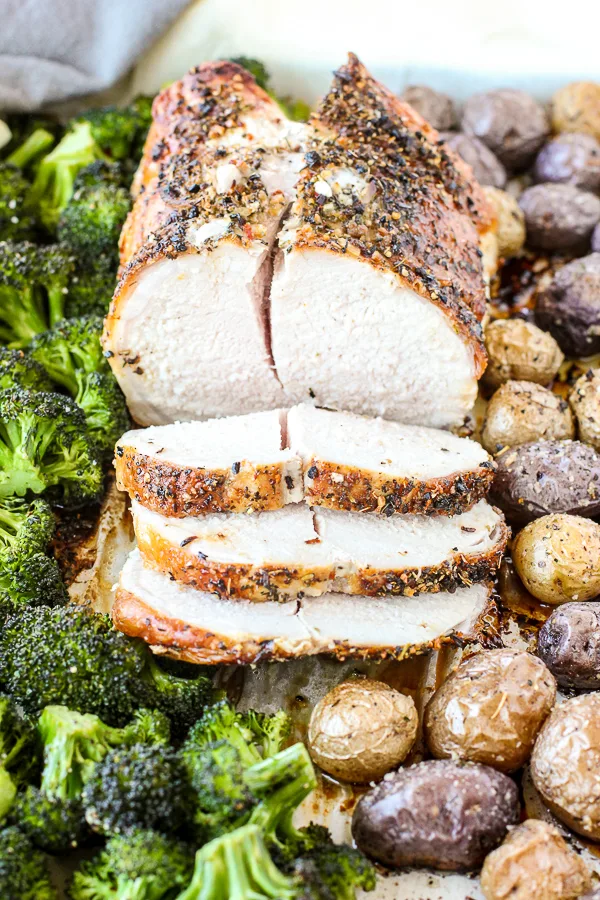 Let me tell you, Christie's Tuscan Pork Sheet Pan Dinner did not disappoint. It took very little time to get into the oven and then it was pretty hands off. When it came out of the oven the pork was so juicy and flavorful. I absolutely love the tuscan seasoning, it has so much flavor.
The potatoes and the broccoli were also cooked perfectly. The potatoes cook along side the pork and come out of the oven a little crispy on the outside and perfectly tender on the inside. The broccoli goes on the pan for the final 15 minutes of cooking and was perfectly crisp tender.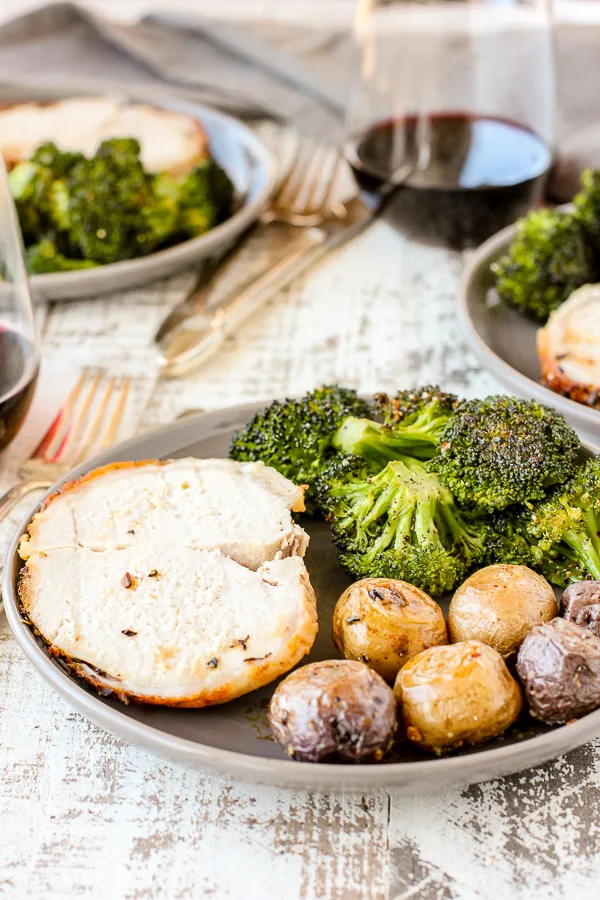 Now let's talk about the clean up. It was a cinch. I lined a sheet pan with parchment paper, which always makes clean up easy. This meal would be a delicious dinner for a lazy Sunday afternoon, but is also easy enough to make during the week. While it roasts in the oven, you can relax and let it do it's thing.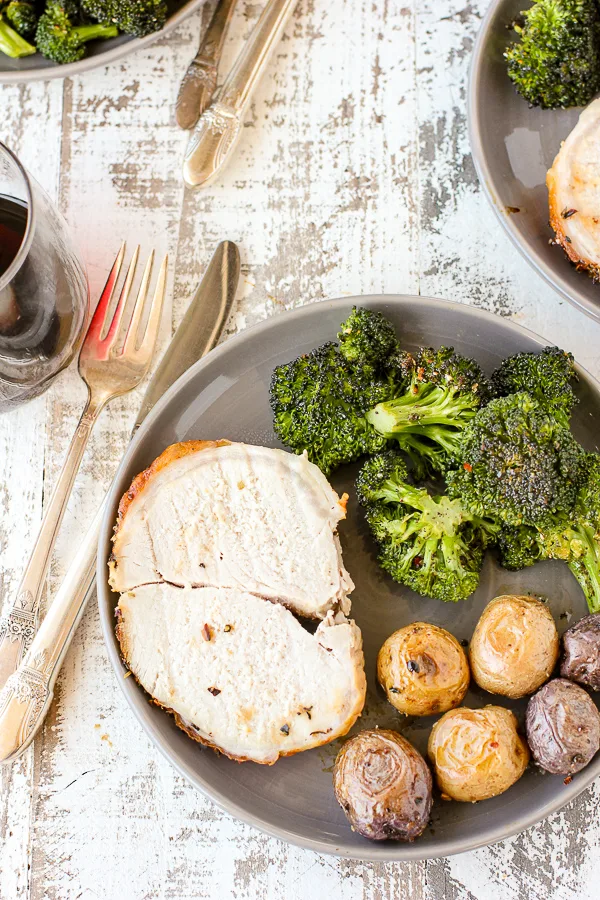 Tuscan Pork Sheet Pan Dinner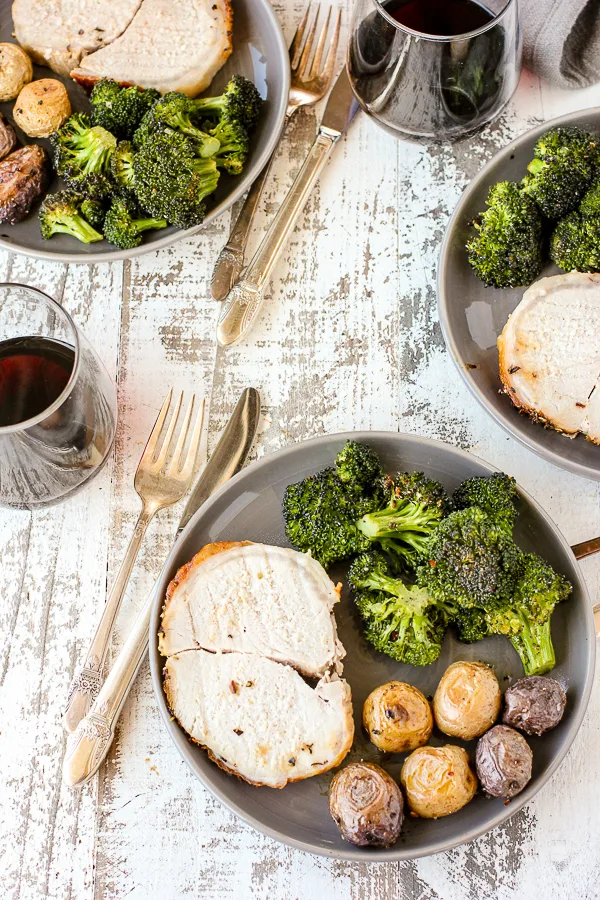 Ingredients
1.5 lbs baby potatoes or fingerling potatoes
3 tablespoons plus 2 tsp olive oil, divided
1 1/4 tsp salt, divided
3/4 tsp black pepper, divided
3 1/2 - 4 lb pork loin roast
1 tbsp plus 1 tsp Tuscan seasoning, divided
1 (12 oz) pkg fresh broccoli florets
Instructions
Preheat oven to 400 degrees.
Toss potatoes with 2 tbsp olive oil, 1/2 tsp Tuscan seasoning, 1/2 tsp salt and 1/4 tsp pepper.
Spread potatoes out on one half of a sheet pan lined with parchment paper.
Place pork in center of sheet pan.
Coat pork with 2 tsp olive oil and sprinkle evenly with 1 tbsp Tuscan season, 1/4 tsp salt and 1/4 tsp pepper.
Roast in preheated oven for 45 minutes.
Meanwhile, toss broccoli florets with 1 tbsp olive oil, 1/2 tsp Tuscan seasoning, 1/2 tsp salt and 1/4 tsp pepper.
After 45 minutes, add broccoli to sheet pan and roast for an additional 15 minutes.
Cover roast lightly with foil and allow to rest for 10 minutes before slicing.
A Dish of Daily Life –
Korean BBQ Chicken Skewers
An Affair from the Heart – Everything Bagel Dip
A Kitchen Hoor's Adventures – Cottage Cheese and Pinto Bean Salsa
Bacon Fatte – No Bake Strawberry Shortcake Dessert
Bowl Me Over – Best Enchilada Sauce
Hostess at Heart – Rhubarb Oat Muffins
Life Currents – French Onion Tart
Lisa's Dinnertime Dish – Tuscan Pork Sheet Pan Dinner
Mildly Meandering – Roasted Red Pepper Dip
Take Two Tapas – Mexican Beer Cheese Skillet
West Via Midwest – Reuben Totchos
Who Needs a Cape? – Raspberry Daiquiri Pie
ENJOY!