Sweet potatoes combine with earthy truffle oil and buttery, crunchy homemade croutons to create this scrumptious sweet potato bisque. It's a delicious starter for your guests while you're putting the finishing touches on your holiday dinner.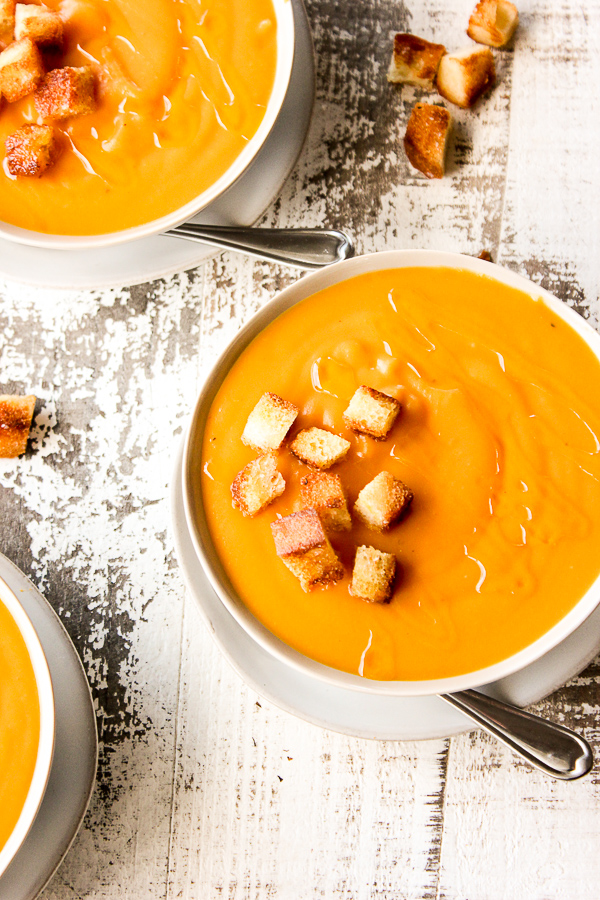 When it comes to Thanksgiving, we're pretty much traditionalists at my house. Meaning the meal looks pretty much the same every year with the usual suspects. Turkey, mashed potatoes, gravy, stuffing, green beans, sweet potatoes and homemade dinner rolls are always on the menu and typically it's the same recipe every year.
Even though my family expects the same meal every year, that doesn't mean that I don't try and tweak things every now and then. Which is exactly how this sweet potato bisque came to be. It actually came as a result of leftover mashed sweet potatoes.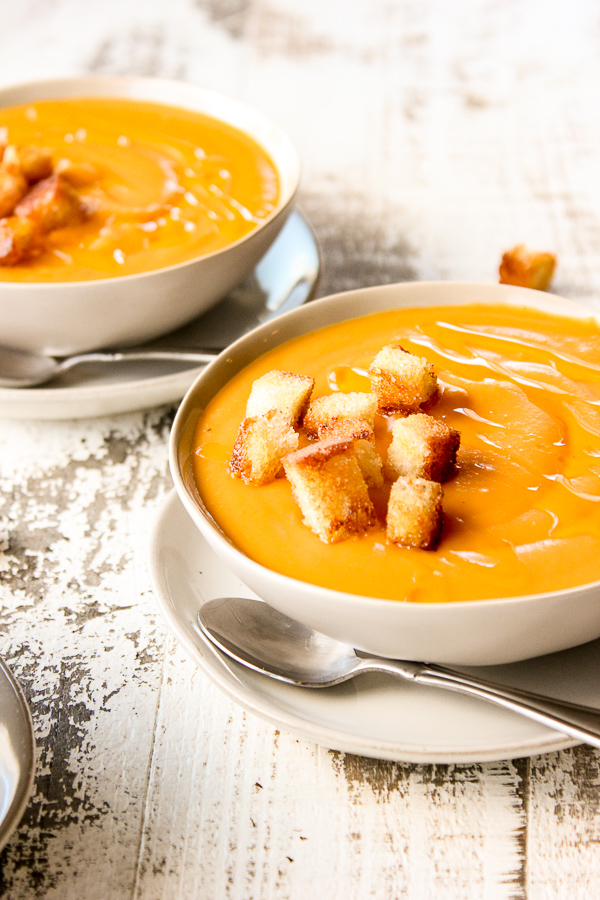 The first time I made this bisque, I used the leftover mashed sweet potatoes to make the bisque and it was an immediate hit. I soon realized that I didn't need leftovers, that I could cook cubed sweet potatoes right in the stock and then puree everything together to make a silky smooth bisque. But, by all means, if you have leftover mashed sweet potatoes, feel free to use them in this recipe. Just stir them in along with the stock. You'll still want to puree the bisque to make sure you get that silky smooth texture.
What ends up making this sweet potato bisque crazy delicious is a generous drizzle of truffle oil and some buttery homemade croutons. The earthiness of the truffle oil is a great flavor balance with the sweetness of the potatoes and the croutons give great texture and additional flavor.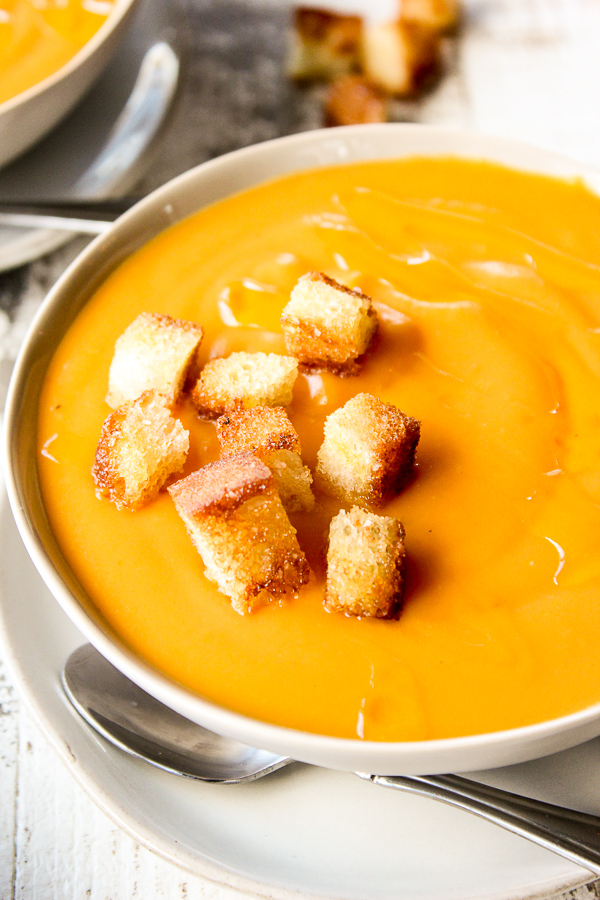 Yield: 6-8
Sweet Potato Bisque with Truffle Oil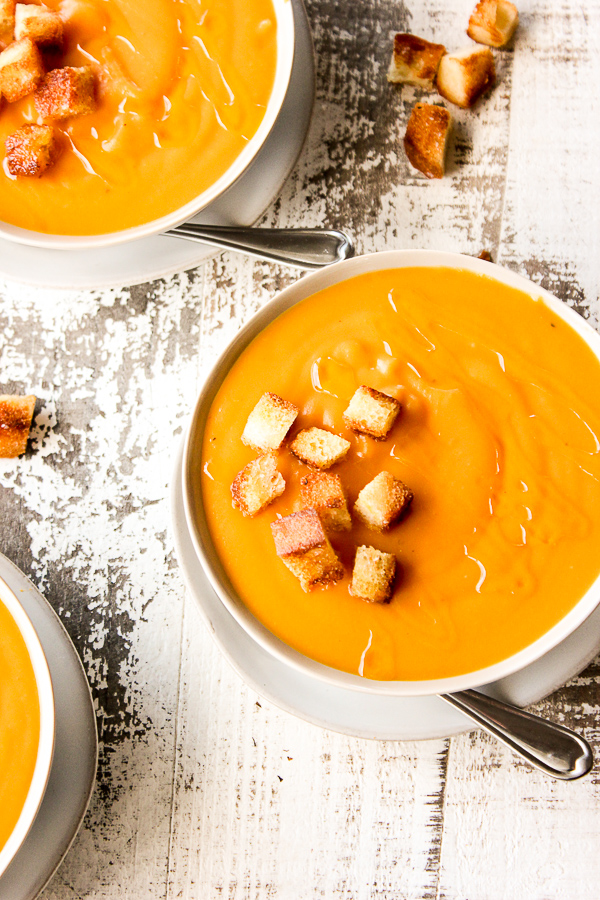 Prep Time 10 minutes

Cook Time 20 minutes

Total Time 30 minutes
Ingredients
4 tbsp butter
1 small onion, chopped
3 cloves garlic, chopped
4 lbs sweet potatoes, peeled and cubed
4 cups chicken stock
1 1/2 cups milk
pinch of grated nutmeg
hot sauce to taste
1 tsp salt
1/2 tsp black pepper
truffle oil for serving
buttered croutons - optional, see notes
Instructions
Melt butter in a dutch oven or other large pot over medium heat.
Add onion and sauté for about 5 minutes, until translucent.
Add garlic and sauté for another minute.
Add cooked sweet potatoes and chicken stock to the pot.
Increase heat to high and bring mixture to a boil.
Decrease heat to medium, cover and simmer for 10 minutes, until sweet potatoes are soft.
Puree bisque either with an immersion blender or in batches in a blender.
Stir in milk, nutmeg, salt and pepper.
Add hot sauce to taste.
Heat through and simmer for a few minutes to let flavors combine.
Ladle into individual bowls and drizzle with truffle oil.
Serve immediately.
Notes
To make buttered croutons, melt 2 tbsp butter in a medium size skillet over medium heat. Add cubed sour dough or Italian bread to skillet, tossing to coat with the butter. Stirring frequently, cook until bread cubes become toasted.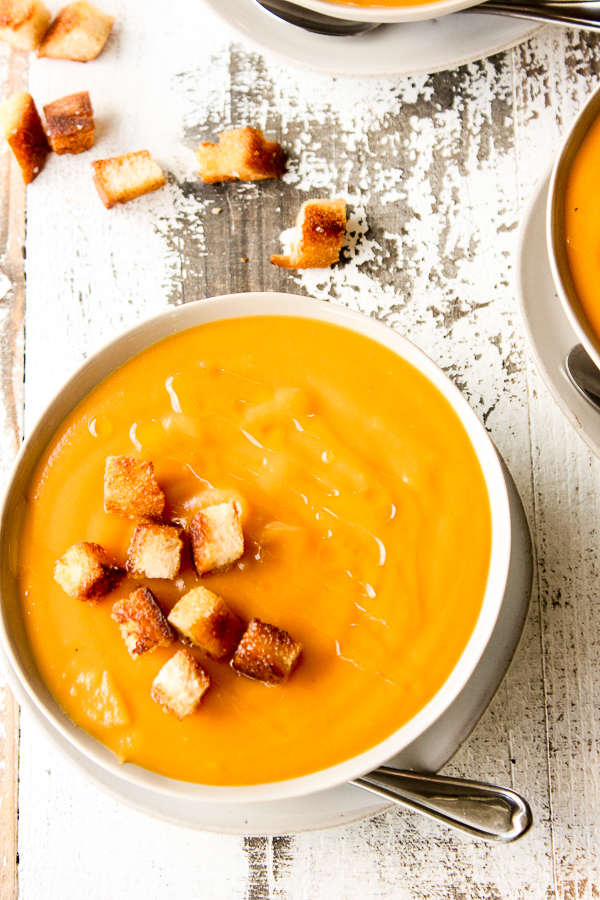 ENJOY!