Juicy, tender pork tenderloin along with crunchy veggies combine with an easy homemade peanut sauce to create this delicious Thai inspired stir fry.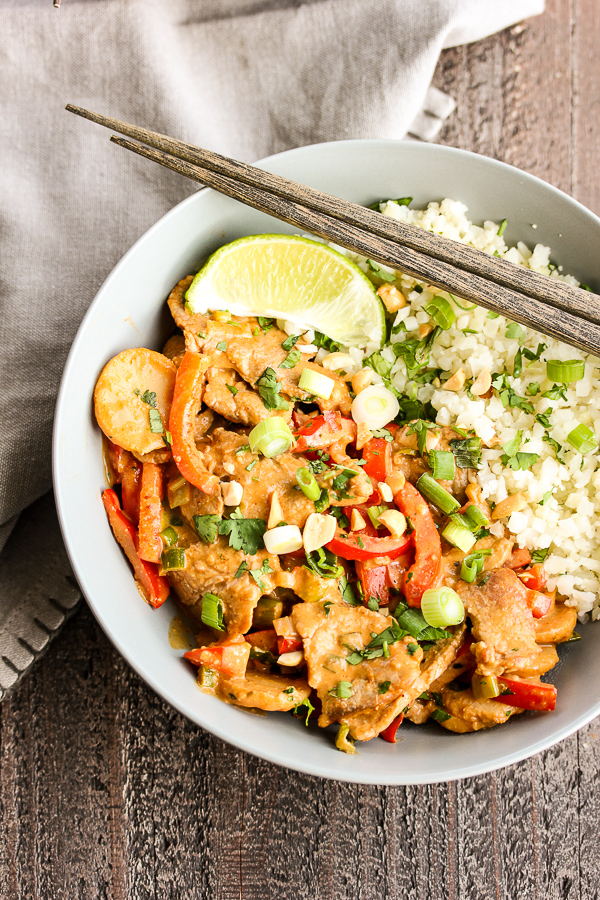 I love weeknight recipes that are quick, easy and healthy. This stir fry definitely fits the bill. It's ready in 30-ish minutes and takes regular ingredients that are easy to keep on hand.
On top of that, it's a meal you can feel good about serving to your family. I love using pork tenderloin for this recipe. Not only is it juicy and tender, but the protein is high and the calories are low. I also like to bump up the veggies by serving the stir fry over cauliflower rice rather than regular rice.
This post is sponsored by Iowa Pork but all opinions are my own.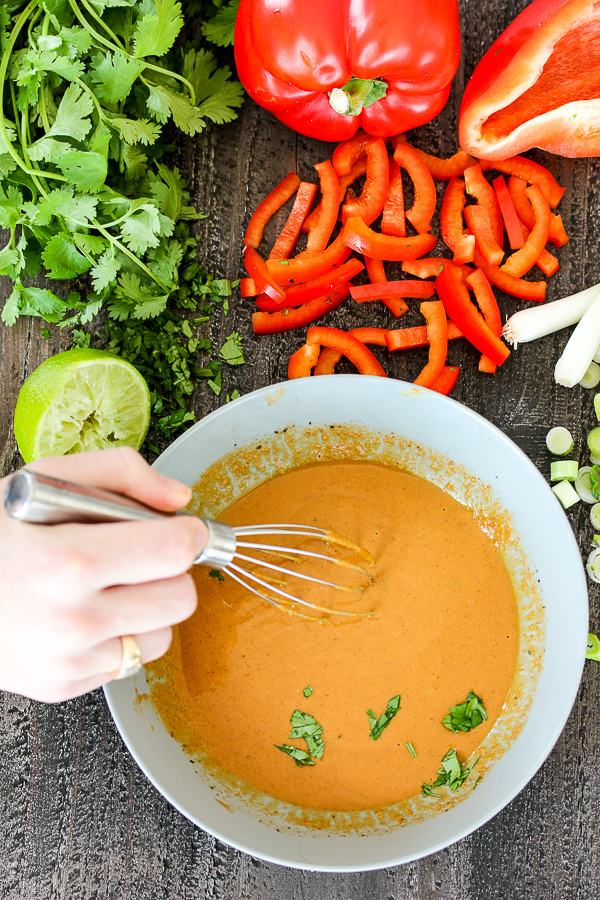 I have made this recipe before with chicken, but I really prefer the pork tenderloin. I feel that the texture of the pork is more tender than a chicken breast and it cooks up just as quickly.
The key to perfectly cooked pork in this recipe is to not over cook it. I make sure my pan is screaming hot before I add the strips of pork and I do it in batches. Once the meat hits the pan it quickly gets a beautiful sear on the outside, but still stays juicy and tender on the inside.
I want to point out that cooking the pork in batches is an important step. If you try to stir fry it all at once it will end up steaming in the pan rather than browning.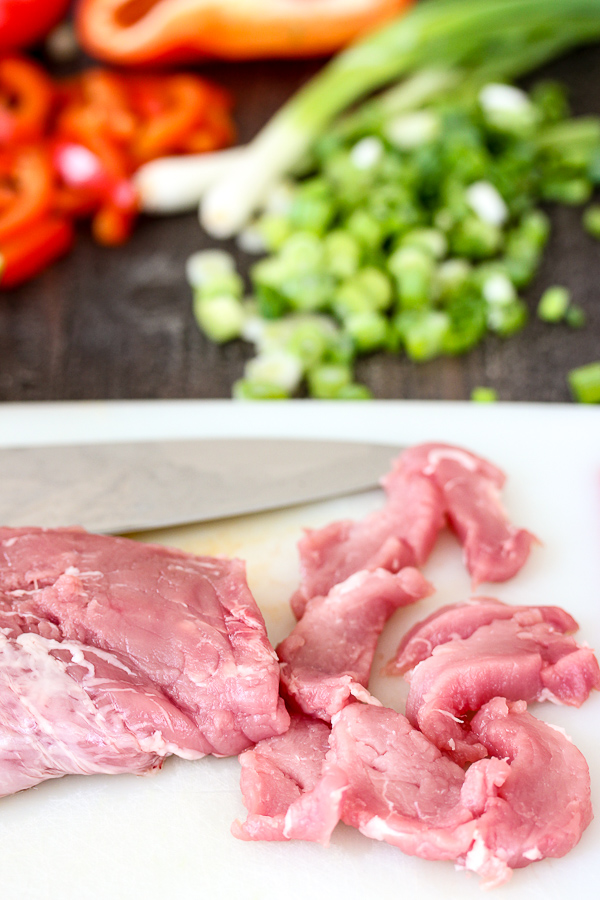 What ingredients do I need for Easy Thai Peanut Pork Stir Fry?
Pork tenderloin
red bell pepper
green onions
garlic
water chestnuts
peanut butter
sriracha
lime juice
cilantro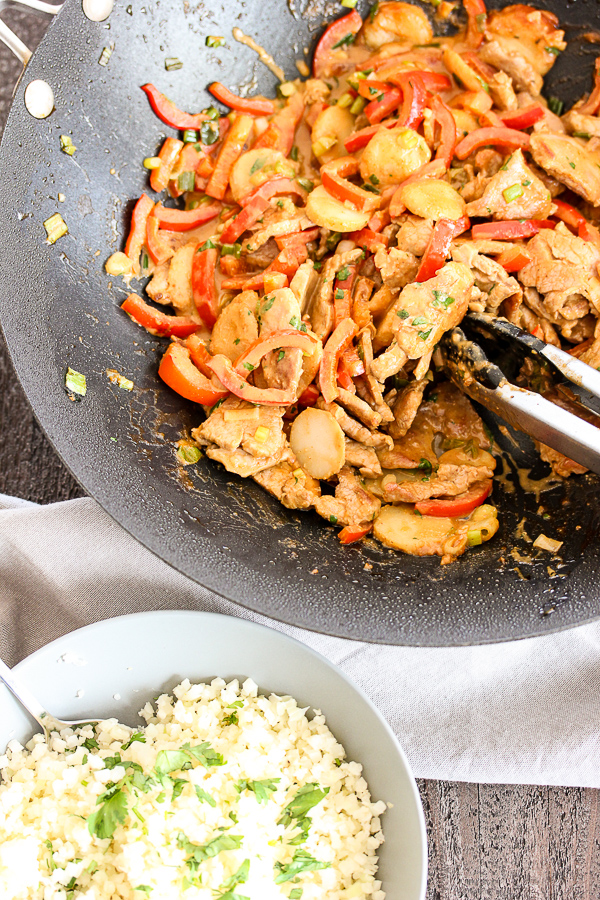 Other pork recipes on Lisa's Dinnertime Dish: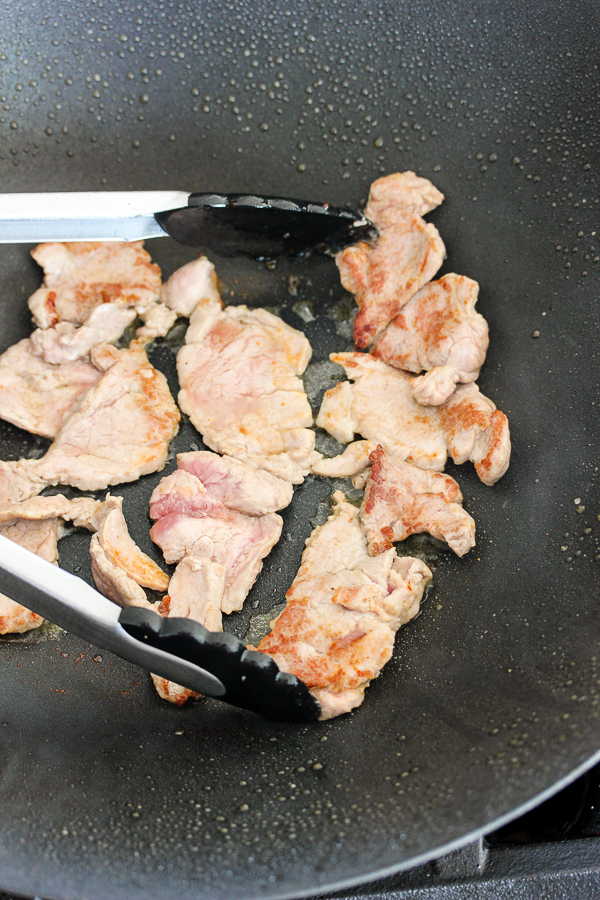 Did you Know?
About one third of the pork raised in the U.S. comes from Iowa farms. Most of that pork is eaten here in the U.S.. so when you buy pork from your local grocery store you're helping to support family farms in Iowa and across the United States. I think that's pretty cool!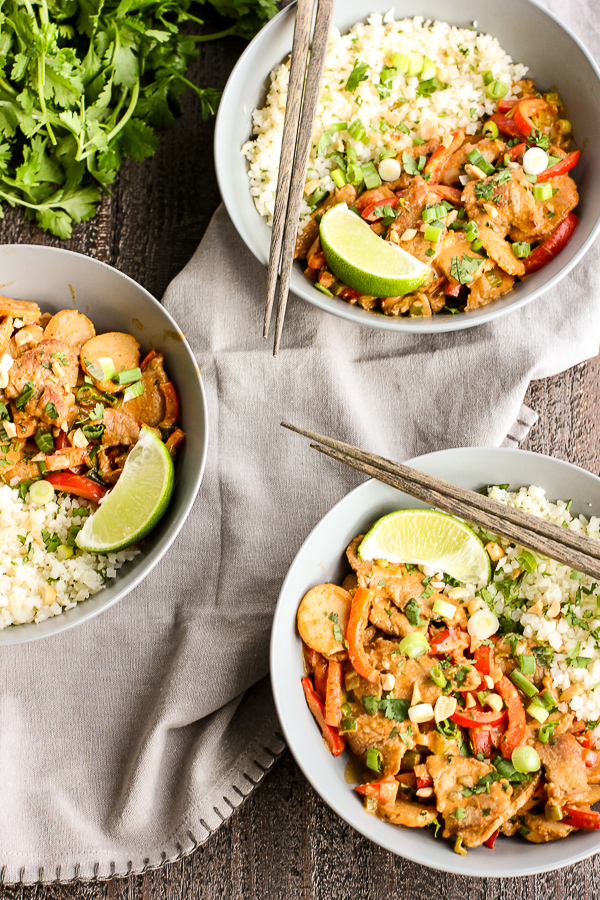 What temperature should pork be cooked to?
Pork can safely be eaten when it's cooked to 145 degrees. When cooking cuts such as pork chops, pork loin or pork tenderloin a digital thermometer comes in very handy to check the temperature.
To check doneness properly, use the digital thermometer to measure the temperature at the thickest part of the cut without touching any bone. Once you have reached the desired internal temperature, remove from heat and let it rest for three minutes.
Of course, if you're making a slowed cooked dish, such as pulled pork the pork will cooked to a higher temperature to achieve that fall apart tenderness. And in the case of this stir fry, you'll be going by how the meat looks. It should be browning on this outside, but still soft and tender.
This pork temperature chart is a very useful resource for making sure your cut of pork is done.
Did you know?
Pork is a complete protein, which means it comes packed with all essential amino acids, more so than plant-based proteins. When you add pork to your meals, you feel fuller longer, which in turn can help lower post-meal glucose and insulin levels, and assist in weight loss.
Click on the photo above read more about the power of pork and compare pork protein to other proteins.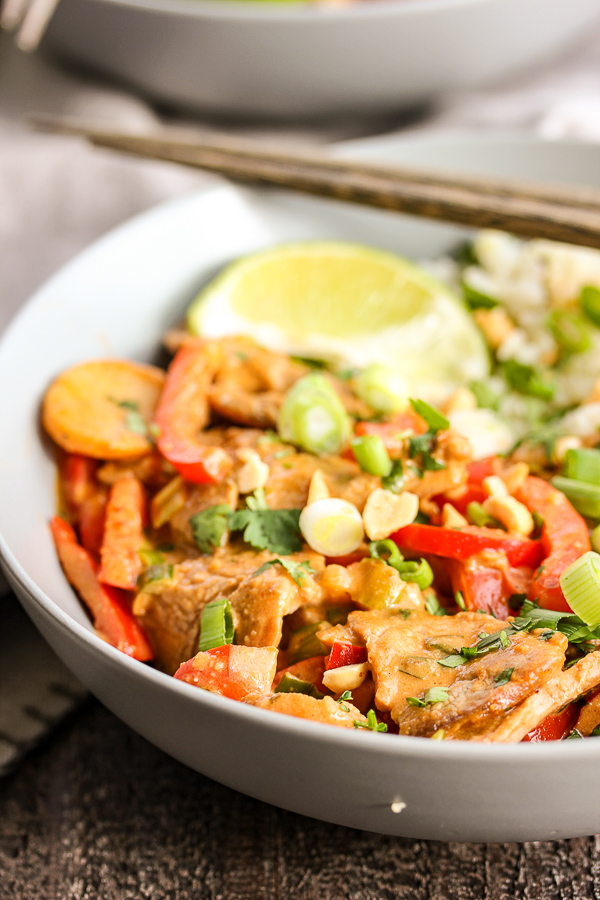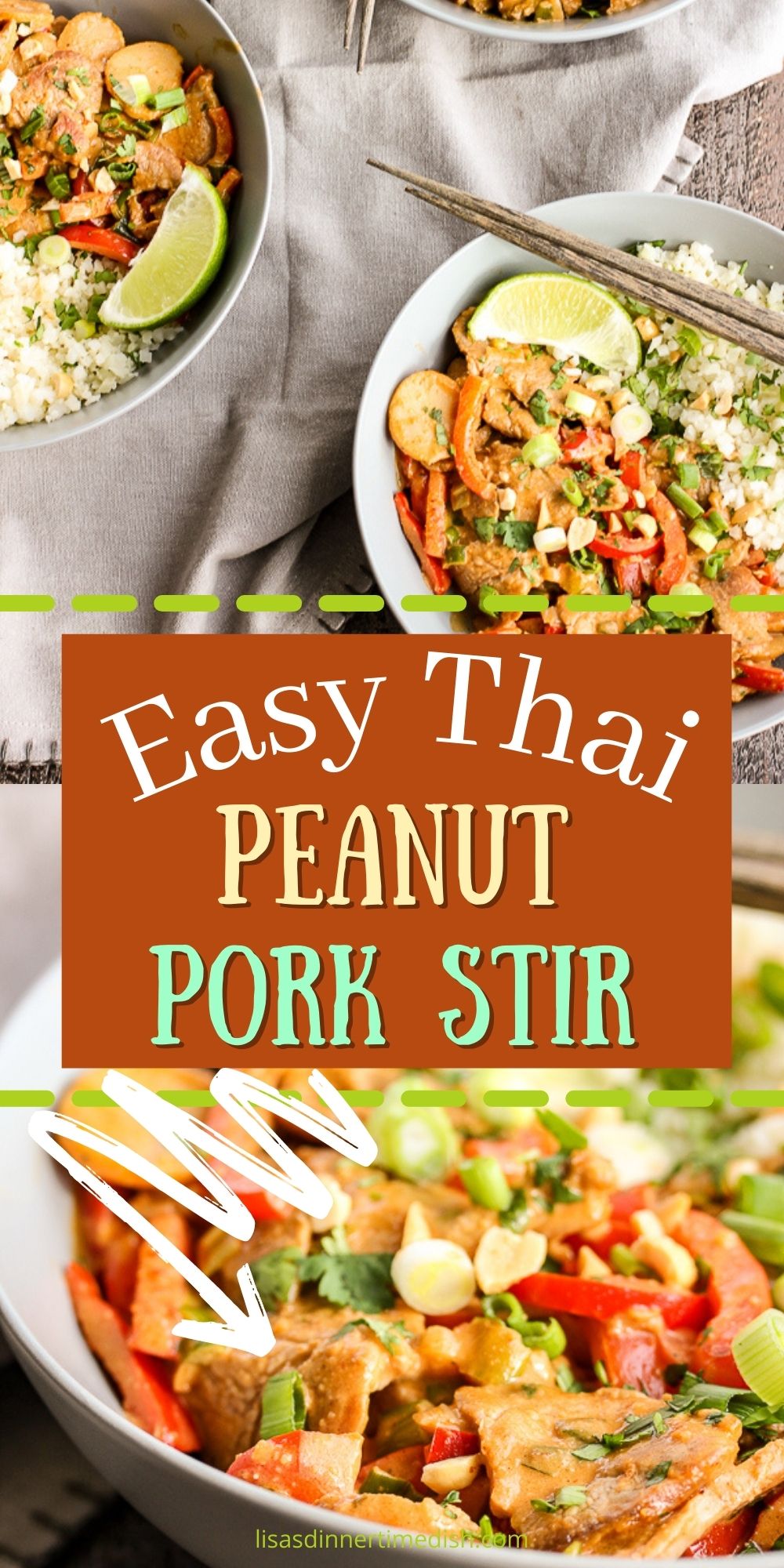 Yield: 4
Easy Thai Peanut Pork Stir Fry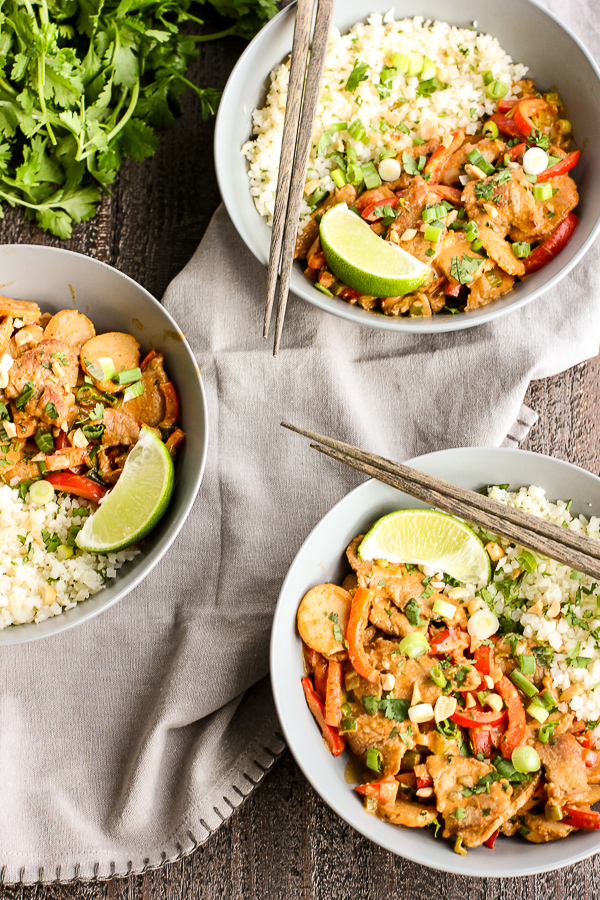 Juicy, tender pork tenderloin along with crunchy veggies combine with an easy homemade peanut sauce to create this delicious Thai inspired stir fry.
Ingredients
2 tbsp vegetable oil
1 lb pork tenderloin, cut into thin strips
2 cloves garlic, minced
4 green onions, sliced
2 medium red bell peppers, thinly sliced
1 can sliced water chestnuts, drained
1/4 cup creamy peanut butter
juice of 1 lime
3 tbsp sodium soy sauce
1 tbsp rice wine vinegar
1 tbsp sriracha sauce
1/2 tsp garlic powder
1/4 tsp black pepper
2 tbsp finely chopped cilantro
steamed cauliflower rice
additional sliced green onion, chopped cilantro and lime slices for garnish, if desired
chopped peanuts for garnish, if desired
Instructions
In a small bowl, combine peanut butter, lime juice, soy sauce, vinegar, sriracha, garlic powder and black pepper.
Whisk together until well combined and smooth. It will look lumpy at first, but as you whisk, it will get nice and creamy. Stir in cilantro.
Heat oil in a wok or large skillet over high heat until oil is very hot.
Add pork and stir fry in batches without crowding the pan. Cook until pork is starting to brown around the edges, being careful not to over cook. It will take about 2-3 minutes per batch.
Remove pork from the pan and set aside.
Add green onions, stir fry for 1 minute.
Add red peppers and stir fry for 1 minute.
Add garlic and stir fry for another 30 seconds.
Add water chestnuts and cook for an additional 30 seconds.
Add pork to to the mixture.
Pour sauce over mixture and toss to coat. Cook for another minute until sauce is heated through.
Serve over hot cauliflower rice.
Garnish with green onions, cilantro, lime slices and chopped peanuts, if desired.
Nutrition Information:
Yield:
4
Serving Size:
1
Amount Per Serving:
Calories:

393
Total Fat:

20g
Saturated Fat:

4g
Trans Fat:

0g
Unsaturated Fat:

14g
Cholesterol:

83mg
Sodium:

938mg
Carbohydrates:

19g
Fiber:

4g
Sugar:

7g
Protein:

36g