Chocolate creme de menthe cake is a scrumptious cake that's made so easy with a couple of easy shortcuts. Everyone will think it took you hours to make.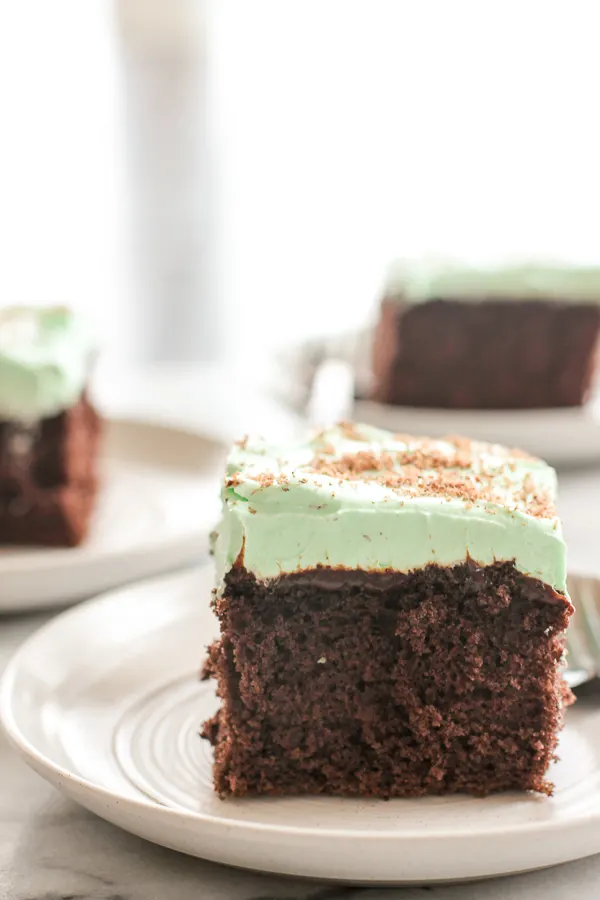 This cake is definitely an oldie, but a goodie. It's my Grandma's recipe and she used to make it all the time. After she passed away, I wanted to make this recipe, but didn't think I had the recipe.
But then one day while I was looking through old church cookbooks, I came across the recipe in a cookbook from her church. This cake was so popular back in the day, that two other women had submitted the very same recipe.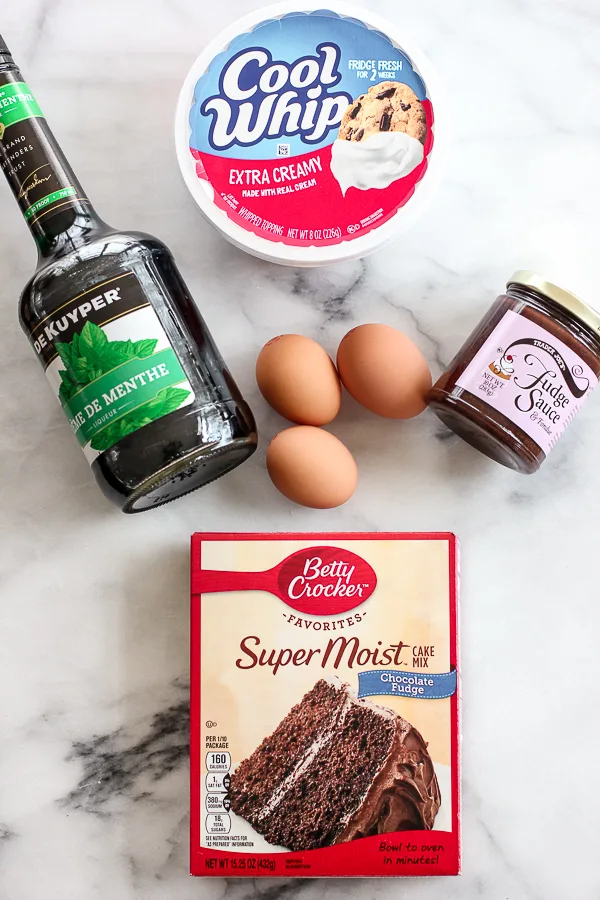 I was very happy when I discovered how incredibly easy this decadent chocolate cake is to make. It starts with a cake mix and follows the recipe on the box, except it calls for creme de menthe syrup or creme de menthe liqueur instead of oil. I was skeptical that the cake would be dry without any oil, but it turns out perfectly moist.
The finishing touch for this cake is fudge ice cream topping and whipped topping that's flavored with more creme de menthe. After the cake has been completely cooled, the chocolate fudge is spread over the top and finished with a generous frosting with the minty whipped topping.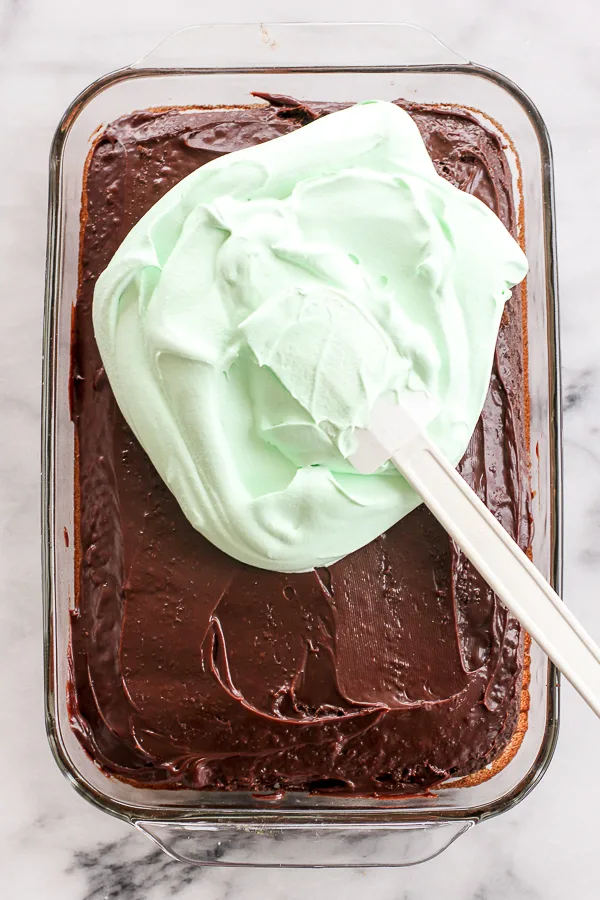 As I said, this cake is incredibly easy to make. Since it's a boxed cake mix, it only takes two additional ingredients to get it ready for the oven. Once it's out of the oven and completely cooled and you need to do is spread on the chocolate fudge and frost with the whipped topping.
The ease of this recipe makes it a perfect dessert for entertaining when you're short on time. It's also a cake that will travel well, so is also great if you're asked to bring dessert to a gathering. If you know ahead of time that you're going to be short on time, it can also be made a day or two ahead of time and stored in the refrigerator.
If you're skeptical about a dessert that starts with a boxed cake mix and ends with store bought whipped topping, don't be. It all just works and it tastes fantastic. Plus, it's super easy to make, so if you're like me and don't do a ton of baking, it's a perfect dessert option.
What are some other easy dessert recipes?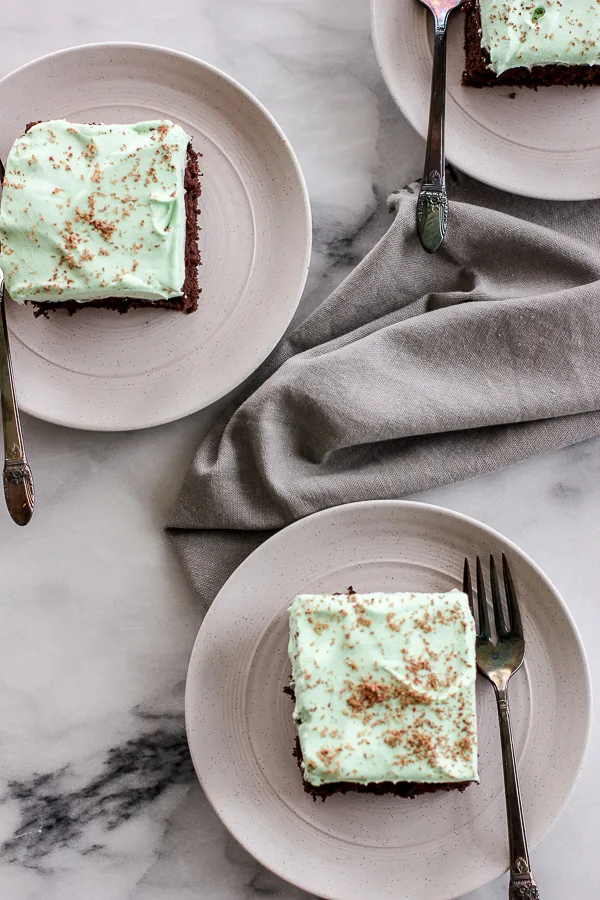 How do you make chocolate creme de menthe cake?
Start with your favorite cake mix. I always make this with chocolate or a chocolate fudge cake, but you could also make this with a white cake mix. If you go that route, the cake will turn a lovely shade of green.
Add eggs and either creme de menthe liqueur or creme de menthe syrup. You can find the syrup by the ice cream toppings at the grocery store. You will omit any oil that the box recipe calls for, trust me on this one.
Bake the cake in a prepared pan according to the box instructions.
While you're waiting for the cake to cool completely, prepare the whipped topping by stirring in the creme de menthe of your choice.
Once the cake has cooled completely, spread a nice, thick layer of room temperature chocolate fudge sauce on the cake and then spread a generous amount of the whipped topping over that.
Keep the cake refrigerated.
Yield: 12
Easy Chocolate Creme de Menthe Cake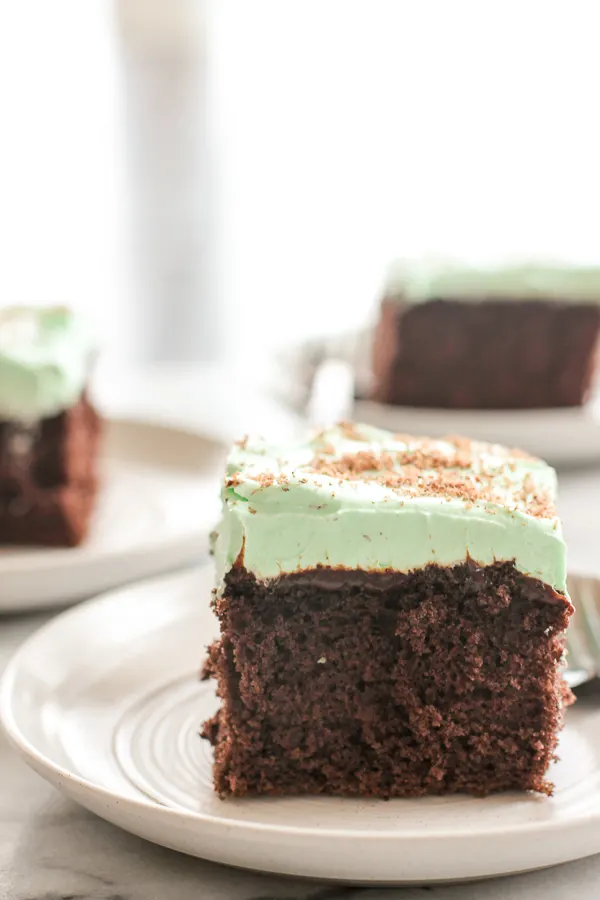 Chocolate creme de menthe cake is a scrumptious cake that's made so easy with a couple of easy shortcuts. Everyone will think it took you hours to make.
Ingredients
FOR CAKE:
1 chocolate cake mix of you choice ( I used a chocolate fudge)
3 eggs
1 cup water
1/3 cup creme de menthe syrup
FOR TOPPING:
1 jar chocolate fudge topping
8 oz tub whipped topping, thawed
4 tbsp creme de menthe syrup
Instructions
Preheat oven to 350 degrees.
Beat cake mix, eggs, water and cream de menthe together until well combined, about 3 minutes.
Pour batter into a 9×13 pan that been coated with cooking spray.
Bake according to package instructions.
Allow cake to cool completely.
Heat fudge topping slighlty until it is spreadable, about 30 seconds in the microwave.
Spread on top of cake.
Mix creme de menthe syrup with cool whip.
Spread over fudge topping.
Keep finished cake refrigerated.
Nutrition Information:
Yield:
12
Serving Size:
1
Amount Per Serving:
Calories:

183
Total Fat:

7g
Saturated Fat:

5g
Trans Fat:

0g
Unsaturated Fat:

1g
Cholesterol:

47mg
Sodium:

61mg
Carbohydrates:

23g
Fiber:

0g
Sugar:

18g
Protein:

2g