We're having some beautiful autumn weather here in Minnesota with bright sunny skies and highs in the 70s and I absolutely love it! This gorgeous weather means its still great grilling weather and that's an opportunity I don't want to miss. This chicken is a perfect dish for the grill and it's so delicious.
This recipe is an oldie that I pulled out of my recipe box. I clipped it out of the newspaper years ago……probably close to 20 years. It's one that I think is still relevant, I only made a couple of tweaks to the original recipe. In my opinion, there is something so delicious about bone-in chicken cooked on the grill. The skin gets crispy and the meat stays super moist because of the bone. The marinade gives the chicken great flavor, a little tartness from the lemon juice, a nice hint of garlic and, of course, the great flavor of the oregano. All in all, a pretty perfect piece of chicken!
Chicken Oregano
3-4 lbs bone-in chicken pieces
1/4 cup fresh lemon juice, about 2 lemons
1/4 cup white wine
3 tbsp olive oil
zest from 1 lemon
1 tsp dried oregano
3 cloves garlic, minced
1/2 tsp salt
1/2 tsp pepper
1/4 cup butter, melted
Combine lemon juice, wine, oil, zest, oregano, garlic, salt and pepper in a small bowl. Whisk until ingredients are well incorporated.
Place chicken in a zip-loc bag, pour marinade over the chicken and seal bag. Turn bag over several times to make sure chicken is all coated with the marinade.
Refrigerate for at least 30 minutes and up to several hours, turning bag occasionally.
Brush melted butter on chicken and cook on a grill preheated to medium heat for about 25-30 minutes, until chicken is cooked through.
Cover chicken with foil and let rest for a few minutes before serving.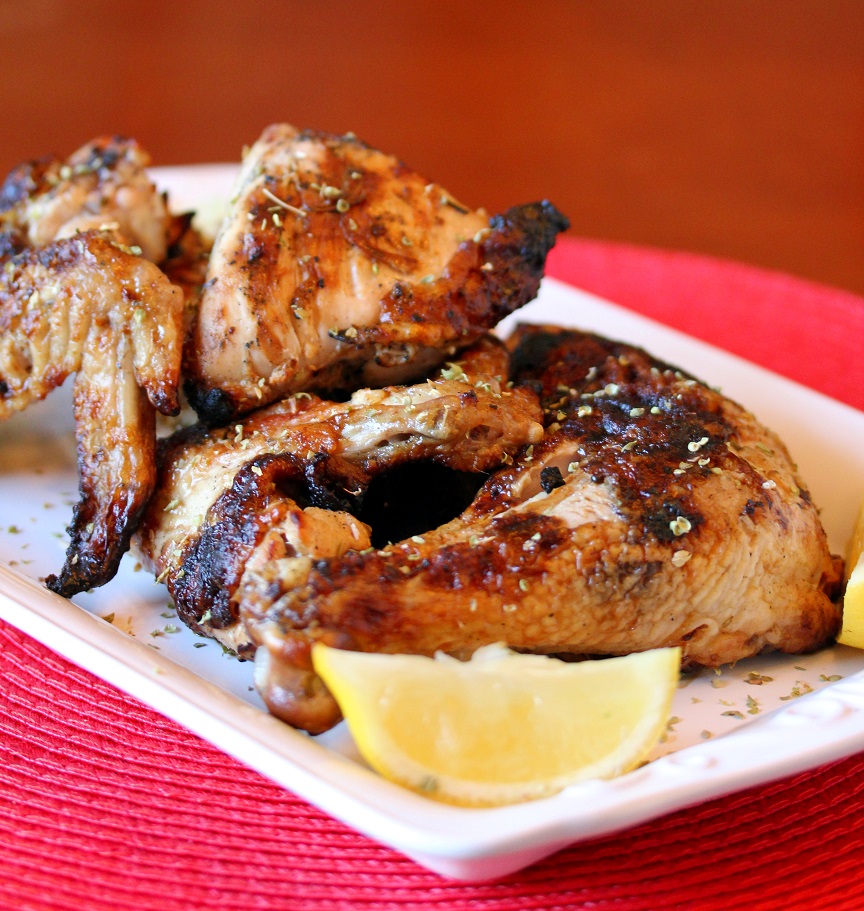 ENJOY!
Shared at these great blogs: