This Asian chicken vegetable soup will warm your soul. I'm not even kidding. It is so flavorful and it's packed with good-for-you vegetables and tender chunks of shredded chicken. Three of us gobbled down half of a very large pot of this soup earlier this week…..it's that good!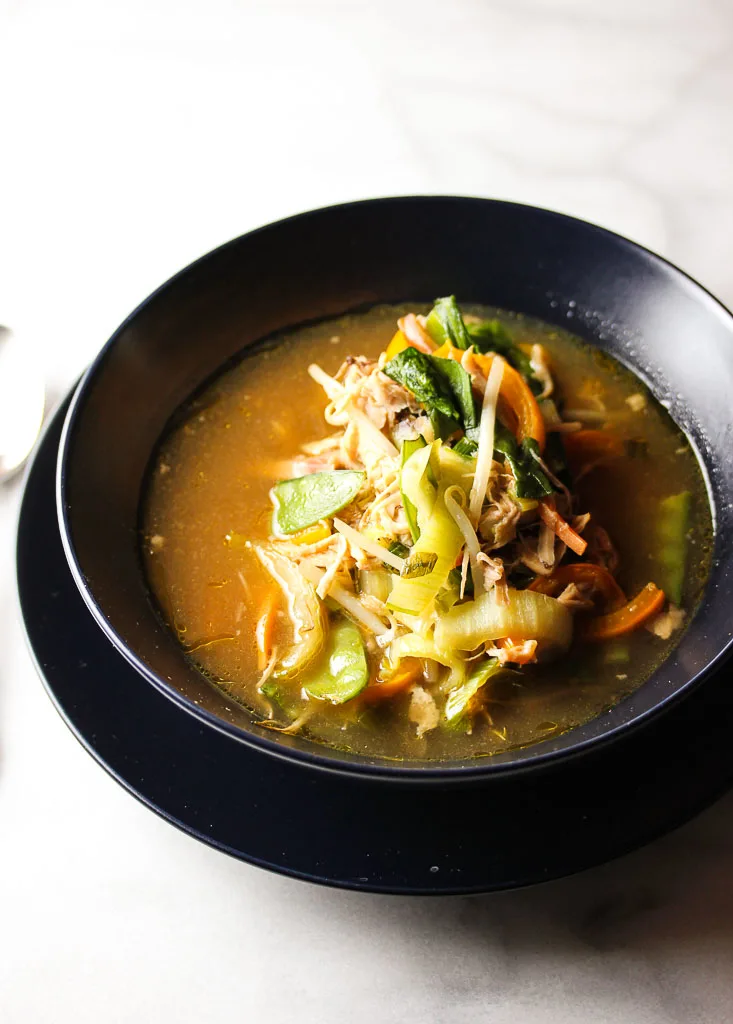 Let's talk about what really is the star of this soup, it's the homemade stock. Don't worry, the stock is SOOO easy to make. You literally throw the ingredients in a pot and let it simmer for a couple of hours. You don't even have to take much time prepping the ingredients, just a rough chop. I don't even peel the carrot. You just want the ingredients to infuse the stock with their incredible flavor.
I highly recommend taking the time to make the stock. You could substitute store bought stock, but it's not going to give the soup the rich flavor that this homemade stock gives it. You could even make this stock ahead of time and refrigerate it for a couple of days until you're ready to make the soup.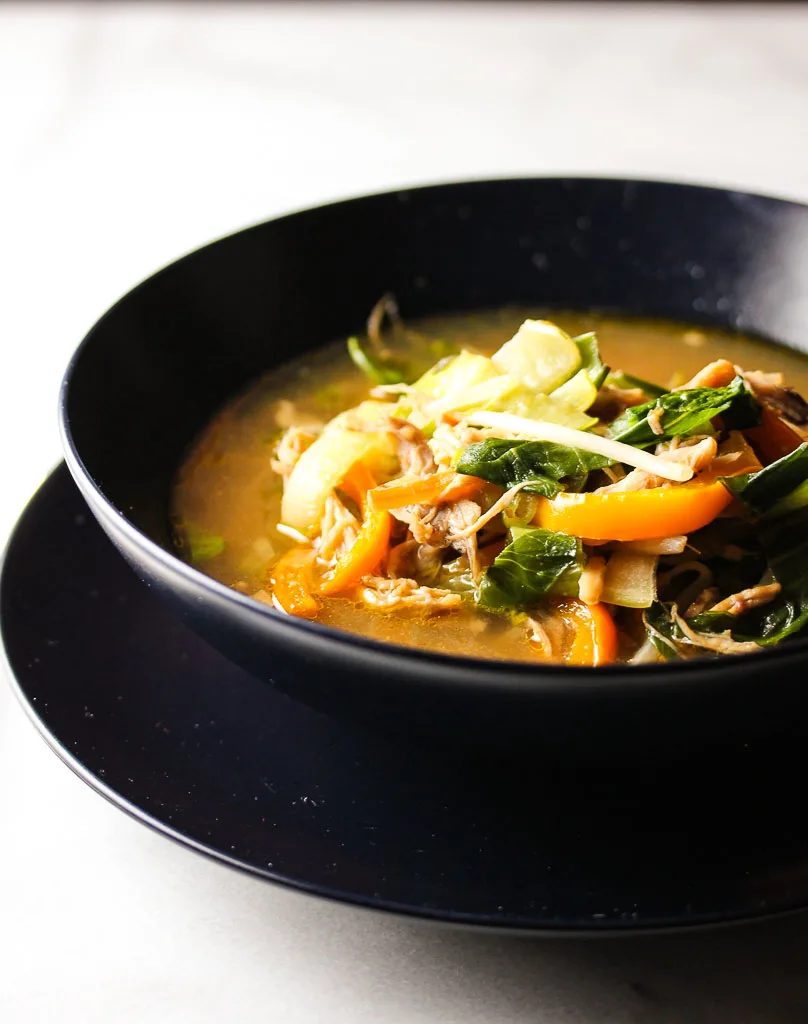 The ingredient that really gives this Asian chicken vegetable soup a unique flavor is lemongrass. I had never used lemongrass before. While I was at the store pulling the ingredients together for this soup, I saw the lemongrass with the other fresh herbs and decided I had to try it.
Since I wasn't sure how to prepare it, I searched online and found this YouTube video which demonstrated several ways to prepare lemongrass. For soup, you crush it, which I did by using a meat mallet. Crushing it releases the oils and adds a wonderful, slightly lemon flavor to the stock.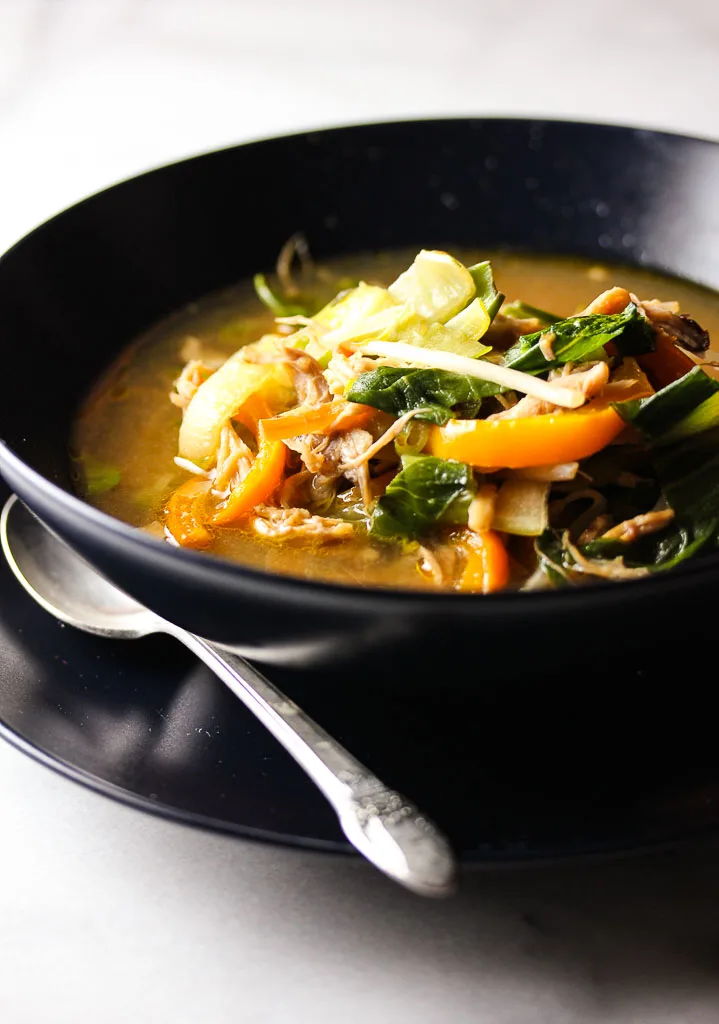 Yield: 6
Asian Chicken Vegetable Soup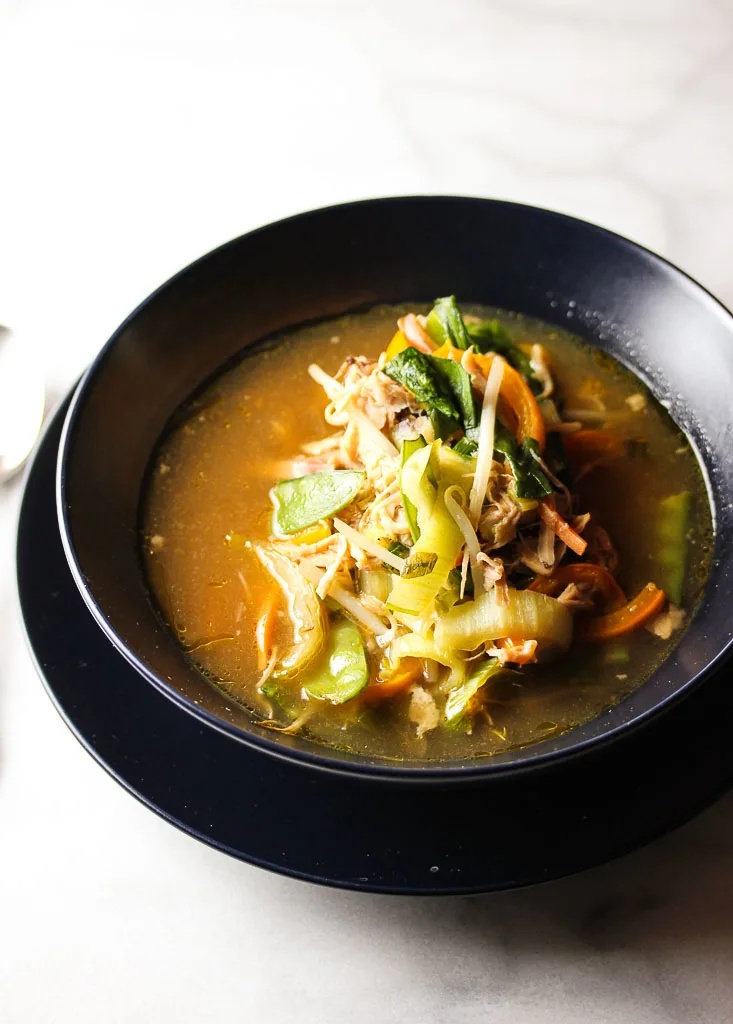 Ingredients
For the chicken stock:
carcass of 1 rotisserie chicken
2 cloves garlic, peeled and crushed
1 large carrot, cut into chunks
2 ribs celery, cut into chunks
1/2 onion, cut into chunks
1 stalk lemongrass, crushed
2 tbsp low sodium soy sauce
1 inch piece of ginger, peeled
1/2 tsp pepper
12 cups water
For soup:
1 tbsp vegetable oil
1 tsp sesame oil
6 oz shiitake mushrooms, sliced
4 green onions, sliced (white and green parts)
1 orange or red bell pepper, thinly sliced
3 cloves garlic, minced
2 baby bok choy, sliced crosswise, including the leafy greens
1 cup pea pods, cut in half
1/2 cup shredded carrots
1/2 cup bean sprouts
2 cups shredded rotisserie chicken
8 cups chicken stock
3 tsp ginger paste
3 tbsp reduced sodium soy sauce
1/2 tsp salt
1/2 tsp pepper
2 tsp sriracha
Instructions
Combine all stock ingredients in a large soup pot.
Bring to a boil, then reduce heat to simmer.
Partially cover the pot and simmer for about 2 hours.
Remove bones and vegetables from the stock.
Using a mess strainer, strain stock into a large bowl.
Rinse the same pot and dry.
Heat oils over medium high heat.
Add mushrooms and saute until browned.
Add green onions and saute for 30 seconds.
Add bell pepper and saute for 1 minute.
Add garlic and saute for 30 seconds.
Add bok choy and saute for 1 minute.
Add pea pods and carrots and stir fry 30 seconds.
Stir in bean sprouts, chicken and stock.
Stir in ginger paste, soy sauce, salt, pepper and sriracha.
Bring soup to a boil, reduce heat and simmer, covered, for 15 minutes.
Serve with additional soy sauce and sriracha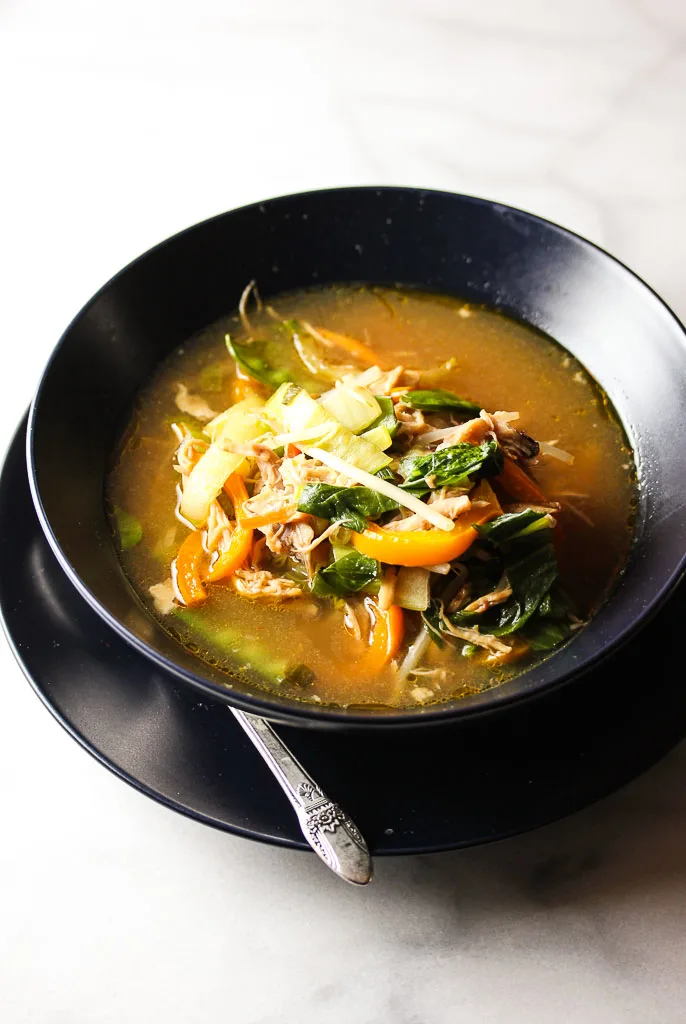 ENJOY!
Share at: