Italian Turkey Meatloaf is an easy, yet scrumptious meal. It's full of bold Italian flavor and is fabulous paired with pasta and a fresh green salad.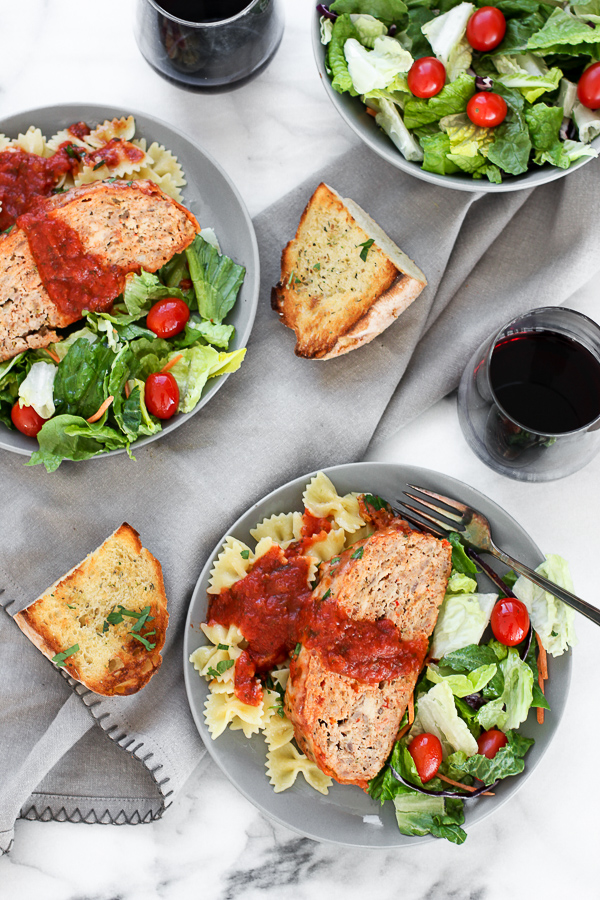 We've been on the healthier eating train in my house for quite a few months. But that doesn't mean we don't crave some good, stick to your ribs comfort food from time to time.
When the craving hits, we do try not to completely go off the rails. Instead, I like to come up with comfort food dishes that still deliver all of the flavor along with a feeling of indulgence, but not with all of the fat and calories. And that's exactly how this Italian turkey meatloaf was born.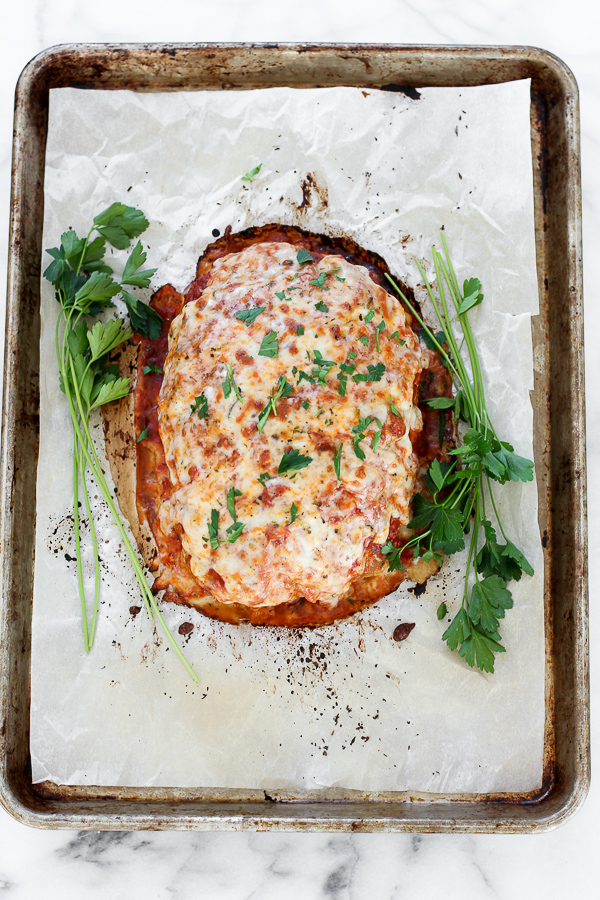 As we get into this time of year, I especially crave comfort foods and meatloaf certainly qualifies as comfort food in my book. This particular Italian turkey meatloaf is especially comforting and delicious. Because this meatloaf uses turkey instead of beef, it also is lower in calories and fairly healthy, which means guilt free indulgence.
If you for some reason you think you don't like meatloaf, you've got to try this one. I'm pretty sure it will make you a meatloaf convert. This meatloaf uses a combination of Italian turkey sausage and ground turkey breast. It is perfection in a loaf!
The sausage adds a touch of spiciness and gives the meatloaf so much flavor, along with helping to keep it from becoming dry. The other secret to keeping this turkey meatloaf from becoming dry is to use soft sandwich bread that's been torn and soaked briefly in milk rather than breadcrumbs. The result is a moist turkey meatloaf that has a lovely tender texture.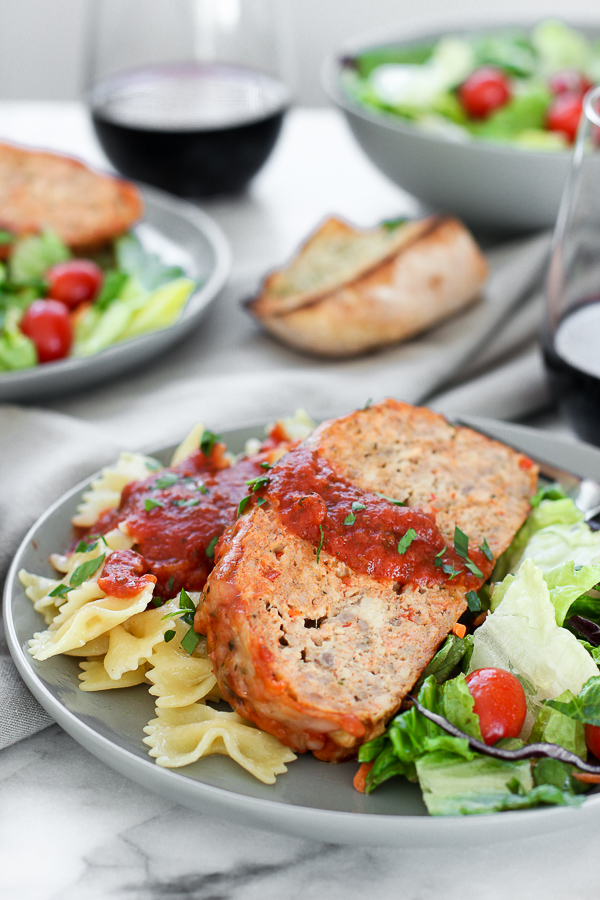 Another thing to keep in mind when making meatloaf is not to over mix it. If the meat is over mixed you can end up with a very dense meatloaf. You want to mix it just until everything is incorporated. Then you'll gently form it into a loaf shape.
Once it's ready for baking, it goes in the oven for a total of one hour. I always bake my meatloaf on a sheet pan, but a loaf pan will also work. After 50 minutes of baking, the meatloaf gets topped off with marinara sauce and mozzarella before it bakes for the final 10 minutes.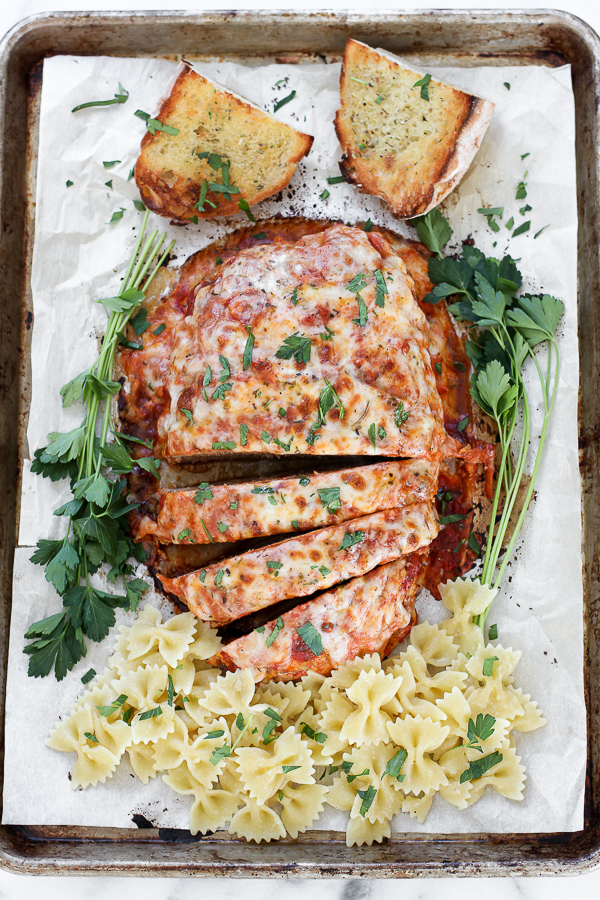 I like to serve this recipe for Italian turkey meatloaf with a side of pasta, tossed with more marina sauce. It's also fantastic served with garlic mashed potatoes, if that's your thing. Complete the meal with a tossed salad along with some crusty bread and you have a fabulous comfort food meal.
What should I know about making this Italian turkey meatloaf recipe?
Don't skip the turkey sausage in this recipe. If you only use ground turkey breast, the meatloaf will not have as much flavor and will be much more likely to dry out.
For a moist and tender meatloaf you will get the best result by using soft sandwich bread that's been torn into small pieces and soaked briefly in milk. Breadcrumbs could cause the meatloaf to be on the dry side and not as tender.
Do not over mix the meat, this also could cause the meatloaf to be dense, rather than tender.
You definitely want the meatloaf to be cooked through, but make sure you don't over cook it, as that also could make the meatloaf dry.
It's a good idea to let the meatloaf rest for a few minutes before slicing it.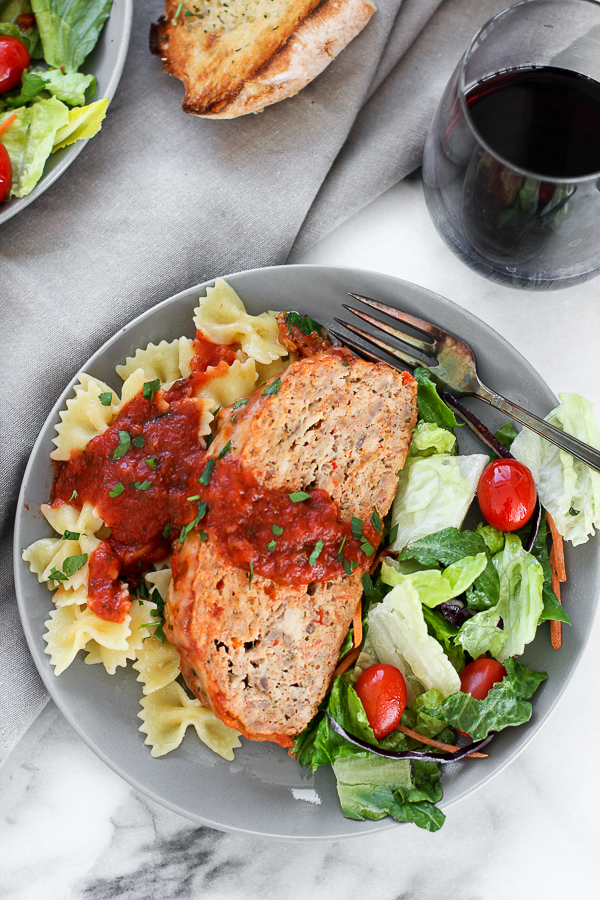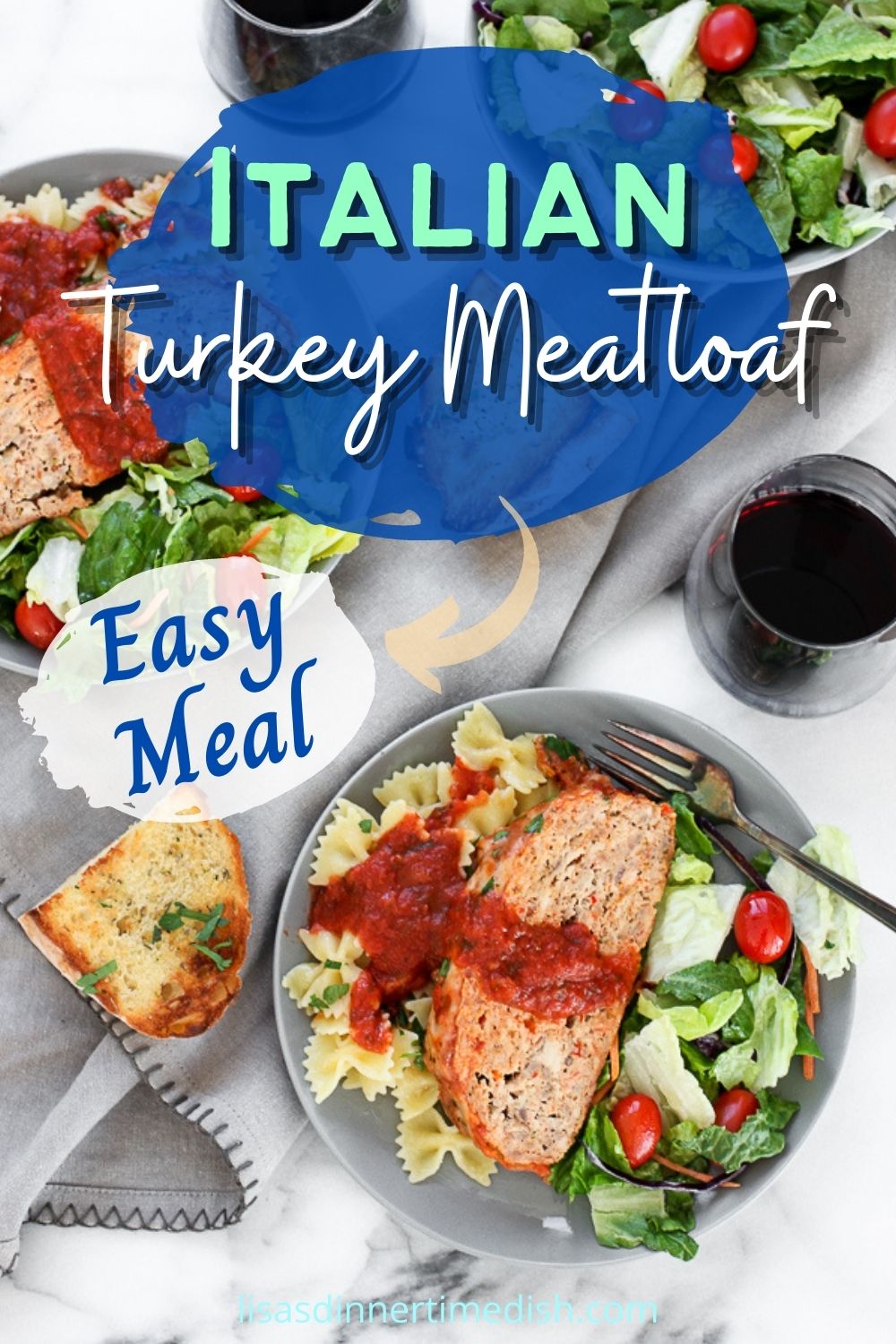 Here are some more meatloaf recipes you might want to try:
Yield: 8
Italian Turkey Meatloaf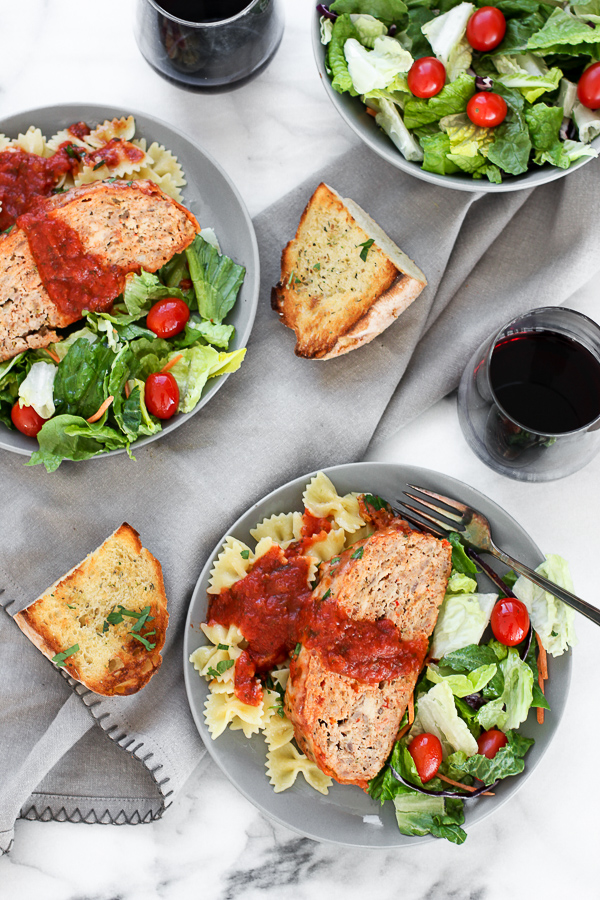 Italian Turkey Meatloaf is an easy, yet scrumptious meal. It's full of bold Italian flavor and is fabulous paired with pasta and a fresh green salad.
Total Time
1 hour
20 minutes
Ingredients
1 tbsp olive oil
1/2 medium onion, finely chopped
1/2 red bell pepper, finely chopped
2 cloves garlic, minced
1 lb bulk turkey sausage
1 lb ground turkey breast
2 slices sandwich bread, torn into small pieces
1/4 cup milk
1/2 cup grated parmesan cheese
1 tsp dried Italian seasoning
2 tbsp tomato paste
2 eggs
1/2 tsp salt
1/2 tsp black pepper
1/2 cup marinara sauce, plus more for serving
3/4 cup shredded mozzarella cheese
Cooked pasta, optional
Instructions
Preheat oven to 350 degrees.
Heat olive oil in a small skillet over medium heat.
Add onion, red pepper and garlic to skillet and saute for about 5 minutes, until veggies are tender.
Let veggies cool slightly.
Add all ingredients except for marinara and mozzarella to a large bowl. Mix ingredients with your hands until everything is well combined.
Bake in preheated oven for 50 minutes.
After 50 minutes, top meatloaf with marinara sauce and mozzarella cheese.
Bake for an additional 10 minutes until cheese is melted.
Turn the broiler on for a short time to brown the cheese, if desired, making sure to watch it closely.
Let meatloaf rest for a few minutes before slicing.
Serve over pasta, if desired, with additional marinara sauce.
Nutrition Information:
Yield:
8
Serving Size:
1
Amount Per Serving:
Calories:

347
Total Fat:

15g
Saturated Fat:

4g
Trans Fat:

0g
Unsaturated Fat:

8g
Cholesterol:

150mg
Sodium:

860mg
Carbohydrates:

14g
Fiber:

1g
Sugar:

3g
Protein:

39g