Since Cinco de Mayo is coming up on Sunday, I thought it would be a good time to post a salsa recipe. I happen to love fruit salsas, they taste so fresh and I love the sweet and spicy aspect. So this margarita mango salsa is just perfect for me, plus with a little tequila added into the mix, it's just fun!
I made some homemade tortilla chips to go along with this and they are a snap to make. All you need to do is spray some corn tortillas with a little cooking spray, cut them into triangles and bake them until they're crispy How easy does that sound?
The salsa tastes great with the chips, but it's also a great topper for chicken, fish or pork. The day I made this Steve grilled some chicken breasts that I had seasoned with Pampered Chef's Smoky Adobo Rub and then I topped it off with the salsa. It was so delicious and I will definitely be trying it with pork and fish as well!
I used whole mangoes when I made this (because it's all I could find that day), but it's even easier if you can find mango that's already been sliced. Then all you have to do is dice it up for this recipe. I also want to say that you could totally omit the tequila if you want to and the salsa will still be delicious. The tequila just adds a little "somethin-somethin" in the background.
Margarita Mango Salsa with Homemade Tortilla Chips
2 mangos, small dice
1 jalapeno, seeded and finely chopped
1/4 red onion, finely chopped
1/4 cup cilantro, finely chopped
1/4 tsp salt
juice of 1 lime
2 tbsp tequila
1 (12 oz) pkg soft corn tortillas
cooking spray
Preheat oven to 350 degrees.
Combine diced mango with chopped jalapeno, onion, cilantro and salt in a mixing bowl. Add lime juice and tequila, stirring gently to combine.
Set aside to let flavors combine.
Take the corn tortillas and spray both sides of each lightly with cooking spray. Stack them up on top of each other and cut into eight triangle shaped pieces. Spread the pieces out on baking sheets in a single layer.
Bake for about 10-12 minutes in preheated oven, until golden brown and crispy.
Let chips cool and then serve with the salsa.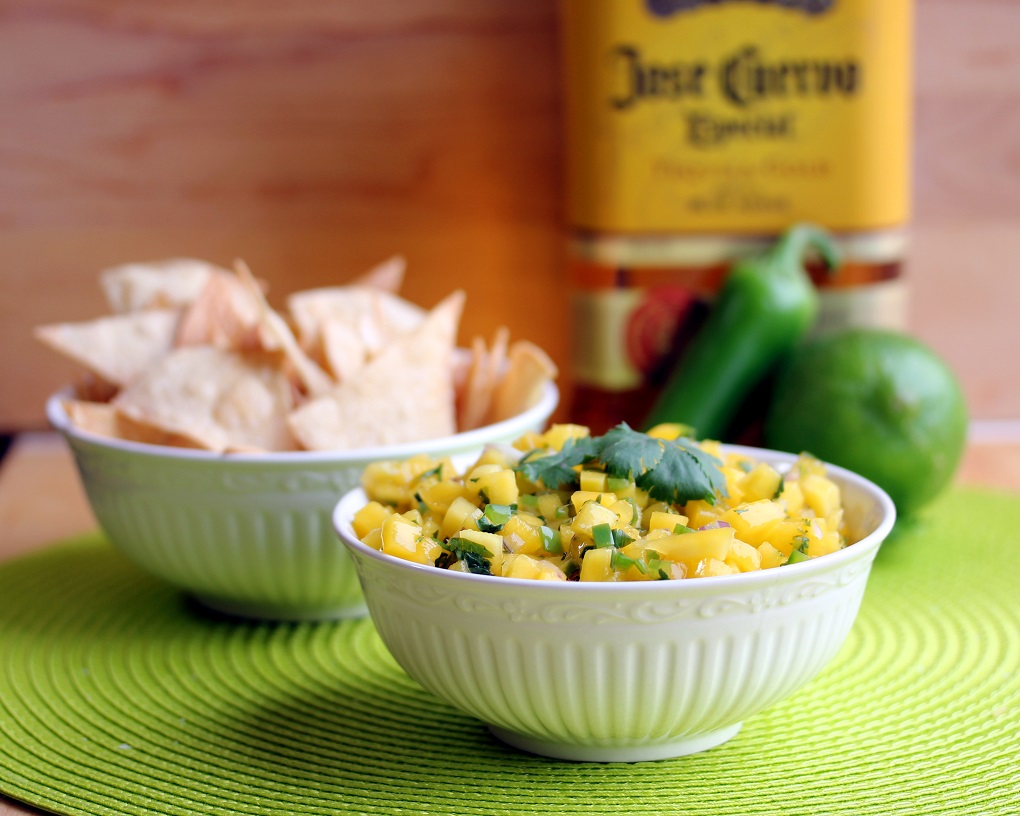 ENJOY!
Shared at these great blogs: