Whenever I get home from a vacation it always seems to take me a few days to get back into the swing of things. There's always the unpacking, the laundry, the mail and just getting my brain out of vacation mode. So even though we got back from London on Monday night (and it's now Wednesday), my suitcase is still half unpacked and I haven't done a single load of laundry. Between Steve and me, we did get through the mail, but I'm still working on my brain and vacation mode!
While I don't relish those tasks after vacation, there are a couple of things that I always enjoy when we get home. I love sleeping in my own bed after I've been away, it always feels so much more comfortable. The other thing I like is making a home-cooked meal. As much as I like eating out and trying different foods, after even several days of eating every meal out, a meal that comes out of my own kitchen always tastes really good.
So last night for dinner I made Pork Milanese, truffled oven fries, a mixed greens salad and these cheesy, peppery biscuits. It was a fabulous dinner and it was so nice to sit at our own kitchen table and share a meal.
The recipe I used is adapted from Cooking Light. I want to point out that you don't want to over-handle the dough or your biscuits will turn out tough and not super flaky and light. So just remember, less is more! Otherwise, these biscuits are easy to make and don't take many ingredients…..oh and they're pretty tasty too!
So… while I go start my laundry, why don't you go and give these biscuits a try yourself!
Pecorino-Pepper Biscuits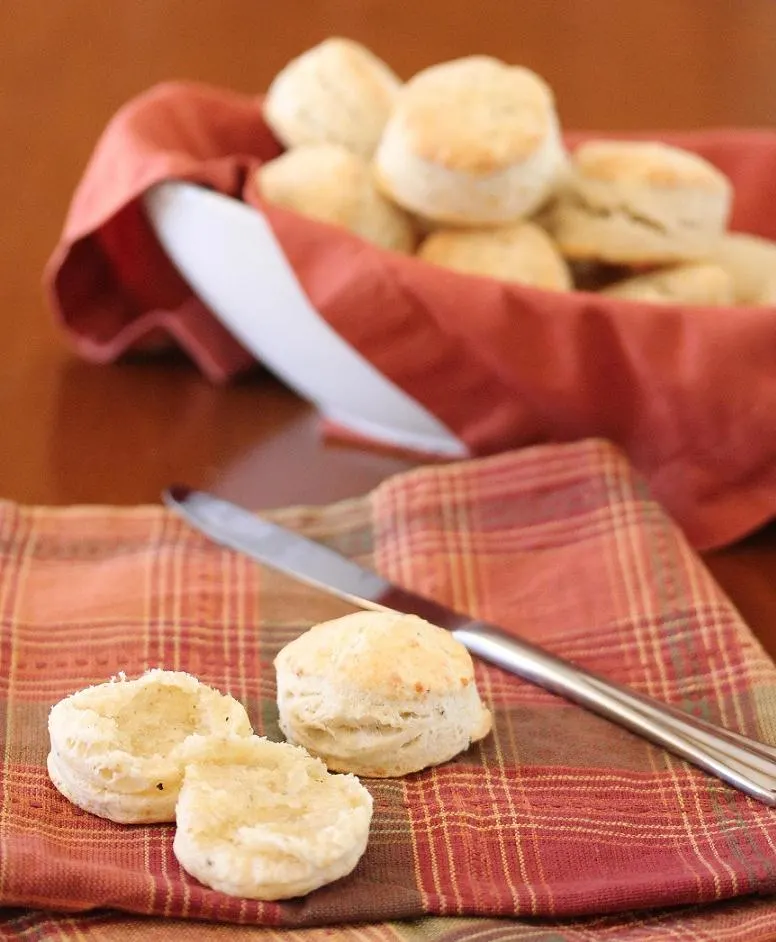 2 cups all-purpose flour
2 1/2 tsp baking powder
1/2 tsp salt
1 tsp fresh ground pepper
5 tbsp cold butter
3/4 cup milk
1/2 cup grated pecorino (you could also use parmesan)
Preheat oven to 450 degrees.
Cut butter into small pieces. Place in freezer until ready to use.
Combine flour, baking powder, salt and pepper in a mixing bowl. Add cold butter and cut in with a pastry cutter or two knives until it forms a course meal.
Whisk together milk and pecorino. Add to flour/butter mixture and stir until combined, but don't over mix.
Turn dough out onto a lightly floured surface. Knead several times, just until dough forms a ball.
Sprinkle dough with flour and roll out to about a 9″x5″ rectangle.
Fold dough crosswise into thirds (like your folding a piece of paper to fit in an envelope).
Repeat once again, rolling dough out to a rectangle and folding into thirds. Then, gently roll dough out into a rectangle that is about 3/4 inch thick.
Cut into 2 inch rounds with a biscuit cutter. Make sure that you don't twist the cutter because that will prevent the dough from forming the flaky layers.
Put biscuits on a baking sheet lined with parchment paper.
Bake in preheated oven for 12-14 minutes until golden brown.
Serve warm!
ENJOY!
Shared at these great blogs: