This easy chocolate chip banana bread is so soft and moist and the addition of chocolate chips makes it even better.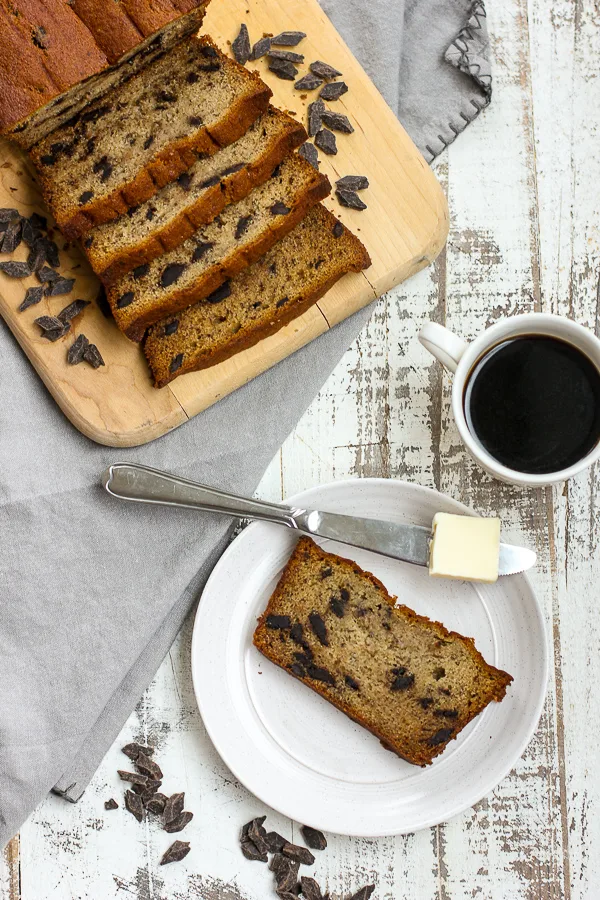 Banana Bread is Awesome!
Can we all agree that banana bread is amazing? I mean, it's sweet, soft and tender, plus, since it contains fruit, is perfectly acceptable to eat for breakfast.
I decided to take this classic bread and up my game by adding chocolate chips. The addition of chocolate does not disappoint one little bit. It's perfect with a cup of coffee for breakfast or an afternoon snack.
Not much of baker, but really want this chocolate chip banana bread? Don't worry, this recipe is not complicated at all and uses mainly dry ingredients that are easy to keep on hand in your pantry. In addition to the dry ingredients, all you need are eggs, butter and ripe bananas.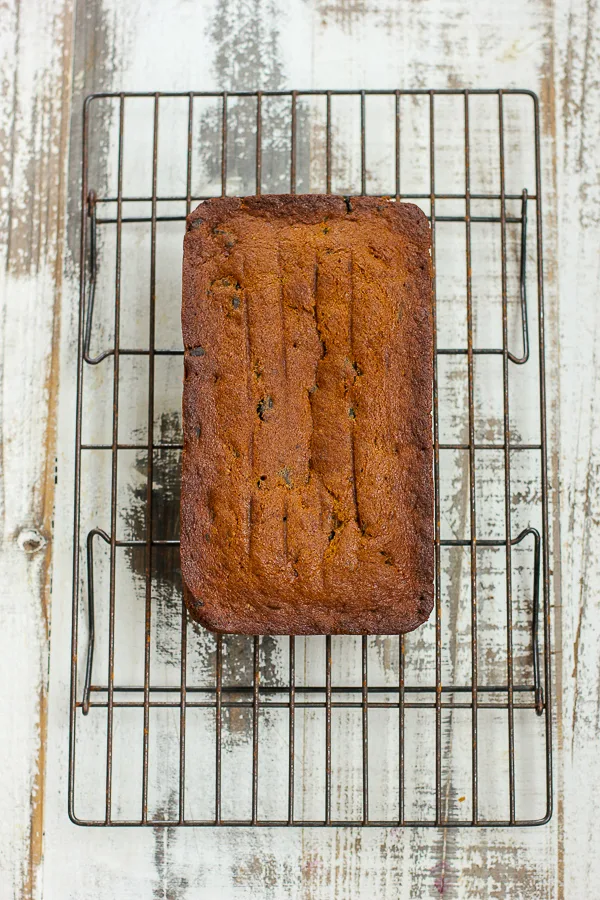 Patience is Hard
One important thing to note when making this easy quick bread is to make sure you let it cool completely. If the loaf is not fully cooled, it will have a tendency to fall apart when you try to slice it.
It takes a little patience, but it's worth the wait to make sure it's properly cooled. Once it's fully cooled, cut off a thick slice and pour yourself a steaming cup of coffee or a cold glass of milk. Then sit down and enjoy the fruits of your labor.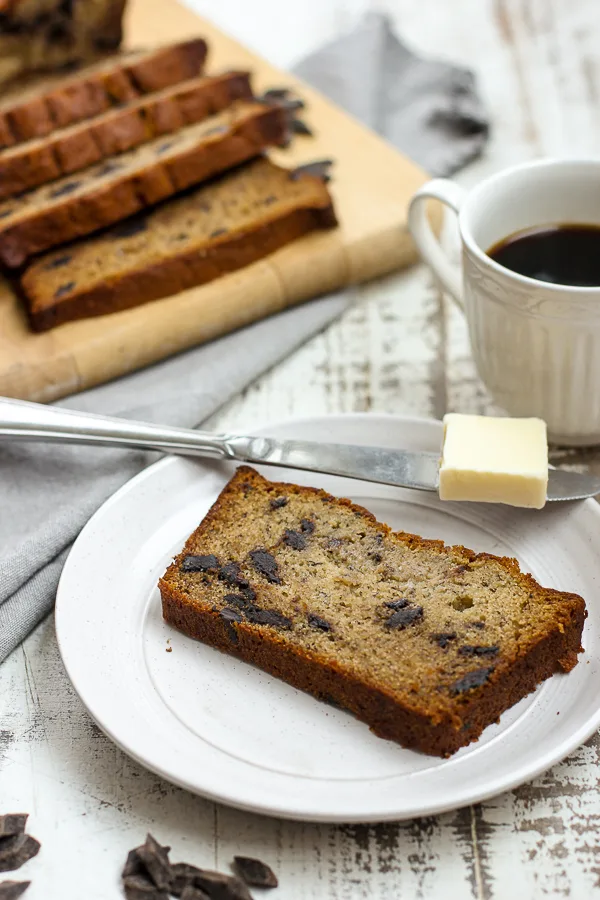 Tips and Tricks for Perfect Chocolate Chip Banana Bread
Make sure your bananas are very ripe. If your bananas are ripe but you're not ready to bake a loaf, pop them into the freezer. That way you'll have them on hand when you are ready to bake a loaf.
Toss the chocolate chips in a tablespoon of flour. That will keep them from sinking to the bottom of the batter and are equally distributed in the bread.
This quick bread needs to be baked in a 5 by 9 inch loaf pan. A 5 by 8 inch pan will be too small and the bread will overflow when it's baked.
Bake the loaf at a higher temperature for the first 10 minutes. This will insure that the outside is nice and crispy and the inside stays soft and moist.
I know you'll be tempted to dive into this bread straight from the oven, but for the best results, allow it to cool completely before slicing.
More Quick Bread Recipes to Satisfy Your Sweet Tooth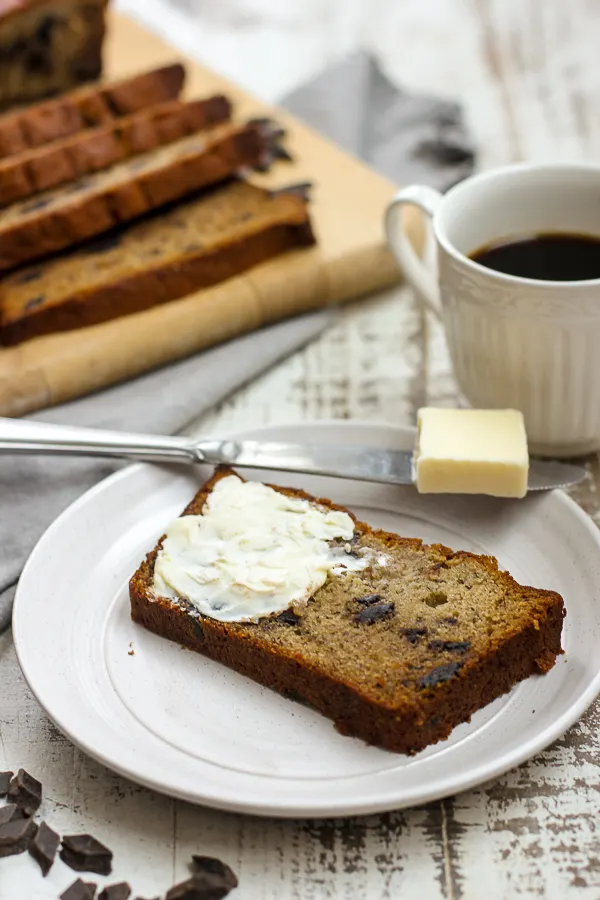 Yield: 16
Chocolate Chip Banana Bread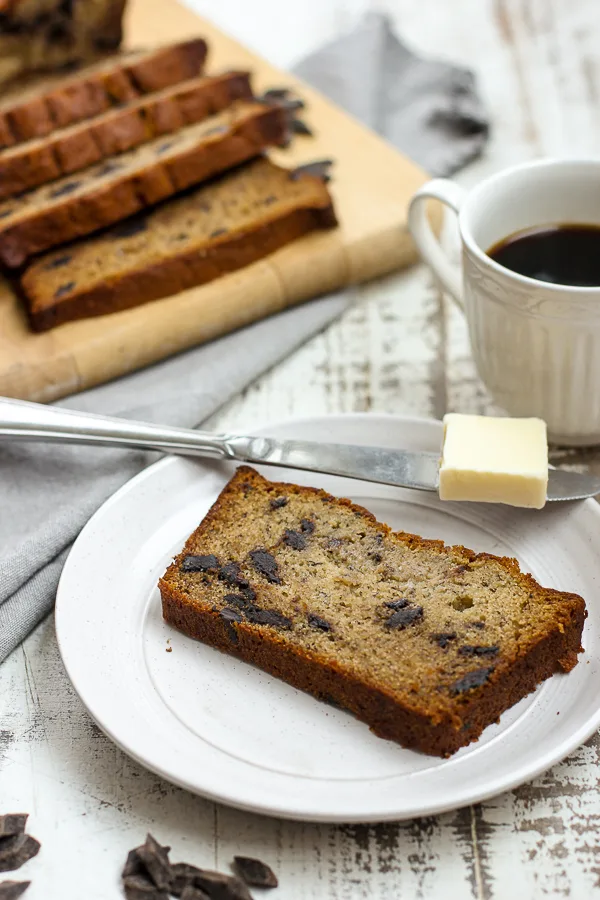 This easy banana bread is so soft and moist and the addition of chocolate chips makes it even better.
Total Time
1 hour
20 minutes
Ingredients
1/2 cup granulated sugar
1/2 cup brown sugar
1/2 cup butter
2 eggs
3 very ripe bananas, peeled and mashed
1-3/4 cup all-purpose flour
1 tsp baking soda
1/2 tsp baking powder
pinch of salt
1 cup chocolate chips, tossed with 1 tbsp flour
Instructions
Preheat oven to 400 degrees. Coat a 5 by 9 inch loaf pan with cooking spray.
In a bowl of a mixer, cream together the sugar and butter until light and fluffy, about 2 minutes.
Reduce speed and add eggs one at a time, mixing until combined.
Add mashed bananas and mix well.
In a small bowl, whisk together the flour, baking soda, baking powder and salt. Add to banana mixture and mix until just combined.
Remove bowl from mixer and stir in chocolate chips.
Scrape batter into a loaf pan and place in the oven. Set timer for 10 minutes.
After 10 minutes, reduce heat to 350 degrees and bake for 45 to 50 minutes, or until the top no longer looks moist and the sides are beginning to pull away from the pan.
Let sit for 5 minutes on a wire rack, then run a knife along the edges and invert loaf onto the rack to cool completely.


Notes
The pan size does matter for this recipe, a 5 by 9 or 5 by 10 inch is fine, but a 5 by 8 inch pan may overflow.
Tossing the chocolate chips in flour will prevent them from sinking to the bottom of the loaf.
Nutrition Information:
Yield:
16
Serving Size:
1 piece
Amount Per Serving:
Calories:

521
Total Fat:

11g
Saturated Fat:

6g
Trans Fat:

0g
Unsaturated Fat:

4g
Cholesterol:

39mg
Sodium:

162mg
Carbohydrates:

96g
Fiber:

4g
Sugar:

21g
Protein:

11g