Let me just start out by saying, I have never seen a loaf of bread disappear quite as quickly as this one did. That's how good this appetizer is. It's probably not something you want to eat all of the time, but when you're looking to treat yourself, you'll want to go for this one.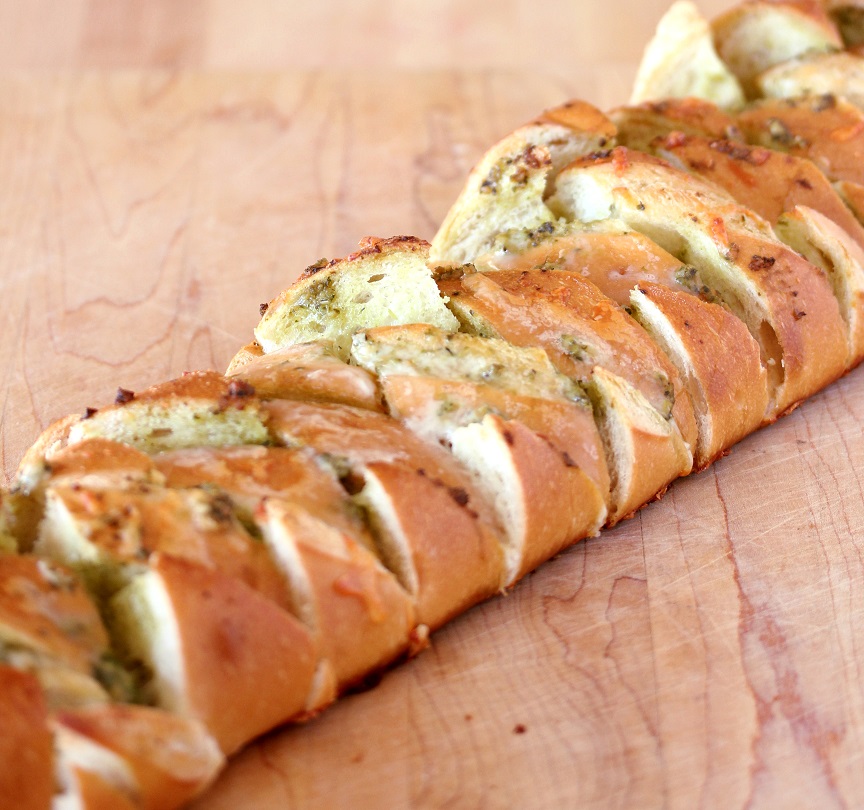 The funny thing is, I got the idea for this cheesy bloomin' bread while I was on the treadmill at the gym. I was watching "The Chew" and reading the closed caption. They were making something like this and it looked so amazing. So I quickly made a note to myself on my phone, so I wouldn't forget about it.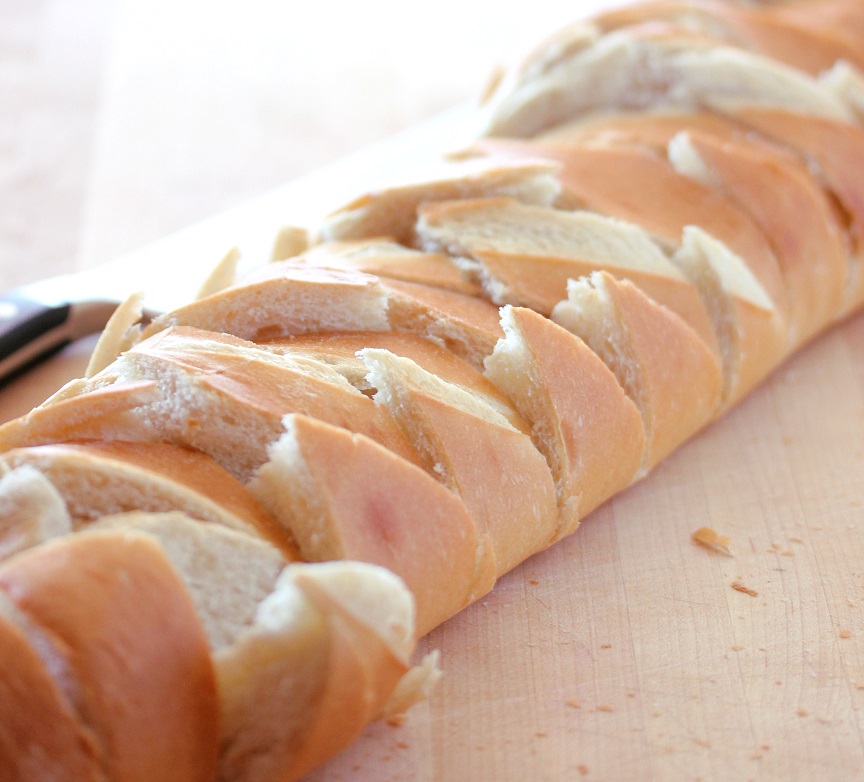 This appetizer is so easy to make, but it will absolutely "wow" anyone you serve it to and believe me it won't last long. By slicing the bread in a criss-cross fashion, the garlic butter, pesto and cheese get all the way down to the bottom and each piece is bursting with great flavor. Your family or guests will devour this in a matter of minutes!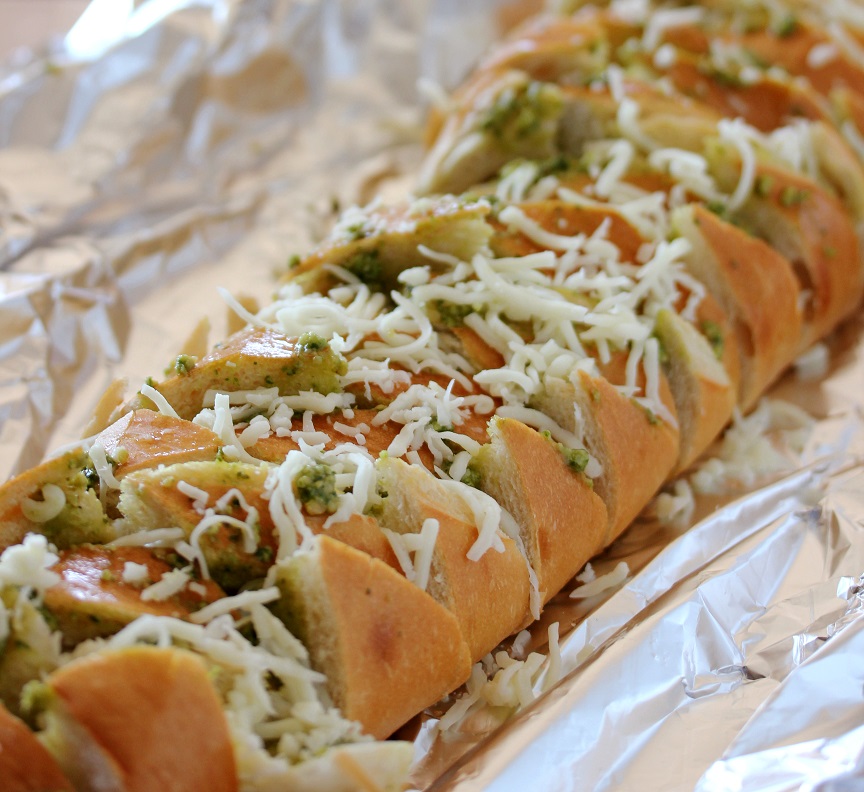 In the recipe I give you approximate amounts, you just need enough of each ingredient until all of the pieces of bread are coated. You could also change up or add to the ingredients. I think olive tapenade, instead of pesto would be delicious and you could use other varieties of cheese, like bleu or monterey jack. You could also add bacon bits or fresh tomatoes. Get creative, I really don't think you can go wrong!
Yield: 6-8
Cheesy Bloomin' French Bread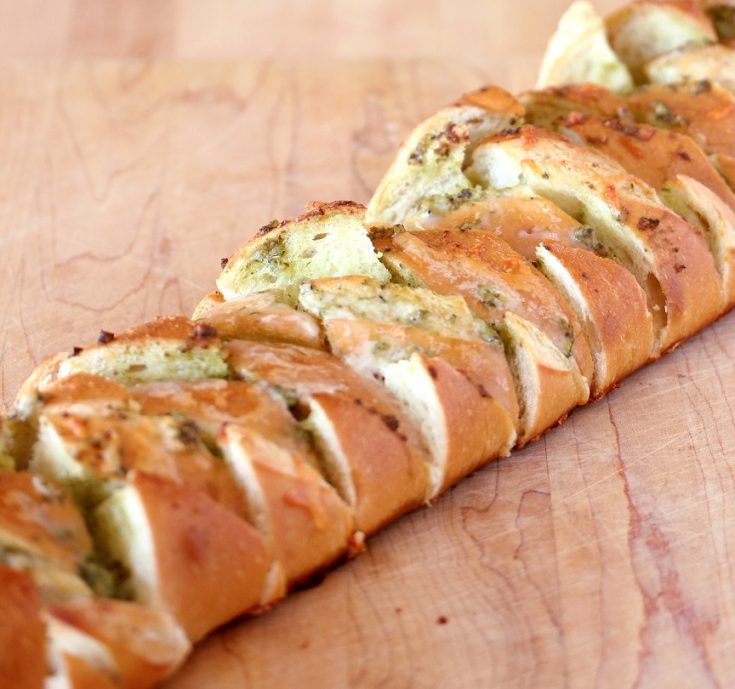 Ingredients
1/2 cup butter
2 cloves garlic, peel and crushed
1 loaf soft French bread
1 (8 oz) container prepared pesto
1 (8 oz) pkg shredded mozarella
cooking spray
Instructions
Preheat oven to 350 degrees.
Melt butter in a small sauce pan.
Add garlic and simmer for 5-10 minutes to infuse the butter with the garlic flavor.
Slice bread diagonally in one direction, being careful not to slice all the way through.
Slice bread diagonally the other direction, criss-crossing the the other slices, also being careful not to slice all the way through.
Drizzle butter evenly into the slices. You may not need to use all of the butter.
Spread pesto evenly down into the slices. Again, you probably won't use it all.
Top with cheese, pressing down into the slices. You'll probably use about 1 cup of the cheese.
Drizzle butter evenly into the slices. You may not need to use all of the butter.
Wrap bread loosely with foil that's been coated with cooking spray, so it's not touching the cheese.
Place on a baking sheet and bake for 15 minutes.
After 15 minutes, uncover bread and bake for another 10 minutes, until browned and cheese is completely melted.
Serve immediately and watch it disappear!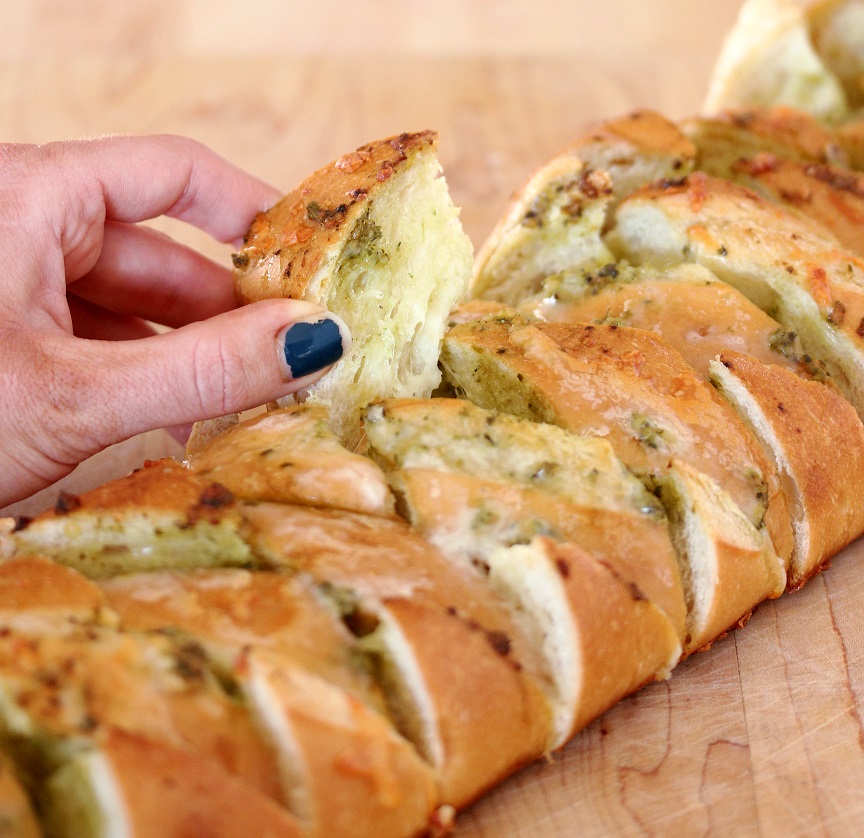 ENJOY!

Shared at these great Blogs: