Bacon cheese jalapeno poppers take a new approach to stuffing jalapenos with cheese and bacon. Instead of wrapping the bacon it goes in the cheese!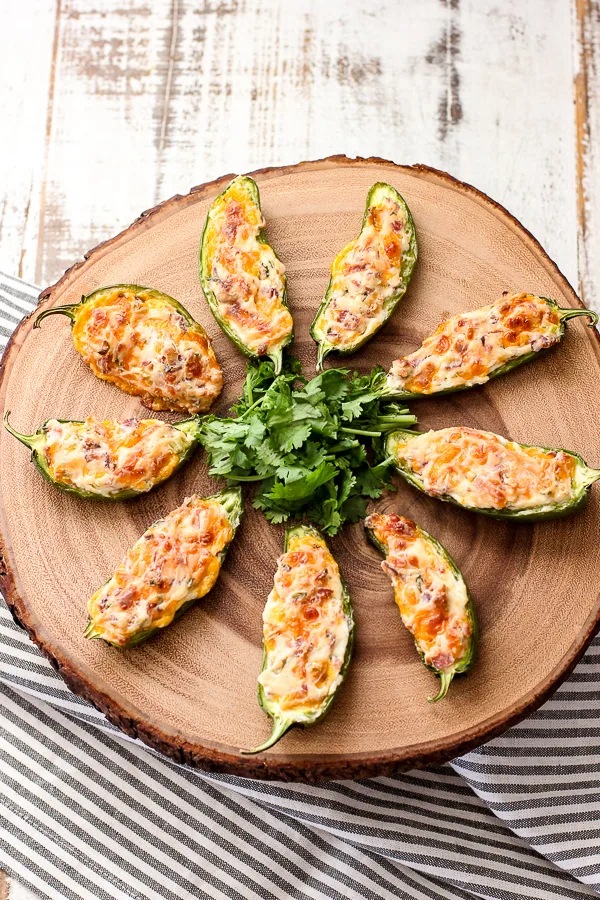 Bacon cheese jalapeno poppers, and no, I didn't leave "wrapped" out accidentally. This version of bacon cheese jalapeno poppers actually puts the bacon on the inside as a filling instead. You take advantage of a couple things going this route.
First, no more trying to get the bacon to fry up just right on the outside. How many times have you waiting for the bacon to finish cooking while you watched the popper contents completely melt and ooze out?
Football season is here. Soccer and baseball playoffs are close. Hockey is about to start. So plenty of game days to make great appetizers for! (Like my pumpkin hummus too!)
A new way of doing bacon cheese jalapeno poppers.
We have all been there with bacon wrapped jalapeno poppers. You try getting the bacon to crisp up. You want the jalapeno to cook but not overcook. The cheese filling needs to not melt out.
With this style bacon stuffed jalapeno, you simplify everything. You end up with a great bite balanced with pepper heat, salty bacon, and creamy cheese.
Since the cheese and bacon mixture is spooned into the lengthwise half of a jalapeno, the stuffing stays in place. This means every popper pops with just the right amount of bacon, cheese, and pepper.
You cook the bacon first, then crumble it into the cheese mixture. So, you don't have as much fatty bacon either. You get tons of great bacon flavor but with way less greasiness.
Also, it makes it easy to see the poppers are done. As soon as your cheese has a bit of browning on top, similar to a pizza, you know they are done.
You don't have to worry anymore about the bacon not getting crispy. The days of watching the filling bubble out are gone too!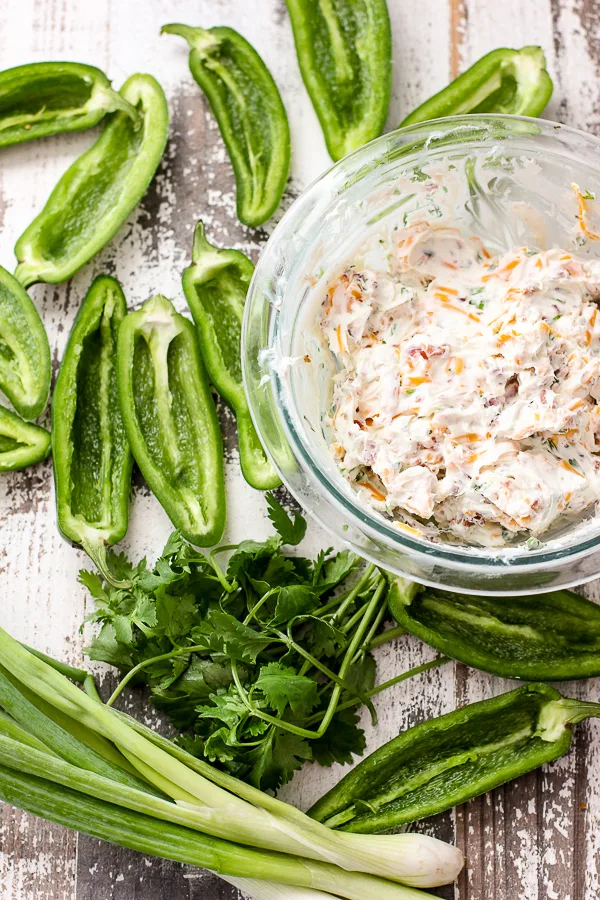 Three cheeses for your bacon cheese jalapeno poppers
I like using cheddar, parmesan, and cream cheese for the cheese filling. We all know how great cheddar works with bacon. The others serve their purpose well too.
Parmesan cheese has that tiny edge of funky umami that adds complexity to the flavor. The cream cheese helps give you that creamy bite. The combined cheeses bring the flavor, textures, and funkiness. So delicious!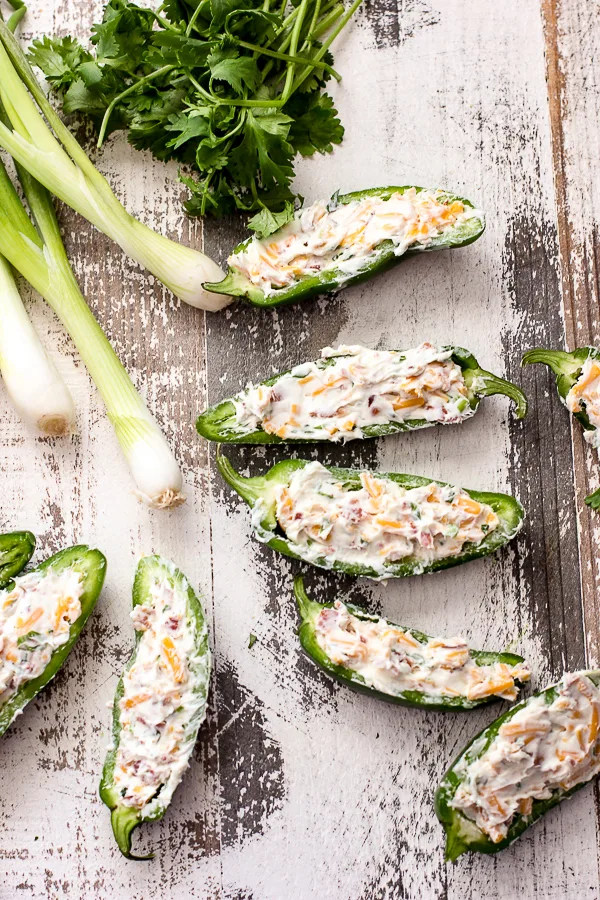 The right jalapenos for bacon cheese jalapeno poppers
Get the biggest jalapeno peppers you can find. It makes it easier to fill them up with the cheese and bacon mixture. You want a good balance of pepper to filling. Otherwise the heat overtakes everything.
However, your jalapenos don't necessarily have to be green. If you don't use your jalapenos right away, you know they turn a brilliant red color. They get a bit sweeter, but no less hot. The red color looks great with the orange of the cheddar cheese.
Also, you can use other peppers similar to jalapenos. There are yellow jalapenos sometimes called "banana" peppers that work well.
If you really want to dial up the heat, then go with a habanero or other pepper known for high heat.
However, if you want to dial the heat down, then make sure to remove all the seeds and the white pith the seeds are attached to.
Also, remember any time you cut peppers for bacon jalapeno poppers to wash your hands! I can't stress this enough. Nothing worse than rubbing your eyes with capsicum pepper oils on your fingers! (Or touching other sensitive places… OUCH!)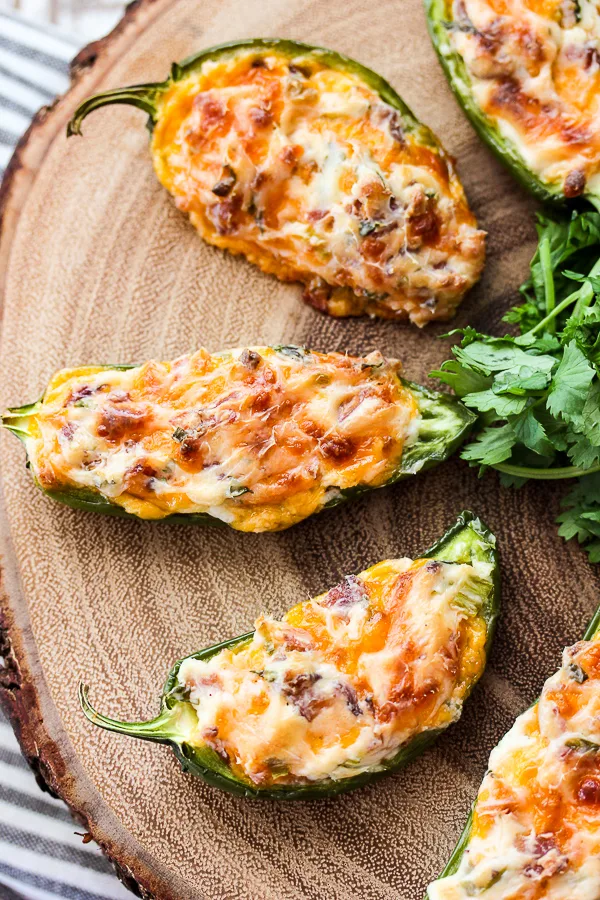 Are there any other substitutions you recommend?
You can get creative with bacon and cheese stuffed jalapenos. For example, instead of bacon, try tiny cubes of chopped ham instead.
If you want to go with a more vegetarian option, then use tiny cubes of eggplant or potatoes instead of the bacon. Make sure to season them generously. You want to make up for the salty savory quality of the bacon.
If going fully vegan is important, then try one of the vegan style "cheeses". Typically made from soy, they will work too.
Also, other cheese combinations work too. You can do swiss instead of parmesan, or even blue cheese instead of cheddar.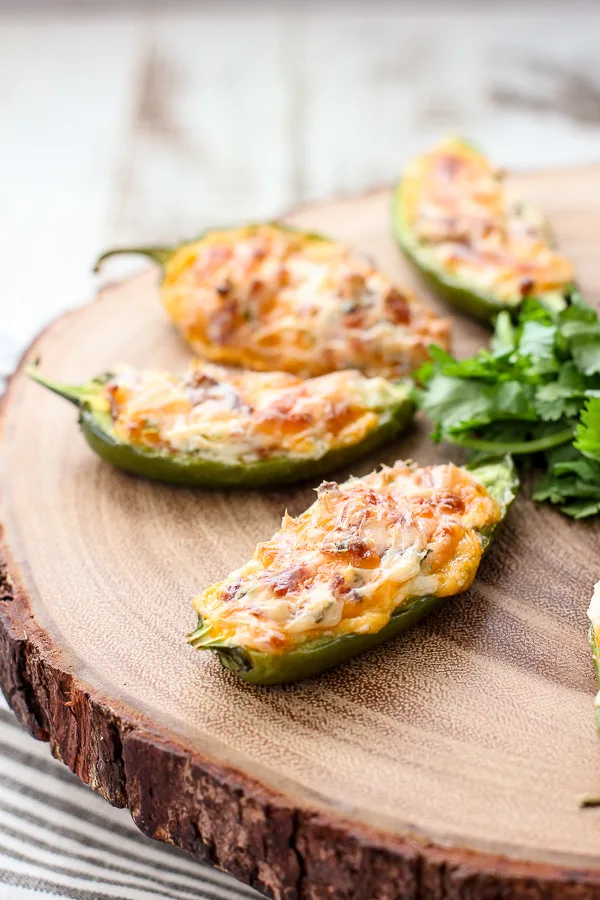 A game day treat
Whether you are at home or tailgating at the game, this jalapeno popper recipe works. If you are planning on taking some to the game, you can easily set them up ahead of time and freeze them.
By the time you take them out to throw on a grill they will keep together just fine. For that matter, storing them in the freezer will keep them no problem for 30 days. In the fridge you are good for a week.
If you are looking for other great appetizer ideas that work well for game day treats, I have some great suggestions. These work at home or in the lot at the game: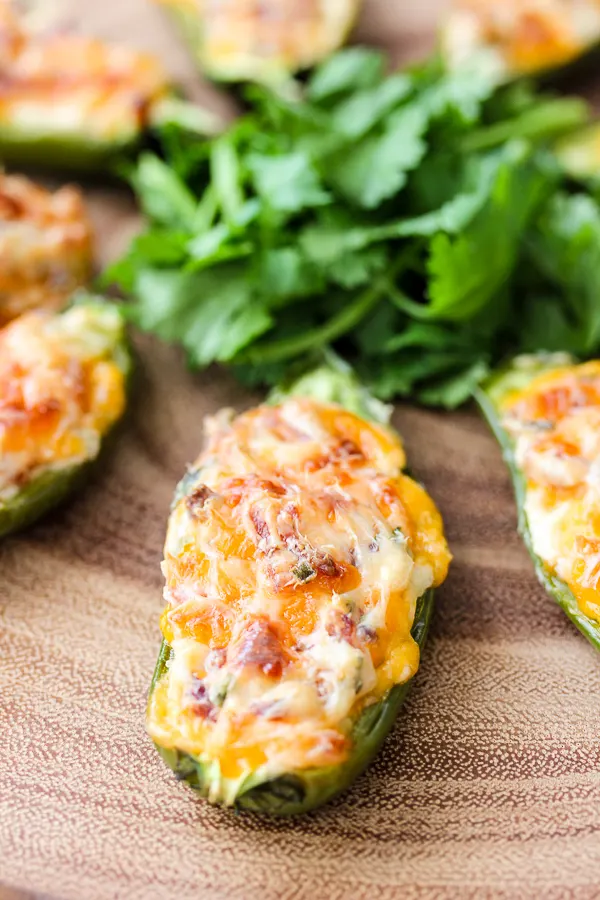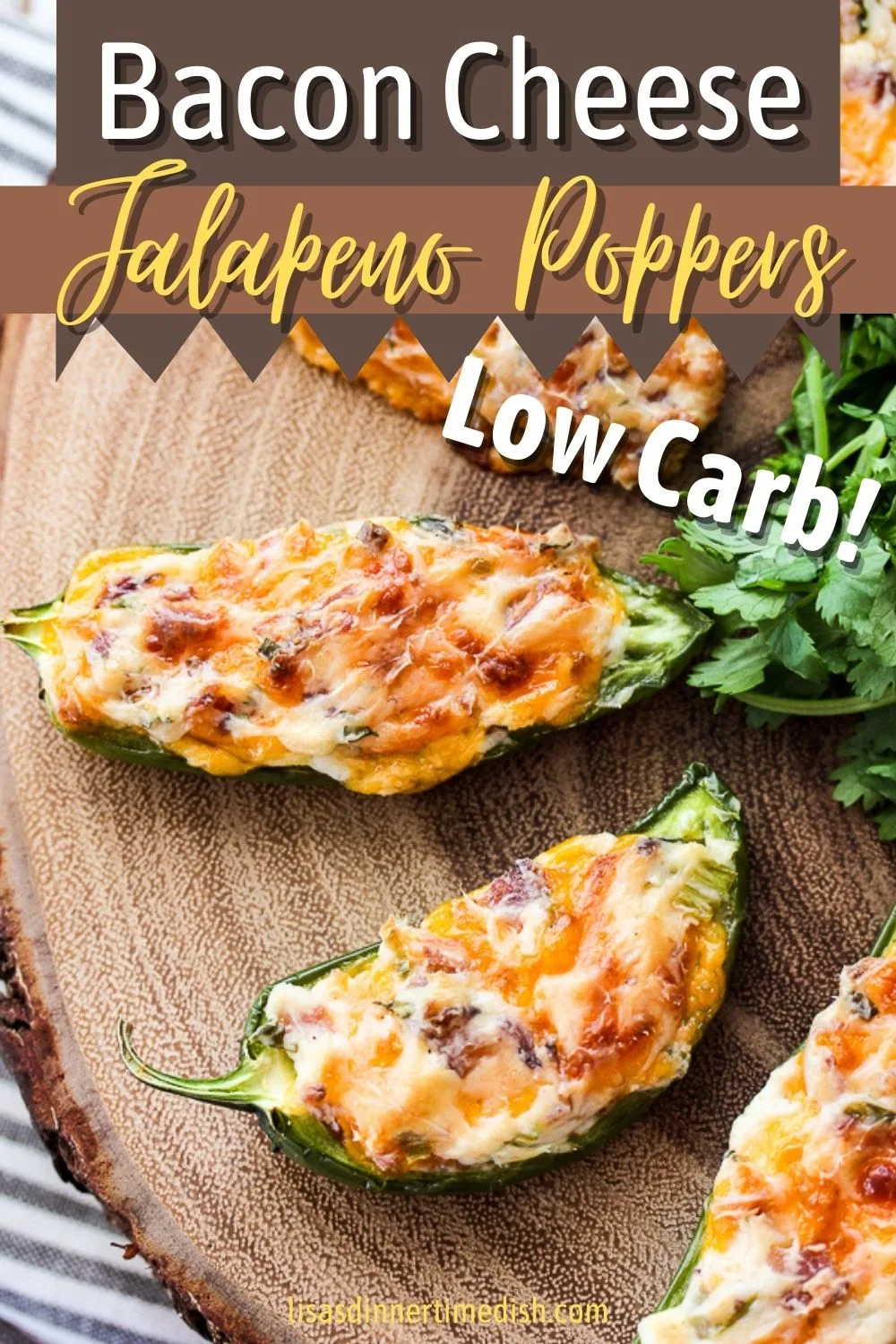 Yield: 6 servings
Bacon Cheese Jalapeno Poppers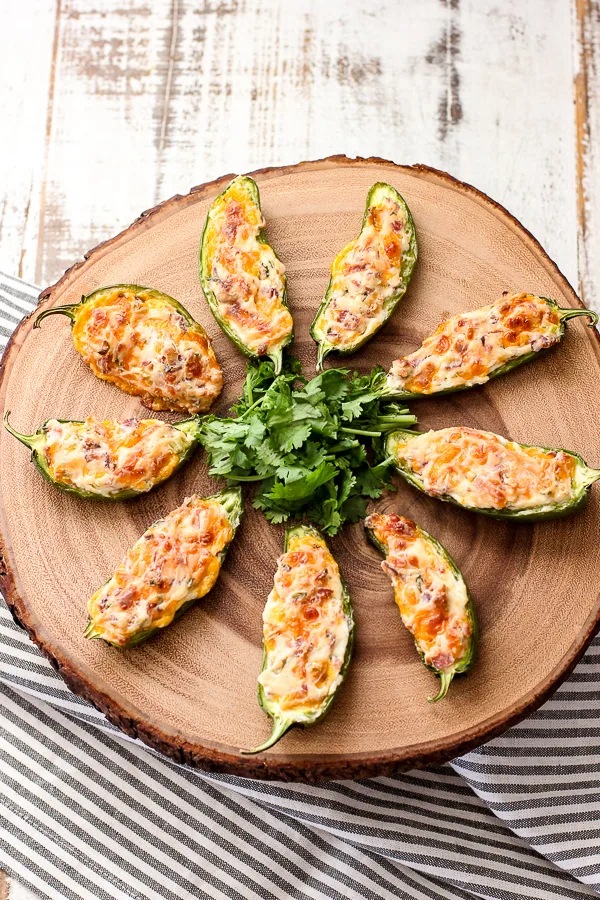 Ingredients
12 jalapeno peppers
1 (8 oz) pkg cream cheese, softened
1 cup shredded sharp cheddar cheese
2 tbsp grated parmesan cheese
6 slices bacon, cooked and crumbled
3 green onions, green tops sliced
2 tbsp cilantro, minced
1/2 tsp garlic powder
Instructions
Preheat oven to 400 degrees.
Slice jalapenos in half lengthwise.
With a spoon, scrape seeds out of the peppers.
Mix together remaining ingredients until well combined.
Fill each jalapeno half with equal amounts of the cream cheese mixture.
Place the filled jalapenos on a cookie sheet lined with parchment paper.
Bake in preheated oven for 20 minutes, until bubbly.
Turn broiler on for the last couple of minutes until filling is browned.
Notes
I liked to use precooked bacon for this recipe because it only takes about 30 seconds to crisp up in the microwave or about 5 minutes on the stovetop. It's a great time saver!
Nutrition Information:
Yield:
6
Serving Size:
1
Amount Per Serving:
Calories:

244
Total Fat:

19g
Saturated Fat:

10g
Trans Fat:

0g
Unsaturated Fat:

7g
Cholesterol:

55mg
Sodium:

485mg
Carbohydrates:

4g
Fiber:

1g
Sugar:

2g
Protein:

14g