Last week, Steve had been out of town for most of the week and was coming home on Thursday evening, which also happened to be Valentine's Day. We actually had plans to go out for a special dinner on Friday evening, but I thought it would be nice to have a special dinner at home on Thursday night, too.
So…I asked Steve if there was anything he was hungry for and it was all about comfort food for him. He named off things like beef stew and chicken pot pie. I have to admit, I wasn't exactly thinking comfort food for Valentine's Day, but then I got to thinking about the lobster tails I had in the freezer. That's when I realized I could make a really special pot pie that would satisfy his craving for comfort food and my desire to make something a little more special.
That's how this lobster pot pie was born and it was so decadent and delicious. To make it really special, I even made the puff pastry from scratch. If you've never made your own puff pastry, don't be scared away, it's a lot easier than you might think. I am not good at all at making pie crust, but this puff pastry turns out beautifully for me every time! But if you don't have the time to make your own, feel free to use store bought.
I served the pot pies with a simple salad and some crusty bread and it was perfect for a date night meal!
Lobster Post Pie with Homemade Puff Pastry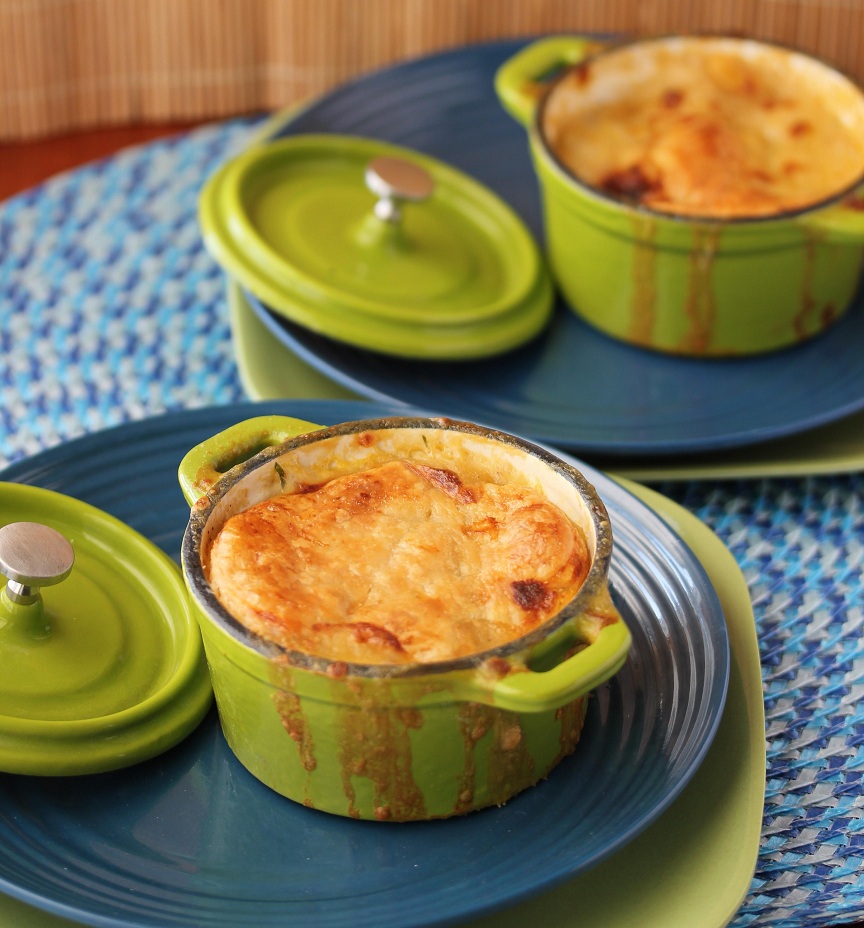 2 leeks, sliced
2 medium carrots, peeled and sliced
2 large ribs celery, sliced
3 red potatoes, diced
2 cloves garlic, minced
1 tsp old bay seasoning
1 bay leaf
salt and pepper
1 tbsp olive oil
handful of parsley, finely chopped
1 cup peas
2 lobster tails, about 1 1/2 lbs total
3 tbsp butter
1/3 cup flour
1/2 cup white wine (I used Chardonnay)
3 cups seafood stock
1/2 cup half and half
1 sheet puff pastry (click here for the recipe for homemade)
Bring a large pot of water to a boil.
Preheat oven to 350 degrees.
Prep all your veggies.
Heat olive oil in a large pot over medium heat. Add leeks, carrots, celery, potatoes, garlic and bay leaf. Season with old bay seasoning and a little bit of salt and pepper. Saute for about 5 minutes, until veggies start to soften.
Add butter and melt. Once butter has melted, sprinkle flour in and stir to combine well. Cook for about 1 minute.
Add wine and cook until thickened.
Stir in seafood stock and then half and half. Bring to a bubble and simmer for about 15-20 minutes.
Meanwhile, once pot of water has come to a boil, add lobster and cook for about 5 minutes. Do not overcook. In fact, my lobster was a little under cooked, which is fine because it will finish cooking when you add it to the sauce.
Once lobster is done cooking, run under cold water until it's cool enough for you to handle. Then take a kitchen shears and cut through shell so that you can remove the meat.
Cut lobster into 1 inch chunks. Add lobster, peas and parsley to the rest of the sauce. Cook until peas are warmed through and lobster is fully cooked. Season with more salt and pepper, if necessary.
Roll puff pastry out until it's big enough to cover 4 – 2 cup ramekins. Put ramekins upside down on pastry and press down to make an indentation. Remove ramekins and cut around the circles with a knife.
Coat ramekins with cooking spray and spoon in filling. Top with a puff pastry round. Cut several slits in the top, to allow steam to escape.
Place ramekins on a baking sheet and bake in preheated oven for about 30 minutes, until pastry is golden brown and filling is bubbly.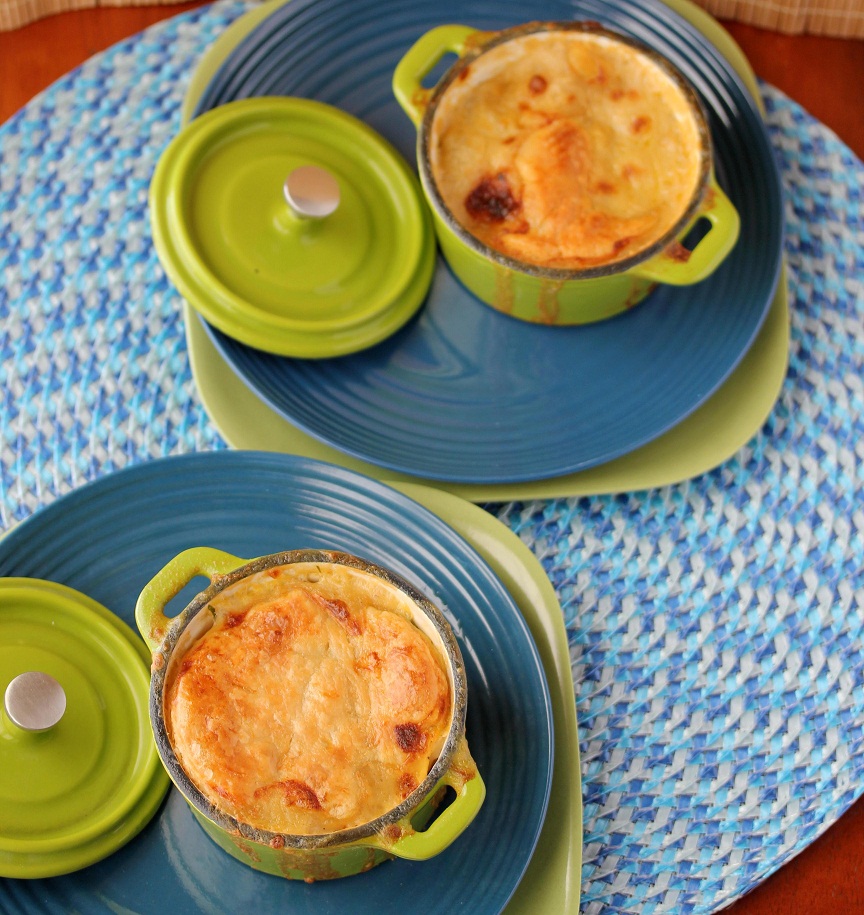 ENJOY!

Shared at these great blogs: